Eminem is not dating anyone at the moment, but he was once married to Kim Scott. Born on 17 October 1972 and now 50 years old, Eminem has been single for a very long time, although he has dated several women in the past.
The love life of Eminem is one that has remained as intriguing as his career. Considered to be one of the greatest rappers of all time, he has been married twice in the past to the same woman, Kim, but the marriages ended in divorce after a very short time.
Is Eminem Married or Single?
Eminem is not married at the moment, and he is not dating anyone. Although he has dated several women in the past, his relationships did not last long, and several others were just considered to be rumors.
However, the rapper has been married twice in the past. His first marriage was to Kim Scott, the mother of his daughter, before the marriage ended in divorce. The pair got married a second time in the 2000s, but it ended a short while later in divorce. Since then, Eminem has not tied the knot again.
Eminem's Two Marriages To Kim Scott Did Not Last
The love story between Eminem and Kim was one that was very dramatic. It began in 1989 when the two were still in high school. At the time, Eminem was having many personal challenges, and he had no money. That did not stop them from having their first child in 1995 when they welcomed their daughter, Hailie. Eminem and Kim did not get married until 1999, when their daughter was 4 years old. Sadly, they opted for a divorce after only 2 years.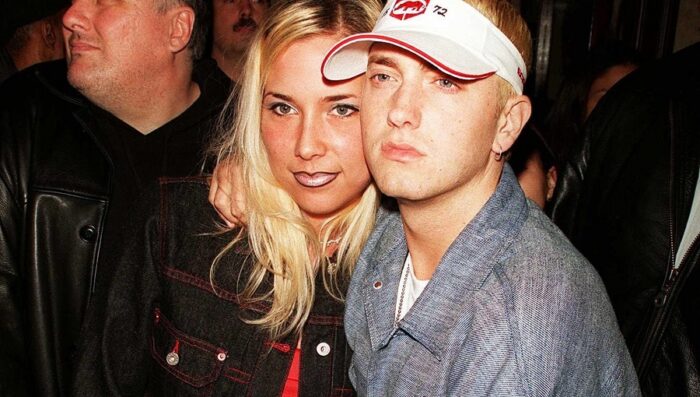 Eminem did not take the failed marriage easily as he soon turned to the microphone to release some songs that were critical of Kim.  Some of the tracks are Kim and Bonnie And Clyde.
In spite of all that happened between them, Eminem and Kim still found their way back to each other. They got married again in 2006, but this time, the marriage ended in divorce, only that it was much faster. They divorced in the same year.
The exact reason for the divorce was never made known, but both Eminem and Kim claimed that they tried to work things out, but it failed. According to Kim, she was hoping her husband at the time would work on getting a counselor, but instead, she was visited by an attorney.
Did Eminem and Rihanna Date?
Although there have been rumors in the past that Eminem and Rihanna once dated, there is no truth to this. The pair only have a professional relationship before later becoming friends. Their closeness dates back to 2010 when they worked on Love the Way You Lie.
Before then, Eminem had always wanted to work with Rihanna, and so when he was writing Love the Way You Lie, the only person he considered to collaborate on the track was Rihanna, who obliged. The song became a hit, and in no time, they worked on more songs together.
Some tracks of the duo include "Numb (2012) and The Monster (2013). The songs became very successful, and the chemistry between the two on stage became obvious, leading many to wonder if there was anything between them. However, it was later made known that there had never been anything between them, and they never dated. Nonetheless, they are still close to date.
Eminem and Nicki Minaj's Relationship
Another woman that people believe Eminem dated at some point is Nicki Minaj. The two were first linked in 2018 when fans began thinking the rap scene was about to have its most powerful couple. Rumors began swelling that the two were probably dating.
To make it all interesting, Nicki Minaj confirmed on social media that she was actually dating the rapper. She made the claim when she was asked by a fan if there was something going on between them. Although the response got many reactions, she later revealed that she was only joking when she claimed she was dating the legendary rapper.
Not someone to be left out of a good joke, Eminem also took part in the fun. During his show in Boston, he asked fans if they wanted him and Nicki to date. When he got the affirmative answer, he said he also wanted it, and he called on the rapper to text him so that they could talk.
Minaj responded on Twitter by indicating that she loved the rapper, and she acknowledged the fact that he was silly and a goof just like her. She seized the opportunity to invite him to be a part of her Queen album, leading to their track together, Majestic. Nicki added that their first date would be in the studio, where she would be admiring his beautiful eyes.
That said, Eminem and Nicki Minaj have continued to remain friends, but they did not have anything going between them.
How Many Kids Does Eminem Have?
Eminem has three children: Hailie, Alaina, and Stevie. While his marriage failed outrightly, and he is often considered to be on the extreme side with his music, Eminem is still a great dad to his kids. His daughters are all close to each other and to the rapper. Here is a quick look at the children of the rapper.
Hailie Jade Scott-Mathers
Hailie Jade Scott is the first and only biological child of Eminem. She was born on December 25, 1995, in Detroit, Michigan. Now 27 years old, she was born to him from his relationship with Kim. At the time of Hailie's birth, Eminem was still struggling to make ends meet, but with the birth of his daughter, he was forced to take things more seriously.
For her education, Eminem's daughter went to Chippewa Valley High School, and from there, she attended Michigan State University, where she stood out. A woman with beauty and brains, Hailie made the Dean's List among the best students. Hailie was raised by her father, who ensured to keep her mostly away from the public, so much so that not many things were known about the better part of her childhood.
Hailee has been the inspiration behind some of her father's hit songs, including Mockingbird and Hailie's Song. He has also mentioned her name in several other songs. On her part, she has not only been very close to her dad, but Hailie has also been very supportive of him. She has attended a few industry events with the rapper.
Also known as Hailie Jade, Eminem's daughter is now an Instagram influencer with more than 3.1 million followers. She is also the host of Just a Little Shady podcast.
Alaina Marie Scott
Alaina Marie Scott is the oldest of Eminem's children. She was born on Feb. 22, 1993, in Michigan, United States, which means she is now 30 years old. She is the adopted daughter of the rapper, whose biological mom is Dawn Scott, Kim's biological sister. Eminem adopted Alaina, who is also known as Lainie, in the 2000s as her mom was struggling with drug abuse. Sadly, the battle with drugs would eventually claim her life in 2016 when she died of a suspected overdose.
According to Eminem, Alaina has been in his life since she was born, and she has always been with him and Kim. She has also made it to some of his songs, including Mockingbird, where he stated that he might be crazy, but he still loved her before adding, "We're all we got in this world."
Alaina is also a smart woman who graduated from Oakland University, where she obtained a bachelor's degree in arts in communication. She is now an Instagram influencer with more than three hundred thousand followers on Instagram, and she also works as a travel blogger. She is also a body positivity and mental health advocate.
Alaina is currently married to the love of her life, Matt Moeller, whom she has dated for a long time. The pair got engaged in 2021 and tied the knot in 2023, and her sister, Hailie, served as the bridesmaid.
Stevie Laine Scott
The last child of Eminem is Stevie Laine Mathers. Stevie was born on 16 April 2002 in Detroit, Michigan, which is also where the celebrity child was brought up. Now 21 years old, Stevie is the biological daughter of Eminem's ex-wife, Kim Scott, and her boyfriend, Eric Hartter.
Eminem adopted Stevie legally after he married Kim for the second time in 2006. Although the marriage would later end, Eminem continued to take care of Stevie as his daughter. Sadly, Stevie's biological father was reported to have passed away in 2019.
At the age of 19 in August 2021, Scott identified as non-binary, indicating that she now goes by all the pronouns: they, he, and she. It was at this point that she changed her name from Whitney to Stevie. She revealed that she had been trying to be comfortable with herself for a long time before finally coming out. She now identifies on Instagram by the three aforementioned pronouns, and she accompanies her post with the "#genderfluid" and "#bi," hashtags to indicate she is also bisexual. She is in a relationship with Declan Jace.
Stevie remains the least known of the kids of Eminem, with over fifty thousand followers on Instagram. There is no available information about her educational pursuits.
Did Eminem And Christina Aguilera Date?
No, Eminem and Christina Aguilera did not date at any time in the past. In fact, they became famous together as a result of their beef, which sustained for a very long time, although before then, the duo had some feelings for each other.
In the late 1990s, Christina made her feelings about Eminem known in an interview where she claimed that she was looking forward to meeting him because she felt he was cute. In another interview, the blonde singer confessed that the rapper had been her crush for a while.
The feeling was not one-sided, as the rapper also made suggestions that he was also crushing on her. He made the suggestions after he won an MTV VMA. He revealed that he was going to keep his award right between his posters of Britney Spears and Christina Aguilera. Eminem would go on to say more about the singer, stating that he felt she was cute and that he heard the things she said about him.
The Fallout Between Eminem And Christina Aguilera
With every sign that Christina Aguilera was going to be on the dating list of Eminem, things took a sharp turn in 2000 after rumors made the round that Eminem married Kim. Christina stated in an interview that she heard he was married to Kim, a woman he stated in his lyrics that he was going to kill.
She said it was aggravating to listen to the song because that was the mother of his child, and his album is a little disturbing. She would go ahead to add in the interview that people should not tolerate violence in relationships, indicating that abusive situations are not cool. She said girls should not let guys disrespect them.
Eminem was not happy with her talk on MTV, and he decided he was going to share a rumor about her since she claimed she heard a rumor that he was married. A few months later, he released The Real Slim Shady, in which he attacked the singer. He claimed she gave him an STD, and in another song, Off The Wall, he went more violent on her with lyrics on causing terror to her and dragging her across the Sahara.
Christina used her song, Can't Hold Us Down, to hit back at the rapper for making false rumors about her and using her name for popularity. The beef seemed to have ended in 2002 when she presented the Best Male Video award to Eminem at the MTV Video Music Awards, and things seemed to have settled between them.
But then, Eminem resurrected the beef in 2018 when he rapped about Aguilera in his song, Kick Off. Her only comment about the song was that it was thirsty when it started and still thirsty now.
Eminem's Ex-girlfriends
As indicated, the dating life of Eminem has been a rather eventful one. The rapper has been in several high-profile relationships in the past. One of the first women he dated was American actress Brittany Murphy, whom he dated in the 1990s. Tara Reid became the next woman that Eminem dated. They were linked in 2004.
Another woman who was linked to Eminem was Mariah Carey. Although Eminem claimed they dated and he even slept with her, the singer insisted that it was false.
There have been rumors linking him to much older Kim Basinger, who portrayed his mother in his 2002 film, 8 Mile. However, there has never been any confirmation of this claim, and neither has there been a denial from either of them.
Other women who were linked to Eminem include Skylar Grey, Sarati, Kaya Jones, Gina Lynn, Karrine Steffans, and Tracy McNew.