Nicki Minaj stands at 5 feet 2 inches, with body measurements of 40-28-45 inches, and a weight of 62kg.
The Trinidadian-American rapper born Onika Tanya Maraj-Petty but known worldwide as Nicki Minaj is one of the most influential women in modern hip-hop. Her versatile rap style consists of a range of sounds from hard-hitting, aggressive lyrics, down to the heart-melting and emotional ones.
Apart from her core rap skills, another thing that makes Nicki Minaj so appealing is her attractive physical appearance. The Trinidadian native stands much shorter than you probably expected, at just about 5 feet 2 inches. In this read, we will reveal whether there is any veracity to the claims that she underwent some type of body reconstruction. But first, let's take a deeper look at Nicki's height.
How Tall is Nicki Minaj?
Nicki Minaj stands at just 5 feet 2 inches! despite her huge personality. This makes her shorter than the average American woman.
Hollywood beauty standards have always been fickle, as many preferred beauty ideals have changed or even died out after every decade or so. However, one standard that seems to have remained constant is that taller women are usually deemed more attractive than their shorter counterparts.
In the United States of America, the average height for a female is said to be about 5 feet 4 inches. According to the Centers for Disease Control (CDC), this included only women from 20 and above. Going by this standard, one would deduce that rapper Nicki Minaj falls short of the average height mark by about 2 inches – she is just about 5 feet 2 inches.
While it's particularly not a massive difference, the 'High School' singer can be seen making up for it with the massively-heeled platforms that have become part of her image.
Comparing Nicki Minaj's Height With That Of Other Women In The American Rap Industry
Women have always been part of the rap game for nearly as long as the genre has existed. At first, women like Lauren Hills, Missy Elliott, Lil' Kim, and Foxy Brown held the forte in the female rap world. These women have since given way to a new generation of female rap stars, with Nicki Minaj being one of the most famous and successful of the current lot.
Regarding her height, let's find out how tall Nicki Minaj is compared with other women in the industry, specifically fellow female hip-hop artists and rappers.
Nicki Minaj's Height Compared With Cardi B's 5 feet 4 inches
Nicki stands about two inches shorter than her musical nemesis, as Cardi B's height is pegged at 5 feet 4 inches.
If you are a lover of hip-hop and one who follows the trends, you are undoubtedly aware that American rappers Nicki Minaj and Cardi B aren't precisely the best of friends. The 31-year-old shot to fame in 2017 after her debut single 'Bodak Yellow' became a massive, unexpected hit.
Born and raised in the Bronx, Cardi B's background and rise to fame closely mirrors that of her counterpart Nicki Minaj in the sense that they both came from very average families. However, that's probably the only thing both rappers have in common.
Nicki Minaj is 4 inches Shorter Than The 'Truth Hurts' Crooner, Lizzo
Rapper and singer Lizzo is a force to be reckoned with in music as she has done nothing but releases hot, banging singles since her song 'Truth Hurts' became a hit. Comparing Lizzo and Ninaj in terms of height is a no-brainer at all. The classically trained flutist has been said to stand at almost 5 feet 6 inches tall, making her nearly four inches taller than Nicki. That's quite a gap if you ask me.
Nicki Minaj's Height is Just About the Same as Missy Elliott's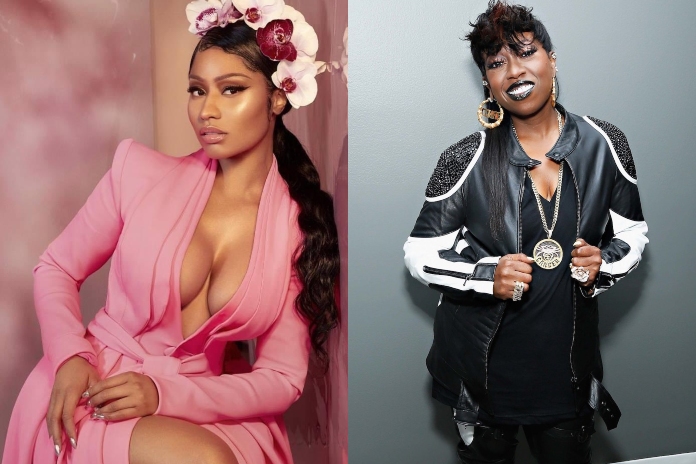 We've earlier mentioned that Missy' Misdemeanor' Elliott is one of the pioneers of mainstream rap among women. With a most active career in the 1990s and early 2000s, Missy is seen as a legend among American rappers. Her height is surprisingly below the national average height for women at 5 feet 2 inches. However, this makes her of equal height with the Trinidadian-born rapper Nicki Minaj.
Nicki Minaj's Height Compared to that of American Rapper, Megan Thee Stallion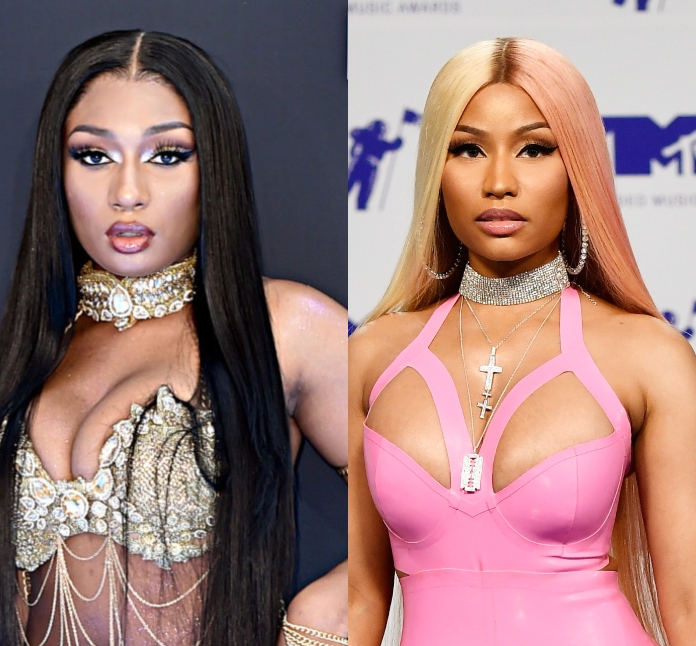 While Nicki's 5 feet 2 inches can barely be considered average, Megan Thee Stallion's 5 feet 8 inches frame towers over her by nearly six inches!
As her name implies, Megan Thee Stallion is not among the wraith-looking women of Hollywood. The Houston rapper collaborated with Nicki on the 2019 summer anthem, 'Hot Girl Summer,' and it became a global banger. Their rap chemistry might have taken them atop multiple music charts, but their heights do not share the same chemistry, as they are very far apart on the height spectrum.
Nicki Minaj's Height is a Few Inches Shorter Than The Rapper Saweetie
Saweetie is another female American rapper who has had a major come-up in the past two years. Born Diamonté Quiava Valentin Harper and known professionally as Saweetie, the American rapper is also known for her chart-topping hits. Most of her songs, such as 'Best Friend' and 'Icy Girl,' are fast becoming a staple on the song charts. She stands at the height of 5 feet 6 inches, and with that, she towers over Nicki Minaj by about 4 inches.
Nicki Minaj and Doja Cat are Nearly the Same Height
Los Angeles-born South African rapper, Doja Cat, became known all over America for her hit song, 'Say So,' with the remix featuring Nicki Minaj. This is one rapper whose height is similar to Nicki's as she is only 5 feet 3 inches tall. This means that Nicki is still slightly shorter by one inch.
Nicki Minaj's Height Compared to that of Other American Rappers
Cardi B – 5 feet 4 inches
Lizzo – 5 feet 6 inches
Missy Elliot – 5 feet 2 inches
Megan Thee Stallion – 5 feet 8 inches
Saweetie – 5 feet 6 inches
Doja Cat – 5 feet 3 inches
Nicki Minaj's Weight and Other Body Measurements
Let's that a look at the Bang Bang hitmaker's other body measurements as they compare with her height.
Height: 5 feet 2 inches
Eye Color: Dark Brown
Hair Color: Black
Weight (kg/lbs): 62/137
Bust (cm/inches): 102/40
Waist (cm/inches): 71/28
Hip Measurements (cm/inches): 114/45
Feet Size (US/EU/UK): 7/37.5/5
Dress Size (US/EU/UK): 7/44/16
Going by the above stats, we can see that the Caribbean rapper has a curvy body type. Because her hips are the widest part of her physique, we can easily categorize her as having a pear body shape. Her very tiny waist gives her what is known as an hourglass figure which mimics the shape of the numeral figure.
Nicki Minaj's overall height and shoe size give the impression that despite her crazy curves, she is a petite woman. She also doesn't shy away from how short she is and often rapped about her height and how "little" she is. The rapper and songstress is not humble regarding her curvy figure.
She mainly referred to her big butt in her 'Anaconda' song and video, which was made to uplift girls who had giant backsides. The song reached the top 2 on the Billboard Hot 100 charts in 2014. We can agree that her gorgeous body, along with her willingness to talk (or rap) about it, has contributed to her public appeal, translating into a long-lasting, solid career for the hitmaker.
Did Nicki Minaj Undergo Some Surgical Procedures? Here Are Reasons Many Believe It To Be True
Nicki Minaj is one of the foremost embodiments of the curvy, full-bodied figure. As is expected of a celebrity, her body stats have triggered multiple debates. Besides the talks about her height, so many fans (both male and female alike) are vested in the quest to ascertain the facts about her current body shape – whether or not she had touch-ups to her physique.
From what we gathered, the Trinidadian native has undergone several procedures to achieve the body shape she has today. This is incredibly believable when comparing her older images to what she looks like presently. Therefore, in lieu of all the talk that has surrounded the hip-hop artist regarding her impressive body shape and appearance, let's talk about all the procedures she has been rumored to go through to achieve all this.
1. Nose Job (2009)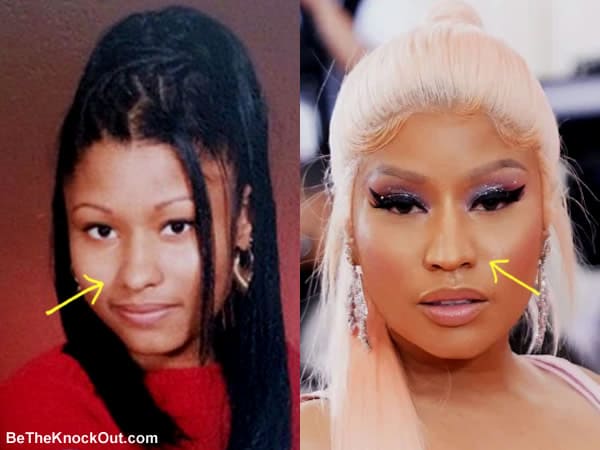 It is believed that the rapper had work done on her nose immediately after she began to gain fame in early 2009. Looking at her old pictures, Nicki used to have an imperial-looking nose, albeit a lot less sharp looking. Now it looks like the nose has gotten slimmer, with a better-defined nose bridge. However, Nicki has denied the nose job rumors, citing makeup as the answer.
2. Teeth Surgery (2010)
Again, the surgery talks came up, but this time it was a teeth surgery that was mostly alluded to. The Pink Friday singer has had some sort of teeth augmentation, as her teeth looked a bit discolored and crooked initially.
At some point – after the alleged surgery – the rapper was asked by an interviewer from The Guardian if her teeth were natural. Nicki dodged the question, and instead, she fired back by asking the interviewer if their teeth were natural. This, among other things, may have confirmed that she indeed has done some job in her dental region. It seems like she had veneers installed, and it seems to have happened around 2010.
3. Boob Job (2010 – 2017)
Nicki Minaj's massively endowed front parts have been a recipient of several speculations for years, but it seems they began to gather a lot of attention from 2010 upwards. And although the American rapper has refused to say anything about them, the pictures and videos, in this case, speak louder than whatever she might have said about this topic. The massive upgrade is there for all to see when you place her current pictures side by side with her older ones.
4. Butt Implants (2010 – 2015)
Nicki Minaj's big butt is one of her most beloved assets and is also one that she talks/raps about the most. Questions arose in 2010 when her backside seemed to have suddenly increased out of the blue. This may not have a lot of eyebrows, but the glaring difference was that initially, they used to be so big and out of proportion. In fact, her butts were so out of sorts that they caused her a lot of wardrobe malfunctions.
Today, her thighs match her booty a little better without reducing the massiveness of the butt. Between 2010 and now, her backside has undergone subtle changes in shape and size, but now they seem to have stabilized.
5. Hip Surgery (2016)
There is no end to the enhancements, as fans noticed some modifications in the rappers' hips as soon as she was done with her butt job. Yes, another surgical procedure Nicki Minaj has undergone is hip surgery. The truth is that on the look of it, doing a butt job would not give you the great shape to want as the hips need to be broad enough to accentuate the shape and make all the features match coherently. This is what Nicki did, and it is believed she carried this surgery out in 2016.
6. Botox (2017 – 2019)
At 41, we can all agree that the Pills and Potions crooner doesn't look her age. Some say she is naturally beautiful and youthful-looking, while others claim it is the work of enhancers, namely Botox. However, the rapper, who has always ignored talks about her body enhancements, stepped out of character to state that she has not had any work done on her face (and we would suppose that the lips are part of the face).
She slammed those speculating the claims saying that not every change on her face to down to surgery – so we are left with nothing but our hunches to go on. What do you think Nicki owes her eternally youthful looks to? Nature or Surgery?
How Nicki has Handled Criticisms about her Body Image
It may seem that Nicki Minaj agrees best with that wise saying that 'silence is golden.' Since her body image became a source of constant scrutiny by the public, she hasn't bothered to respond to any of the rumors about her body, be it positive or negative. Also, because she is Nicki Minaj, the rap queen, she prefers to put her all responses in rap verses.
By now, you must have heard songs from her calling out her haters and rumor-mongers alike. This seems to be how she controls her public image as an A-list celebrity, who can blame her for it. The internet is a vicious place, and only the strong survive.