Johanna Leia (Real Name: Johanna Edelberg, born February 19, 1981) is a 41 year-old former model, social media personality, brand ambassador, and entrepreneur known to the public as the mother of Amari Bailey, the former US U-16 basketball star.
Johanna Leia is also quite famous as rapper Drake's ex-girlfriend. Her son Amari is a young basketball player who currently plays for the Sierra Canyon basketball team, and he has been tipped to achieve big things when he eventually makes it to the NBA. He has also appeared in his mother's reality TV show, Bringing Up Ballers. Here's all you need to know about his mother, Johanna Leia.
Summary of Johanna Leia's Biography
Full Name: Johanna Edelberg
Nickname: Johanna Leia
Gender: Female
Date of Birth: February 19, 1981
Johanna Leia's Age: 41 years old
Ethnicity: Mixed
Place of Birth: Los Angeles, California, United States of America
Nationality: American
Zodiac Sign: Pisces
Sexual Orientation: Straight
Religion: Christianity
Marital Status: Single
Johanna Leia's Baby Daddy: Aaron Bailey
Johanna Leia's Children: Amira Bailey (son), Savvy Bailey (daughter)
Johanna Leia's Parents: Joan Edelberg (mother)
Johanna Leia's Height in Inches: 5 feet 10 inches
Johanna Leia's Height in Centimeters: 178 cm
Johanna Leia's Weight: 60 kg (132 lbs)
Body Measurements in Inches: 35-27-38
Body Measurements in Centimeters: 89-69-97
Hair Color: Black
Eye Color: Dark Brown
Profession: TV personality, former model, social media personality, entrepreneur
Johanna Leia's Net Worth: Est. $5 million
Famous for: Being a TV personality and Amari Bailey's mother
Johanna Leia's Instagram: @johannaleia
Twitter: @onlyjohannaleia
Facebook: Johanna Leia
What is Amari Bailey's Mom's Age?
Amari Bailey's mom is 41 years old. She was born Johanna Edelberg on February 19, 1981. Amari's mother was born in Los Angeles, California but grew up in Chicago, although she has since come back to live in Los Angeles.
What Is Amari Bailey's Mom's Ethnicity?
Amari Bailey's mom has mixed ethnicity. Her mother is a Caucasian woman named Joan Edelberg. Johanna Leia's mom is reportedly a businesswoman and a real estate broker. Not much is known about Johanna Leia's birth father or if he is even still alive. Several sources claim, though, that he is a Sudanese national.
Johanna Leia's Nationality
Johanna Leia is an American citizen. Having been born in Los Angeles, California, the United States of America, Johanna Leia's birth status means that she enjoys the rights, privileges, and responsibilities of her birth country.
One could also argue that the former model and reality TV star can also claim Sudanese citizenship if there's a substance to the claims that her birth father is Sudanese. At the moment, however, Johanna Leia, who hasn't said much about her African roots, primarily identifies as American.
Amari Bailey's mom comes across as a sufficiently educated woman even though there are no verifiable details of her formal education background on the internet. Certain sources claim that she graduated from a reputable college in Los Angeles.
Johanna Leia is Rumored to be in a Relationship with Ja Morant
Reports started emerging in March 2022 that Amari Bailey's mom, Johanna Leia, had started dating basketball player Ja Morant (real name: Temetrius Jamel). The reality TV star even went to one of his games, and they have been pictured together. However, neither Johanna nor Morant have come out to substantiate or deny the rumors.
Amari Bailey's mom has been in a number of relationships, including her relationship with his birth father Aaron Bailey. Aaron Bailey was a former NFL football player who played for the Indiana Colts from 1994-1998. It was during his playing days that he and Johanna began dating. In spite of the fact that they dated for several years, they never got married, and the reason for their split has not been made public yet.
The relationship between Amari Bailey's mom and his father lasted long enough for Amari and his sister to be born. Amari was born on February 17, 2004, while his sister, Savvy, was reportedly born 10 years later. After her breakup with Amari's father, he went on to marry a woman named Jennifer and had seven children with her, while Johanna became saddled with the responsibility of raising her children as a single parent.
Other than genetically passing down his athletic abilities to Amari, Aaron Bailey has not been actively involved in parenting Amira and his sister. Johanna, on the other hand, has been visibly supportive of her son's blossoming career as a potential NBA great. She has been pictured at several of his high school games, and she doesn't shy away from any responsibility that will bring out the best in her children.
She Once Dated Canadian Rapper, Drake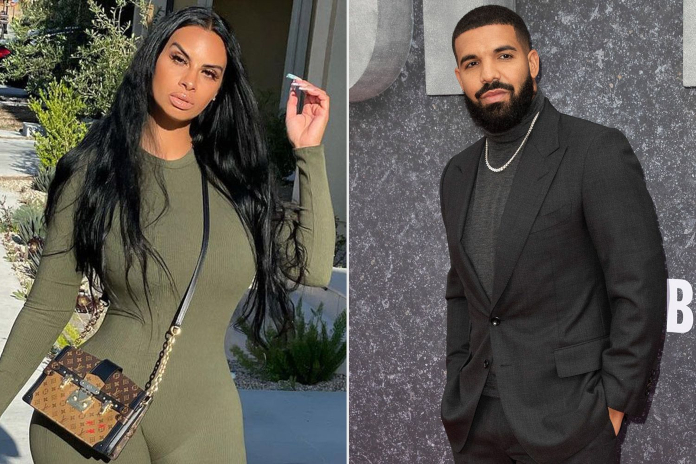 In July 2021, Johanna Leia and the popular award-winning rapper Drake were pictured together at a Dodgers game, and this led to numerous speculations that the two were in a relationship. These speculations turned out to be true as the former couple had met through Leia's son Amari, to who Drake had taken a shine and had given advice on how to handle the fame that came with being a person in demand as Amari was at the time.
The relationship between Johanna and Drake lasted for a very short time and ended in October 2021. Leia herself had next to nothing to say about the relationship or the relatively short length of time that it had lasted.
Johanna Leia is a Former Model
Amari Bailey's mom began her professional career as a freelance model who was engaged in several photoshoots to make money. She then signed on to Ford Models and later Wilhelmina Models, where she became a brand ambassador for different fashion and skincare brands, including but not limited to IconSwim.
Aside from her modeling gigs, Johanna Leia is also a reality TV show star who has appeared in several shows, including Bringing Up Ballers. She also runs a youth basketball camp known as Superstar. Her myriad of career endeavors has helped her earn a substantial net worth which is believed to be an estimated $5 million.
Johanna Leia's Height
Johanna Leia is 5 feet 10 inches (178 cm or 1.78 m) tall. Her impressive height is at least six inches taller than the average American woman, whom research has shown stands at just 5 feet 4½ inches tall. The caramel beauty also weighs a decent and balanced 60 kg (132 lbs).
Her bust, waist, and hips measurements are 35-27-38 inches (89-69-97 cm). Her beautiful face is framed by luxurious raven black hair and dark brown eyes.