Joy Murrath lost her first husband, Brian Piccolo, at the age of 27. Following her first husband's death, Murrath had to adjust to life as a single mother, but that wasn't for long.
Three years after the football star's death, Joy found love again in the arms of Rick O'Connell. Rick is the son of a Chicago-based policeman who earned his keep in the ready-mix concrete business. Joy had two additional children for her second husband bringing the total number of her kids to five.
Joy Murrath and Brian Piccolo Were High School Sweethearts 
According to reports, Joy Murrath and her late spouse, Brian Piccolo, were high school sweethearts. While Brian was building his football career at the varsity level, Joy, who was born in 1943, was also active at Central Catholic, where she functioned as a cheerleader.
Their juvenile romance endured till they graduated from high school, and the lovebirds wasted no time in taking things to the next level by becoming officially engaged.
While asking for his love interest's hand in marriage, the football running back presented her with a diamond ring. One interesting fact about the couple's engagement is that Piccolo also gave a diamond ring (albeit a smaller one) to Joy's sister, Carol Murrath, who suffered from cerebral palsy.
When quizzed about his reasons for making such a gesture, Piccolo, who had earlier developed a friendship with Joy's sister, said he only wanted Carol to feel included and forget how her condition makes her feel.

Joy and Brian at their wedding image source
They Got Married in 1964 and Had Three Kids Together
Three days before Brian Piccolo signed his first deal with the Chicago Bears Football Club, he exchanged wedding vows with his wife, Joy Murrath. The couple's wedding ceremony was held on the 26th of December, 1964.
Before their nuptials, Piccolo was engaged in a postseason Shrine All-Star football game which disrupted their wedding plans to a great extent. As a result of his involvement in the game, the football running back couldn't attend his wedding rehearsals, much to Joy's disappointment. He was only able to arrive at the venue in time for their exchange of vows via an airplane, and knowing Brian he was able to save his neck with his display of quick wit by telling Joy, "You know I hate to practice."
Joy and Brian Piccolo were married for three years during which they welcomed three children. Their children are named Lori Piccolo Bruno, Kristi Piccolo, and Traci Piccolo Dolby – all girls. The Piccolo girls are all married and have given their mum 12 grandchildren.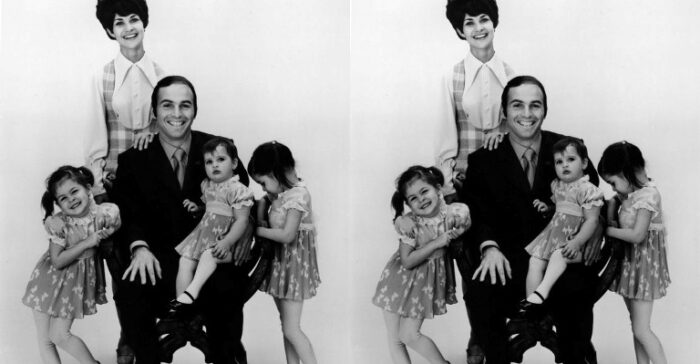 Joy Murrath Lost her Husband To Cancer In 1970
Joy Murrath was barely 27 on the 16th of June 1970 when the American celebrity wife became a widow. She lost her first husband, Brian Piccolo, to cancer; Brian was born in October 1943 in the Pittsfield area of Massachusetts. Piccolo was renowned as an American football star who played in the halfback and running back positions for the Chicago Bears of the NFL for a period of four years.
Two years earlier, in November 1968, Brian, named Louis Brian Piccolo, was diagnosed with embryonal cell carcinoma. For the purpose of elucidation, embryonal cell carcinoma is described as an aggressive kind of germ-cell testicular cancer. Unfortunately for Brian, the terminal disease was only discovered after it got into his thoracic cavity.
Less than two years after his diagnosis, Joy's husband died at the young age of 26 after playing for just four seasons for his team, the Chicago Bears Football Club. His interment took place in Hillside, Illinois, precisely at the Queen of Heaven Cemetery.
Brian's life and death inspired the production of the television movie Brian's Song in 1971, with his character depicted by actor James Caan; Sean Maher played Brian's role in the 2001 remake of the same movie.
She Was Greatly Affected By Her Husband's Death
After her husband's condition was diagnosed, his doctors let his wife know that the disease was terminal and the NFL player had just a few months to live. However, the foreknowledge did not cushion Joy Murrath against the devastating effects of Brian's death when it eventually happened.
In fact, the entire Piccolo family felt the effect of the late Chicago Bears player's death and the pain gets worse when one considers the fact that he was just 26 and in the prime of his football career.
Talking to The Athlete media outlet, Joy described Brian as the kind of dad that would spend all day playing with his children. The football running back delighted in taking his three daughters shopping and could spend hours wading with the girls in their kiddie pool in the backyard.
Her devastation notwithstanding, Murrath found the needed strength to pick up the pieces of her life and forge ahead with her children. Even after five decades, The Piccolo family has maintained a strong bond and has always come together to honor his memory.
She Set Up The Brian Piccolo Cancer Research Foundation
Immediately after his burial, Joy Murrath set up a cancer foundation in commemoration of the great football running back. The focus of the Brian Piccolo Cancer Foundation was to improve the survival rate of people suffering from embryonal cell carcinoma. At the time of the footballer's death, the disease was devastating and fatal, but the foundation raised over $5 million and helped people like cyclist Lance Armstrong to fight the disease.
Joy and her family also set up a scholarship scheme in Brian's name. McCaskey and George Halas were the Foundation's first significant supporters. The duo participated in several initiatives on Brian's behalf and organized the first golf trip. The Chicago Bears of the National Football League have continued lending their support to the foundation.
Did Joy Murrath Remarry After Her Husband's Death?
Joy Murrath took her time to find love again after losing the husband of her youth to cancer. The American celebrity wife eventually dated Rick O'Connell – an American man who earns his keep in the ready-mix concrete business. Rick's father was a policeman in Chicago.
Rick and Joy tied the marital knot sometime in 1973, after which she changed her name to Joy Piccolo O'Connell (nee Murrath). The couple's union has endured for over five decades and is still strong. Joy, a septuagenarian, had two additional children with her second husband. Their names are Mike and Tom O'Connell – all boys. Joy and her spouse are living in Delavan, Wisconsin
Where is Brian Piccolo's Wife Now?
As a Septuagenarian, Joy Murrath continues to live in Delavan, Wisconsin, with her spouse Rick. She is the president of the Brian Piccolo Cancer Research Foundation and has been working tirelessly to raise funds for the betterment of people with cancer.
Aside from her late husband's foundation, Joys also participates in other charitable courses. She also equally takes care of her mum, Grace Murrath, who is currently in her 90s.