Thanks to critically acclaimed movies such as Gone Girl and I Care a Lot, Rosamund Pike is now one of Hollywood's foremost actresses, with several awards to her name. In her personal life, the actress is also thriving thanks to a long and fulfilling relationship with her partner, Robie Uniacke. A mathematical researcher and businessman, the Eton-educated Uniacke previously made it into the tabloids for wrong reasons, such as drug usage. He has largely cleaned his act now, and he and Pike enjoy a stable relationship far away from the spotlight with two sons they are bringing up in the best possible way.

Profile Summary of Robie Uniacke
Name: Robie Uniacke
Date of birth: 1961
Nationality: British
Ethnicity: English
Occupation: Mathematician, Researcher, and Businessman
Schools attended: Eton
Net worth: $1 million
Partner: Rosamund Pike
Children: Six, including Solo and Atom Uniacke
Robie Uniacke is an Eton-Educated Mathematician and Researcher
The tabloids amply cover Robie Uniacke's past antics, but there is not much information about his family background, early life, or history. However, it is known that he has British nationality and was born in England in 1961. It is also known that he attended the foremost English secondary school, Eton, which is a pointer to the fact that he must have come from a well-to-do background. Another fact that rings true about Robie Uniacke are that he is quite an intelligent and charismatic fellow.
Friends have described him as the coolest guy at Eton during his time there. His partner, Pike, has also described him as a very well-read, articulate, and clever partner who has a very ruthless mind. In any case, Uniacke utilized this clever mind of his to further his studies in mathematical research. A polymath, he is said to have adequate knowledge of the arts. He is also said to have a great love of books and previously owned a large bookstore in London.
He Founded Several Companies Which Have Gone Bankrupt over the Years
Robie Uniacke has morphed into a businessman over the years and has founded several companies. Sadly, most of them have been wound up, with the latest being an IT consultancy company known as Pale Fire Ltd. Uniacke founded Pale Fire Ltd in 2010, a year after he started dating Pike and ran it for the next six years. The company encountered issues in 2016 and had to declare bankruptcy with a £133,000 debt hanging over its head.
Investigations showed that Pale Fire Ltd Had defaulted on paying taxes totaling almost £200,000 despite regularly depositing income into Uniacke's accounts from 2012 to 2014.
These incomes totaled around £260,508, and rather than using it for paying taxes and other expenses, Uniacke paid a greater portion of the income, £144,060, to himself. Tens of thousands of pounds were also reportedly spent on mobile phones, bank charges, and other payments. By the time all was said and done, the company was in debt to the tune of £179,602 while Uniacke could only bring out about £25,000. Pale Fire Ltd was subsequently dissolved, and he was banned from serving as a company director for the next four years. The ban is now up, and Robie Uniacke is looking for his next adventure, which is in stark contrast to his partner, who has been on an upward trajectory since 2002.
Pike first gained international recognition for her role as Miranda Frost in the James Bond 2002 film, Die Another Day. She then received critical acclaim for appearances in movies such as The Libertine, Pride & Prejudice, Fugitive Pieces, Barney's Version, and An Education. The year 2014 was a blockbuster one for Pike as she won the Saturn Award for best actress for the thriller Gone Girl. Her performance also fetched her an Oscar nomination for best actress, and since then, she has become a household name in Hollywood. Her paychecks have also risen, and she is now worth $6 million, well above her partner, Robie Uniacke, who is said to be worth $1 million.
Uniacke and Pike Have Been Together Since 2009 But Were Never Married
Robie Uniacke and Rosamund Pike began dating in December 2009 after meeting at a soiree. At the time they commenced their relationship, Uniacke was about 48 years old while Pike was 30. This made for an age difference of 18 years, but the couple did not give it one thought. Uniacke had previously dated much older women and stated that the age gap becomes less of a problem as you get older. Pike was also similarly unbothered, stating that she doesn't care if people think she went for an older guy because he was less likely to jilt her. In her own view, she was drawn to Uniacke because he is the most interesting person that she has ever come across, and that was that.
Armed with such defiant body language, Robie Uniacke and Pike have gone on to build a relationship that has stood the test of time. They keep their romance out of the spotlight and carry on a normal life in their shared home in Islington, London. The couple has been together for over a decade now and adopts a flexible formula that works for them. For instance, Uniacke has no qualms about accompanying his wife to different shooting locations across the globe. Such a disposition may be down to his feminist mindset, which Pike absolutely loves about him.
The Couple Has Two Sons Together
Robie Uniacke and Rosamund Pike are in their romance for the long haul, but they have no plans to marry anytime soon. As the couple sees it, since the conventional didn't work out for them while the unconventional has, they are okay with doing the unconventional, including foregoing marriage. The couple has been together for about 12 years now and has two sons, namely Solo and Atom.
Solo Uniacke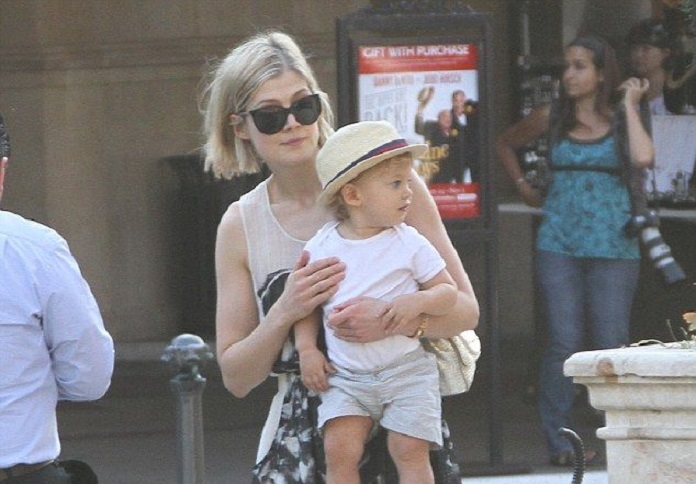 Date of birth: 6th of May 2012
Age:  9 Years Old
The first child that Robie Uniacke and Rosamund Pike welcomed is a son named Solo, born in 2012. Solo is a pretty much unconventional name, but the couple has yet to disclose the reasoning behind it. They instead focus on bringing up their son in their flexible but loving household. Solo is 9 years now and speaks fluent mandarin. He previously accompanied his family to the Czech Republic, where their mom was shooting a movie.
Atom Uniacke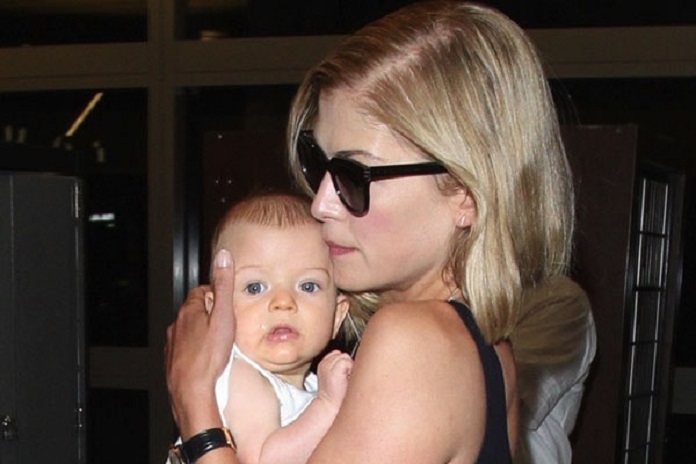 Date of birth: 2nd of December 2014
Age: 7 Years Old
The name of Robie Uniacke and Rosamund Pike's second child is Atom. Atom was born on the 2nd of December 2014, and his superstar mom reportedly gave birth to him at home. His birth did not surprise many as Pike had previously revealed that she would love to have more than one child given that she was an only child herself and very much wanted brothers and sisters. Atom is also grown up, and like his brother, he speaks mandarin as well. He has also accompanied their mom and dad on some shoots so that the whole family can be together.
Robie Uniacke Also Has Four Children from His Previous Marriages 
Besides the two sons Robie Uniacke has with Rosamund Pike, he also has four additional children thanks to past relationships. The mathematician was previously married to Emma Howard, the daughter of the late Earl of Carlisle, for a few years starting from 1983. When they wedded, Emma was 30 years old while Uniacke was a 22-year-old who spent his time as a diver. The union produced a son but ultimately crashed due to the couple's addiction to heroin. Following the divorce, Uniacke went to rehab. He later picked the pieces of his life and went on to marry foremost interior designer Rose Batstone. Their union also lasted several years before crashing and ultimately produced three children.