As someone who makes her living as an art dealer, Megan Wallace Cunningham would normally not be a prominent personality. However, it is a different ballgame altogether, seeing as her husband, Craig Ferguson, is one of the most acclaimed and respected hosts in the history of late-night shows. Cunningham and the Scottish-born Ferguson have been married for more than a decade and have built an exemplary family life. The two have also joined heads together to debut some projects of their own. There is, however, so much more to Cunningham than being Ferguson's wife. She is a descendant of one of America's founding fathers. Her mother is also an author in the romance genre.

Profile Summary of Megan Wallace Cunningham
Full name: Megan Wallace Cunningham
Date of birth: 1975
Age: 47 years old
Place of birth: New Hampshire
Nationality: American
Ethnicity: Caucasian
Mother: Linda Cunningham
Father: N/A
Siblings: N/A
Spouse: Craig Ferguson
Children: Liam James Ferguson
Occupation: Art dealer and TV show host
Megan Wallace Cunningham is the Daughter of Romance Novelist – Linda Cunningham
Not that many personal details exist about Megan Wallace Cunningham, but the little that does exist is fascinating. Cunningham was born in 1975 in the State of New Hampshire. Her nationality is American, while her ethnicity is Caucasian. Cunningham reportedly hails from a rich historical background that traces its origins back to John Adams, the second president of the United States of America. Her family is quite well-to-do and owns a wonderful farm in the city of Vermont.
The name of Cunningham's father or any potential siblings she may have is not available. However, we do know that her mother is an author named Linda Cunningham. Linda lives on the family's Vermont farm to date and writes novels in the romance genre. Some of her books include Small Town Girl 1, Corporate Affair, Keeping the Peace, Butterfly Bumping, Polaris, and First Day, etc.
She has built a Thriving Career as an Art Dealer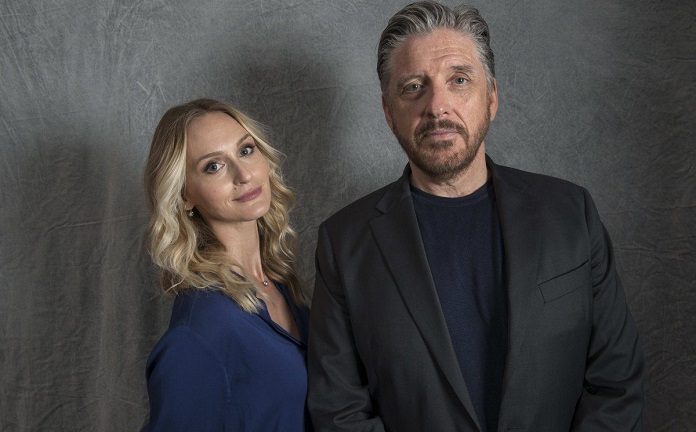 Although born in New Hampshire, Megan Wallace Cunningham grew up on her parent's farm in Vermont. She had a wonderful childhood filled with nature and different kinds of animals. However, she had to contend with freezing weather conditions at times. All in all, it was a wonderful childhood for Cunningham, and she went on to complete her high school diploma in regulation time. She also most likely studied for a college degree before kick-starting a career as an art dealer.
The exact details of Megan Wallace Cunningham's career history are unknown. Still, the work of an art dealer typically involves serving as a middleman between artists and people/institutions looking to buy artworks. The art dealer facilitates the sale of an artist's work to museums, corporations, galleries, and collectors by representing the artists and displaying their work. Conversely, an art dealer also uses extensive art knowledge to help institutions and buyers bring in good pieces.
Megan and Craig Ferguson Began Dating in 2005 and Tied the Knot Three Years Later
Cunningham and Ferguson are yet to reveal the intricate details of how they met, but it is known that they first met each other in 2005. They began dating, and the famous comic popped the big question later. Cunningham said yes, and the couple started preparations for their wedding. They later tied the knot on 21st December 2008. The wedding took place on the Cunningham family farm in Vermont, and despite the freezing temperatures, Ferguson paid homage to his roots by wearing a kilt. His bride looked stunning in her ensemble, and they exchanged their vows before their closest friends and families.
After their nuptials, the couple made their home in Hollywood Hills and proceeded to build a blissful marital life. Cunningham has been by her husband's side during his successful run as the host of one of the most popular late-night TV shows on American TV, The Late Late Show. She equally supported him when he decided that he had done enough on the show and quit after his ten-year run. Ferguson has also been supportive of his wife's career, and the two lovebirds have also collaborated on some creative projects, including a web-based series known as Couple Thinkers. Each episode of Couple Thinkers sees Cunningham and Ferguson interview a notable personality on various thought-provoking topics such as space travel, psychology, sustainable agriculture, etc.
Couple Thinkers debuted in 2017 and has thus far attracted notable personalities such as restauranteur and entrepreneur Kimbal Musk, renowned astrophysicist – Neil deGrasse Tyson, Harvard biologist – Daisy Robinton, and author – Jon Ronson. Megan Wallace Cunningham and Craig Ferguson have been married for 13 years now, and their love keeps blossoming. The couple has been able to make their union work despite their significant age gap. Megan Wallace Cunningham is about 13 years younger than her husband, Ferguson, but this does not seem to have caused any hiccups for them. In fact, this may be the reason their union has lasted so long.
The Couple Welcomed a Son Named Liam James in January 2011
Megan Wallace Cunningham and Craig Ferguson have welcomed one child in the course of their union, a son named Liam James, born on 31st January 2011. Liam is 10 years, and he attends school in Glasgow, where his family currently resides. Asides from Liam, Megan's husband also has another son named Milo from his former marriage. Craig Ferguson was formerly married to actress and school proprietor Sascha Corwin from 1998 to 2004. The union produced a son named Milo Hamish, born in 2001.
Milo is said to have inherited his parent's creative genes and is pursuing a degree at the School of Visual Arts New York. He usually shares some of his works with his followers on Instagram. Milo is quite close to his mom and maintains good relations with his dad. It is doubtful what type of relationship he has with his stepmother, Megan. The marriage between Craig Ferguson and Sascha Corwin is the comedian's second nuptials. Before that, he was married to a graphic designer named Anne Hogarth. The marriage lasted for just three years (1983 – 1986) and did not produce any children. It has been suggested that Ferguson's old habits of using drugs probably played a part in wrecking the union.