Elizabeth "Liz" Trujillo is the wife of Flavor Fav, American rapper and hype man. They reportedly met for the first time on the set of Flavor of Love season 3 and tied the knot in a private ceremony not long after the engagement.
Elizabeth is 49 years old and aside from being Flavor Fav's wife, she has also appeared in a handful of VH1's reality TV shows to underline her celebrity status. However, compared to her husband, she has a relatively low profile. This article explores all there is to know about her.
Summary of Liz Trujillo's Bio
Full name: Elizabeth Trujillo
Nickname: Liz
Gender: Female
Date of birth: 1975
Liz Trujillo's Age: 48 years old
Ethnicity: Middle Eastern
Nationality: American
Sexual Orientation: Straight
Marital Status: Married
Liz Trujillo's Husband: William Jonathan Drayton Jr. aka Flavor Fav
Liz Trujillo's Children: 2 – Gibran (son), Karma Drayton (son)
Hair color: Black
Eye color: Black
Profession: Reality TV star
Famous for: Being Flavor Fav's Wife
How Old Is Liz Trujillo Compared To Her Husband Flavor Flav?
Liz Trujillo is sixteen years younger than her husband, Flavor Flav. Liz was born Elizabeth Trujillo in 1975, however, very few people outside her inner circle seem to know the exact date and month of her birth and where she was born. She is currently 49 years old, a fact that indicates that her husband, who was born on March 16, 1959, is sixteen years older than her.
Given that very little is known about her early life, it is quite challenging to determine if her status as an American citizen came about through marriage or some other means.
We can confirm though, that she is of Middle Eastern descent. In that regard, however, not much is known about the members of her birth family, including her parents or any other siblings she might have. Liz Trujillo comes across as a sufficiently educated woman, but so far, there has not been any publicly disclosed detail of her formal educational background.
Liz Trujillo Has Been Married To Flavor Fav For Over Five Years
Although the exact year they got married is not known, Liz and Flavor Fav are believed to have been married for more than five years. There have been more than a few speculations about how, when, and where they met.
Certain sources speculate that the now-married couple met for the first time on the set of Flavor of Love season 3, a show that pitted several ladies against each other, at Flavor Fav's mansion, as they put on a show to gain the affections of the rapper. Some others claim the couple had known each other prior to the events that transpired on set.
What very few can question is the fact that the rapper proposed to Liz at the end of the show's third season. A fact that was also verified by the rapper during his appearance on Steve Harvey's talk show in 2016 is that they tied the knot in a private ceremony not long after the engagement.
Liz Trujillo And Flavor Fav Are Still Together
Liz Trujillo is still married to Flavor Fav. The reality and importance of this statement hit a lot closer to home when one considers the fact that Liz Trujillo and her husband have had to overcome some challenges and controversial moments in their relationship as a couple.
One particular event that could just as easily have spelled the end of their time as a couple happened in October 2012 when Liz was physically abused by Flavor Fav, her then-fiancée.
The incident took place in Las Vegas and involved Flavor Flav threatening Trujillo's teenage son, Gibran, with a knife. Flavor Flav pleaded guilty to misdemeanor domestic violence charges related to this incident. The plea deal was aimed at preventing a felony from being on his record.
In 2017, while filming Couples Therapy, Trujillo collapsed, and it was stated that the reason for her collapse was exhaustion brought on by the domestic violence she was experiencing at home.
Flavor Fav was slammed with a slew of domestic violence charges, and as a result, he was given a one-year suspended sentence and required to attend counseling sessions.
This series of events put a strain on the couple's relationship and highlighted the cracks in their foundation. It served as a turning point in their relationship, leading to a series of publicized events over the next few years.
It would appear though, that the worst of it is behind them, as they seem focused on a brighter future together.
Liz Trujillo and Flavor Fav Have A Son Together
Liz Trujillo is a mother of two, both sons. However, it is important to state that only one of those two sons is a product of her relationship with the hype man.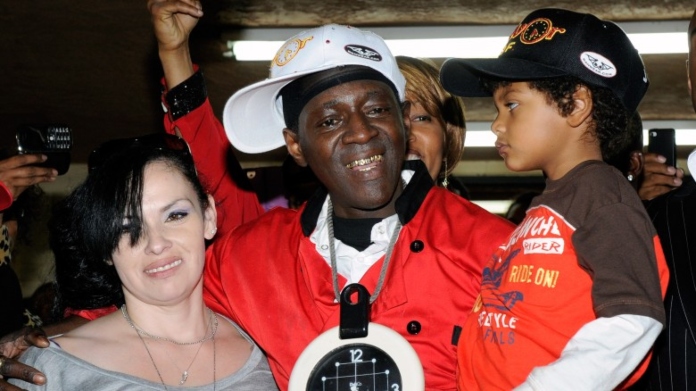 The couple welcomed their only child together in 2010. They named him Karma Drayton. As previously indicated, Liz's son, Gibran, is a product of a previous relationship, and not much is known about his birth history or the identity of the man who shares the responsibility for his birth.
It is also important to buttress the fact that Karma Drayton is Flavor Fav's seventh child as he has six other children from several other women.
What Does Liz Trujillo Do?
Liz Trujillo earns her living as a reality TV star. Granted, she is not as active as she was before marriage, but those appearances will remain credited to her.
Her first real involvement in a reality TV show came when she appeared in the third season of the aforementioned Reunion of Flavor of Love 3, where she was among about twenty other ladies vying for the love and affection of Flavor Fav.
She also appeared in the third season of VH1's Couples Therapy. The show, which ran from June 12, 2013, to August 21, 2013, follows the activities of Dr. Jenn Mann and her staff as they dish out relationship advice to couples going through relationship issues.
Liz Trujillo actually signed on to the show with her husband to fix some of the problems they were having in their marriage at the time. The time she spent in the show appears to have paid off.