Cindy Costner is the ex-wife of Kevin Costner, an American actor, producer, film director, and musician. The former couple was married for about 16 years and had three kids before things fell apart for them, and they parted ways.
Cindy's marriage to Kevin Costner shot her into the limelight because of how incredibly famous he became. However, Cindy also did some brief acting work herself. She is also a businesswoman and advocate.
Summary of Cindy Costner's Bio
Full name: Cynthia Sylva
Nickname: Cindy
Gender: Female
Date of birth: 29th October 1956
Cindy Costner's Age: 66 years old
Ethnicity: Caucasian
Nationality: American
Zodiac Sign: Scorpio
Sexual Orientation: Straight
Religion: Christianity
Marital Status: Divorced
Cindy Costner's Ex-husband: Kevin Costner
Cindy Costner's Children: 3 (Joe, Annie, and Lily)
Cindy Costner's Parents: Patricia Joan Antonucci and Louis Silva
Siblings: Cathy Silva
Cindy Costner's Height in Inches: 5 feet 7 inches
Cindy Costner's Height in Centimetres: 170 cm
Cindy Costner's Weight: 59 kg
Cindy Costner's Net Worth: $1 million
Famous for: Being the ex-wife of Kevin Costner
What is Cindy Costner's Age?
Cindy Costner is currently 66 years old. This is because she was born on the 29th of October 1956. Her star sign is Scorpio. Cindy, whose full name is Cynthia Silva, was born in California, USA.
Kevin Costner's ex-wife spent her formative years in California, where she was raised by her parents. However, the specifics of her early years and how exactly she was raised in California remain undisclosed at the moment. She is American by nationality and of Caucasian descent, with ancestral roots tracing back to Portugal.
Cindy Costner was born to parents identified as Patricia Joan Antonucci and Louis Silva. She is not an only child, as she has a sister called Cathy Silva. Cindy and Cathy are said to be quite close, having grown up together.
Cindy Costner is a Graduate of California State University
Cindy Costner is a well-read woman with a strong educational background. Not much is known about the specific institutions where she had her elementary and high school education. However, reports show that she attended elementary school in her native California and later moved on to a private high school in her California neighborhood.
After finishing her high school education, Cindy proceeded to pursue higher education at California State University, a public university in Fullerton, California. In college, she majored in Biological Science. After a dedicated four-year period of study, she proudly earned her bachelor's degree.
Cindy Costner and Kevin Costner Met in College
As we have already explained, Cindy Costner used to be Kevin Costner's wife. For the record, both Cindy and Kevin attended California State University, and this was where they first met. Their love story commenced in March 1975 when they crossed paths during their time as students at California State University.
When they first met, Kevin was completely stunned by Cindy's exceptional beauty and effortless charm, which she radiated, while Cindy found herself impressed by Kevin's evident confidence. The specific details of exactly how their first meeting happened remain shrouded in some mystery. However, what we are certain of is that their connection began within the university's halls.
Soon after their first meeting, their mutual fascination swiftly evolved into romantic involvement, and they started dating afterward. For their first date, Kevin decided to take Cindy to the movies and selected the movie Funny Girl as their cinematic experience. Their first date was followed by a visit to Kevin's parents for a proper introduction. The family's immediate fondness for Cindy was unmistakable. They loved her and accepted her warmly.
In a parallel gesture, Cindy also introduced Kevin to her own family, who embraced him warmly. Their love story appeared almost predestined, resonating as if orchestrated by fate itself. Their relationship became an open book to those around them, receiving widespread support from their circle of acquaintances who recognized the depth of their connection.
She Became Kevin Costner's Wife in 1978 After Dating For Three Years
Cindy Costner and Kevin Costner nurtured their romantic relationship for approximately three years before reaching the decision to solidify their love through marriage. Their marriage was eventually held on February 11, 1978. While details regarding the specific nature of their wedding ceremony remain undisclosed, it is widely assumed that their nuptials were graced by the presence of immediate and extended family members as well as close friends.
Details about the city where they held their wedding are not clear. But, because they are both from California, it is presumed that the couple opted to celebrate their marriage in the Golden State. Interestingly, at the time of their wedding, Cindy was on the brink of turning 22 years old, while Kevin was 23 years of age.
Also, Kevin was beginning to embark on the early stages of his acting career when the wedding was held.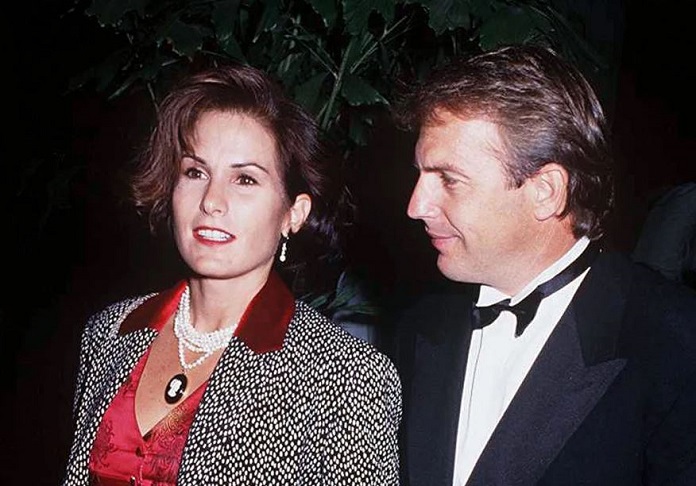 Cindy Costner and Kevin's Marriage Crumbled After 16 Years
Following their marriage, Cindy Costner and Kevin Costner remained married for 16 long years before their union crumbled. During their marriage, they were known to be a lovely couple who went everywhere together. They made public appearances as a couple and professed love for each other occasionally.
As far as the public was concerned, Cindy and Kevin shared a really harmonious marital life and looked like they were going to be together forever. However, to everyone's shock, their relationship took a turn after 16 years when they made a public announcement about their decision to part ways. In 1994, they officially filed for divorce.
The news of their divorce stunned many people who didn't even think there was a problem with their marriage at all. To everyone looking from the outside, Cindy and Kevin were the perfect couple.
Why They Got A Divorce
After they filed for divorce, details about why they wanted to separate came to light. According to reports, the grounds for their separation revolved around allegations of infidelity made by Cindy Costner, who claimed that her husband had been unfaithful. According to reports, her suspicions were aroused after their collaboration on the movie Dances with Wolves, as his behavior seemed unusual thereafter.
It was suggested that he had been involved with other women during their marriage. Moreover, Cindy had previously expressed her discomfort with Kevin's involvement in intimate scenes in movies. Reportedly, she had issued an ultimatum for him to cease such roles, but her plea went unanswered. She couldn't bear it, so they parted ways.
Despite these differences, both Cindy and Kevin stated that they were able to amicably address matters related to their children and financial affairs.
Cindy Received 80 Million in Divorce Settlement
In the aftermath of their divorce settlement, Cindy Costner received a really huge amount from her former husband as part of the divorce settlement. As a matter of fact, several sources say Cindy received the substantial sum of $50 million.
According to Forbes, at the time that the couple got their divorce in 1994, the divorce settlement went down as one of the most expensive in Hollywood history, showing just how massive the amount in question was.
How Many Children Does Cindy Costner Have?
During their 16-year union, Cindy Costner and her former spouse, Kevin Costner, experienced the joys of parenthood as they welcomed three children into their family fold. They had two daughters, Annie Costner and Lily Costner, and a son called Joseph Tedrick.
Despite the eventual end of their marital relationship, both Cindy and Kevin continued to foster warm and amicable bonds with their three children.
Annie Costner
Annie Costner is the couple's first child. She was born on April 15, 1984, and is now 39 years old. Annie has since followed in her father's footsteps and has become an actress, producer, and director known for movies like The Postman, The Baby-Sitters Club, and others.
Annie is now a married woman. Beyond her cinematic achievements, she found her life partner in a man called Dr. Danny Cox. She has also ventured into entrepreneurship by establishing her very own production company named Sound Off Films. Annie's endeavors not only honor her parents' legacy but also demonstrate her distinctive artistic vision.
Lily McCall
Lily McCall, the second of the siblings, was born on 4th August 1986 and is now 37 years old. She went into the acting business and is now an actress. She has appeared in projects like The Postman and 300 Miles to Graceland
Lily is also a vocalist and has contributed to the soundtracks of different movie projects. Notably, she contributed vocals to her father's hit TV show Yellowstone. It was a proud moment for Kevin Costner, seeing his daughter do what she does.
Joseph Tedrick
The youngest member of the Costner clan is Joseph. He was born on 31st January 1988 and is now 35 years old. Joseph has also carved his own niche in the industry. With a flair for sound and audio, he delved into the realm of audio editing.
His passion also led him to establish his own studio called Spartan Recording Studio, a company of which he is now CEO. Evidently, all the children Cindy and Kevin Costner's children had together are doing very well for themselves at the moment.
Did Cindy Costner Remarry?
Yes! Following her divorce from Kevin Costner, Cindy Costner entered a new chapter of her marital life when she got married to a man named Larry Ameen. He is a distinguished American business executive renowned for his involvement on the boards of prominent clothing companies such as Jordache Jeans and Pepe Jeans. Currently, he holds the position of CEO at Dogwood Investments.
Cindy Costner and Larry exchanged vows in 2004, and their union has endured since then. Despite their time together, the couple has not welcomed any children into their lives. Currently, Cindy and her husband Larry reside in Montecito, California, where they have established their home.
Meanwhile, Kevin Costner, Cindy's former spouse, has also remarried since parting ways with her. In fact, he has had a number of relationships with different women, including Birgit Cunningham, Bridget Rooney, and Elle McPherson. In September 2004, he tied the knot with model Christine Baumgartner. Their union resulted in the welcoming of three children into their family.
However, in 2023, Baumgartner filed for divorce from Kevin.
How Cindy's Ex-Husband Became a World-Renowned Movie Star
At the time she first met him, Cindy Costner's former husband, Kevin Costner, was just a young man who had big dreams of making big things happen in Hollywood. However, he has since made his dreams come true and has become one of the biggest names in Hollywood today. He is now a versatile American entertainment figure whose career spans acting, producing, directing, and even music.
Kevin has earned a remarkable array of honors, including two coveted Academy Awards, three Golden Globe Awards, a Primetime Emmy Award, and two Screen Actors Guild Awards. Kevin Costner's rise to prominence is attributed to his captivating performances in a series of iconic films. His leading man roles in critically acclaimed movies like The Untouchables, Field of Dreams, Dances with Wolves (a film he not only starred in but also directed, winning two Academy Awards for Best Picture and Best Director), and The Bodyguard have solidified his place in Hollywood history.
Beyond his acting, he also ventured into directing with movies such as Waterworld, The Postman, and Open Range, showcasing his multifaceted talents. Notably, Kevin Costner's impact isn't confined to the big screen. In the realm of television, he demonstrated his exceptional acting prowess by portraying Devil Anse Hatfield in the miniseries Hatfields & McCoys, a role that earned him the Primetime Emmy Award for Outstanding Lead Actor in a Limited or Anthology Series or Movie.
In more recent years, he has continued to captivate audiences with his portrayal of John Dutton in the popular drama series Yellowstone, which has garnered him both Screen Actors Guild Award and Golden Globe Award recognition.
What Does Kevin Costner's Ex-wife Do For a Living?
Banking on her ex-husband's influence, Cindy Costner used to do some work in Hollywood. Also, it turns out that she has also had some interest in acting since childhood. During her formative years in high school, Cindy's fascination with the performing arts took root and flourished. Eager to express her artistic inclinations, she became a familiar face in the stage plays organized by her school, seizing opportunities to immerse herself in the world of acting and drama.
Upon graduating from university, Cindy secured some minor roles in Disney productions, contributing to adaptations of cherished tales like Snow White and Cinderella. Eventually, she got the chance to star in a major project when she was cast to star in the American epic Western film Dances with Wolves in 1990. Interestingly, Dances with Wolves, an adaptation of Michael Blake's novel, held special significance for Cindy as it not only marked a pivotal moment in her acting career but also brought her into collaboration with her former husband Kevin, who played a multi-dimensional role as the film's director, producer, and fellow actor.
Apart from Dance With Wolves, Cindy has also made appearances in other projects, including the TV series Lightweight in 1998, portraying the character Rosa. Beyond her roles in film and television, she left an imprint in the world of commercials, showcasing her adaptability and presence on various platforms.
Apart from her work in Hollywood, Cindy used to work as a marketing agent at the esteemed Delta Airlines. However, it is not very clear how long she worked with the Airline. In her current endeavors, Cindy Costner actively engages as a social activist, with her primary focus on advocating for the rights of women and children. Her work is a steadfast opposition to all manifestations of exploitation, reflecting her commitment to fostering positive change.
Beyond her role in advocacy, Cindy also thrives as a businesswoman and entrepreneur. Notably, she is said to be the owner of Palms Restaurant, situated in Newport Beach. Further highlighting her entrepreneurial acumen, she also serves as a manager at the Pasadena restaurant, a venture she co-established alongside her former husband.
What is Cindy Costner's Net Worth?
The exact figure of Cindy Costner's net worth at the moment is not very clear, as different accounts have cited different figures. Different reports have pegged her net worth to be between $20 million to $50 million.
A large chunk of her net worth was accumulated through her divorce settlement from Kevin Costner. She is reported to have received an incredible $80 million from Kevin following their divorce.
Where is Cindy Costner Today?
Cindy Costner currently lives in Montecito, a town in Santa Barbara County, California, United States, where she has made her residence with her husband, Larry Ameen. She continued to be engaged in her work as a social activist and as an entrepreneur.