Meech and Terry are two American brothers who are recognized as the infamous founders of the Black Mafia Family (BMF), the notorious drug trafficking and money laundering organization. While it lasted, the cartel made close to $300 million under the two brothers.
The older of the duo, Demetrius Edward Flenory Sr., is better referred to as Meech or Big Meech, while the younger is Terry Lee Flenory, also referred to as Southwest Tee. 
The brothers formed their cartel in the late 1980s, and it ran until the mid-2000s before they were apprehended and locked up. By this time, BMF was believed to have recruited more than 500 members. Although Terry and Meech have since been incarcerated, the story of BMF does not end there.
Terry and Meech Were Born And Raised in Detroit, Michigan
Meech and Terry were born to Demetrius Flenory Sr. and Latarra Eutsey in Detroit, Michigan, U.S. While Meech was born Demetrius Edward Flenory Sr. on June 21, 1968, which means he is now 55 years old, Terry was born on January 10, 1970, and he is now 53 years old.
Of African-American ethnicity and American nationality, they were raised in Detroit alongside their older sister, Nicole Flenory. According to Big Meech, he grew up facing severe poverty together with his brother and sister. Their family lived on welfare and survived on food stamps. Life was excruciating for them, and clothing was a serious problem. They lived on thrift clothes and wore shoes with holes in the bottom.
That was a life they wanted to get out of as soon as possible, and so the overreaching ambition of the Flenory brothers from the many years of lack was to make money and be rich. Hence, when dealing drugs presented itself as a way out for them, even though illegal and dangerous, they held on to it and never let go.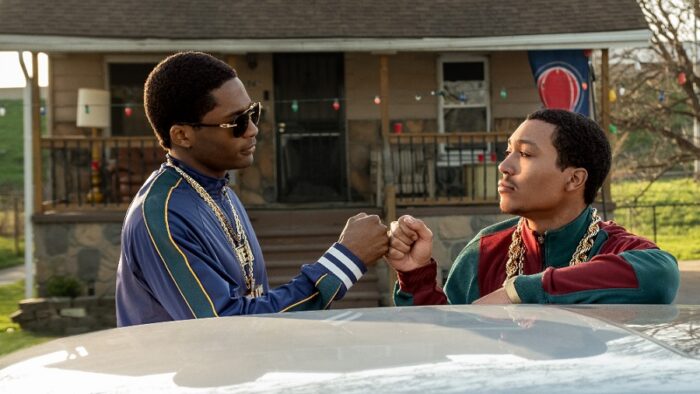 They Began BMF At An Early Age 
Meech and his younger brother established the Black Mafia Family (BMF) when they were very young. They first got into the crime of selling drugs at a very young age when they were still in high school. At the time, the Flenory boys would get cocaine and resell it on the streets of Detroit. Each bag went for 50 dollars.
When they began, they went by the name of 50 Boyz. The group started around 1985, when Meech was 17 years old, while Terry was a teenager of 15 years old. Others who were a part of the 50 Boyz are Pat, Kato, and B-Mickie, among many others.
50 Boyz would later rebrand and expand its operation. This was when it finally changed its name to the Black Mafia Family. At this time, they went fully into dealing drugs and had control of many areas in Michigan.
How They Built An Empire Through BMF
Terry and Meech soon built BMF into an empire worth over 200 million. The brothers did this by continuously expanding their crime territory from the 1980s to the 2000s. To do this, they brought in more than 500 people into their cartel, and in less than 20 years, they distributed thousands of Kilograms.
More so, they created operation hubs in many states in the United States where they operated. Some states and cities where BMF sold drugs included Detroit, Atlanta, Miami, St. Louis, Los Angeles, and Birmingham, Alabama. Apart from Detriot, one of the biggest markets for BMF was Atlanta. Here, the brothers controlled a market that sold more than 2,500 kg of cocaine each month.
At the height of their drug dealing enterprise, Meech moved to Atlanta, where he oversaw the marketing of illegal drugs. He was in charge of distributing the substance there, while Terry was in charge of the market in Los Angeles. They made use of Limousines to move money and drugs from Mexico to the United States, and after that, they carried money to Mexico.
Meech and Terry Began BMF Entertainment To Hide Their Ill-Gotten Wealth
With so much attention-getting to them due to the fortune they controlled heading into the 2000s, Meech and Terry decided it was best for them to find a way of cleaning their money. With ties to some rappers, they decided to enter the entertainment business, forming the Black Mafia Family Entertainment.
The entertainment company became a promotion agency and record label for hip-hop artists. Initially, the agency began operating without a name, but Demetrius Flenory, the founder, later settled on using BMF Entertainment.
Some rappers linked to BMF Entertainment included Bleu DaVinci, who spent 5 years behind bars for his activities with the family, and Yung Jeezy. Born Jay Wayne Jenkins, Jeezy is one of the most successful rappers promoted by BMF.
Meech And Terry Had Many Feuds
Big Meech and his brother got into many serious altercations and beefs because of the kind of trade they were involved in. Some of the feuds were fights for regional territory control and dominance. They also had to fight rival groups in the drug business as well as others who were in the BMF who betrayed them.
A history of their beef with others began in the 1980s when they got into the illicit trade. By the late 1980s, things had already gotten heated up, and Terry got into a feud that almost took his life. In the events that ensued, he was shot in the right eye, and although he escaped with his life, the eye that took the bullet remained permanently damaged.
Terry was attacked again, but this time around, it was by alleged armed robbers and not as a result of any feud. He was shot four times during the episode in a restaurant in Detroit.
Big Meech was not immune to the sad incidents as he became a target several times, beginning in the 1980s. An attempt was made on his life in the late 1980s, just like his brother. He was ambushed and shot outside of a Chinese restaurant. He was shot in the neck and stomach more than ten times, but fortunately, he survived the ordeal without any permanent damage.
In 2004, he got involved in yet another altercation, but this time, it did not end up without a fatality. The incident happened at a nightclub in Atlanta where Big Meech had an argument with Anthony Wold Jones, who was once Diddy's bodyguard. In the heat of the argument, shots were fired, and Meech took one to the butt while Wolf lost his life.
Apart from their external issues, the brothers also fell out at some point. It was claimed that the thing that became the source of their problem was the flashy lifestyle of Big Meech as against the quieter life of Terry. Southwest T wanted them to do everything on a low, but Meech wanted to flaunt his wealth.
How They Were Apprehended And Their Legal Challenges
The activities of Meech and Terry and the Black Mafia Family had already started attracting the attention of the police in the early 1990s, but it was until the mid-2000s before the law finally caught up with them.
Active attempts at arresting members of the organization began in October 2003 when the Organized Crime Drug Enforcement Task Force, under the coordination of the DEA's Special Operations Division, got Operation Motor City Mafia in motion. One of the first recorded arrests came in April 2004 when Jabri Hayes, one of the important distributors of the mafia, was arrested with 95 kilograms of cocaine stacked in two suitcases.
This was followed by more arrests, wiretappings, and trials of other members of BMF, but the big breakthrough came in 2005 when many members were arrested in a raid carried out by the DEA.
It was also in this year that Meech and Terry were arrested. Their trial was rather lengthy, and it stretched until 2007, when they finally pleaded guilty to crimes relating to drugs and money laundering. During the different raids, monies found with the brothers and others in the BMF were put at close to $300 million. They were subsequently sentenced to 30 years behind bars.
Is the Black Mafia Family Still Active?
Yes, BMF is still active. Many years after the arrest of and conviction of the Flenory brothers and many others linked to BMF, there was the belief that the operations of the organization had come to an end. In fact, the assumption was that the arrest of over 150 members of the organization had come to an end.
In 2009, Federal Agents arrested Vernon Marcus Coleman, who also goes by several other names, including Jason Stevenson Parkinson and WU. Before his arrest, the law enforcement agencies believed he was the last member of BMF who was not in prison. It was reported after his successful arrest and conviction that BMF was no longer operational.
Nothing more was heard about BMF until 2023, when it was reported that over two dozen people were arrested and they were claimed to be members and associates of BMF, which means the organization is still operational.
Where are Terry and Meech Now?
Currently, the two brothers and former BMF frontmen are not free men as they are still serving their terms. While the COVID-19 pandemic was an unforgettable experience for most of the world, it helped Terry leave prison.
During the Pandemic, the Federal Bureau of Prison made efforts to release some prisoners to decongest facilities and reduce the spread of the virus. Fortunately for Terry, he was released on May 5, 2020, on the grounds of decongesting the facility and due to health challenges.
Thanks to this, he is now completing his time on house arrest.
His plea for an early release from prison with his brother was rejected in 2020. He applied for a compassionate release on the grounds for which his brother was released. However, he was denied because, according to reports, the judge felt he was still carrying and promoting himself as a drug kingpin, which is why he was made to continue serving his time. At some point, it was made known that Big Meech was considering writing to President Joe Biden, but it is unclear if he continued with that.
Meech got drug treatment while in confinement, and he also continued adult education, earning a GED.
Big Meech is Set For Release In 2028
Big Meech and Terry were sentenced to a 30-year jail term, which means they were supposed to be released in 2030. However, with Terry under house arrest, Big Meech will be released in 2028, two years before his due time. He got the early release thanks to the USSG amendments 782 and 788. The amendment impacted all drug-related offenses before November 2014.
Before now, there have been many attempts by celebrities to get the convict to be released. In 2017, just days before the end of the tenure of President Barack Obama, LL Cool J pleaded on behalf of Big Meech and Southwest T to have them released. The celebrated rapper pleaded with Obama, stating that the brothers were held on nonviolent crimes and they could serve a better purpose for the community outside of the prison walls.
Needless to say, Obama did not give heed to the plea, and now, with some adjustments in the law, the brothers will soon be free men.
Their Story Inspired The Black Mafia Family Series
The story of Meech and Terry became the inspiration for several TV series and documentaries. One of the most famous works they have inspired is the series Black Mafia Family, which is also referred to as BMF.
The American crime drama television series started in 2021 thanks to the effort of 50 Cent, who has the show on Starz. He is also one of the directors of the production. The series details the activities of the brothers, their rise in crime, and many other intricacies surrounding them.
The second series started in January 2023 and ran until March of that year. The third season has been announced to premier in March 2024, and it is expected to continue until May 2024.
The series features some big names, including Big Meech's son, Demetrius Flenory Jr., who is an actor and rapper. Also known as Lil Meech, Flenory Jr. was notified by his father from prison that he had given 50 Cent rights to go ahead with a production based on the BMF, and Lil Meech got the chance to play his father. He revealed that he had no acting skills before then, but 50 sent him to Los Angeles and enrolled him in an acting school to portray his father.
Others who got roles in the series are Da'Vinchi, who played Terry; Russell Hornsby, who took the role of Meech and Terry's father, Charles Flenory; and Michole Briana White, who appeared as Lucille Flenory, their mother.