Kendra Peach is an American social media personality known for her fitness, lifestyle, and fashion photos and videos on various social media platforms. Even though she is very active on OnlyFans, she is married, to the surprise of her teeming fans.
Very few details are available on specific aspects of her real and personal life because she prefers to keep her work separate from her home life. At the moment, Kendra Peach has harnessed the benefits of social media and has become a popular name. She calls herself a Viking queen, which has led to speculations regarding where she is from. That notwithstanding, she has amassed a considerable following just living her life and showing off her curvy body online. Let's find out more about the social media sensation.
Summary of Kendra Peach's Bio
Full Name: Kendra Peach
Nickname: The Viking Peach or Viking Goddess
Gender: Female
Kendra Peach's Ethnicity: White
Nationality: American
Sexuality Orientation: Straight
Religion: Christian
Kendra Peach's Marital status: Married
Kendra Peach's Husband: Matthew Segovia
Famous for:  Social media personality and Content Creator
Kendra Peach's Instagram: @thevikingpeach
Twitter: @kendrapeachx
YouTube: Viking Kendra OFF GRID
OnlyFans: @kendrapeach
Fansly:

@KendraPeach
Kendra Peach was Born in Pokane to Artistic Parents
Kendra Peach was birthed to her parents in Spokane, Washington, the United States of America. She has yet to reveal much about her personal life, like her exact date of birth, age, and her parents' names. Going by her birthplace, however, we know she is an American by nationality and is of white ethnicity.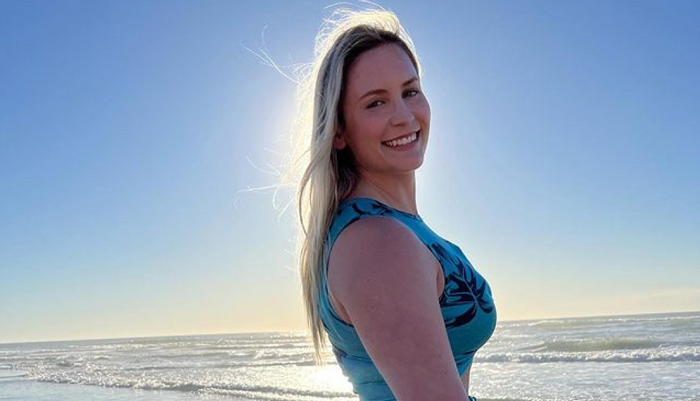 Speculations about her age have produced different results over time. While she does not look like a doe-eyed young lady, it is also apparent that she is not so advanced. Going by the above, fans have pegged her to be in her early 30s.
The social media sensation grew up under the care of her family and was raised in a home that fostered creativity, according to the little details she dropped in some of her videos. She credits this as a significant contributor to her love for the arts. While she has done well to shield her parents' identity, she did reveal that her mother is a painter and her father is a musician. She inherited a mix of their artistic talents.
It is not known if she is the only child of her parents or whether she has siblings with whom she grew alongside. Regarding her educational background, there are no details on the school where she had her elementary, high school, and university education. However, it is generally perceived that the social media star is well-educated.
Kendra Peach is a Video Creator on Various Social Platforms
Kendra Peach's career began on Instagram but has since grown and to expanded to nearly all available social platforms. At the beginning of her career, she created videos for Instagram in the woods around her home, showcasing nature and how she enjoys it. She launched her YouTube channel in 2016 and intensified her efforts by creating well-received videos.
Together with her husband in 2018, she co-founded two more YouTube channels that showcased her love for fitness and what their life looked like for a young married couple. Their family YouTube channel also features videos highlighting unique experiences of their attempt to live off the grid and away from the noise of the city. This saw her going back to the nature kinds of videos she started with but with a more laid-back survival mode theme.
More recently, the social media star opened an OnlyFans account under the username @Kendrapeach. This was a huge bump to her income because she charges a  fans subscription fee of $13 per month. She also offers 20% and 30% discounts to fans who wish to subscribe for three and six months, respectively. Peach is also active on a host of other social media platforms like Twitter, Facebook, and Fansly.
Kendra Peach's Social Media Footprint
Instagram – 

179K

 followers
Youtube – 384K subscribers
Twitter –

52K

Followers

Facebook
OnlyFans – 255.8K Subscribers
Fansly – 12.9K Like
Kendra Peach's Body Measurements
Peach has a body that has been described as very curvy. She stands taller than the average woman at 5 feet 7 inches and weighs a commensurate 70 kg. She has a well-toned body from many years of shooting fitness content videos. She is blond and has blue eyes.
Kendra Peach is Married to Matthew Segovia
Kendra Peach is not only a social media star, but she is also a wife. She is married to Matthew Segovia. The couple has not disclosed details about their relationship, like when they met, how long they dated, and when they got married. This is not surprising considering how tenacious, zealous fans can get about the personal lives of their favorite celebrities.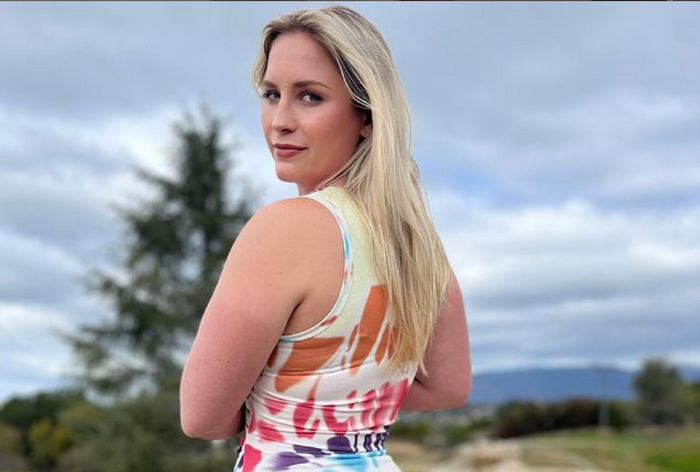 Peach and her husband allegedly live together in Washington's mountains. This is where they carry out most of the adventurous expeditions they put up on their joint Youtube channel for their fans. Going by the videos, they are enjoying marital bliss, and there has been no rumor of divorce or controversies surrounding their marriage.
The celebrity and her husband often Vlog on YouTube about their acquired properties, like their half-acre of land, and most of their videos online are all about the daily life challenges they face. From their videos, you can tell that they breed various farm animals, including pigs, goats, and chickens. They also plant a variety of crops for different purposes.
Being the more prominent face of their channel, Kendra often introduces the videos and does most of the talking and explanations, while Matthew does the heavy lifting and occasionally comes up to explain what he is doing, albeit very briefly. More recently, he is heard in the background voice more often than he is seen. The couple has yet to have children, as Kendra has not been seen pregnant in her videos. They do have a lot of fur babies.
How Much is Kendra Peach's Net Worth?
Kendra Peach does not have an estimated net worth as it is unknown how much she gets from all the content she creates and also how much she makes from her OnlyFans page. This notwithstanding, we know that her major sources of income are Youtube, Onlyfans, and her business efforts on the ranch she owns alongside her husband. Going by how big their ranch is, it is safe to say that the social media star and her husband are doing great financially.