Kai Cenat's net worth is currently estimated to be $9 million. Cenat, a 21-year-old social media personality, has raked in his money over the years through his different works as a Twitch live streamer, rapper, and YouTuber.
Kai has become very popular on social media over the years and has attracted a huge following around various social media platforms. He has collaborated with many other content creators and has won awards for his work online. In the process, he has become a very wealthy person.
How Kai Cenat's Net Worth of $9 Million was Amassed Over The Years
As we have explained earlier, Kai Cenat is currently worth an incredible $9 million dollars. At just 21 years of age, this is a very impressive feat for Cenat to have achieved. But, how exactly did he come about this massive net worth?
Let's take a look at what Kai Cenat has done to rake in all his $9 million net worth so far.
YouTube is a Huge Contributor To Kai Cenat's Net Worth
Kai Cenat's net worth has received a significant boost from YouTube. This is because Cenat has achieved remarkable success on the video-sharing platform, solidifying his position as one of the platform's most prominent and celebrated content creators. It was in 2018 that he began his journey on YouTube. He uploaded his video on YouTube on January 13, 2018. He was about 16 years old at the time.
Once he joined YouTube, he started by making prank videos and thrilling challenge-based content. One series, in particular, titled "Ding Dong Ditch," played a pivotal role in propelling Cenat to new heights of recognition. Comprising 11 episodes, this series showcased Cenat and his friends engaging in mischievous acts of ringing doorbells and swiftly evading capture, leaving unsuspecting individuals perplexed. The popularity of this series contributed significantly to the exponential growth of his YouTube channel, which predominantly features meme-based comedy sketches that resonate with his ever-expanding fan base.
Cenat's talent and creativity did not go unnoticed within the YouTube community, as he was soon discovered by Fanum, a fellow YouTuber hailing from the Bronx. As a result, Cenat joined the renowned YouTube group known as AMP (Any Means Possible), making regular appearances in their videos. This collaboration further bolstered his online presence and cemented his status as an influential figure in the digital landscape.
Today, Kai Cenat has garnered over 3 million subscribers on the YouTube channel and has raked in an astonishing 250 million views. With these numbers, Kai Cenat has not only amassed a substantial following but has also reaped substantial financial rewards through AdSense. It is estimated that Cenat earns millions of dollars annually from his YouTube endeavors alone, showcasing his remarkable ability to transform his passion for comedy into a lucrative career in the online realm.
Kai Cenat's Net Worth Receives Its Biggest Boost Via Twitch 
The biggest contributor to Kai Cenat's net worth is the video live-streaming service, Twitch. This is because, in addition to his success on YouTube, Kai Cenat has made a significant impact on Twitch, solidifying his status as a prominent figure in the world of live streaming. As a matter of fact, he is one of the most popular faces on the platform at the moment. Kai Cenat made his Twitch debut in February 2021 after transitioning from YouTube and quickly garnered attention for his engaging gaming sessions and captivating reaction content.
One of the highlights of Cenat's Twitch journey was his inclusion of celebrity guests in his streams. Throughout 2022, he invited notable figures such as Bobby Shmurda in April, Lil Baby in October, and 21 Savage in November to join him on his broadcasts. These collaborations not only added a new dimension of excitement and entertainment for his viewers but also contributed to his highest viewership record at the time, with a peak of 283,245 concurrent viewers.
Cenat's exceptional contributions to the streaming community were duly recognized when he received nominations in two categories, "Streamer of the Year" and "Breakout Streamer," at the prestigious 12th Streamy Awards in October 2022. His talent, dedication, and impact on the platform were acknowledged, ultimately leading to his well-deserved victory in the "Streamer of the Year" category in December. This accolade served as a testament to Cenat's growing influence and status as a highly regarded Twitch personality.
Demonstrating his commitment to pushing the boundaries of his content, Cenat embarked on a month-long subathon, starting on January 31, 2023. This unique event encouraged viewer participation, further strengthening the bond between Cenat and his dedicated community. As a result of his captivating streams and dedicated fan base, Cenat achieved a remarkable milestone on February 28, 2023, when he became the most-subscribed Twitch streamer of all time, reaching a peak of 306,621 subscribers. This record-breaking feat solidified his position as a trailblazer in the streaming realm.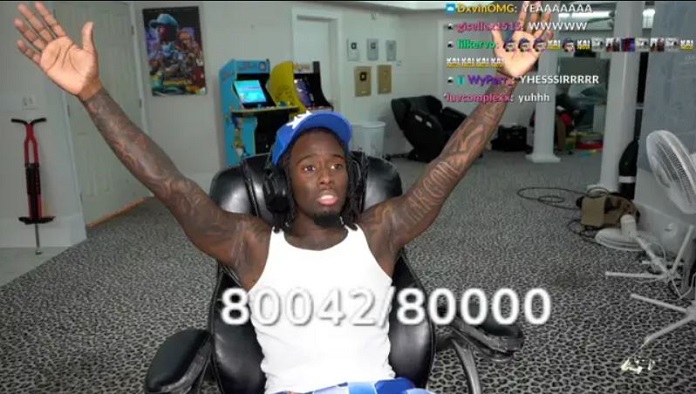 How Much Money Has Kai Cenat Made From Twitch?
Kai Cenat's success and popularity on Twitch have also translated into huge financial success. Reports show that his innovative sleep streams, where he broadcasts himself sleeping, generate an approximate monthly income of $23,280, culminating in an impressive annual income of $285,480.
These streams have garnered significant viewer engagement, accumulating over 5.6 million hours watched according to Streams Charts. His other streaming content, including his gaming and reaction content, has also generated a lot of money for Cenat as well. He is estimated to rake in over 4 million dollars every year from Twitch alone.
However, Cenat faced a setback in his Twitch career when he announced on April 17, 2023, that he had been banned from the platform. The reason behind his termination remains unknown. Despite this setback, Cenat remained undeterred and resilient, announcing in May 2023 a new live-streamed show exclusively on Rumble in collaboration with IShowSpeed, titled the Kai 'N Speed Show.
Kai Cenat Also Makes Music
In addition to his accomplishments as a content creator on platforms like YouTube and Twitch, Kai Cenat has ventured into the world of music, showcasing his diverse talents and further expanding his creative repertoire.
Cenat made his debut in the music industry in 2022 with the release of his first single, "Bustdown Rollie Avalanche," which featured a collaboration with renowned rapper NLE Choppa. A music video was shot for the single and this video has since raked in over 12 million views on YouTube alone. This exciting foray into music allowed Cenat to express himself in a different artistic medium.
Building on his musical pursuits, the following year saw Cenat release the single "Dogs" in collaboration with his fellow streamer, IShowSpeed. The single has garnered over 8 million views on YouTube. In addition to creating his own music, Cenat has also made notable appearances in music videos by other artists. He was featured in Adot's "Shoot," Polo G's "Distraction," and Lil Uzi Vert's "Just Wanna Rock" music videos.
Kai Cenat's net worth has also received a boost from his music career. This is because, even though he is still quite fresh in the music business, has made quite a lot of money from his music. His songs are available on different streaming platforms, including Spotify, Apple Music, Deezer, and others, and have been streamed hundreds of thousands of times. This means Cenat has undoubtedly generated income from his musical endeavors so far.
Kai Cenat is a Big Influencer on TikTok
In addition to his success on YouTube and Twitch, Kai Cenat has established a significant presence on the popular social media platform, TikTok. With nearly 6 million followers and over 42 million likes, Cenat has cultivated a dedicated and engaged audience on this platform. Over the years, Cenat's TikTok videos have amassed millions of views, showcasing his ability to captivate and entertain viewers with his unique content.
Whether it's through humorous skits, engaging challenges, or relatable snippets from his daily life, Cenat's presence on TikTok has resonated with a wide range of audiences, contributing to his substantial following and impressive engagement metrics. But, beyond the sheer popularity, Kai Cenat's influence on TikTok has translated into significant financial success.
As a highly sought-after influencer, he receives numerous brand deals and promotional opportunities on a daily basis. These collaborations allow Cenat to generate substantial revenue and he is believed to rake in millions of dollars each year in revenue from TikTok alone. Through partnerships with brands, he leverages his immense reach and influence to promote products and services, creating a win-win situation for both Cenat and the companies he collaborates with.
Kai Cenat Has Nearly 5 Million Followers On Instagram
In addition to his thriving presence on YouTube, Twitch, and TikTok, Kai Cenat has solidified his status as a significant figure on the popular social media platform, Instagram. As a matter of fact, he began his social media journey on Instagram before branching off to YouTube and Twuct. Today, Cenat has amassed an impressive following of nearly 5 million loyal followers on the platform.
With such a substantial following, Cenat's influence on Instagram is undeniable. Brands and businesses recognize the value of partnering with him to tap into his engaged audience. As a result, Cenat receives numerous promotions and brand deals on the platform. In addition to brand partnerships, Cenat also earns revenue through Instagram's features, such as Reels.
By leveraging his creativity and engaging content, he attracts a significant number of views and engagement on his Reels, leading to potential monetization opportunities. His reels have been viewed over 15 million times, ultimately resulting in revenue for him. These avenues of revenue generation contribute to Kai Cenat's net worth. Estimates suggest that Cenat earns nearly a million dollars or more annually from his activities on Instagram alone.
How Kai Cenat Spends His Money
Kai Cenat does not just make money; he also makes time to spend the money he makes in different ways. Having worked so hard to build his net worth, it is only natural to want to use a part of that net worth to make himself feel good.
So, how exactly does Kai Cenat spend his money? Let's take a look.
Kai Cenat Loves Spending Money On His Mother
According to our findings, Kai Cenat not only enjoys financial success but also takes great pleasure in sharing his wealth with the people he cares about most, including his beloved mother. In a heartwarming gesture, Cenat surprised his mother in October 2022 by purchasing a new house for her.
The YouTube sensation captured the joyous moment on camera, sharing photos of himself proudly signing off on the deed to the home and presenting his mother with the brand-new house keys. It was an incredibly touching gesture that left his mother elated and deeply grateful for her son's generosity.
In addition to the house, Cenat has demonstrated his love and appreciation for his mother by gifting her a brand-new car. Some reports suggest that the vehicle in question was a luxurious Tesla Model Y, showcasing Cenat's desire to provide his mother with both comfort and style. This generous act further exemplifies Cenat's commitment to lavishing his loved ones with gifts and ensuring their happiness and well-being.
Cenat's dedication to his family extends beyond his mother, as he has also showered other family members and close friends with thoughtful and meaningful gifts over the years. He is known to often surprise his loved ones with luxury items. He is also on record to have vowed to continue making his loved ones especially his mother very happy as time goes on. According to him, his mother has seen nothing yet as he is going to shower her with more goodies in the future.
He Loves Luxury Cars
In addition to his generosity towards his loved ones, Kai Cenat also loves spending money on himself. Our findings show that Twitch Streamer has a notable passion for automobiles and doesn't hesitate to invest in high-end vehicles. The YouTuber's love for cars is evident in his collection, which features some truly remarkable and luxurious vehicles.
One of the prized possessions in Cenat's car collection is a Lamborghini Urus. Valued at over 300k, this SUV exudes power, style, and prestige, reflecting Cenat's penchant for high-performance vehicles. Another remarkable addition to Cenat's car collection is the Mercedes-AMG GT53. Valued at over 100k, this sleek and powerful sports car combines elegance and performance in a stunning package.
Another notable vehicle owned by Cenat is the Rolls Royce Cullinan, a vehicle said to be a pinnacle of automotive luxury. Estimated to be worth about 500k, the Rolls Royce Cullinan exemplifies opulence and grandeur. This prestigious SUV represents the peak of automotive craftsmanship, showcasing Cenat's affinity for top-of-the-line vehicles.
While the Lamborghini Urus, Mercedes-AMG GT53, and Rolls Royce Cullinan are highlights of Cenat's impressive car collection, it's worth noting that he is rumored to possess additional remarkable vehicles.
He Has a House in New York
Kai Cenat's financial success and penchant for luxury extend beyond his car collection. Reports suggest that he also owns a sizable house in New York. However, the exact amount he spent on the property remains uncertain, with varying figures being circulated. Some sources claim that the house's value is about one million dollars, while others state it surpasses two million dollars.
Regardless of the precise amount, it is evident that Cenat invested a significant sum into acquiring this impressive residence. Described as a substantial dwelling, Cenat's New York house is rumored to boast several bathrooms, adding to its grandeur and functionality.
Also, apart from buying things, Kai Cenat also loves to spend his money by traveling and taking in sweet sights around the world. He is often spotted riding jet skis on beach waters and doing other amazing things with friends and family.