Joe Montana's net worth is an astounding $150 million. 
The former football star earned his fortune from diverse sources. From his football career earnings, he tidied up over $22.5 million and went on to earn more in endorsement deals. Joe became a businessman after his retirement from active play and has set up some viable investments that keep boosting his bottom line with the passage of time.
How Much is Joe Montana's Net Worth Today?
The most recent estimation of Joe Montana's net worth pegged it at $150 million. The former National Football League quarterback earned a salary of $4 million per year during his two-year stint with the Kansas City Chiefs. This was listed as the footballer's largest single-season salary throughout his 16 seasons with the league.
What are Joe Montana's Net Worth and Income Sources?
Joe Montana started earning the big bucks from his days as a professional footballer. He reportedly made bigger money from endorsement deals, and after his retirement from active play, Joe invested his money in several viable businesses that have turned out to be money spinners.
He also has solid investments in real estate with several choice properties to his credit. A bullet list of his income sources can be found below
Football
Endorsement
Business
Real estate
Montana's Professional Football Career
Joe Montana went professional when he was selected by the San Francisco 49ers during the 1979 NFL draft as the 82nd overall pick in the third round. This made him the 4th Quarterback picked behind Thompson, Phil Simms, and Steve Fuller, who were all picked during the first round.
Montana went on to play for the San Francisco 49ers for the ensuing 14 years, starting from 1979 and spanning through the years to 1993. Joe's first year with the National Football League Club saw the QB ink his rookie deal worth $50,000 in salary, including a signing bonus that was pegged at $50,000.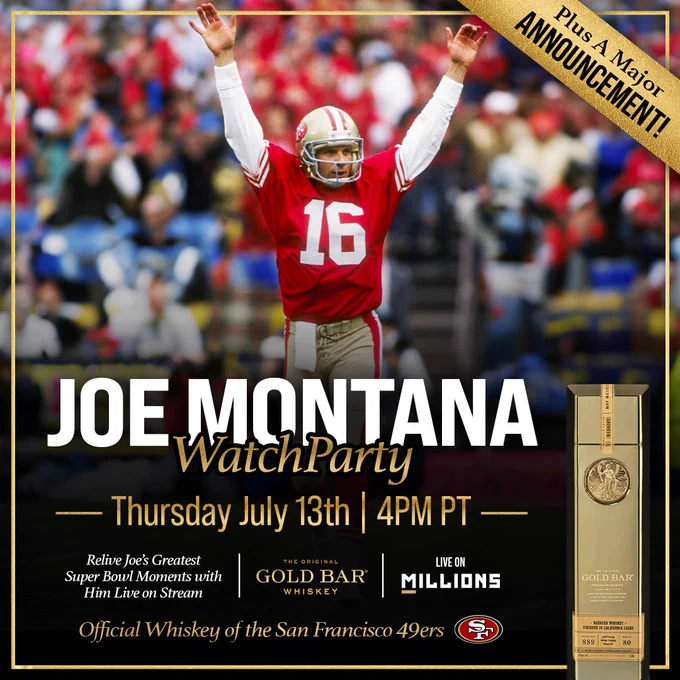 This amount may appear to be really small in the present age, but it was considered to be a tidy sum during the late 1970s and the early 1980s. Because he performed exceptionally well with the team, his annual remuneration was boosted to $70k the next season. The year 1981 saw him earning $85,000 yearly.
Still with the Niners, Montana extended his contract and got a three-year, $255,000 pact. Till 1990, the football quarterback was receiving $356,000 as his average annual income. However, his story changed before the end of the year when the professional footballer signed on the dotted lines of a 4-year contract worth a whopping $13 million.
Joe Montana's $13 million deal gave the QB pride of place as the first player of the NFL to ever bag a $4 million annual salary.
Joe's days with the Niners were quite eventful, as the professional footballer recorded some stellar career stats. Coming against the Cincinnati Bengals in 1982, the San Francisco 49ers defeated them 26-21 to emerge winners of Super Bowl XVI. The same year, the quarterback won the prestigious Super Bowl MVP Award; he also bagged the same award in 1985 and 1990.
Reasons to bid on this @JoeMontana #SuperBowl Jersey:

– Went on to win his 4th Super Bowl.
– He had 5️⃣ touchdowns.
– Was named Super Bowl XXIV MVP.
– It's game-used/photo-matched.
– It's his final Super Bowl Jersey.

Bid now: https://t.co/vTsXtN7aQs pic.twitter.com/PsGOuwYw5I

— Goldin (@GoldinCo) February 12, 2023
When the Niners faced the Miami Dolphins during Super Bowl XIX in 1985, they beat them with a score of 38-16. Joe went on to win the 1986 NFL Comeback Player of the Year Award in 1986 despite his back injury that led him to sit out half of the entire season. In 1989, the 49ers won Super Bowl XXIII with a score of 20-16 against the Bengals.
In the 1990 Super Bowl, Joe Montana and his team members defeated the Denver Broncos, 55-10, and emerged the winner; this particular victory earned him the title, "Sports Illustrated" Sportsman of the Year by Sports Illustrated.
Two Super Bowls, One Jersey 😮 @KenGoldin is holding Joe Montana's Game-Used/Photo-Matched San Francisco 49ers Red Jersey from #SuperBowl XIX & Super Bowl XXIII. 🤯

It's a part of The @JoeMontana Collection in our February Elite Auction at https://t.co/kG5dgErHku pic.twitter.com/MwOdYBizun

— Goldin (@GoldinCo) February 10, 2023
An elbow injury took the quarterback out in 1991, and he was replaced with Steve Young the following year. It happened that Steve outshined Montana during his convalescence period, and in a bid to avoid being relegated to a backup, he sought a tradeoff that saw him move to the Kansas City Chiefs.
Joe Montana's Earnings from the Kansas City Chiefs
In April 1993, the NFL QB inked a 3-year deal with the Chiefs worth $10 million. However, he was only able to play two years with the team before announcing his retirement on the 8th of April 1995. With that said, we must not forget to mention the fact that Joe was able to pocket $8 million out of the $ 10 million as he remained active for two years. He only lost a year's worth of his contract.
A quick scrutiny of Montana's career as a professional NFL footballer reveals that he was active for 16 seasons and earned over $22.5 million; this amount does not include the endorsement deals he signed during that period, which was quite hefty.
Joe Montana Invested in Liquid2 Ventures
After retiring from the National Football League, Joe went on to launch another career path as a venture capitalist. He co-founded the capital firm known as Liquid2 Ventures – a DevOps platform that affords teams the opportunity to collaboratively build as well as deploy software.
Liquid2 is associated with A-list firms such as Pinterest, Airbnb, Robinhood, and GitLab
Alongside his partners in 2015, Joe Montana reportedly invested $100k in GitLab, which is listed as the biggest investment success in Liquid2. By the time Joe poured $100k into GitLab, the firm was worth $12 million.
When GitLab went public on the 14th of October 2021, its day one of trading, the firm's market cap was a whopping $15 billion. Boosting Liquid2's investment of $100,000 to $63 million. Liquid2 can reportedly boast 12 other pre-IPO unicorns (billion-dollar market cap firms) as part of its portfolio.
Before Silicon Valley startup Pinterest went public, Joe Montana was listed among its initial investors.
His Investment in Chapman and Other Ventures
Former San Francisco 49ers defensive back Ronnie Lott and Harris Barton, who used to play with the team as an offensive lineman, joined efforts in 1999 to launch a fund of funds known as Champion Ventures.
They went on to collaborate with companies like Sequoia and Greylock, where they invested $40 million with very good returns. Montana took the decision to join his former teammates in 2003, and they changed the name of the investment fund to HRJ.
Other startups that the former NFL quarterback has invested large funds in include Resonado Labs, LoanSnap, Moonshot Brands, AutoLeap, Rogue Games, LoanSnap, BuildOps, and more.
Jo Montana also has a winery called Montagia; he launched his private label in 2011 as a wine producer. The former footballer owns a substantial share in a NASCAR racing team, though the details are not known. We were told that the car racing company drove some of the most exotic automobiles on a global scale, including a Pontiac Trans Am.
Joe Montana's Endorsement Deals
Celebrities of Joe Montana's caliber often attract endorsement deals worth millions of dollars, and the former NFL quarterback was not different from his colleagues.
During his active years as a footballer, Joe was seen in commercials for Guinness, Skechers, Papa John, Schick, AT&T, Mastercard, and more. He still has standing endorsement deals with some of these brands. The exact amount he received from each gig was not mentioned, but they were said to run into tens of millions of dollars.
With that said, it is interesting to note that Montana earned more revenue from his endorsement deals than he earned from football earnings.
Joe Montana Invests in Real Estate
Joe Montana has extensive investments in real estate. In Calistoga, California, the former quarterback has a 500-acre estate. The abode is his family holiday spot, and it includes a bocce court, an olive grove, a basketball court, a skeet shooting range, a spa, stables for horses, a pool, a guest house, and a private pond. The property also has housing for the groundskeeper.
In 2009, the dwelling was listed for $49 million. In January 2012, he reduced it to $35 million, and in July 2019, the abode was re-listed for $28.9 million. The last time that the house was listed in the real estate market was in June 2021 for $24.5 million.
Joe Montana's other properties include an 87-acre Calistoga ranch, which he acquired in 1998 for $1.8 million. In 2019, he listed it on the market for $3.1 million. He has a San Francisco Condo that he bought in 2015 for $2.275 million. His Malibu, California, oceanfront house was acquired in August 2021 for $7 million.