David Lemanowicz (born 8th of March 1976, Age: 47) is the husband of popular actress, TV host, and personality, Jill Wagner. David Lemanowicz and his wife Jill Wagner got married in 2017, but they actually met many years before that.
Most people know David Lemanowicz as the beloved husband of Jill Wagner. These lovebirds have a relatively young marriage but have won hearts worldwide with their enviable union.
Beyond his marriage to the popular actress, Lemanowicz is also quite accomplished on his own. He previously pursued a career as a professional ice hockey player before going on to serve in the United States Airforce. He is now retired and making waves as an art director and graphic designer.
Profile Summary of David Lemanowicz
Full name: David Lemanowicz
Date of birth: 8th of March 1976
Age: 47
Birthplace: Vancouver, Canada
Spouse: Jill Wagner
Children: three namely Lija, Army Gray, and Daisy
Schools attended: the University of Toronto, University of Texas-Pan American
Occupation: art director and graphic designer, formerly ice hockey player and air force officer.
Height: 6 feet 2 inches
Weight: 190 lbs
David Lemanowicz Originally Hails From Canada and Once Played Professional Ice Hockey
While Jill Wagner is an American, her husband, David Lemanowicz is originally from Canada. Lemanowicz was born on the 8th of March 1976 in Vancouver, British Columbia, Canada. He spent his formative years in his motherland and fell in love with ice hockey at an early age.
He, therefore, played all through his school days and by the age of 15, landed a spot on the Kelowna Spartans, a team in the British Columbia junior league. This was in 1991 and the 6 feet 2 inches tall Lemanowicz stayed with the Spartans until 1992 when he moved to America with hopes of making it big and perhaps one day playing in the NHL.
That dream did not materialize as Lemanowicz had expected. Even though he was drafted by the Florida Panthers in the 1995 NHL draft, he did not spend much time with them. He however went on to play for several minor league sides, including the Rio Grande Valley Killer Bees, The Elmira Jackals, Laredo Bucks, and the Mississippi Riverkings.
He also played for minor league teams in cities such as Billings, Austin, New Haven, Tallahassee, Port Huron, Carolina, and Spokane. Whilst doing this, Lemanowicz did not abandon his studies. He played for the University of Toronto from 2000 to 2003 and also gained a degree in international relations. He thereafter studied global security at the University of Texas-Pan American.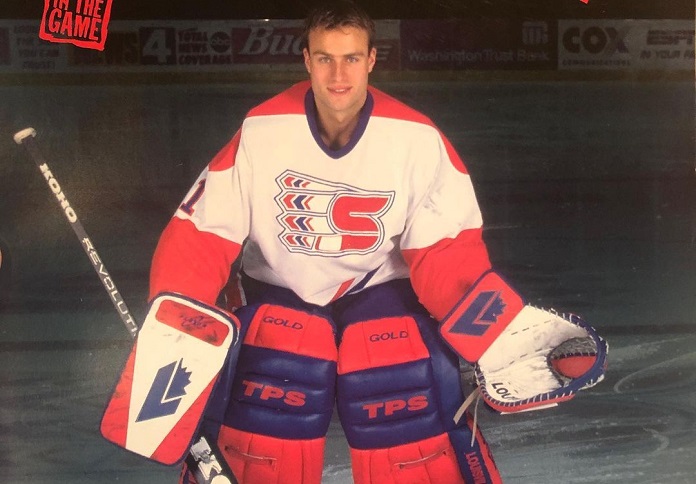 He Also Served in the U.S. Airforce and is Now a Graphic Designer
After calling time on his ice hockey career, David Lemanowicz decided to enlist in the United States Army Reserves as a path to citizenship. He was eventually called up to active service by the Airforce and was deployed in places such as Afghanistan.
Lemanowicz spent a good time in the army during which he rendered admirable service to his country. He later retired and has since set up shop as a graphic designer and art director. He runs his own company and has done work for popular brands such as Tesla, and Adidas.
His other clients include K2 Snowboarding, Everbind, North Valley Lumber, and Lotus 22 Clothing. His company has not less than four employees and their work entails website designing, production of brochures and product pages, etc. The nature of Lemanowicz's skills means that he can work remotely which is ideal for a family. He also has time to tend to the rescue animals on the farm where he and his family make their home.
David Lemanowicz and Jill Wagner First Dated in their Teens Before Reconnecting 17 Years Later
The love story that David Lemanowicz shares with his wife, Jill Wagner, is so incredible that Hallmark is reportedly considering making it into a movie. However, before that hits the screens, we will give you a preview. Lemanowicz first met Wagner back in the year 1996. She was a 17-year-old high school student while he was a 20-year-old pursuing his ice hockey career. He was playing for a minor league team in her home state of North Carolina and they ran into each other at some point.
Jill quickly fell in love with him and even though she wasn't permitted to date yet, she happily snuck out of her house to meet him. They went on about three dates and then he stopped communicating with her as he was busy with other pursuits.
The two will go on their individual paths for the next 17 years. During this period, David Lemanowicz played for several minor ice hockey teams before going on to enlist in the air force. Jill, on her own part, got so good at her acting and TV hosting career that she achieved celebrity status.
Thanks to that celebrity status, she was asked to join the USO tour of 2013 to provide live entertainment to troops serving in Afghanistan. As fate would have it, Lemanowicz turned out to be one of these troops and he sought her out while she was signing autographs for participants.
They reminisced over the good old days and went their separate ways as they were both dating other people at the time. This situation persisted until 2016 when Lemanowicz and Jill bumped into each other again in an L.A. restaurant. They reconnected, and as they were both single at the time, commenced a relationship shortly.
The Couple Got Married in 2017 and Now Have Two Daughters Together
David Lemanowicz and Jill Wagner dated for roughly four months before getting engaged in July 2016. They later tied the knot in April 2017. The couple has been married for 6 years now and their relationship keeps blossoming. They have welcomed two daughters in the course of their union. The first is named Army Gray and was born on the 17th of April 2020. She was conceived on the 4th of July and this prompted her parents to give her a name that was patriotic, as well as strong, intelligent, soft, and feminine.
Lemanowicz and Wagner welcomed their second daughter, Daisy Roberta, on the 19th of August 2021. Prior to the birth, Jill had documented her pregnancy on Instagram as she had missed out doing so with her first pregnancy. She therefore equally took to the platform to announce that her bundle of joy had finally come. The actress revealed that she and her baby suffered some post-labor complications. Her husband however stood like a rock through it all.
Thankfully, the complications are all over now and the couple and their children are having a wonderful time at home, a farm located on Tellico Plains, Tennessee. Wagner regularly seizes any opportunity she gets to gush over her family. For instance, on the occasion of her third wedding anniversary in 2020, she described Lemanowicz as the love of her life, her best friend, as well as her favorite since age 17.
David Lemanowicz Has a Daughter Named Lija From His First Marriage
David Lemanowicz has a total of three children from all his marriages. The former ice hockey player was married to his college sweetheart named Gina. They began dating in 2000 and got married in 2005. They then went on to welcome a daughter named Lija in 2010 before splitting thereafter. David Lemanowicz has worked hard to maintain an active presence in his first child's life despite the split.
He regularly visited her and hung out with her before he remarried. Now that he is remarried and has started a new family, he has ensured that Lija is not left out. A look at Wagner's Instagram page will show the young girl regularly hangs out with her dad, half-sisters, and stepmom.
Quick Facts
Who is David Lemanowicz? David Lemanowicz is a retired professional hockey player and an ex-military man. He is also known as the husband of the famous American television actress and model, Jill Wagner.
When and where was David Lemanowicz born? David Lemanowicz was born on March 8, 1976, in Vancouver, British Colombia, Canada.
What is David Lemanowicz's professional background? David Lemanowicz had a successful career as an ice hockey player before he retired. He was selected to play in the National Hockey League by the Florida Panthers. He also served in the U.S. Army reserve and aspired to become an FBI agent.
Who is David Lemanowicz married to? David Lemanowicz is married to the American television actress and model, Jill Wagner. They reconnected later in life after having dated briefly when Jill was 17 and David was 20. They got married in April 2017.
Do David Lemanowicz and Jill Wagner have children? Yes, they have two daughters together: Army Gray, born in April 2020, and Daisy Robert, born in August 2021. David also has a daughter, Lija Lemanowicz, from his previous marriage.
Where do David Lemanowicz and Jill Wagner live? They live on a farm in Tennessee, a dream come true for Jill Wagner who always wanted to live on a farm.
What did David Lemanowicz do in the military? David Lemanowicz joined the U.S. Army reserve, aspiring to become an FBI agent. He served at the Fort Lewis Military Camping Tacoma for some time before pausing his military career to further his education.
What is David Lemanowicz's net worth? As of now, his net worth is estimated to be around $4 million.
What is David Lemanowicz's height and weight? He stands 6 feet 2 inches tall (187 centimeters) and weighs 194 pounds (88 kilograms).
How did David Lemanowicz and Jill Wagner meet? The pair first met when Jill was 17 and David was 20. They dated for a while and then reconnected 17 years later in Afghanistan where Jill was on a USO tour and David had been deployed with the Air Force. Their love story is so unique that Hallmark is considering making it into a movie.