The hit 2020 Netflix series, Selena, has been offering fans a renewed insight into the short but impactful life of Tejano music star, Selena Quintanilla. It has also shone a light on her family members who were a big part of her success, including her older brother, A.B. Quintanilla. The senior Quintanilla not only played bass guitar in the band that catapulted his sister to fame but actually penned some of her hit tracks, including Como la Flor, Amor Prohibido, and No Me Queda Más.
Following Selena's demise in 1995, he has spearheaded efforts to preserve her legacy whilst also forging a solo career with bands such as Los Kumbia Kings, and Los Kumbia All Starz. He has equally led an interesting personal life. Currently on his fifth marriage, A.B. Quintanilla has a total of four ex-wives and eight children. His relations with them have been relatively amicable but he has been cautioned by the courts for failing to pay child support as at when due and even landed in jail briefly for the same reason.
A.B. Quintanilla is Currently Married to Argentinian Beauty, Anjelah Orellano
A.B. Quintanilla is one man who is determined to find true love no matter how many attempts it takes him. The singer/music producer is not daunted by his four previous divorces and has gone ahead to find love again with a lady named Anjelah Orellano. Not much background information exists about Anjelah but it is known that she is from Argentina. She and Quintanilla met and started dating sometime after his fourth divorce and later said their vows in Las Vegas on the 16th of September 2019. They however waited a while before disclosing the news to members of the public.
The couple remains together to date and their love is going strong. They do not have any kids together but Quintanilla is obviously besotted with Anjelah and often posts heart-warming tributes to her on Instagram. He also shares beautiful snaps of them together and has no qualms about doing things to make her happy, including seeking out Argentinian restaurants for them to grab a quick bite. Anjelah is similarly smitten with her husband and has revealed that a day without him feels like an eternity. According to her, coming back home and reuniting with him makes her happy.
Quintanilla's First Marriage Was to Vangie Quintanilla in 1988
A.B. Quintanilla is no longer married to Vangie but they will forever share ties due to the two kids that they had together. Real name Evangelina Almeida, Vangie first met Quintanilla in a club in the late 1980s. As at that time, he and his family members were still trying to break through in the music industry and had next to nothing to their name. They shared cramped living quarters, with one bathroom for 13 persons, but Vangie didn't give it much thought. She was so in love with Quintanilla and they started dating. They later got married on the 17th of April 1988 in Corpus Christi.
The couple's marriage lasted for 12 years during which they welcomed two sons namely Svani (born in 1991) and Gianni (born in 2000). They later divorced in the year 2000, shortly after the birth of their second son. The reason for their divorce is not known but Selena's death in 1995 took a toll on their union and they obviously never recovered from it. Vangie has now moved on with her life and has gone on to welcome one more child, a daughter named Alana.
The Music Producer Then Got Married to Actress, Heather Grein, in 2002
After his divorce from Vangie, A.B. Quintanilla's next marriage was to an aspiring actress named Heather Grein. The couple tied the knot on the 20th of April 2002 and their marriage lasted for just two years during which they welcomed two sons namely Elijah (fondly called Jae) and little A.B. They later divorced in 2004 and the reason was given as irreconcilable differences. Grein has since progressed in her movie career, appearing in movies such as Broken Promise (2008) and The Falling Man (2010). She also has another son and often shares photos of all three sons on her Instagram page. Heather Grein is also on amicable terms with her ex-husband and in-laws.
She frequently posts tributes for Selna on her Instagram page. She has also sent a birthday wish to her ex-husband's younger sister, Suzette, in recent times. Quintanilla has also been doing his own part and makes out time to take their kids out, including Grein's son. The exes do have their troubles though. For instance, in March 2021, their son Jae got missing after an argument with his mom. It later turned out that he was at his aunt's house and there was some terse exchange of words before the whole drama calmed down.
Quintanilla's Third Marriage Was to Brenda Ramirez in 2004
A.B. Quintanilla did not waste time finding love again after his second divorce as he met and began a relationship with a lady named Brenda Ramirez in the same year of his divorce. They then went on to tie the knot on the 31st of December 2004. The marriage between Ramirez and Quintanilla lasted until 2009 during which they welcomed two daughters and two sons. The couple later divorced in 2009. There is not much information on what Ramirez is up to these days. She is also not active on social media, meaning that we do not see any snippets of the kids.
The Music Producer and Model, Rikkie Leigh, Were Married From 2011 to 2016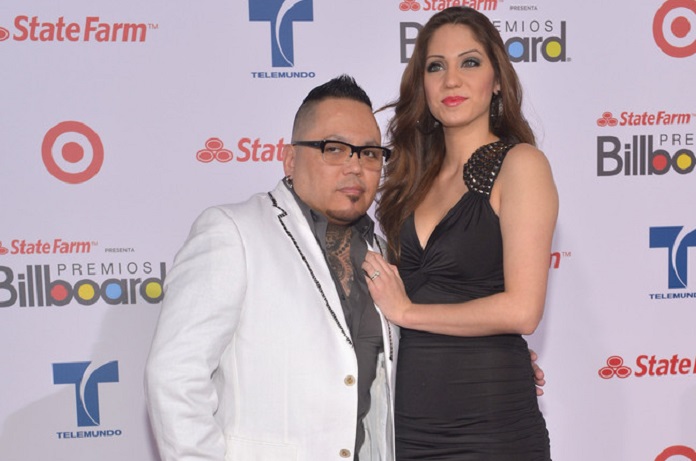 Following his divorce from Ramirez, A.B. Quintanilla commenced a relationship with the model, Rikkie Leigh Robertson. Boasting of British and Scottish heritage, Rikkie was born on the 14th day of March 1988 in the state of Texas and went on to forge a career as a model before she met and started dating Quintanilla. They later tied the knot on the 12th of November 2011. The couple's marriage was dogged by allegations that Rikkie was a gold digger but they shrugged it off and instead lived their best lives. The couple even had a joint YouTube channel where they interacted with fans and revealed that they hoped to have kids together.
They never did though before they filed for divorce in September 2016. Rikkie will later reveal that the reason for the split was that Quintanilla didn't care about her anymore. The model has moved on with her life and is now married to David Gonzalez, a photographer whom she met in Quintanilla's circles.
A.B. Quintanilla Has a Total of Eight Children, Including Sons, Svani, Gianni, and Elijah
A.B. Quintanilla has expressed his desire to have more kids in the future but for now, he has to be content with the eight that he has from his first three marriages. These eight children include six boys and two daughters and the first of them is son, Svani Quintanilla. Svani's mother is Quintanilla's first wife, Vangie, and he was born on the 27th of November 1991 in Texas. He has followed his father's footsteps into music and is a producer and engineer. He remains very close to his father and often features on his social media accounts. Svani has also helped his father on projects honoring his late aunt Selena. Svani is not married but he has a daughter named Yvie from a relationship. Yvie is A.B. Quintanilla's first grandchild.
A.B. Quintanilla's second son from his first marriage to Vangie is Gianni. Born in the year 2000, Gianni is in his early 20s and is most probably in college. Unlike elder brother, Svani, who is active on social media, Gianni maintains a low profile. One of his highest public outings was back in 2008 when he appeared on the cover of People Espanol with his dad and brother.
Quintanilla's 3rd child is a son named Elijah Jae and his mother is his second wife, Heather Grein. Born between 2002 and 2003, Jae is not so keen on social media but going by his mom's activities on YouTube, he is musically gifted. He has a good voice and is a guitarist as well. Jae and his mother have a cover of the song, Figures, on YouTube.