Zindi Mandela was married twice before her death. Her first marriage was to a South African businessman called Zwelibanzi Hlongwane while her second was to Molapo Motlhajwa, a member of the South African National Defence Force. She had a total of four children, all products of her first marriage. Their names are Zoleka Mandela, Zondwa Mandela, Bambatha Mandela, and Zwelabo Mandela-Hlongwane.
Zindzi Mandela was a South African diplomat who made remarkable impacts in various ways during her lifetime. She was the youngest daughter of South African statesman, anti-apartheid revolutionary, and philanthropist who served as President of South Africa from 1994 to 1999–Nelson Mandela and his wife, Winnie Madikizela-Mandela. Zindzi's parents gave birth to her when the anti-apartheid struggle was so intense. After her father's release from prison, she had the privilege to serve as stand-in First Lady of South Africa between 1996 and 1998.
Zindzi Mandela Got Married Twice Before Her Demise
Zindi married twice in her lifetime. Her first marriage was to a South African businessman called Zwelibanzi Hlongwane. The two sealed their love for each other in the presence of their families and dignitaries in 1992. Zindzi was proudly walked down the aisle by her father. The anti-apartheid heroine and her husband sadly divorced after some years together.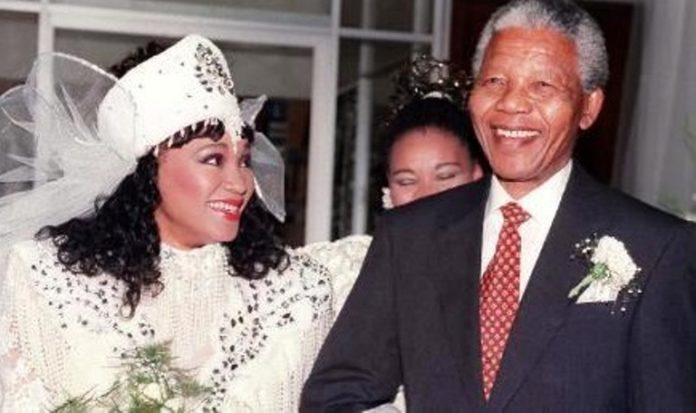 A few years after their divorce, Zindzi and Molapo Motlhajwa, a member of the South African National Defence Force, got married in March 2013. The couple first signed their nuptial agreement at a Home Affairs office and later moved to a 50m-by-10m marquee set up on the street in Ikageng township to entertain their guests.
Not much is known about the pair's relationship because they perfectly managed to hide it from the public until December 2012, when they went public with their relationship at an ANC conference. Similarly, it is difficult to tell how long they dated before marriage and how and where they met. Molapo was thrust into the limelight after his relationship with Zindzi became public knowledge.
Presently, information about his personal life is not known. The former member of the South African National Defence Force was 37-years-old when he tied the knot with Zindzi. She was 52-year-old then.
She Was More Popular Than All The Men In Her Life
Zindzi Mandela was the most famous of the two men she tied the knot with. Her first husband was a businessman, while Molapo was a force man. Though both men are popular and successful in their own rights, Zindzi had the nation's attention on her throughout her lifetime. Her popularity can be traced back to the apartheid regime.
She was a dedicated and respected diplomat who had wonderful working relationships and represented her country with dignity. The nature of her job gave her the platform to bring her wealth of experience to the fore. She was greatly loved even within the international scene. Besides being a diplomat, Zindzi Mandela was a member of the Release Mandela Campaign and the military wing of the African National Congress, Umkhonto weSizwe.
Zindzi Mandela Was Survived By Four Children
The renowned diplomat had four children – they all came from her first marriage. Her second didn't produce kids. However, she was a stepmother to Molapo's child. Meet the children left behind below.
Bambatha Mandela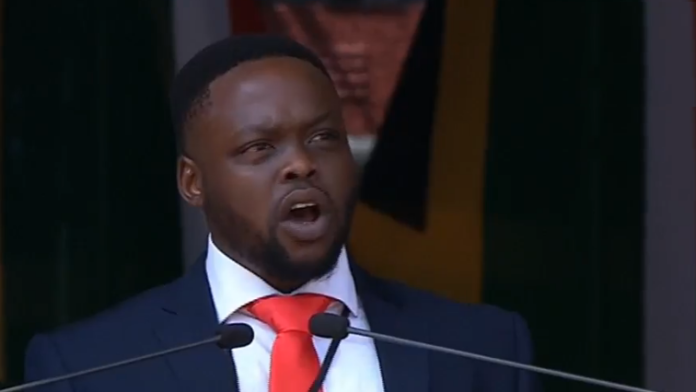 Not much is known about Bambatha Mandela. He was born in 1989 and is currently 34 years old. Bambatha is very vocal and protective of his family legacy and name. His occupation, the schools he attended, and information about his personal life are not available for public consumption.
Zoleka Mandela
Zoleka is the most publicly known of all Zindzi's children. She was born on April 9, 1980, making her 43 years old. She is an author, columnist, and road safety/breast cancer activist who has met and worked with notable personalities in the country and beyond. She wrote a book where she chronicled her struggle and addiction to drugs and alcohol, battles with breast cancer, and the painful death of her daughter.
Zoleka has been through a lot in her life. In 2011, she was treated for breast cancer. Sadly, it returned in 2016. In 2010, she lost her 13-year-old daughter to a car accident while heading home from a concert. The incident was linked to drugs and was so devastating for Zoleka, who was recovering from a suicide attempt at that time. Zoleka is actively involved in her family's humanitarian business and social media, where she is known for being vocal and courageous.
When she was undergoing treatment for cancer, she used social media to show the removed tumor and the side effects of her chemotherapy treatment. Mandela is also widely recognized across the globe for her activism and relevance. In 2016, she was named one of the BBC's "100 Women," and it was such an honor. After the death of her daughter, she kicked off a campaign against deaths caused by road accidents. Though Zoleka is professionally a writer, she hasn't relented from following in their mother's footsteps and family's values.
She is not the drama type and hasn't really been caught in any web of scandal or controversy. As mentioned earlier, Zoleka had a daughter who died in her teenage age. She hasn't revealed the name of her late daughter's biological father and the story surrounding her birth. She is currently in a relationship, and her man's Instagram bio bears the name kumkani wama Xhosa. And he describes himself as a creative analyst and visual artist.
Zondwa Mandela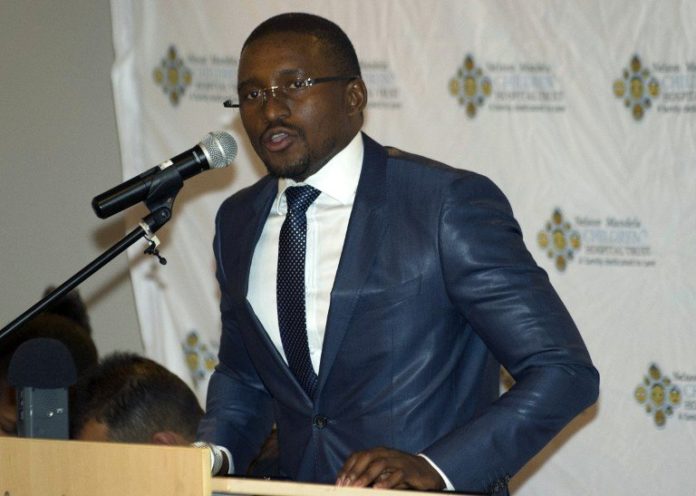 38-year-old Zondwa was born in 1985 and is happily married to Lindo Mandela. Like most members of the Mandela family, the couple is actively involved in the affairs of the former first family. The particular day and month he was born, and the schools he attended are yet to be publicized. More so, information about his personal life and exact profession is under the radar. Zondwa hasn't been involved in any form of scandal.
Zwelabo-Mandela Hlongwane
He was born in 1992 in South Africa. Currently 31 years old, the particular day and month he was born are unknown. Also, the schools he attended are yet to be publicized. Not much is known about his personal life, exact profession, and relationship status. Zwelabo is hardly in the news and hasn't been involved in any form of scandal.
Zindzi Mandela Was Born During The Apartheid Regime
Zindzi Mandela's life began on December 23, 1960, in Soweto, in what used to be known then as the Union of South Africa. Born to parents who were actively involved in the anti-apartheid struggle and were declared wanted by the government, she didn't have the best childhood life. Her father was in Algeria for military training while she was a toddler.
Unfortunately, her father – Nelson Mandela, was later arrested and sent to prison, leaving behind his wife, 18-month-old Zindzi, and her siblings. She spent much of her young days without her father by her side. Things nosedived for the worst when her mother was subsequently sent to prison during her youth, leaving her in the care of her older sister.
Zindzi also spent part of her life in Orange Free State. She moved in there to be with her mother after she was banished to the area in 1977. She started her education in South Africa and completed it in Swaziland. Following her return to South Africa, she was admitted into the University of Cape Town to study law. She graduated in 1985 with a BA.
She Was A Highly Respected Diplomat And Poet
Zindzi Mandela was exposed to politics right from a young age. Her parents' involvement in the political affairs of South Africa helped shaped her life to a great extent. In 1985, when her father rejected the offer of being granted conditional release by the then-State President, P. W. Botha, Zindzi boldly read his refusal message (which he sent from Pollsmoor prison) at a public rally in Johannesburg, as neither Mandela nor his wife could deliver the message in person.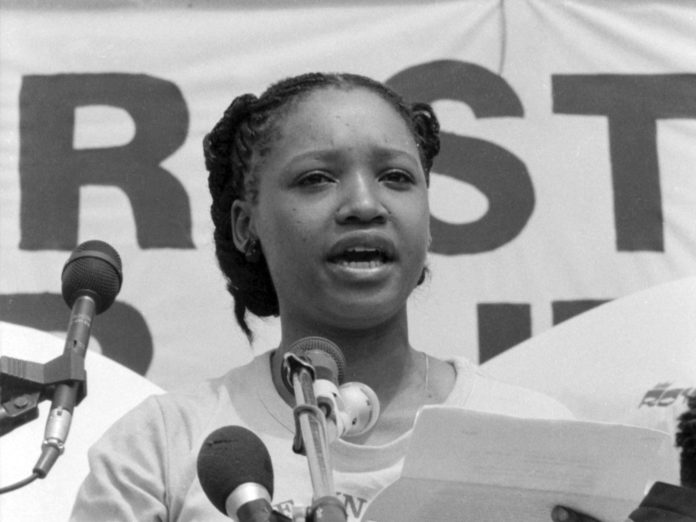 Her assertiveness and courage earned her so much respect and commendations from political figures and the public in general. Zindzi never relented from serving her country after the apartheid regime. Between 1996 and 1998, she served as stand-in First Lady after her parents' marriage hit the rocks and her father was getting ready to marry Graça Machel. She began serving as South Africa's ambassador to Denmark in 2015 under President Jacob Zuma. However, she was designated to take up a post as the country's ambassador to Liberia before she sadly passed away.
Zindzi Mandela is considered as one of South Africa's apartheid heroines, a fearless political activist, and a leader in her own right. She was greatly revered and deeply passionate about justice in the country. She clearly exhibited the spirit of love for racial transformation and liberation, which were planted in her by her parents. Zindzi bore the brutality of apartheid the most among her siblings.
The late diplomat was equally a gifted poet whose works were recognized and greatly appreciated. She wrote many beautiful poetic lines, including the ones published in the book Black as I Am (1978) and publications such as Somehow We Survive: An Anthology of South African Writing and Writings by Women of African Descent, edited by Margaret Busby.
Zindzi Mandela Passed Away in July 2020
The South African diplomat passed away on her sickbed in a Johannesburg hospital in the early hours of July 13, 2020. The cause of her death is yet to be officially publicized by her family as they haven't revealed the result of her autopsy. Nevertheless, her son revealed that she tested positive for Coronavirus on the day she died. It is not clear if she died from the deadly virus or not. The apartheid heroine was laid to rest beside her mother at Fourways Memorial Park on 17 July.
Her demise and funeral were heartbreak for her family, considering that she was buried a day before the 102nd birthday of her late father, Nelson Mandela.
Her Family And Friends Are Yet To Come To Terms With Her Passing
Zindzi Mandela's death is still a blow to the Mandela family, and they are yet to come to terms with her sudden passing. They all have taken turns on various platforms to discuss how devastated her death has left them and how proud they are that she lived a life of emulation and worthy-celebrating.
The diplomat passed away on July 13, 2020, when her family needed her the most. She was a huge inspiration to many people and was greatly loved for standing up for justice and fairness. She exhibited the spirit of activism, courage, boldness, and bravery her parents were known for.
Her children have promised to continue to uphold her values and the legacies she left behind. Zindzi Mandela was laid to rest on the 17th day of July 2020 at Fourways Memorial Park. She was buried next to her mother, Winnie Madikizela-Mandela (born September 26, 1936, Bizana, South Africa), who died on April 2, 2018, in Johannesburg, South Africa.
A Look At Zindzi's 2019 Controversial Tweets And The Outcome
Sometime in June 2019, Zindzi caused a significant controversy following a series of tweets, which earned her fierce criticism from high-profile South Africans, including former president Thabo Mbeki, ANC veteran Mavuso Msimang, and foreign minister Naledi Pandor, who charged her to "conduct herself as a diplomat."
In her tweets, Mandela-Hlongwane assertively talked about "uninvited visitors who don't want to leave" and "trembling white cowards who are the thieving rapist descendants of Van Riebeck [sic]." Apart from being called out by some people, the Department of International Relations and Cooperation (DIRCO) announced that they would investigate the diplomat for going contrary to their social media policy.
However, an unfazed Zindzi insisted through tweets that she was not accountable to any white man or woman for her personal views. "No missus or baas here. Get over yourselves #OurLand", she added. Though many people slammed the diplomat, the likes of the Premier of KwaZulu-Natal Sihle Zikalala and Julius Malema showed her great support.
A couple of days before she set Twitter on fire, she had earlier expressed her "deep, pure unconditional love and respect" for the Economic Freedom Fighters (EFF) leader Julius Malema, which didn't sit well with some people. However, Mandela's controversial tweets hit the internet when her four-year term as ambassador to Denmark was coming to an end. She was designated to serve as South Africa's ambassador to Liberia at the time of her death. Nevertheless, her family believed the posting was a punishment for her tweets.