The long-run benefit of quality school education can never be written off, no matter what it costs to acquire it. However, quality education in a broader perspective can not be gotten just anywhere and anyhow. It transcends beyond what is obtainable in some public schools in Johannesburg, but thankfully, private schools have stepped in to fill the gap. Of the over 50 popular private high schools in Joburg, there's a clear distinction in the quality of education they each offer. But still, some stand out meritoriously and deserve our recognition and mention here.
Top-ranked Private Schools in Johannesburg
Though their curriculum may differ, below is the top 10 you should consider in no particular order.
1. Brescia House School
2019 Matric results supplement – https://t.co/Gsv8O4mceD pic.twitter.com/DnQ8sX3WTe

— Brescia House School (@BresciaHouse) January 7, 2020
Year Founded: 1966
Age: 57 Years
Founder: Ursuline Sisters of the Roman Union
Location (Address): 14 Sloane St, Bryanston, Sandton, 2191, South Africa
Boarding or Day: Day
Gender: All Girls
Curriculum: South African Curriculum
Brescia House School is an all-girls high school with a reputation for producing well-mannered, brilliant, and hardworking students. The school shares heritage with a global network of Ursuline schools that train thousands of girls yearly. Originally, the school was founded in Brescia, Lombardy, Northern Italy, in 1535 by St. Angela Merici. By 1966, it was established in South Africa.
The Ursuline school operates with a variety of curricular and co-curricular educational and child care programs. Aside from the state-of-the-art learning facilities they can boast of, they also have top-notch sporting facilities like 8 tennis courts, a netball court, two aquatic complexes with heated pools, two hockey fields, and a mini Astro. With these facilities, Brescia girls often come tops in many sporting activities they compete in.
Brescia was recognized in 2014 by Microsoft as a Showcase School in its Microsoft Innovative Educator Expert (MIEE) program. This means that Microsoft acknowledged Brescia House School as a change-maker, having seen that their students have fully embraced mobile and cloud technology as an integral learning tool in 21st century Africa. Similarly, Brescia school teachers were not left out as they are all certified Microsoft Innovative Educator Experts. With this, the school belongs to an exclusive list of 400 premier schools worldwide that the technology company recognized for their pioneering efforts in information communication technology as it relates to learning.
2. Charterhouse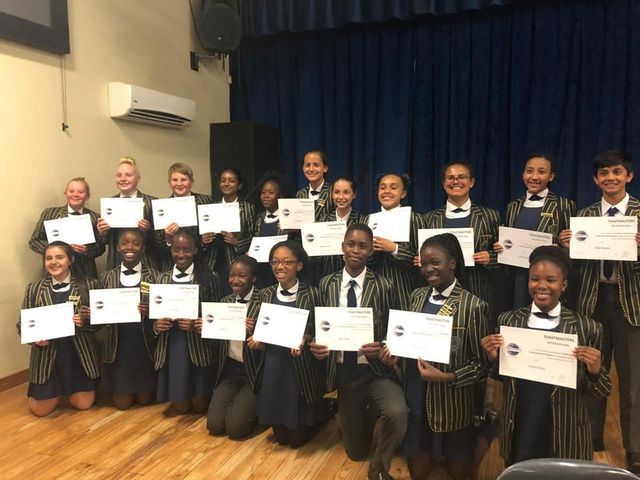 Year Founded: 1976
Age: 47 Years
Founder: Unknown
Location (Address): 2 Johan Road, Honeydew, Roodepoort, 2040, Johannesburg, South Africa
Boarding or Day: Boarding and Day
Gender: Mixed
Curriculum: South African and Cambridge Curriculum
Established in 1976, Charterhouse has grown into three campuses (pre-primary, primary, and college) that offer different levels of education to cater to your child's specific educational needs at that time. The school operates with the Cambridge curriculum and offers her students a wide range of subjects to prepare them for their AS & A levels examination.
Outside academic activities, Charterhouse School, has well-structured sports and extra-curricular programs designed to give her students a progressive and forward-thinking education. They have sporting facilities for netball, tennis, hockey, soccer, horse riding, and orienteering. Aside from sports, the school also organizes public speaking sessions for her students, art, drama, and debating classes.
Charterhouse also prides itself on producing students who come out tops in SA's Cambridge and IGCSE examinations. In 2020 alone, the school recorded a total of 56 A's from just 29 students.
3. Sparrows Private School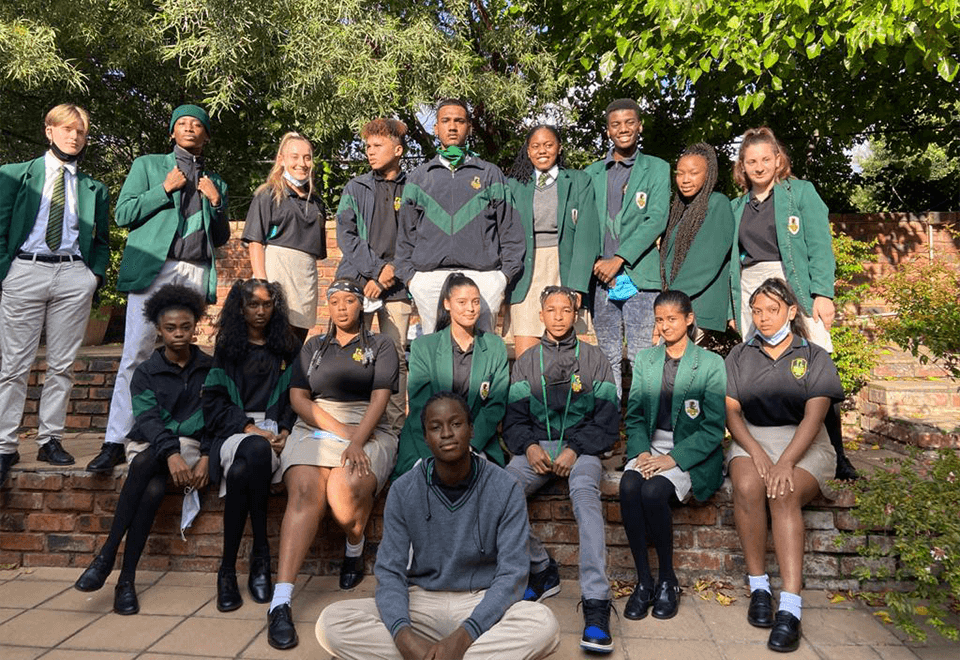 Year Founded: 1970
Age: 53 Years
Founders: Nikki and Ari Karvelas (Greek immigrants in the '60s)
Location (Address): Primary school: 12 Spence Street, Randhart, Alberton. High school: 103 Elizabeth Eybers Street, Randhart, Alberton
Boarding or Day: Day
Gender: Mixed
Curriculum: South African Curriculum
Sparrows Combined School is one of Joburg's foremost private schools known for accepting learners from diverse backgrounds. The school recognizes the important roles the diverse cultural and religious backgrounds of her students play in their lives. Therefore, there are traditional African religious and cultural activities/festivals, Christian, Muslim, Jewish, and Hindu cultural/festivals all around the year. And with both a primary and secondary section, you are assured your child is being educated for the future.
The school prides itself as the only learning institution in the South Gauteng Joburg region to achieve a 100% tertiary institution matriculation pass for more than 7 years now since 2013. Though sports might not be their forte, the school has decent sporting facilities with a well-coordinated and regulated sporting program. Similarly, like other best private schools in Johannesburg, Sparrow operates with a code of conduct with zero tolerance for disobedience. Rest assured, your child will be trained to behave respectfully within and outside the school premises.
4. Roeden School SA
Year Founded: 1902
Age: 121 Years
Founder: Theresa Lawrence and Katherine Margaret Earle
Location (Address): Princess of Wales Terrace, Parktown, 2193, South Africa
Boarding or Day: Boarding and Day
Gender: All Girls
Curriculum: South African Curriculum
Founded by two University of Cambridge scholars, Roedean School for Girls is one of Johannesburg's best girls boarding schools. It is a sister school to the distinguished Roedean School in Brighton, England. The schools are focused on STEAM (Science, Technology, Engineering, the Arts, and Mathematics) innovative approach to learning, which they believe will help them imbibe in their learners/students the skills to equip them to be the change-makers and leaders of the future. In particular, Rodean School SA was founded to rival and offer quality education to girls similar to what boys receive.
Aside from academics, Roedean School considers the role of sports as an integral part of every child's life. They have various sporting facilities, which their students train and compete with. These facilities though built at various times are well maintained. They include two swimming pools, netball and tennis courts, an indoor gymnasium hall, four squash courts, and a rock climbing facility. However, the emphasis is not a win-at-all-costs attitude. Instead, there's more focus on imbibing the spirit of sportsmanship and humility as essential components of sports.
Some of Roedean School's notable alumnae include South African-born British American novelist Jillian Becker, South African actress Camilla Waldman, South African architects Katherine Maree Otten and Sarah Katherine Calburn.
5. St John's College
Year Founded: 1898
Age: 125 Years
Founder: Revd John Darragh
Location (Address): St David Rd, Houghton Estate, Johannesburg, 2198, South Africa
Boarding or Day: Boarding and Day
Gender: All Boys
Curriculum: South African Curriculum
St John's College, Johannesburg, is by far the oldest independent Anglican school on this list. It comprises 5 schools – The Bridge, Nursery, Pre-Preparatory, Preparatory, College, and a co-educational Sixth Form. The Anglican Church runs the school in South Africa and strictly follows the church's ethos, which is hinged on respect and care. On the other hand, they also celebrate other faith traditions to encourage understanding and tolerance. Though being a notable boys school, St John's College accepts boys and girls in the Bridge Nursery School and Sixth Form category, but only boys in grade 0 to 12, Pre-Preparatory, Preparatory, and College level.
Like many other SA schools, St. Johns also has a well-developed sports program for her students to participate in sports like archery, basketball, football/soccer, swimming, rugby, hockey, cricket, rowing, tennis, and many others. Seeing their well-developed sports program, it's not surprising that they have produced notable sportsmen like Kaizer Motaung Junior (football player), Scott Spedding (former rugby player), Bruce Mitchell (cricketer), David Hunt (rower: Rio 2016 Olympian, and U23 World Champion).
Some other notable alumni they have include Tony Trahar (CEO of Anglo American 2000–2007), Sizwe Mpofu-Walsh (author, musician), Sir Alistair Morton (chief executive of Eurotunnel and chairman of the Strategic Rail Authority), etc.
6. St Mary's School, Waverley
Year Founded: 1888
Age: 135 Years
Founder: Rev. John T. Darragh
Location (Address): 55 Athol Street, Waverley 2090, Johannesburg, South Africa
Boarding or Day: Boarding
Gender: All Girls
Curriculum: South African Curriculum
St Mary's School, Waverley is a sister school to St John's College, and it was founded 10 years before the latter. In fact, the school holds the record as the oldest school in all of Joburg and one of the best private schools in Johannesburg. Not only is it old, but they have also maintained a high quality of education since their founding. The Anglican faith remains the bedrock of all that is done in St Mary's School, especially how the students are groomed to be responsible adults in the future.
They have myriad facilities located in various parts of the school for academic, cultural, sports, and spiritual purposes. These facilities include The St Mary's chapel, state-of-the-art classrooms with visual learning aids, St Mary's Health Centre, sporting facilities like St Mary's Aquatics Centre, AstroTurf, Glass-backed squash courts, tennis and netball courts, etc.
Being one of the oldest schools in all of South Africa, you can bet that they must have produced some notable people who have helped shape this great country of ours. Some of St Mary's School's famous alumnae include South African politician Helen Zille, South African field hockey player Cindy Brown, British-South African businesswoman, and television presenter/broadcaster Prudence Margaret Leith, Carolyn Slaughter, an English author, and many others.
7. Assumption Convent School
Year Founded: 1946
Age: 77 Years
Founder: The Missionary Sisters of the Assumption
Location (Address): Cnr Pandora & Mullins Roads, Germiston, Johannesburg
Boarding or Day: Day
Gender: All Girls
Curriculum: South African Curriculum (Independent Education Board)
Assumption Convent School prides itself as an independent Catholic day school for girls, which provides accessible, high-quality education for young girls from pre-grade to grade 12. The school has a policy of limiting each class to fewer than 25 pupils so that each student can be noticed, nurtured, and allowed to excel. To the management of the school, they don't count pupils. Instead, they make their pupils count. This has made it a highly sought-after school in Johannesburg, with limited entry opportunities for students every year.
Though it is a small school with less than 600 pupils all year round, the school's vision for giving quality education is in no way limited as you can find one of the best facilities for learning in this school. Some of their educational and sporting facilities include an athletics field, a heated swimming pool, tennis courts, netball courts, libraries, science laboratories, technical workshops, an ICT center, sit-down cafeteria, tuck shop, a music center, etc., and an aftercare center. Being a Christian school, there is also a school chapel. Assumption Convent School students' academic, physical/sporting, and spiritual needs are well cared for with all these in place.
The school is divided into 3; pre-primary, primary, and high school. There is never a shortage of well-trained and motivated teachers to handle each class or subject for each section. Most of these teachers have gone on to earn master's degree certificates or additional educational qualifications in various disciplines relevant to their work in the school. Some of her alumnae include software developer Kirsten Belovay, Cassandra Dunstan, an economist at the National Treasury; Jayde Vaughan, an attorney; Dr. Lesne Pucjlowski, a medical doctor; Sally Wong, a marketing executive, etc.
8. Johannesburg Muslim School
Year Founded: 1990
Age: 33 Years
Founder: Unknown
Location (Address): Corner Bree and Burgersdorp Streets, Fordsburg, Johannesburg, 2092, South Africa
Boarding or Not: Day
Gender: Mixed
Curriculum: Secular/South African and Islamic Curriculum
If not the only top Islamic school in Joburg, Johannesburg Muslim School sets the pace for other Muslim schools. Also, one of the best private schools in Johannesburg, the idea for creating the school was in 1989, and by January 1990, it became a reality. The school was created to provide an enabling educational ground where both Islamic and secular knowledge can impact young Muslims in the right balance. Thus, they operate an integrated system that offers both secular education as embedded in the Gauteng Department of Education curriculum and an Islamic curriculum that all schools in the Association of Muslim Schools in South Africa follow.
The school has a separate pre-school in Mayfair, which caters to the educational needs of the nursery, intermediate, and Grade R students. In contrast, the high school section is located in Fordsburg, where grade 1-12 pupils learn. With about 1000 pupils, the management of Johannesburg Muslim School has proven convincingly that it's no fluke for them to be ranked one of the best schools in the Gauteng region and also one of the top 5 feeder schools by the University of the Witwatersrand despite being from a previously educationally disadvantaged community.
Though an Islamic school, the school is open to admitting pupils from other religions, all races, and ethnicities. However, all applicants must comply with their admission criteria and fulfill all requirements.
9. Sacred Heart College, Observatory
Year Founded: 1889
Age: 34 Years
Founder: Marist Brothers
Location (Address): 15 Eckstein St, Observatory, Johannesburg, 2198
Boarding or Not: Day
Gender: Mixed
Curriculum: South African Curriculum
Sacred Heart College, Johannesburg, belongs to a prestigious list of the Marist Brothers schools in South Africa. Others include Marist Brothers Linmeyer Johannesburg, St David's Inanda Johannesburg, St Henry's Marist College Durban, and St Joseph's Marist College Cape Town. Sacred Heart College, Johannesburg started as an all-boys Catholic school, the first of its kind in Johannesburg but now accepts girls too in its creche, pre-primary school, primary school, and high school levels. In its over 100 years of existence, the school has trained over 1100 students who pursue diverse careers in different walks of life.
Aside from academics, the school also emphasizes sports and has facilities for tennis, basketball, swimming, cricket, soccer, netball, hockey basketball, athletics, and softball. The school also supports their students participating in dance, art, photography, mosaic, Tai Chi coding, singing, debating, and other cultural programs which they mapped out. They can do all these because they have well-built facilities which are properly maintained. Some of these facilities include 4 netball courts, 2 outside basketball courts, an Indoor sports center, Design and Technology center, 2 AV rooms, 5 soccer fields, a music center, 3 cricket ovals, a fully equipped gymnasium hall, heated swimming pool, etc.
Being over 100 years old, it will be out of the ordinary if Sacred Heart College, Johannesburg, does not have a list of notable alumni. They can proudly boast of having trained Sacred Heart College, Johannesburg, Simphiwe Tshabalala (CEO of Standard Bank Group), Wandile Molebatsi (actor, producer), John Charles Daly (Radio and Television personality), Ruli Diseko (CEO of Thakadu Group), and many others.
10. Holy Rosary School
Year Founded: 1940
Age: 83 Years
Founder: Missionary Sisters of the Holy Rosary
Location (Address): 113 Horwood Street, Edenvale Johannesburg, 1609
Boarding or Not: Boarding
Gender: All Girls
Curriculum: South African Curriculum
Holy Rosary School is a Catholic all-girls school set up by Irish Missionary Sisters of the Holy Rosary who gave up their lives in service to others. The school they labored to build stands out as one of the best in Joburg and is steadily turning "girls of today into the women of tomorrow." They have a pre-primary school, a primary and high school to ensure that their girls get the best education at every stage of their lives.
As a Catholic school, attendance of religious education classes, retreats, and holy masses is compulsory for all school students. However, the school still welcomes pupils from diverse religious and cultural backgrounds. Though the head of religion is exclusively reserved for a student of the Catholic faith, other leadership positions are open to all pupils irrespective of their religious backgrounds.
Aside from academics and religion, the Holy Rosary School also prides itself on having some of the best sporting facilities you can find in any school in Johannesburg. The students participate in sporting activities like swimming, tennis, hockey, netball, rowing, and equestrian.
Recap of the Best Private Schools in Johannesburg
1. Brescia House School
2. Charterhouse
3. Sparrows Combined School
4. Roeden School SA
5. St John's College
6. St Mary's School, Waverley
7. Assumption Convent School
8. Johannesburg Muslim School
9. Sacred Heart College, Observatory
10. Holy Rosary School