Siphiwe Tshabalala's net worth is $5 million. Football is the major source of Siphiwe Tshabalala's net worth; however, it is not his only stream of income. He has also scored several lucrative brand endorsements and other business ventures.
Thanks to the wealth Tshabalala has amassed, the Soweto native who famously scored South Africa's first goal at the 2010 World Cup has acquired a few choice properties and luxury vehicles. He lives in a mansion in Johannesburg and drives cars like a Mercedes Benz ML63, Range Rover, BMW 125I, Lexus IS 350, and so on.
Football Is The Major Contributor To Siphiwe Tshabalala's Net Worth of $5 Million
Siphiwe Tshabalala, affectionately known as "Shabba," is one of the richest footballers in South Africa, even though his market value is currently experiencing a decline, probably because of his age. In his younger years, Siphiwe Tshabalala's market value was set at millions of Euros, which helped him build his $5 million net worth.
How His Career and Income Grew Over The Years
Shabba started his youth football career in Phiri Arsenal, a football club in his birth town of Phiri in Soweto, where he played from 1991 to 1994 before moving to Phiri Movers. After playing for Phiri Movers for three years, he moved to Kaizer Chiefs in 1997 and played for their academy till 2002 before moving to Moroka Swallows, where he played for just one year. The exact amount of money he was paid while playing for all these clubs is not really known.
In 2003, Siphiwe kicked off his senior football career with a stint with Alexandra United, and after 26 appearances and 7 goals for the club, he left for Free State Stars in 2004. His talent kept getting better, and in just 64 appearances at Free State Stars, he scored 31 goals. Kaizer Chiefs had their eyes on him again, and in 2007, they re-signed him to the club.
Senior Football Career
Siphiwe Tshabalala had his football breakthrough and highest market value at Kaizer Chiefs, where he played from 2007 to 2018 and scored his first goal for the club on the 12th December 2007.
With hard work and consistent display of talent, he won the Player of the Year, Website Player of the Year, and Goal of the Season, Reader's Choice Awards at the Kaizer Chiefs Awards Ceremony in the following season. These awards came with a cash price of R170,000 and a Nissan X-Trail.
As of 2015, Shabba had an estimated monthly earning of R380,000. After 298 appearances for the Kaizer Chiefs, he had the opportunity to do what he loves doing abroad in Turkey. In 2018, he joined the BB Erzurumspor team and was set to earn R450,000 monthly while playing abroad.
While that was supposed to be a dream come true, it was not because he barely got the chance to play despite being in his best form at the time. His market value experienced a sharp decline as, according to him, he could stay for three months without a salary, which affected his income.
After returning from Turkey, he hoped for a contract with Kaizer Chiefs to fulfill his dream of retiring with the team, but that did not work. Instead, he got a two-year contract with Amazulu FC, and just like other contracts, the amount involved was not revealed.
Shabba also played for the South African national team from 2006 to 2017 and was among the first to make an international debut while playing for the National First Division and the second most capped player in the South Africa national team with 90 caps.
Siphiwe Tshabalala Market Value Since 2010
Here is a detailed list of Siphiwe Tshabalala's market value since 2008, when he started getting noticed at Kaizer Chiefs.
| | | |
| --- | --- | --- |
| Time Frame | Club | Market Value |
| January 2008 | Kaizer Chiefs | €850,000 |
| March 8, 2010 | Kaizer Chiefs | €575,000 |
| July 27, 2010 | Kaizer Chiefs | €1.2 million |
| September 2012 | Kaizer Chiefs | €1 million |
| November 7, 2012 | Kaizer Chiefs | €850,000 |
| July 30, 2013 | Kaizer Chiefs | €900,000 |
| May 18, 2014 | Kaizer Chiefs | €950,000 |
| January 3, 2015 | Kaizer Chiefs | €900,000 |
| January 9, 2016 | Kaizer Chiefs | €800,000 |
| January 15, 2017 | Kaizer Chiefs | €750,000 |
| January 6, 2017 | Kaizer Chiefs | €650,000 |
| December 2, 2018 | BB Erzurumspor | €300,000 |
| June 4, 2019 | BB Erzurumspor | €150,000 |
| January 14, 2021 | Amazulu FC | €100,000 |
List Of All The Clubs Siphiwe Tshabalala Has Played For
Phiri Arsenal – 1991 – 1994
Phiri Movers – 1994 – 1997
Kaizer Chiefs – 1997 – 2002
Moroka Swallows – 2002 – 2003
Alexandra United – 2003 – 2004
Free State Stars – 2004 – 2007
Kaizer Chiefs – 2007 – 2018
BB Erzurumspor – 2018 – 2019
AmaZulu FC – 2020 – present
Endorsement Deals And Other Business Ventures Have Also Contributed To Siphiwe Tshabalala's Net Worth
Aside from football, Siphiwe Tshabalala also makes money from endorsement deals. In 2009, he launched Nike CTR360 Maestri Boots along with Arsenal's Cesc Fàbregas, and in 2020, he shot an advert in Kenya to endorse the fruit drink, Fruitya. Although the exact amount of money he makes from endorsement deals is unknown, they have also contributed to making his account robust.
In 2011, Siphiwe Tshabalala decided to venture into the business world as he started his own food company called Fish and Chips Co. However, the business was not meant to be, and he incurred a financial loss as a result. He currently has his own clothing line dubbed Super Shabba that sells customized joggers and polos. He is also the chairman of SB Powerhouse, a production company.
The exact worth of his company and the amount he makes from it is unknown, but it has also contributed to his $5 million net worth. Being able to attain business success finally is a major achievement for Siphiwe Tshabalala, who is likely to retire from football in no time.
Siphiwe Tshabalala's House
Siphiwe Tshabalala esteems business over owning expensive properties, but that does not mean that he does not own some costly properties. He is said to own mansions in different parts of the country, but he lives in his mansion in Johannesburg.
This exotic Johannesburg mansion where he resides with his beautiful wife and two children has a trampoline backyard, a swimming pool, and an entertainment area with disc jockey equipment. It also has a well-detailed staircase and carefully picked furniture and finishes.
Siphiwe Tshabalala's Cars
Just like other footballers, Siphiwe Tshabalala also loves nice and fast cars, some of which include:
1. Lexus IS 350 – R450,000
Torque – 280 lb-ft @ 4800 rpm
Base engine size – 3.5 l
Horsepower – 311 hp @ 6600 rpm
Turning circle 34.2 ft
2. BMW 125I – R401,926
Engine – 1997cc 4 cyl,turbocharged
Max power – 218bhp @ 5000rpm
Max torque – 228lb ft @ 1350 – 4800rpm
3. Range Rover – R800,000
Fuel Type – Petrol
Engine Displacement (cc) – 2995
Max Power (bhp@rpm) – 557.86bhp@6000-6500rpm
Max Torque –  (nm@rpm) 700Nm@3500-5000rpm
4. Mercedes Benz ML63 – R749,000 (estimated)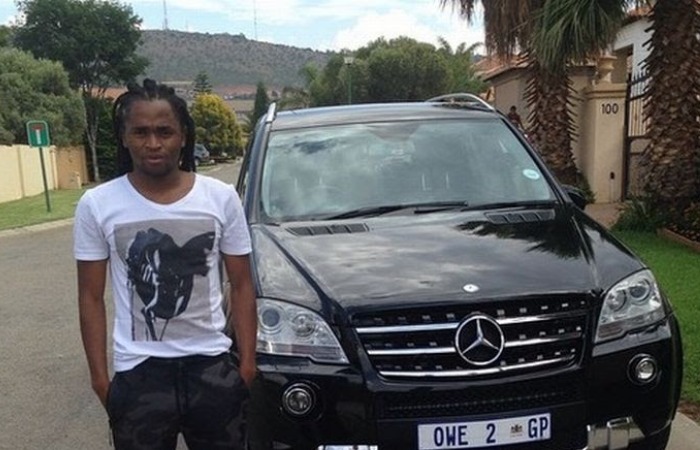 Output – 386 kW (525 hp) at 5250 rpm 410 kW (557 hp) at 5750 rpm
Max. torque – 700 Nm at 1750-5000 rpm 760 Nm at 2000-5000 rpm*
Engine weight (dry) – 204 kg
5. Nissan X-Trail – R461,000 (estimated)
Minimum Ground Clearance – 209 mm
Wheelbase – 2705 mm
Towing Capacity (Unbraked) – 750 kg
Overall Width – 1820 mm
6. Golf 7 GTI – R450,000
Power – 220 Hp @ 4500-6200 rpm.
Power per litre 110.9 Hp/l
Torque – 350 Nm @ 1500-4400 rpm. 258.15 lb.-ft. @ 1500-4400 rpm.
Engine location – Front, Transverse