Elton Thomas Jantjies (born August 1, 1990) is a 32-year-old South African professional rugby union player who currently represents the national team, the Golden Lions in the Currie Cup, and Agen in the Top 14. 
Jantjies was arrested at OR Tambo International Airport for tampering with an airline's TV and light after arriving from Dubai on May 15, 2022. His actions broke aircraft regulations, which led to his detention.
Summary of Elton Jantjies's Biography

Full name: Elton Thomas Jantjies
Gender: Male
Date of birth: August 1, 1990
Elton Jantjies' Age: 32 years old
Ethnicity: Afrikaans
Nationality: South Africa
Zodiac Sign: Leo
Sexual Orientation: Straight
Marital Status: Married
Elton Jantjies' Wife: Iva Ristic
Elton Jantjies' Children: 3
Elton Jantjies' Parents: Thomas Jantjies and Alma Jantjies
Siblings: Tony Jantjies
Elton Jantjies' Height in Inches:  5 feet 9+1⁄2 inches
Elton Jantjies' Weight: 88 kg (13 st 12 lb; 194 lb)
Elton Jantjies' Net worth: $5 Million
Famous for: Being a South African professional rugby union player for the South African national team
Elton Jantjies' Instagram: eltonjantjies
Twitter: @jantjies_elton
Facebook: Elton Jantjies
Elton Jantjies's Nationality
Elton Jantjies is a South African citizen. He was born in Graaff-Reinet, Eastern Cape, by Thomas Jantjies and Alma Jantjies on August 1, 1990. He is currently 32 years old.
The professional Rugby player is an Afrikaner – a South African ethnic group who descended primarily from Dutch immigrants who arrived at the Cape of Good Hope in 1652. Elton attended Hoërskool Florida, a public Afrikaans medium co-educational high school located in Florida, Randburg, Johannesburg.
It's not known if he went to college, as further details of his educational background are currently under the radar.
What Did Elton Jantjies Do?
Elton Jantjies trended across the globe in May 2022 and September 2022 for the wrong reasons. In May, he was arraigned in court for violating aviation laws. Four months later, he made the headlines again for having an affair with his team's dietician.
What Happened To Elton Jantjies?
Elton Jantjies was expelled from the Springboks squad in September 2022 while in Buenos Aires, Argentina, after reports of inappropriate behavior with the team's nutritionist, Zeenat Simjee, surfaced. The two were immediately sent home from Argentina, where they were preparing for a Rugby Championship match.
It was said that he spent one night away from the squad with his team's dietician at a different hotel, where guests allegedly overheard the two having sex before arguing. The incident took place during Springbok's test series against New Zealand.
Elton also reportedly left without paying the hotel bill and only settled the balance many weeks later. The professional rugby player later admitted to the media that he had an affair with Simjee for several months after denying the affair for weeks.
Meanwhile, the Springbok dietician has insisted that she was not the one who had an affair with Elton but a woman who looks exactly like her. Simjee, through her lawyers, said it was a case of mistaken identity and that she knew the woman but would not reveal her identity to avoid bigger problems arising from the case.
The two are said to have been severally spotted at guest houses, including a Mbombela guesthouse. Jantjies' wife confirmed to the media that she had proof that her husband was having an affair with the dietician and that she intends to divorce him once her family fully settles in their new home. Elton and Iva Ristic are parents to three lovely boys.
Why was Elton Jantjies Arrested?
Elton was arrested on 15th May 2022 at OR Tambo International Airport in Johannesburg after landing from Dubai. He broke a TV and light belonging to an airline and was said to have cursed the airline's staff during the flight.
He allegedly banged the toilet door during the fight, which led to him misbehaving more after the staff tried to calm him down. He was arraigned in the Kempton Park magistrate's court in Johannesburg the following day.
Jantjies was charged with malicious damage to property and contravention of the Aviation Act. The criminal case was, however, provisionally withdrawn in the Kempton Park Magistrate's Court in mid-June 2022.
Elton Jantjies's Net Worth
Elton Jantjies's net worth is estimated at $5 million. The Eastern Cape-born athlete has indeed achieved great success in his rugby career. He reportedly earns an amount above R240 000 or roughly $14 000 as a rugby player.
This is in addition to the money he makes from other income streams. The lowest-paid athletes earn between R240,000 and R2 million annually, according to research by CapeTalk. In South Africa, rugby pays higher salaries than football.
Jantjies has also received several enviable accolades, including the SARU Young Player of the Year (2010) and the SA U20 Player of the Year. (2010).
Elton Jantjies Began his Youth Career in 2006 with the Golden Lions
Jantjies began his youth career with the local rugby side Golden Lions in 2006. His youth career ended in 2009, and in 2011, he rejoined the Golden Lions amateur team, earning 12 points from 3 appearances.
He began his senior rugby career with the Chinese side Shining Arcs in 2014. He spent four years with them before moving to the French side Pau on loan. Jantjies signed a contract in 2023 with the French club SU Agen and has so far earned over 40 points.
Does Elton Jantjies Have a Brother?
Yes. His name is Altonio Shedrick Jantjies, popularly known as Tony Jantjies. He is a professional South African rugby union player for Alcobendas in the División de Honor in Spain.
Tony is two years younger than Elton. He was born on April 19th, 1992, in Cape Town, South Africa. He began his youth career in 2008 at Golden Lions and later spent four years with Blue Bulls (2009–2013).
He joined the South Africa Under-20 team in 2012, and since then, he has made only 3 appearances with the team. Tony, who is 5 feet 11 inches tall, signed a contract with his current Spanish side Alcobendas in December 2018. His regular position is fly-half.
He graduated from Die Hoërskool Menlopark, a public Afrikaans medium co-educational high school situated in the suburb of Menlo Park in Pretoria in Gauteng province.
Elton Jantjies' Family
Only the identity of three Elton Jantjies' family members is publicly known: his parents and younger brother. The professional rugby player is the son of Thomas Jantjies and his wife, Alma Jantjies.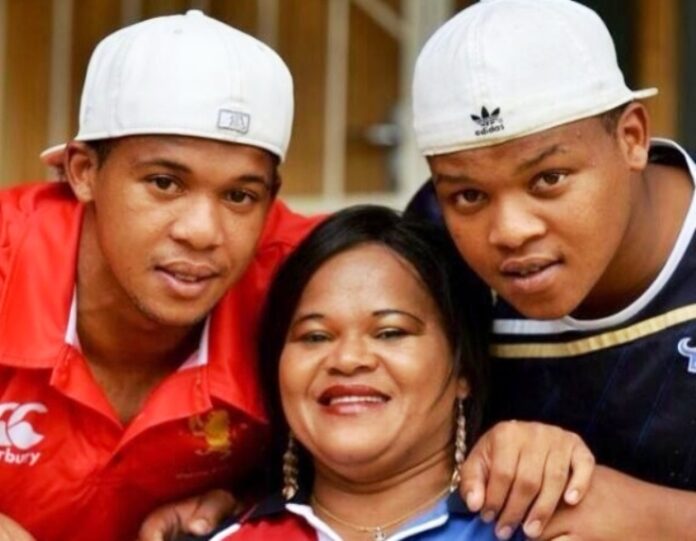 Thomas passed on in late 2012 from complications of a bee sting at 1 Military Hospital in Pretoria. He was a warrant officer in the army. Elton also described him as his kicking coach and mentor.
There is no available information about his mother and her current whereabouts. Apart from Tony, it's not known if the talented fly-half has other siblings.