Nicky Oppenheimer (born 8 June 1945) is a South African billionaire businessman best known as the second richest man in South Africa with a net worth that is estimated at $8.4 billion. 
Over the years, South Africa has become a home to a lot of billionaires who made their fortune from various sources, and one them is Nicky Oppenheimer. Hard work and a keen business sense are among the ways through which he has been able to make and maintain a good part of his wealth.
However, the origin of his fortune can be traced to his very wealthy family as his grandfather was the founder of the giant mining company, Anglo American. Apart from the family business, he has also been involved in a good number of others, which have all combined to give him a mouth-watering net worth.
Summary of Nicky Oppenheimer's Biography
Full name: Nicky Frank Oppenheimer
Gender: Male
Date of birth: 8 June 1945
Nicky Oppenheimer's Age: 78 Years Old

Ethnicity: White
Nationality: South African
Zodiac Sign: Gemini
Sexual Orientation: Straight
Marital Status: Married
Nicky Oppenheimer's Wife: Orcillia "Strilli" Lasch
Nicky Oppenheimer's Children: Jonathan Oppenheimer
Nicky Oppenheimer's Parents: Bridget (née McCall) and Harry Oppenheimer
Siblings: 

Mary Slack

Education: Oxford University Christ Church, Master of Arts/Science, Oxford
Industry: Metal and mining
Nicky Oppenheimer's Net worth: $8.4 billion
Famous for: Being the second richest man in South Africa
Nicky Oppenheimer Was Born Into A German-Jewish Family
The South African billionaire was born on June 8, 1945. His parents were Harry and Bridget Oppenheimer. Being a grandson to Ernest Oppenheimer who is the founder of Anglo American, he was raised within a business environment which would later influence his choices.
He got his education from the United Kingdom and after he returned to the country, he was called for service by the army. Even though he had his degree, he was almost useless to the military because he had no valuable skills even as an officer. It was after his service that he started his business career.
Not much is known about the personal life of the billionaire as he is so much of a private individual.
His $8.4 Billion Net Worth Makes Him The 2nd Richest Man In South Africa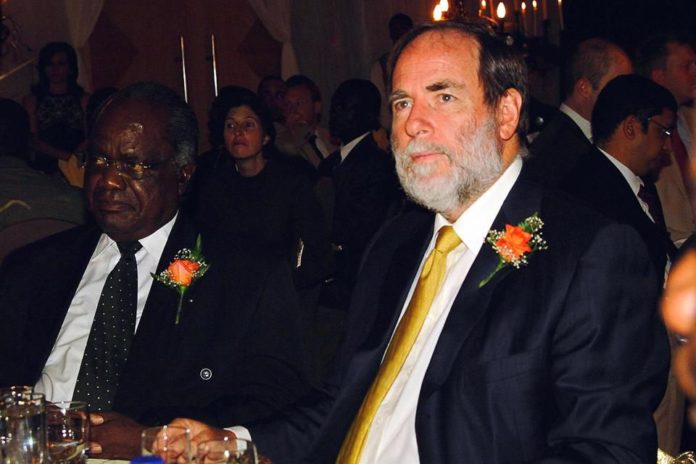 Nicky Oppenheimer has a net worth of in excess of $8.4 billion as of 2023, which makes him one of the richest men in South Africa. Johann Rupert whose net worth is $10.8 billion has taken over as the richest man in South Africa while Patrice Motsepe with an estimated net worth of $3.2 billion is the third richest man in the country. Motsepe is also the richest black South African.
Oppenheimer's overwhelming net worth also makes him one the richest men in the whole of Africa, coming only after Nigeria's Aliko Dangote whose net worth is estimated at $13.5 billion, and Egypt's Nassef Sawiris with an estimated net worth of  $7.4 billion. This means that Nicky Oppenheimer is currently the second richest man in South Africa and about 3rd in the entire Africa.
Since 2010, Nicky's net worth has consistently been on the rise, even though he has experienced some dips along the way. One of such challenges was in 2011 when he fell by $200 million and then a further $300 million. In 2018, he was named the 23rd richest person in the United Kingdom. This was thanks to his net worth which was estimated at £5.5 billion.
Here is an overview of his net worth since 2010:
2010: $5 billion
2011: $7 billion
2012: $6.8 billion
2013: $6.5 billion
2014: $6.7 billion
2015: $6.7 billion
2016: $6.6 billion
2017: $7 billion
2018: $7.7 billion
2019: $7.3 billion
2020: $7.4 billion
2021: $8.1 billion
2022: $8.2 billion
2023: $8.4 billion
The Fortune Nicky Oppenheimer Sits On Is Majorly From His Family's Business
The better part of his fortune was made from his family's business, the Anglo American. However, before he joined the company, he first worked with N M Rothschild & Sons for a while. He then joined the family business in 1968 as the personal assistant to the Chairman of the Anglo American Corporation.
He was later moved to the Gold and Diamond Divisions, De Beers. He worked in the London office of the company for the next 18 months and after that, he came back to Johannesburg in 1975. Ten years later, he became the deputy chairman of De Beers Consolidated Mines, as well as the chairman of the Diamond Trading Company. Even before then, in 1984, he was already the deputy chairman of the Central Selling Organisation which has since become Diamond Trading Company.
Having garnered all the necessary experience to champion the company, Nicky Oppenheimer took the helms of the De Beers Group in 1998 when he was appointed chairman. By this time, he was already in love with the Anglo American company and drawn to the diamond business. According to him, he felt lucky to have achieved what would be the dream of anyone in the same field by rising to become the chairman of the company.
He was in charge of the company from that point until 2012 when he finally sold the shares of the company. During his time there, he did not only build the company to a whole new height, but he also made his family extremely rich, earning a spot amongst the richest individuals in the world.
He sold the family's 40 percent shares in the company for an incredible $5.1 billion. Oppenheimer owns land that crosses South Africa, Botswana, and Zimbabwe. The conservation land measures at least 720 square miles.
Other Businesses Oppenheimer Has Ventured Into
The reason why the South African billionaire sold off his control of the company was never revealed, although there were speculations that it could be linked to succession issues; he wanted his son to take control of the business from him but other partners were not in support. Another speculation was that his son, Jonathan was not so much interested in the diamond business.
Notwithstanding, the diamond enterprise is not the only business he has been into in the past, even though it's been the major business interest of the family for many years. Here are some of the businesses Oppenheimer is into:
Nicky started this in 2014 as an aviation company that gives private entry into Africa as it has customs, immigration, and quarantine capabilities. The company was developed by the billionaire who serves as the chairman and his son, Jonathan. The annual revenue of the company has been put at $8.49 million.
The billionaire is also the owner of this South African game reserve which is located in the Northern Cape. With a size of more than 111,000 hectares, it is considered to be the biggest privately owned game reserve in the country. The reserve was founded by Stephen Boler who died in 1998. In his will, he indicated that he wanted Oppenheimer to have the first refusal. That was how Nicky got it.
All The Positions Occupied By Oppenheimer
The South African rich man has occupied some vital positions in a number of companies and has been on the board of a number of others. Here is a list of seats he has occupied:
Anglo American- Deputy Chairman- 1983 – 2001
De Beers Consolidated Mines- 1998 – 2012 (Chairman)
The Oppenheimer Memorial Trust- Deputy Chairman
Tswalu Kalahari Reserve- Owner
Fireblade Aviation: Board chairman
Nicky Oppenheimer Has Given Out Millions In Philanthropy
More than just a man with filled pockets, Nicky is big on charity. He has contributed large sums of money towards causes that are dear to him and his wife. He came up with the Brenthurst Foundation together with his son to help fund the development of the African continent.
He expressed his generosity again in 2020 when the country was shut down during the Covid-19 pandemic. The billionaire pledged a whopping R1 billion to help the country through the difficult phase. The funds were made available for small and medium enterprise.
He has also embarked on a project to save the endangered pangolin. This is just one among the many environmental and conservation issues he has championed.
There Are Many Accolades To His Name
First because of his stamina and sense as a businessman and then for his philanthropy amongst other things, the South African billionaire has gained recognition all over the world. He is a recipient of different awards conferred by governments, media outlets, and various bodies and organizations.
Here is a list of some of the awards he has collected over the years:
PHD honoris causa in technology- Technikon Witwatersrand in South Africa (2003)
Presidential Order of Honor- former President of Botswana, Festus Mogae (2004)
 World Wildlife Fund – Lonmin Award For Environmental Conservation together with his wife, Orcillia Lasch (2007)
Honorary Fellowship- London Business School (2009)
Lifetime Achievement Award- JNA Awards (2012)
Lifetime Achievement Award- Israeli Diamond Industry (IDI) (2012)
He Is Also A Well-educated Individual
The status that Nicky Oppenheimer has cultivated for himself is that of a businessman. However, he has also ensured to be well-educated. He had his early education from the Harrow School in London, England. Next, he went to the University of Oxford's Christ Church where he graduated with an Oxford MA. He studied Philosophy, Politics, and Economics.
While he took every aspect of his business ventures very seriously, he did not work so hard in school, seeing it as more of a holiday. Thus, he ended up with a third-class upon graduation. He revealed that in spite of his poor results, he still had fun while in school.
Educational Qualifications Of Nicky
Harrow School in London, England
Christ Church- Undergraduate degree
Christ Church- Oxford MA