The richest person in South Africa is currently Johann Rupert, the chairman of luxury goods company Richemont. As of the time of this writing, his net worth is estimated to be $9.5 billion according to multiple sources. Bloomberg Index places his net worth at $10.9 billion as of 2023. This is still well above Nicky Oppenheimer's $8.5 billion net worth as of 2023
South Africa is home to several billionaires who are collectively worth around 40 to 50 billion dollars. Among them are Johann Rupert and Nicky Oppenheimer, who are both held in high esteem for his wealth of experience and business expertise both in South Africa and across its shores.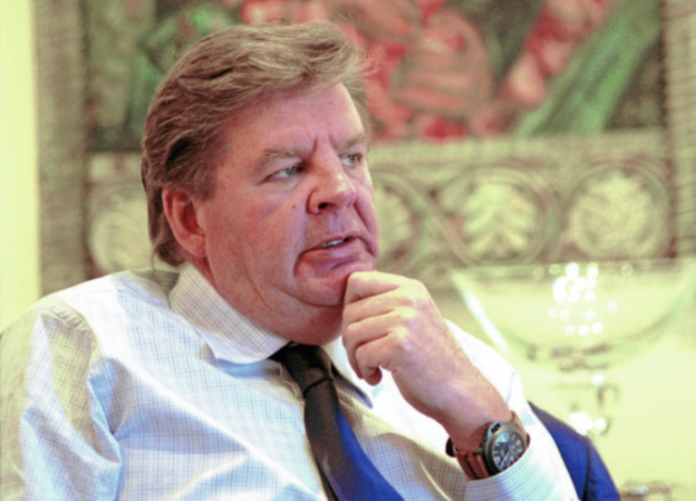 The Stellenbosch-born businessman has a net worth of $9.5 billion ($10.9 billion according to Bloomberg Index). Rupert's wealth came from his luxury goods business. He is ranked the 375th richest person in the world as of August 2020. Johann is the chairman of the South Africa-based firm Remgro, as well as the Swiss-based luxury-goods brand, Richemont.
Johann Rupert's company Richemont owns a number of luxury brands, including Cartier, Montblanc, and Dunhill. His other holdings include Remgro, a Stellenbosch, South Africa-based investment vehicle with stakes in more than 30 companies. Johann Rupert is also the owner of several wine estates in both South Africa and France. His father, Anton Rupert was also a South African businessman and philanthropist in his own right.
Originally born Nicholas F. Oppenheimer, Nicky is a wealth creator who basically amassed his fortune through a couple of business ventures that have stood the test of time. The flamboyant entrepreneur controls a business empire that deals in gold and diamond mining as well as other reputable lines of business.
Nicky Oppenheimer's Biographical Data
Full Name: Nicholas F. Oppenheimer
Date Of Birth: June 8, 1945
Place Of Birth: South Africa
Sibling (s): Mary Slack
Popularly Known As: A billionaire businessman and philanthropist
Education: Christ Church, Oxford
Spouse: Orcillia "Strilli" Lasch
Notable Awards: Presidential Order of Honor (2004), Honorary fellowship (2009) from the London Business School.
Nicky Oppenheimer's Net Worth Also Runs in Billions of Dollars
South Africa boasts more billionaires than most African countries and Nicky Oppenheimer is one of them. He was ranked the richest person business in South Africa in 2020, even though he was $0.3 billion poorer in 2019. The business tycoon's assets are currently valued at $8.5 billion, according to Forbes.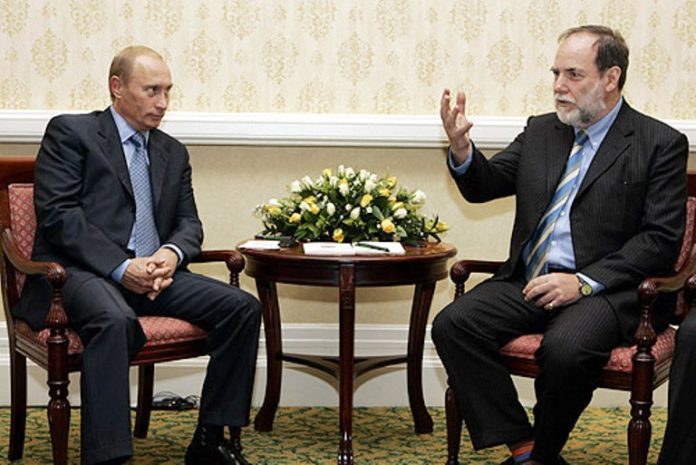 Oppenheimer was mentioned as the 23rd richest person in the United Kingdom on the Sunday Times Rich List 2018 with a reported asset of £5.5 billion. He basically built his wealth from two disclosed sources of income. He is believed to have billions from his mining career for being one of the key personalities in the industry.
Though a breakdown of how Nicky made his wealth is yet to publicized, there's no doubt it took him a lot of effort, consistency, and determination to finally get to the top of the ladder as a mining expert. He is indeed an inspiration to young South Africans with an interest in mining.
He Has Lucrative Streams Of Income
Nicky Oppenheimer's businesses spread across diamond mining and aviation. He is not really a 'jack of all trades,' but he has impressively excelled at the crafts he's best known for. You'll find out more about his channels of income in the sections below.
1. De Beers Group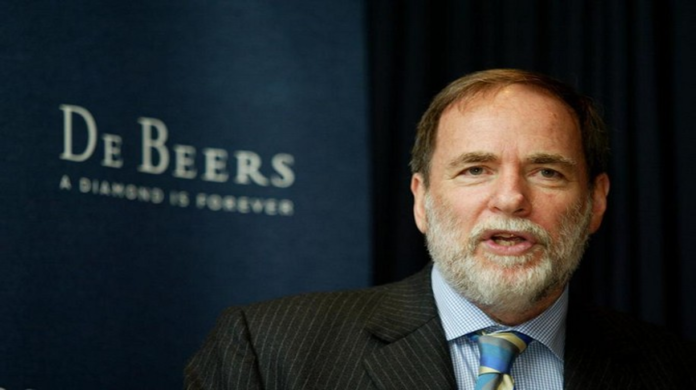 The diamond mining business is, no doubt, one of the most popular landing spots for billionaires. Oppenheimer was the former chairman of the mining giant, DeBeers, which controlled a large part of the world's diamond supply right from the time of Nicky's father Harry was DeBeers' chairman and the chairman of Anglo American. His time at the helm of affairs at the organizations lasted between the late 1950s and the early 1980s.
For 85 years until 2012, the Oppenheimer family was the center of the controlling spot in the diamond business across the world. This period afforded Nicky the platform to grow his wealth through the business. He sold his 40% stake in diamond in 2012 to the mining group Anglo American for $5.1 billion in cash after taking the firm private in 2011. Oppenheimer was the third generation of his family to manage the mining company.
Among other things, the international corporation focuses on diamond mining, industrial diamond manufacturing, diamond exploitation, and diamond trading, as well as diamond retail. DeBeers, which plies its trade in over 30 countries, is actively involved in coastal mining, open-pit mining, deep-sea mining, and alluvial mining.
Its mining operations also take place both within and outside the shores of Africa. Australia, Canada, Namibia, Botswana, and South Africa are some of the other destinations covered by DeBeers. The company largely controls the distribution of rough diamond – about 80% to 85% control rate.
2. Fireblade Aviation
Fireblade Aviation was launched by Oppenheimer in the year 2014. The world-class facility strictly operates chartered flights with its fleet of 3 planes and 2 helicopters. They are open for business aviation at O.R. Tambo International Airport.
The independently-owned facility also offers its clients a full range of business terminal and charter services that take care of their needs. The state-of-the-art aviation line is situated in Kempton Park, Gauteng, South Africa.
Nicky Oppenheimer built his wealth through:
De Beers
Fireblade aviation
Nicky Oppenheimer Has An Intimidating Business Career Profile 
Oppenheimer has occupied various prestigious positions in the business community. He became a director at the British multinational mining company Anglo American in the year 1974 after joining the firm in 1968. He rose to the rank of the company's deputy chairman in 1983 and resigned in 2001.
Following his resignation, the business tycoon remained a non-executive director at Anglo America until 2001. Nicky served as the then-Central Selling Organisation (now Diamond Trading Company)'s deputy chairman. His tenure began in 1984, and the following year, he was appointed as the chairman of the company.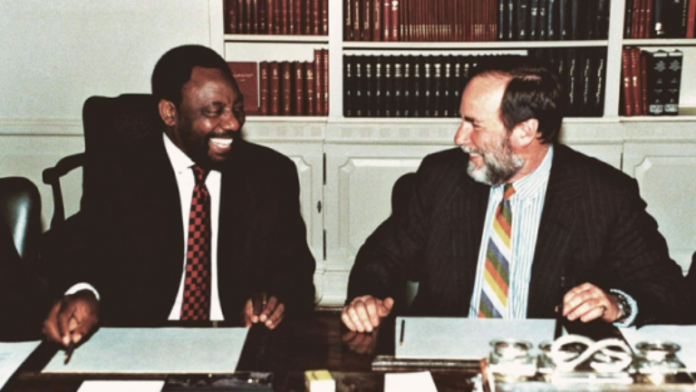 Oppenheimer also served in various capacities for many years at De Beers Consolidated Mines. He became the deputy chairman of the organization in 1985 and subsequently its Chairman from 1998 to 2012 when he exited after selling his family's stake to Anglo American.
Before his retirement, Oppenheimer worked in the following companies:
Anglo American
Diamond Trading Company
De Beers
Is Nicky Oppenheimer The Oldest Billionaire in South Africa?
Presently, Nicky Oppenheimer is the oldest known billionaire in South Africa. Born on June 8, 1945, his age and wealth of experience are believed to have helped him in his journey to greatness. Only a little age gap exists between Oppenheimer and Johann Rupert, who is five years younger than Nicky. Johann is followed closely by Mr. Bekker and Patrice.
Who are Other Dollar Billionaires Are In South Africa?
South Africa is home to billionaires and influential entrepreneurs in the business world. Besides Nicky Oppenheimer, other South Africans with mind-blowing net worth include the following:
Jacobus Petrus "Koos" Bekker is an investment and media mogul. His assets are valued at 2.5 billion dollars in 2023. As of the year 2020, Forbes ranked Potchefstroom-based entrepreneur the 1063rd richest person in the world.
Patrice Motsepe is a mining tycoon who has amassed 2.8 billion dollars as net worth in his business years. The African Rainbow Minerals CEO's occupies the 1513th spot on the list of richest persons in the world, as published by Forbes for the year 2020. He is the richest black man in South Africa.
Why Elon Musk Is Not Considered The Richest South African
Pretoria-born engineer, business mogul, philanthropist, and industrial designer Elon Musk is not regarded as one of South Africa's billionaires, even though he was listed to have made a $146.5 billion net worth, which is a lot more than Oppenheimer's. This is basically because he does not reside in South Africa. Musk is rather listed as an American as he is a citizen of three countries – Canada, South Africa, and The United States America.
The South African entrepreneur's net worth has continued to rise over the years – many thanks to his flamboyant lines of business. The SpaceX CEO keeps pace with billionaire-business-magnates such as Jeff Bezos, Bill Gates, Mark Zuckerberg, as well as Warren Buffett. Musk was recently unveiled as the third richest person in the world.