As the human population increases, there is a need for more shelter, so also the forest and vegetation, which are home to animals in the wild, which are now depleted. To relocate the animals and give them a home, zoos became a necessity – a place where they are preserved and cared for. One of such zoos that were created and are dedicated to animal conservation is the Lory Park Zoo in South Africa.
The zoo is home to up to 100 different species and provides a close-range view of these animals. Visitors to the zoo also get to learn more about them – albeit at a nominal cost. If you are jetting into South Africa and you want to visit the Lory Park Zoo, here is all you should know about it, including the entrance fee.
The Lory Park Zoo Is Located Between Johannesburg And Pretoria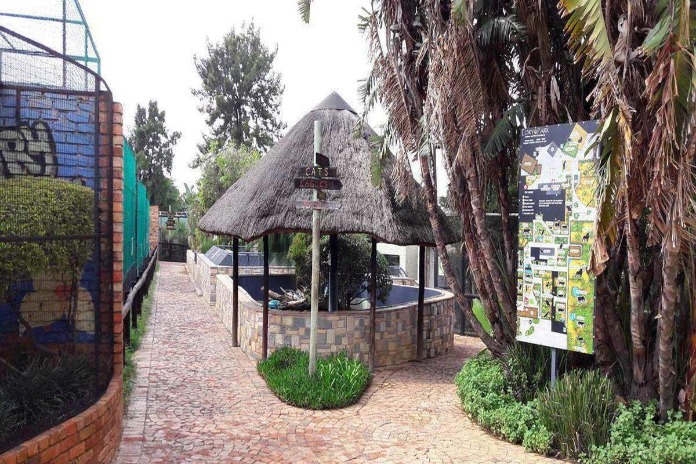 The Lory Park Zoo was launched in April 2000 by Edward Philippus Van Eck, who was born into a family of animal lovers and grew up with so much love and passion for animals and nature. After traveling to different zoos, parks, and sanctuaries around the world, Edward Philippus was inspired to create a bird park in South Africa that would rival any bird park in Europe. It was out of this dream that the Lory Park Zoo was born, but beyond being a bird park, today, it has become a home for different animal species.
When the zoo was created, Midrand, where it is situated, was not yet occupied by so many individuals and was still home to different animals like snakes, hedgehogs, mongoose jackals, and other bush animals. But as the population continued to increase, the once isolated Midrand became a residential municipality, sacking the animals, which had made the area their home. People then brought in captured animals to Edward Philippus' "bird park" for shelter, and the zoo was also asked to collect the snakes around its environment.
This was how Lory Park Zoo continued to grow and became a home to different animals. Edward Philippus also saw the need to educate people more about animals and the need for conservation. To this effect, the zoo does not just showcase animals, and it also holds training and tour sessions with visitors who are willing. People who have visited and absolutely loved what they saw now nicknamed the Lory Park Zoo the "Boutique Zoo."
How Much Is the Lory Park Entrance Fee?
Though Lory Park Zoo is more concerned with animal conservation, to visit the zoo and enjoy a close view of these animals, visitors will have to pay an entrance fee. This fee is very much affordable and differs for different categories of people, as you can see below:
Adults: R110
Children (above 12 years old): R110
Children: (2-11 years old): R80
Pensioners: R50 (Mondays R40)
Big Lapa: R1500
Small Lapa: R500
The Lory Park Zoo is usually open from 10 am to 4:30 pm on Mondays to Sundays and will be a nice place to have a weekend outing for you and your loved ones.
How Do I Get To Lory Park Zoo?
The zoo is located at Midrand between Johannesburg and Pretoria. It is a very easy place to locate if you are from anywhere around Johannesburg and Pretoria. While driving in your car, you can easily locate the zoo by following the directions below:
Take N1 towards Johannesburg.
At Midrand, take the Allandale off-ramp.
When you get to the third traffic light, turn left unto the R101.
At the fourth traffic light, turn right onto Dale Road.
Turn right to Kruger Road.
800m along Kruger road, you will find Lory Park Zoo at the right.
Alternatively, you can turn on your google map from wherever you are, and it can direct you.
What Animals Are Available At Lory Park Zoo?
Lory Park Zoo is home to over 100 different species of animals; some species are endangered birds and mammals, while others are vulnerable to being released into the wild. Some of these animals include:
Lions
Tigers
Leopards
Owls
Cheater
Orangutans
Parrots
Eagles
Vultures
Tortoise
Blue crane
Snakes
Hedgehogs
Monkeys
Lory Park Zoo Offers School And Holiday Programs
The zoo is focused on conservation and teaching people about animals, which makes it a great place to visit. If you are not only interested in having fun but wish to learn as well, most of the other activities at the zoo are for educational purposes.
Lory Park Zoo has a mission to conserve and educate young ones. To bring this to light, they hold school and holiday programs like guided and unguided tours for school children – and adults. Here are all the educational programs the zoo holds.
Unguided Tours
Unguided tours entail school children coming into the zoo, having a tour around, but without the guidance of a zoo tour guide, just their teachers. For non-guided tours, each child pays R80.
Guided Tours
Schools who contact Lory Park Zoo for guided tours will have to pay R85 per child, and for every 25 students, a teacher can join the students without payment. If parents accompany the children, they will have to pay the normal adult entrance fee.
On arrival at the zoo, the children are divided into small groups, and a tour guide is allocated to each group. The tour guide is responsible for taking the group around the zoo and teaching them about different animals. If the school has a particular animal that they would like the children to learn about, they can also inform Lory Park Zoo during the booking.
The children may also have the opportunity to have personal contact with cubs and other friendly animals. After the tour, the children can go on a break to have morning snacks or lunch. There is a store available where they can purchase what they want. Guided tours are usually not available on Mondays.
Guided Tours For Adults
Adults who will also want to have a  guided tour around the Lory Park Zoo can also book for it. It is similar to the student's guided tour, but in this case, the adults must be up to 10 or more, and each person pays a fee of R115.
Holiday Program
During holidays, the Lory Park Zoo also organizes programs for children. From Tuesdays to Fridays is the holiday program dubbed Rangers Day, when children dress up in comfortable clothes and are taught everything they need to know about being zookeepers. They join the expert zookeepers in preparing meals, cleaning up the environment, and looking after the animals.
Only children between the age of 6 to 16 are eligible for the holiday program. Each student will have to pay a sum of R200, including their training fee, entrance fee, and lunch (hotdogs, crops, cold drinks, and ice cream). Rangers Day usually begins from 8 am to 4 pm.
Community Service
On Fridays, Lory Park Zoo holds community service. On community service days, more staff are employed to take care of the community service children, and each child pays R170.