Following the outbreak of the Covid-19 pandemic, many South Africans have been left without work and in dire need of recruitment. Most times, finding a dream job can be quite frustrating, however, employers have made it easy by leaving the recruitment process at the hands of recruitment agencies. So, if you are a job seeker residing in Johannesburg, we have you covered with a list of the best recruitment agencies in the city.
Interestingly, these top-notch agencies do not only have offices in Johannesburg but in many other South African cities. They are considered by many individuals as a faster method of securing a job. Hence, most job seekers prefer to use employment firms rather than job posting sites. That said, here are the most sought-after recruitment agencies in Johannesburg.
10 Best Recruitment Agencies in Johannesburg
As the biggest city in South Africa and the capital of Gauteng province, Johannesburg boasts a good number of recruitment agencies. Nonetheless, we only have to provide you with the top ten employment firms in the City of Gold. Amazingly, these top recruitment agencies in Johannesburg share similar responsibilities which have made them a go-to spot for both job seekers and employers. The responsibilities include:
Advertising the job vacancy
Screening and headhunting
Conducting of interviews
Reference and Background checks
Offer of employment
Following the invention of this modern recruitment method of partnering with employment agencies, job seekers can easily and conveniently register their CVs on the websites listed in this article and be sure to get appointments that will land them that much-desired positions.
The most sought-after recruitment agencies in Johannesburg include:
1. Isilumko
In recent times, employment agencies have empowered many individuals and helped them build successful careers in their field of choice and Isilumko is no exception to that. The company not only gets people hooked up with desired jobs but also helps to create successful careers. To ensure extraordinary value for their clients, Isilumko recruits the highest caliber and best-suited candidates.
The company is known for sourcing talent through scalable staffing solutions. It is a black woman-owned agency with branches in many South African cities such as Durban, Pretoria, Cape Town, and Port Elizabeth. With Nritika Singh as the Managing Director, Isilumko's success down the years has been attributed to the following services:
Provision of temporary, contract, and permanent staffing solutions
All levels of recruitment for blue and white-collar jobs
Provision of reliable employment opportunities fostered by longstanding client relationships
Adhesion to the APSO code of conduct
Full compliance with statutory requirements
No charging of recruitment or registration fees
Fully dedicated to empowerment, Isilumko has delivered a diverse workforce across the country in the past years. As a result of its commitment, the recruitment firm has landed numerous accolades which include:
Top Gender Empowered Company – Business Support Services Award by Top Woman Awards
Customer Focus Award by National Business Awards (2016)
Oliver Empowerment Award for Top Empowered: Diversity (2016)
Oliver Empowerment Award for Job Creation (2017)
Careers 24 Future of HR Award for Best Workplace Diversity & Inclusion Strategy (2017)
Diversity in Workplace Awards by the National Business Awards (2015 and 2016)
Isilumko's partners include the following companies:
Massmart
Shoprite
Hollard
Liberty
UNISA
South African Revenue Service (SARS)
ABSA
Standard Bank
First National Bank (FNB)
If you are interested in working with the award-winning recruitment agency, you can submit your CV on the company's website or visit any of their branches at the physical addresses listed below:
Pretoria office – 280 Festival Street, Hatfield, Pretoria
Clayville Industrial office – Unit 4, Business Park, 20 Bronze Crescent, Gauteng
Durban office – 88 Lillian Ngoyi (Windermere) Road, Morningside, Durban
Port Elizabeth office – 49 Worracker Rd, Newton Park, Port Elizabeth
Cape Town office – 78 Salt River Road, Woodstock, Cape Town
Durban Industrial office – Shop U7, Citi Mall, 69 Wick Street, Verulam, Durban
2. Measured Ability South Africa (MASA)
Founder: N/A
Address: 3rd Floor, Widex Building, 22 Island Circle, Riverhorse Valley, Business Estate, Johannesburg
Email Address: [email protected]
Contact Numbers: 031 312 6453
Website: www.measuredability.com
For more than four decades, Measured Ability South Africa (MASA) has been providing white and blue-collar recruitment to many multi-national corporations. The agency is a well-recognized labor powerhouse not only in Johannesburg but in South Africa as a whole. It prides itself as a leading national and international employment/staffing agency. MASA's managing director is Wayne Stainforth. The firm's specialization includes:
White-collar temporary and permanent recruitment
Blue-collar recruitment
Labor hire
International recruitment
Oil & gas recruitment
Labor broking
Labor outsourcing
MASA has been making a name in the employment industry for its provision of personalized staffing solutions tailored to the specific needs of candidates, as well as for helping employers maximize their company's recruitment return on investment. The employment firm works with a vast database of skilled professionals. As such, they provide companies with the best talent available in the needed industry. MASA determines the right candidate for any company through a vetting process that includes background and reference checks.
3. Search Partners International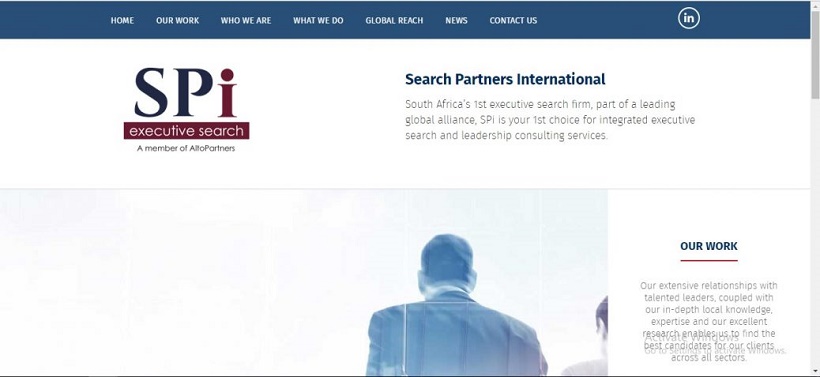 With more than 45 years of executive search and consulting experience, Search Partners International (SPi) has a global recruitment network that extends beyond Sub-Saharan Africa. The recruitment agency is a member of AltoPartners and thus, finds the best candidates across Africa, Europe, the Middle East, and the Asia Pacific for its clients in any required sector. It prides itself in sourcing outstanding talent that matches the experience needed by its clients.
The firm has a wider talent pool that spreads across more than 30 countries. Hence, its consultants normally tap into their extensive network of talented individuals when faced with scarce skills challenges. Little wonder, the recruitment agency is considered one of the leading executive recruitment firms in Sub-Saharan Africa and not just in Johannesburg alone.
Search Partners' services include:
Executive recruitment
Boardmembers recruitment
Leadership coaching and executive assessments
On-boarding and monitoring
Team monitoring and organizational alignment
4. Armstrong Appointments Recruitment Specialists
Employers can be sure to grow their companies, and job seekers can move their careers forward by simply contacting Armstrong Appointments. The recruitment agency was founded in the year 2003 by Sharon Armstrong and specializes in headhunting, executive, and specialist recruitment in South Africa and beyond. They do not only have a presence in Johannesburg but other cities like Durban and Cape Town. The firm has also matched candidates with their international clients in countries such as UAE, Australia, Saudi Arabia, and the Caribbean.
The industry sectors that Armstrong Appointments Recruitment Specialists specializes in are:
Human resource recruitment
Executive recruitment
Marketing recruitment (FMCG/market research)
Financial recruitment (chartered accountancy/auditing)
Construction recruitment
Information technology recruitment
Renewable energy recruitment
Legal recruitment
Security recruitment
Mining recruitment
Engineering recruitment
International and cross border recruitment
Armstrong Appointments has more than 20 years of headhunting experience. Having adopted a dynamic and tailored approach to recruitment which has seen candidates land permanent work, the recruitment agency has been nominated for the following awards:
Standard Bank Growth Awards (2005 and 2006)
FNB Business Award (2011)
African Access National Business Award (2012)
5. Quest Staffing Solutions
A black-owned business staffing solution, Quest Staffing Solutions specializes in enabling businesses through talent. The well-known recruitment firm was established in the year 1969. Quest has over 50 years of experience in providing recruitment and staffing solutions. It boasts of a high rate of right candidate-job matching and thus, has a database of over 150,000 candidates.
Quest offers customer service, marketing, sales, and support staffing solution, and equally provides other primary services such as:
Field marketing solutions
Human Resource Outsourcing (HRO)
Temporary and permanent bulk recruitment solutions
Staff optimization solutions
Recruitment Process Outsourcing (RPO)
With Quest, job seekers are guaranteed of finding that perfect position with its numerous blue-chip clients searching for the best professional candidates to fill their vacancies. The firm is a division of Adcorp Workforce Solutions (PTY) Ltd and focuses on helping individuals realize their potential through solid connections.
6. PMG Recruitment Services
Founder: N/A
Address: Arrow Creek Office Park, 132 Athol Street, Cnr Meyer Street, Waverly, Johannesburg, 2192
Email Address: [email protected]
Contact Numbers: +27 011 083 5231 / +27 011 075 4509
Website: www.pmgrecruitment.com
With a strong reputation in the employment market, PMG Recruitment Services provides employment solutions to companies hiring and individuals searching for work. The agency works closely with clients and recruits for all industries nationwide. PMG Recruitment guarantees delivery of measurable results always by carefully looking out for the needs of their clients and by paying attention to detail.
Many employers and job seekers choose PMG Recruitment Services to meet their employment objectives because of their main services which include:
Temporary and contract recruitment
Generalist recruitment
Executive appointments
The widely-acclaimed recruitment firm also provides clients and candidates with services such as:
Interviewing and interview training
Skills testing (which includes data entry, typing speed, computer literacy, and accuracy)
Matching the individual applicant to the vacant roles
Nationwide headhunting
Reference checking
Training
Note: Candidates who wish to work with PMG Recruitment Services can send their CVs to this email address – [email protected].
7. Kontak Recruitment Agency
Kontak Recruitment Agency is ranked among the leading recruitment agencies in Johannesburg. With the aim to provide a hiring solution by making the recruitment process easy and increasing efficiency for employers, Kontak was established in the year 2009. The company works as an intermediary between job seekers looking for employment opportunities and employers. It is a reputable employment and staffing agency that has over the years recruited top staff and personnel for several companies.
Unlike other employment firms that have specific recruitment levels, Kontak Recruitment Agency hires certified staff from entry-level to executive positions. The firm also has regional offices operating nationally and internationally. Besides Johannesburg, Kontak Recruitment Agency has branches in Cape Town and Durban. As a recruiter, the firm's recruitment process includes:
Conducting job analysis
Writing the job description
Recruitment plan
Advertising the vacant positions
Filling the positions with personnel via application screening, sourcing, and headhunting
Screening
Interviews
Background Checks
Employment offer
Hiring and on-boarding
Over the years, many employers have hired the services of Kontak Recruitment, providing them with a list of job vacancies for personnel and staff placement. With over 10 ten years in the employment and personnel industry, this proudly South African specialist recruiting company is considered a market leader in finding the best possible employees for permanent and contract jobs. The recruitment firm's employment sector specialization includes:
Graduate recruitment
IT and Telecoms recruitment
Admin recruitment
Digital marketing recruitment
Accounting recruitment
Human resource recruitment
Hospitality recruitment
Manufacturing and logistics recruitment
Call center recruitment
Retail recruitment
Medical and pharmaceutical recruitment
Sales and marketing recruitment
8. Greys Recruitment Agency
Founder: N/A
Address: No. 8, 11th Avenue, Houghton Estate, Johannesburg, 2198
Email Address: [email protected]
Contact Numbers: 011 447 5582
Established in 1982, Greys Recruitment Agency is a trusted recruitment agency with more than forty years of experience in the employment sector. It is one of the employment firms under Measured Ability South Africa (MASA). It prides itself in sourcing the best candidates online for companies. The firm achieves this through the implementation of Push & Retrieval Technology, cutting-edge digital channels, and SEO practices. It majorly specializes in white-collar temporary and permanent recruitment.
Greys Recruitment ensures that only the most suitable candidates are considered for vacant positions and this has enabled them to cultivate long-term relationships with both clients and candidates. With a vast portfolio of middle and executive management candidates across the globe, the agency is at the forefront of the industry. This accounts for the exponential growth it has recorded for over forty years.
In the past years, the firm has confidently matched many candidates to organizations and the successful placements have been tied to having a cross-border team of consultants that strive to gain intimate knowledge of both clients and candidates. The services provided by Greys Recruitment are:
Recruitment process transfer
Manage job profiling
Internal recruitment function
Verifiable metrics
Assessment services
onboarding
Advertisement response handling
Retained search
Contingent Search
9. Workforce Staffing Recruitment Agency
Founder: Ronald Stanley Katz
Address: 11 Wellington Road, Parktown, Johannesburg, 2193
Postal Address: PO BOX 11137
Email Address: [email protected]
Contact Numbers: 087 135 8888 / 27 11 532 0000
Website: www.workforce.co.za
Workforce Staffing Recruitment Agency is another market leader in the recruitment and staffing industry. The agency is part of the Workforce group of companies that provides diverse services, including employment, training, healthcare, and financial services to employers and individuals. The employment firm offers well-managed solutions across all industries for any category and level of staff and labor.
With their services focusing on all aspects of human capital management, Workforce Staffing Recruitment provides human capital solutions including:
Temporary employment services
Staff outsourcing and payroll management
Permanent placement recruitment
Business process outsourcing
Training and skills development
Healthcare and employee wellness
Financial, insurance, and lifestyle services
Interestingly, the recruitment agency's holding company, Workforce Holdings Limited, which is listed on the AltX board of JSE, has employed over 1000 permanent staff in the past years.
10. Matlejoane Staffing Services
Founder: Ms. Adelaide Matlejoane
Address: Pritchard Street, 2001, Johannesburg
Contact Numbers: +27 11 838 0730
Website: www.matlejoane.co.za
Matlejoane Staffing services was founded by Ms. Adelaide Matlejoane in 1997 with a vision to provide staffing solutions to clients in a consistent manner. The employment firm aims to stand out as a leading force in the recruitment and staffing niche by collaborating with professionals and non-professionals from diverse backgrounds, as well as employers of all sizes in any recruitment sector. The Johannesburg-based recruitment agency is a member of APSO and IPM.
Matlejoane Staffing Services mainly provide staffing solutions in the following sectors:
Admin support
Sales and marketing
Finance
Office support
Information & communication technology
Call center
Human resource
Recap of the Top 10 Recruitment Agencies in Johannesburg
Isilumko
Measured Ability South Africa (MASA)
Search Partners International
Amstrong Appointments Recruitment Specialists
Quest Staffing Solutions
PMG Recruitment Services
Kontak Recruitment Agency
Greys Recruitment Agency
Workforce Staffing Recruitment Agency
Matlejoane Staffing Services