Thuso Motaung was born on December 18th, 1959, and is currently 63 years old. Thanks to his successful career in the media, he has an estimated net worth of $500,000 (over R7 million)
Thuso Motaung, a professional teacher, has gained wide attention for his works with Lesedi FM where he executes diverse roles. The presenter has worked as the host of a gospel show titled Makgulong a Matala for over twenty years and equally co-host another show called Jwale Ke Nako on the radio station. Thuso has not only impacted lives positively with the inspirational messages he passes unto his audience but has increased the popularity of Lesedi FM with the massive number of listeners he attracts on his shows.
Having been in the media for many decades, the motivational speaker has built an illustrious career that has been embellished with many awards. Although his decades-long journalism career has been plagued by controversies at some point, Thuso Motaung has not allowed it to slow him down on attaining his career goals, as he is considered among the legendary radio personalities in Mzansi.
Summary of Thuso Motaung's Biography
Full name: Ntate Thuso Motaung
Gender: Male
Date of birth: December 18th, 1959
Place of Birth: South Africa
Current Residence: South Africa
Thuso Motaung's Age: 63 years old
Ethnicity: Black
Nationality: South African
Zodiac Sign: Sagittarius
Sexual Orientation: Straight
Religion: Christianity
Marital Status: Married
Thuso Motaung's Wife: Mamontha Motaung
Profession: Teacher and media personality
Hair Colour: Black
Eye Colour: Brown
Thuso Motaung's Net worth: $500,000 (over R7 million)
Famous for: Being the host of the gospel show titled Makgulong a Matala on Lesedi FM
Thuso Motaung's Instagram: sebatasebata
Twitter: @thusoonketsang
What is Thuso Motaung's Age?
To date, Thuso Motaung is yet to make public his actual date of birth, though his birthday is known to be December 18th as he often celebrates it with his family and friends every year. That being said, in May 2007, IOL revealed during the radio personality's trial for fraudulent cases, that he was 47 years old at the time. Hence, Thuso Motaung's date of birth can be presumed to be December 18th, 1959. He currently should be 63 years old. As a private person, the Lesedi FM presenter hasn't disclosed his educational achievements to the general public. However, it is a known fact that he is a teacher by profession.
The Media Personality Has Spent Close to Forty Years Working For Lesedi FM
Ntate Thuso Motaung has been mostly recognized in SA for changing lives with his moral regeneration show, Makgulong a Matala on Lesedi FM. He has worked for the radio station for more than three decades and a half, having joined the station in 1983. Throughout his journalism career, he has gained prominence following his role on Makgulong a Matala, a gospel show which he co-hosts with Rev. Maine every Sunday from 9 AM to 12 PM on Lesedi FM. The moral regeneration show features scripture reading by the two motivational preachers. They also play inspiring gospel songs and share the profile of fast-rising gospel singers on the show.
The programme has been running on Lesedi FM for over two decades and its presentation style along with the compelling and innovative content have attracted almost one million listeners. Also, Thuso initiated another programme called Bua Le Yona Mokganni presently known as Jwale Ke Nako which he co-anchors with Tholoana Moletsane on Lesedi FM. On the show, the two provide the audience with vital information within the transport sector. Besides Lesedi FM, Thuso Motaung is also said to have worked as the programme director for multiple TV shows. He has been celebrated over the years for consistently being a source of inspiration to his audience.
At one point in his career, when he was accused of fraud by SABC, the eminent media figure was relieved of his duties at Lesedi FM for over a year. After being found innocent of the alleged crime, he was reinstated to his position in 2011 and has continued his work at the station alongside his better half, Mamontha Motaung who is currently Lesedi FM's station manager. She worked as a principal announcer for the radio station for over 26 years before becoming manager.
List of Thuso's Career Achievements/Awards
2018 DSTV Mzansi Viewers' Choice Award
Man Of the Year Award 2019
Mzansi's Favourite Radio Personality of the Year 2019
2019 Hall of Fame Award
Is Thuso Motaung a Millionaire?
Thuso Motaung was revealed to have millions of rands in his bank accounts in late 2006 when he was charged to court by SABC, alongside his wife, Mamontha and business associate, Joshua Ramme. They were accused of defrauding the broadcasting corporation of R34 million in airtime sales from 2004 to 2006. After their arrest on 17 charges, including fraud, copyright infringements against SABC, corruption, and money laundering in December 2006, the trio were granted bail of R100,000 each that month. Thuso was re-arrested in May 2007 in Bloemfontein following his trial at the Johannesburg-based Specialised Commercial Crimes Court that month.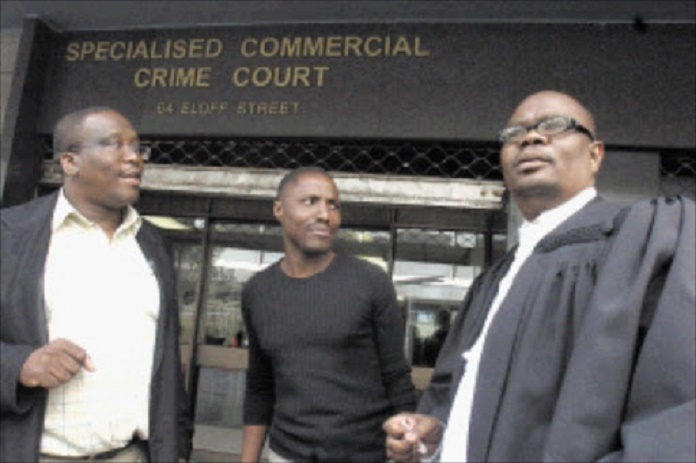 He was tried for over a year together with his wife and Joshua Ramme based on the accusation of the trio making illegal use of the Lesedi FM logo on the packaging of a product they promoted and also for allegedly violating contractual obligations for the marketing of products on air. Later in May 2008, Thuso Motaung, his wife Mamontha, and Joshua Ramme were acquitted of the charges against them by the SABC. As a result, the veteran radio presenter was given total access to his millions. Even though his total wealth wasn't disclosed at the time, he was said to worth several millions of rands.
His assets valued at R15 million which were seized by the Asset Forfeiture Unit were subsequently released to him. They included three houses with furniture and luxury cars. At the moment, Thuso Motaung reportedly has an estimated net worth of $500,000 (over R7 million). This, he accumulated from his works at Lesedi FM, as well as other gigs as a TV programme director, and music composer. He earns royalties on the several songs he has penned for many music artists and has moved on to release his own songs, including 'Ke Na Le Molisa', 'O Gamme Eng', and 'Ke Lumetse 1'.
Summary of Thuso Motaung's Sources of Income
Radio hosting gigs
TV directing works
Music career/songwriting
A Look at The Controversies He Has Been Involved in
Popularly known for discussing controversial topics on his shows, Thuso Motaung's personality has been surrounded by many controversies down the years. In August 2018, the veteran radio figure was reported to the Broadcasting Complaints Commission of South Africa (BCCSA) by EFF researcher, Tokelo Nhlapo concerning his comments about the rape of Rhodes student, Khensani Maseko that resulted in her tragic death. Thuso, on his show, allegedly stated that girls shouldn't close the door when they visit boys and also should not sit on the bed as these gestures would make the boys think that they are prepared to have sexual relations against their will.
As a result of the comments, Tokelo called the radio host a misogynist and reported him to the BCCSA. The case, however, was ruled in Mr. Motaung's favour as BCCSA stated that his comments didn't contravene the broadcasting code of conduct. Once again, Thuso was reported to the Broadcasting Complaints Commission of South Africa in February 2020 by QwaQwa residents who wished for him to be suspended for at least six months as a result of the comments he made on his show on January 26th, 2020, when they protested for basic amenities, including clean water supply following the passing of Musa Mbele, an eight-year-old who got drowned while fetching water at a local river.
Thuso allegedly insulted the community by saying that their protest was ineffective as it didn't make any impact on the South African economy. He later apologised to the residents of the community on air but their spokesperson, Khehla Mokoena said his apologies were not accepted and that they wanted him suspended. Furthermore, Thuso Motaung was recently accused by music artist, William Mthethwa of embezzling his royalties from the SA Music Rights Organisation (SAMRO) for 25 years. Speaking in his own defence, the Lesedi FM broadcaster stated that he only collects royalties from SAMRO as a music composer as he has composed songs for several artists.
Thuso's assertion was later confirmed by William Mthethwa's former record label boss who disclosed that Thuso Motaung's name was added to William's albums in a mutual agreement as he helped the singer to write Sesotho lyrics.