In less than a decade after starting his professional football career, Gabadinho Mhango, whose full name is Hellings Frank "Gabadinho" Mhango, has been able to amass a net worth estimated between $500,000 and $800,000. The star player currently earns about R150,000 per month at his present club, the Orlando Pirates.
The Malawian international football player, who is currently plying his trade in the South African Premier League with Orlando Pirates, kicked off his football career playing for Bloemfontein Celtic. It was from there that he was able to build himself into the star we know today. However, this player will be underappreciated without a detailed look at his career, earnings, and the various positive ways he touches people's lives.
Gabadinho Mhango is One of the Highest-Paid Players of the Orlando Pirates
Gabadinho joined Orlando Pirates in the 2019/2020 season from Bidvest Wits, where he was from 2016 to 2019 after the Pirates paid an almost R5 million transfer fee. In his new team, he wears jersey number 7 and plays as a striker for the Amabhakabhaka side. In the 2019/20 season, his very first season as a Pirate, the Malawian international found the back of the net a total of 16 times in his 18 appearances in all competitions that season.
This became a record as no other Amabhakabhaka player has attained that feat in the last 10 seasons of the team's campaign in the ABSA Premiership. In that same season, Gabadinho was crowned the ABSA Premiership Golden Boot winner with Peter Shalulile, the sensational Mamelodi Sundowns' new signing.
Ultimately, Gabadinho has been able to justify his R150,000 monthly salary and perhaps suggest to the team's management that he deserves a pay rise should his form keep improving, making those darting runs and finding the back of the net as often as possible. Though he is not the highest-paid player in the Bucs, Gabadinho's current monthly remuneration is enough to have earned him recognition as one of the overall highest-paid Orlando Pirates players.
It was reliably reported that he earns above Thembinkosi Lorch, who takes home R108,000 monthly. At the same time, the likes of Innocent Maela (150,000), Vincent Pule (170,000), Fortune Makaringe (185,000), and Happy Jelele (R200,000) earn tens of thousands of Rand above him. Others like Thulani Hlatshwayo (R300,000), Justin Shonga (300,000), Richard Ofori (R300,000), Deon Hotto (500,000) earn more than twice Gabadinho's R150,000 monthly income.
Other Teams Gabadinho Mhango Has Played For
Born (Sep 27, 1992) and raised in Chiweta, Malawi, 31 years old Frank Mhango didn't emerge out of the blues. His football career started when he was very young, and he completed his amateur career with Brave Warrior football club, a Malawian Youth side. However, his balling skills brought him to the attention of international clubs, some of which are from South Africa.
He kicked off his professional career in 2012 when he joined the Big Bullets, a Malawian club that competes in the TNM Super League. Since then, he has continued to record giant strides with top clubs, including other South African PSL teams, before his current stint with the Orlando Pirates. Let's look at other teams he has played for, how much he was paid, and their duration below.
Big Bullets FC. (2012–2013)
For his senior career, Gabadinho Mhango put pen to paper with Blantyre, Malawi-based Nyasa Big Bullets (NBB), often referred to as Big Bullets FC. After they paid K300,000 (about R52,000), with some negotiations his new club and the former club agreed on, Gabadinho became a Big Bullets player. The striker rendered his services as a hot-shot for the team from 2012–2013.
Bloemfontein Celtic (2013–2015)
Gabadinho Mhango joined the South African professional football league in 2013 when Bloemfontein Celtic Football Club (Celtic) secured his services. He adorned the beautiful green, white and black colors of the Phunya Sele Sele club side in a total of 46 games (from all competitions), during which he netted an aggregate of 15 goals.
However, the Malawian-born international reportedly fell out with the team when he sustained an injury. He alleged he was mistreated by the team as they cut his salary while he was recuperating. Gabadinho went ahead and signed a pre-contract with Bidvest Wits before joining Lamontville Golden Arrows F.C. for the rest of the season. Following his new signing, he was dismissed from Celtic.
Lamontville Golden Arrows F.C. (2015–2016)
Mhango kept his football career alive by joining Sugar Ray Xulu Stadium, Durban-based Golden Arrows on loan for about R3.4 million. He played a total of 13 games for the team during the 2015/16 season. He further netted 5 goals for the team before joining Bidvest Wits at the end of the season.
Bidvest Wits (2016–2019)
Apart from Celtic, another club side Gabadinho Mhango has played the most games of his football career is Bidvest Wits. At the end of his loan with Golden Arrows, Bidvest paid the equivalent of R3.4 million to have the rights to field him. As The Clever Boys player, Gabadinho Mhango scored 11 goals in 41 appearances before leaving in 2019.
A Highlight of Gabadinho Mhango's playing career
Big Bullets FC. (2012–2013)
Bloemfontein Celtic (2013–2015)
Lamontville Golden Arrows F.C. (2015–2016)
Bidvest Wits (2016–2019)
Orland Pirates (2019-Present)
He has Started Investing His Football Wealth into Other Businesses
In 2017, precisely on January 5th, Gabadinho announced his clothing line "GABA WEAR" on Instagram. He launched the outfit brand with a Snapback in Blantyre, Malawi, and promised that stock would soon be available nationwide.
With this, he has not only shown that he is a good footballer but also business-minded. The striker can be said to have followed in the footsteps of Teko Modise and Morgan Gould, who both have clothing brands.
Gabadinho Mhango Isn't a Big Spender When It Comes to Cars
When it comes to automobiles, footballers are one group of celebrities who don't hold back when acquiring some of the costliest cars money can buy. The parking lots of their training grounds are often adorned with costly SUVs, hatchbacks, sedans, and what have you. But when it comes to costly cars, Gabadinho is a bit more conservative compared to his counterparts. He owns a Volkswagen Polo, the only ride we are sure of.
He Drives a Volkswagen Polo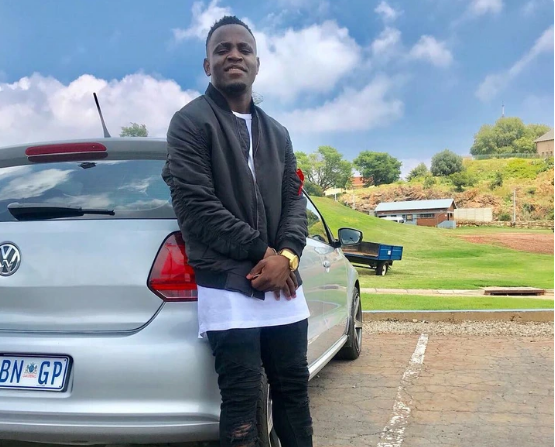 Specifications:
7 gears
Turbocharged
Digital odometer
Front-wheel drive
Speed-sensing door
Front and rear power windows
Internal remote boot-lid opener
Manual-internal anti-glare mirror
Power-assisted steering (Electric)
Suspension Rear: Semi-independent Trailing Arm
Suspension Front: McPherson Strut with Stabiliser Bar
Gabadinho Mhango has in the past uploaded pictures on social media that captured him beside his Volkswagen Polo. The automobile, which cost about R230,000, is a popular ride among PSL players. It is termed a "starter ride" before these players acquire more expensive and elegant automobiles. Perhaps, Gabadinho has done that too.
An Instagram Picture He Uploaded Suggests He Acquired a New Sedan Car
On November 21, 2020, the footballer uploaded a picture of himself sitting in the driver's seat of what seemed like a brand new sedan car. The caption that accompanied the post read, "Dear God, thank you." If we are to take this at face value, it probably means that Gabadinho has purchased another car. A glimpse into the interior of the vehicle shows it is a significant upgrade from his VW Polo.