Teko Modise's net worth is $5 million. The 40 years old former Bafana Bafana captain made the bulk of his money while he was one of the most popular football players of his time.
Modise played for top football sides in the country and worked with mega-brands to promote their products. His wealth has since afforded him a flamboyant lifestyle, including owning luxury vehicles and plush houses. The football player, however, once came close to losing his home. Here's more about what happened and the lifestyle he lives.
Teko Modise's Net Worth Was Mainly From His Football Career
For what it's worth, Teko Modise had a productive and flourishing career during his playing days. The Meadowlands-born midfielder featured for quite a number of clubs in South Africa, starting from the days of his junior career.
Ria Stars
He began his youth career at the amateur football sides Coventry (South Africa) and City Rebels until 2001 when he was signed by the South African football team, Ria Stars. He made 6 appearances but scored no goal for the team until his exit the following year, being 2002.
City Pillars
Modise scored a total of 21 goals from 66 appearances for City Pillars between 2002 – 2006. During his days at the club, he was exceptional and greatly admired by many football lovers, especially with the way he connects with his teammates on the field and showcases his football talent. The following year, being 2006, he would move on to sign with Supersports United.
Supersports United & Orlando Pirates
He played a total of 33 games for the Supersports United team and scored no goal. One year later, he signed a 3-year contract with the Johannesburg-based football club Orlando Pirates. He scored 12 goals from 93 appearances for the side. He left the team in the year 2011 after an impressive career and joined the Mamelodi, Pretoria-based club, Mamelodi Sundowns.
Mamelodi Sundowns
The footballer made his longest football appearance with the Sundowns. He spent six fruitful years with the team (between 2011 and 2017), scoring 24 goals from 145 appearances – his highest as a professional footballer. Modise's career at Sundowns was exceptional and impressive. He was a fan favorite and one of the players most people usually watched out for before any game.
Cape Town City
The South African giant team Cape Town City is the last football club Teko Modise played for as a professional player before his retirement. He made 20 appearances for the team between 2017 and 2019, scoring just one goal. The 1.69 meters tall footballer didn't end his career without making an impact on the global football scene. Modise represented his motherland (South Africa) in international games between 2006 and 2012. He played 66 games for his country and scored 10 goals.
Some of the competitions that gave him the platform to score his international goals include COSAFA Cup (in a game against Mauritius), Friendly matches against Canada, Colombia (2010), Zambia (2009), as well as Nelson Mandela challenge – against Cameroon (2008).
Highlights Of The Clubs Teko Modise Has Played For
Ria Stars (1999 – 2001)
City Pillars (2002 – 2006)
Supersport United (2006 – 2007)
Orlando Pirates (2007-2011)
Mamelodi Sundowns (2011-2017)
Cape Town City (2017-2019)
Teko Modise's Salary As A Professional Footballer
Most footballers often shy away from talking about their salary and income. This is common and we totally understand why. In the case of Teko, his salary profile is not complete as the exact amount he was paid by some of the teams he played for is not open to public scrutiny. The worth of some of his contracts with some teams is yet to be publicized as well.
This apparently makes it difficult to trace the steady rise of his career salary from when he began his football career to where it is now. However, reports have it that while playing for Mamelodi Sundowns, Teko was paid R450, 000 on a monthly basis. Besides his monthly salary, the footballer and his teammates get heavily paid after winning major competitive games, some of which include the 2015 Telekom Knockout competition (R4, 000,000 winning prize), and the Nedbank Cup (R7, 000,000 winning prize).
Modise was also part of the team that won the MTN 8 in 2010. He and his Orlando Pirates teammates went home with the winning prize of R8, 000,000. In 2018, while playing for Cape Town City, the team won the 44th edition of the MTN8, winning a whopping R8, 000,000.
Other Sources Of Teko Modise's Net Worth
Gone are the days when footballers only rely on their professional careers to survive, even after retirement. These days, most of them make extra cash through businesses and other investments. Modise, like most of his mates, has made several investments to boost his financial condition over the years.
Endorsements
Besides his football career, Teko was able to his build his net worth through other financial sources. He has bagged several endorsements with notable brands, including but not limited to Coca-cola, Samsung, Nike, Heineken, Telekom, and Mc Donald's.
Also during the FIFA 2010 World cup, Teko made millions without even kicking the ball. He was one of the most sought-after football stars and was most companies' ideal athlete for advertisement. During the World Cup period, his face was splashed on billboards and banners both home and abroad.
Fashion Brand
The footballer reportedly has a clothing line that deals in men's fabrics and accessories. The name of Teko's fashion brand is Fashion Don. He has kept a low profile since his retirement. However, he still has a lot of people who are loyal to him and greatly impressed with his professional career.
Currently, Modise works with Cape Town City Football Club as the Executive Public Relations officer following his retirement from professional football. He is hardly in the news but is generally doing great.
Where Is Teko Modise's House Located?
Teko Modise lives in a big mansion in South Africa. He purchased the multi-million Rand mansion situated in Fourways, Johannesburg, in the month of October 2016. The exquisite home is located in the elite suburb of Ruimsig and is surrounded by other beautiful mansions. However, the exact amount the footballer spent on the sprawling apartment is yet to be publicized. he hasn't mentioned the specific amount yet.
Teko Modise's mansion is a 2-storey Tuscan Style piece of architecture with finely cut stone walls, tile roofs, arched openings, porticos, and a contemporary exterior space that opens up the home. It also has a beautiful driveway, as well as a couple of aesthetic plants placed at strategic parts of the house. Indeed, the midfielder's mansion is all shades of luxury, comfort, and class.
I love Teko sense of Fashion, hope he will venture into it. 👏🏽👏🏽#MSW @MarawaSportShow @robertmarawa @Bevstar7 pic.twitter.com/v7vivaXZJM

— Coach Siya Maloka (@Siya_Maloka_) May 15, 2019
Unlike most celebrities, the footballer doesn't often post pictures of his house or himself inside his house. It appears he wants to keep them away from the curious public. Also, it is not known if other celebrities do meet up with him in his apartment as he hasn't shared pictures of him and them as well.
Some Features of the Mansion in South Africa
Beautiful cut stone walls
Tile roofs
Arched openings
Porticos
A modest and contemporary exterior space
Beautiful driveway
Aesthetic plants placed at strategic portions of the house
Teko Modise's Cars 
Teko Modise loves fast and luxury cars, like most rich footballers. A look at his fleet of cars will leave you fascinated and jaw-dropped. Some time ago, the former Ria Star football player bought an Aston Martin DB9 out of boredom. He reportedly mentioned this during the launch of the biographical book The Curse Of Teko Modise. The book was written by Nikolaos Kirkinis and published in the year 2017.
The Meadowlands native also revealed that he was paying a whopping R22, 000 per month for the car, a decision he claims he regrets. Though he didn't mention the exact amount he bought the car, some sources pegged the price of his Aston Martin at R1, 000,000.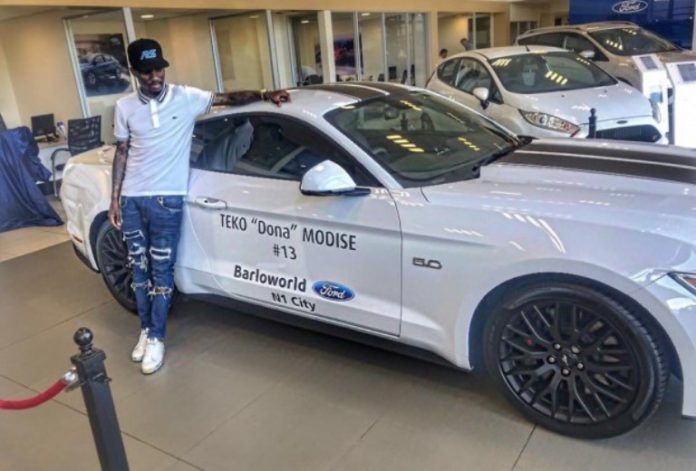 He also has a BMW M3 with a customized license plate. His nickname, "THE GEN GP", is clearly written on it. Other cars in his garage are Golf 7 GTI, Jeep Wrangler, Aston Martin DB9, BMW M3, Ford Mustang, Lexus, Jeep SRT8, Mercedes Benz, Jaguar, Porsche, and Volkswagen Scirocco R-line.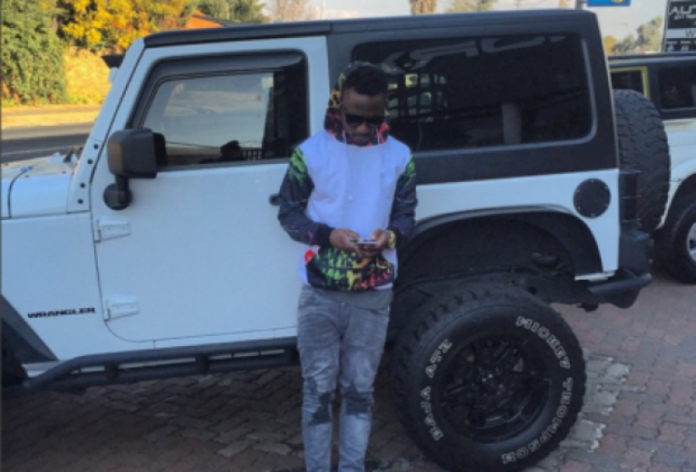 The exact amount and the particular year the retired footballer bought all of his cars are not public knowledge. Some sources claim he sold some of his cars but the former Ria Star player hasn't commented on the report.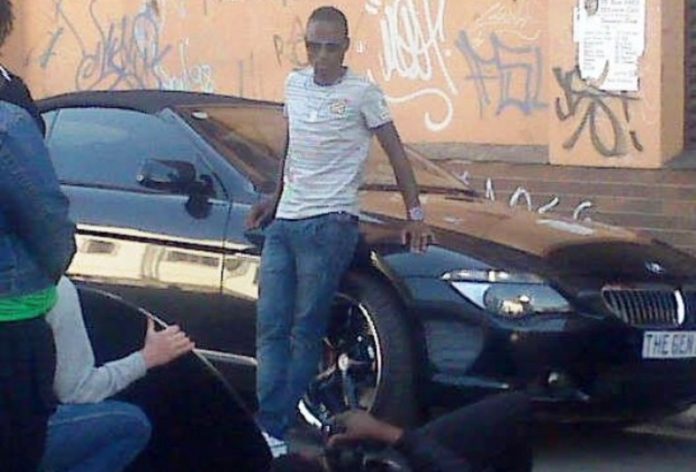 Highlights of Teko Modise's Cars
Golf 7 GTI
Jeep Wrangler
Aston Martin DB9
BMW M3
Ford Mustang
Lexus
Jeep SRT8
Mercedes Benz
Jaguar
Porsche
Volkswagen Scirocco R-line
Golf 7 GTI Special Features
Number of valves: 16 Valves
Maximum torque : 350 Nm or 258 lb.ft @ 1500-4600 rpm
Aspiration : Turbo + Intercooler
Maximum power – Output – Horsepower : 230 PS or 227 bhp or 169 kW @ 4700-6200 rpm
Aston Martin DB9 Special features
Power Steering
Power Windows Front
Anti Lock Braking System
Air Conditioner
Driver Airbag
Passenger Airbag
Automatic Climate Control
Alloy Wheels
Multi-function Steering Wheel
Lexus Special features
4 one-touch power windows
hands-free entry
Heated mirrors
Reverse tilt dual mirrors provide curb view when the vehicle in reverse
Jeep Wrangler special features
Power Steering
Power Windows Front
Anti Lock Braking System
Air Conditioner
Driver Airbag
Volkswagen Scirocco R-line Special Features
Doors: 3
Luggage Capacity (Seats Up): 312l
Gross Vehicle Weight: 1,780kg
Wheelbase: 2,578mm
Minimum Kerbweight: 1,300kg
Jaguar special features
Power Steering
Power Windows Front
Anti Lock Braking System
Air Conditioner
Driver Airbag
Passenger Airbag
Alloy Wheels
Multi-function Steering Wheel
Engine Start Stop Button
Ford Mustang Special Features
ARAI Mileage: 13.0 kmpl
Engine Displacement: (cc) 4951
Max Power: (bhp@rpm) 395bhp@6500+-50rpm
Max Torque: (nm@rpm) 515Nm@4250+-50rpm
Seating Capacity: 4
BMW M3 Special Features
Engine Type: M Twin Power Turbo Inline 6-cylinder Engine
No Of Cylinder: 6
Power: 431 bhp@5500-7300 rpm
Torque: 550 Nm@1850-5500 rpm
Drive: Train RWD
Porsche special features
Porsche Active Suspension Management (PASM)
SPORT Button
Active Air Intake Flaps
Porsche Ceramic Composite Brakes
3.0L twin-turbo boxer 6 engine
Rear-wheel drive (All-wheel drive is available on certain models)
Sport exhaust system
8-speed Porsche Doppelkupplung (PDK) transmission
Jeep SRT8 Special Features
2 Front Headrests
3 Rear Headrests
Auto Delay Off Headlamps
Blind Spot And Lane Departure Warnings Accident Avoidance System
Brake Drying
Child Seat Anchors
Daytime Running Lights
Dual Front Side-Mounted Airbags
Dusk Sensing Headlamps
Emergency Braking Preparation
Engine Immobilizer
Front And Rear Head Airbags
Front Fog/Driving Lights
4-Wheel ABS
High-Pressure Washers Headlamps
Post-Collision Safety System
A Look At Teko Modise's House Brouhaha
The drama surrounding Teko Modise's house started in 2019 when it was reported that the ex-Supersports player was about to be kicked out of his beautiful house because he was unable to make bond repayments. Reports have it that his negative credit profile in the previous years, (caused by the loss of his houses and cars) caused him to secure a home loan in the year 2015.
A South African company known as SB Guaranteecompany had presented documents in court showing that they provided a guarantee for Teko Modise to enable him to acquire a loan of more than R2.7 million to purchase his house in Fourways back in the month of October 2016. The agreement was for Teko Modise to pay R32, 000 monthly for 240 months but the footballer defaulted.
There were records that showed the former footballer had defaulted in payments for 14 months and although he was given written notices asking him to update his payments, there was no positive response from him. The company was then forced to ask the court of law to grant it an order to auction off Modise's mansion.
Some sources reported that a mystery buyer surprisingly came to the rescue a day before the auction while others claim that Teko's lawyers informed the bank's lawyers that they had secured a "private buyer" for the property. The buyer was said to have made an offer of R2,000,000, which was accepted and the public auction was then canceled.
It was gathered that the mystery buyer did not kick Teko out of the house as both parties entered an agreement for the retired footballer to keep living in the house. During that period too, the South African Revenue Service (SARS) was reported to have named Modise among 10 prominent South Africans who have not complied in filing their tax returns.