Oupa Manyisa had seen his career almost burn out right before his eyes when his contract was terminated by his new club, TTM F.C, even before he got a chance to start. Left without a job before Chippa United gave him another lease of life, he faced the loss of something even more important, his marriage to his wife of many years, Johanna Louw, who wanted a divorce from the star.
The two got married in 2014, and although the union maintained silence for a long time, it was rocky right from the start with claims of infidelity on both sides. Because of the many storms they overcame to have 2 kids between them and hold on for six years, one would have thought their marriage would sustain forever, but things did not go that way.
Oupa Manyisa and Johanna Louw Got Married In 2014
Oupa and Johanna have a rather lengthy history. They first met when they were both teenagers in 2006. Oupa was at the Africa Sports Youth Development Academy, and he was also having his high school education at Highlands North. At the same time, his girl was a student at Liberty Community School.
They dated for six years before he paid her lobola and finally decided to the knot after the New Year of 2014. The couple had their marriage at a private event in Olifantsfontein, where Johanna revealed that her husband, who was playing for Orlando Pirates at the time, was always spoiling her and that she would be a good wife for him.
They had their legal wedding at Edenvale Home Affairs in October of the same year. Both Johanna and her man were 25 years old when they got married.
Their Marriage Produced Two Kids
The couple has gone through a tragedy in the past with the loss of their daughter, Kutloano, in February 2017. She was 3 weeks old when she died. They already had a daughter whose name and date of birth was not revealed before Kutloano. 9 months after losing their little one, they announced that Johanna was pregnant with another child in 2017. The child came in 2018, but nothing about it was revealed to the public.
Johanna has had a child from a previous relationship she had. Rumors emerged after getting married that she hid the child from Oupa, who only got to know about it after getting married, but he rubbished the claims, insisting he knew about it. The couple was still building its young family when reports emerged that they were heading to the divorce doors.
Oupa Manyisa Allegedly Cheated On Johanna Louw  With Different Women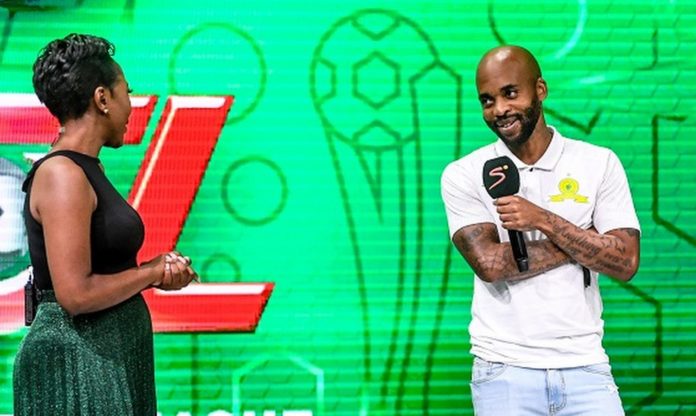 The main reason why Johanna Louw wants out of the marriage is that Oupa Manyisa had been having alleged affairs with different women. The struggling Bafana Bafana footballer was reported to have been seeking other women's services outside his marriage, a situation that his wife got to know and was not happy with.
Names of the women he allegedly had affairs with were never mentioned, but close sources indicated that the footballer did not stop cheating on his wife even when things were not well in the union. Although it is now that Johanna wants to take a final leave from the union, this is not the first time the footballer was drawn into a cheating scandal.
Only a year after they got married in 2014, there were reports that he fathered a child out of wedlock with another woman, Thato Makgaka. The claim was that a son was birthed to him by the said woman after his marriage, but a paternity report indicated that Oupa was not the child's father. Interestingly, Thato maintained that the report was doctored, believing that the footballer was the father of her baby.
Manyosa and Thato's relationship was complicated as they started dating when she was still in school. At a point, her father wanted her to stop seeing him, but she insisted. More so, reports later emerged that Kaizer Chiefs skipper Itumeleng Khune allegedly had an affair with Thato, which was why Oupa dumped her.
Their Marriage Is Said To Have Broken Down Completely
While they might have survived past ordeals, it seems that this time around, the marriage is broken beyond repairs as Johanna Louw has made up her mind to leave the footballer due to his cheating ways. The couple had wanted the divorce to be a private affair, but it was leaked to the media by a relative.
According to the speculation, the divorce process might likely be a heated and bitter one because Johanna wants the marriage terminated and wants custody of their kids. The unnamed relative was reported to have claimed the divorce might be as bitter as that of DJ Black Coffee and Mbali Mlothswa.
Johanna is allegedly asking for spousal support of around R100,000 per month and a division of the estate. She also wants R30,000 per month, which will be increased by 10 percent per annum, and R46,000 per month for their kids, which will be increased by 10 percent each month.
Johanna Was Also Once Involved In A Cheating Scandal
The footballer is not the only one with the cloud of infidelity over his head, as his wife was also drawn to the mess earlier in the marriage back in 2015. She was accused of having a nefarious relationship with actor Mlungusi Mathe. Johanna was sighted with the Skeem Saam actor at an event in Neslspruiy, where they were said to be flirting and getting drunk.
According to some sources, the two spent a while together before heading for the actor's room. However, he claimed that they met there, had a few drinks, and danced. He stated that he had no idea she was married as he only met her there. The actor allegedly only got to know she was a married woman when asked what he was doing with her.
Describing her as a nice person and lovely girl, he made it clear that he did not even save her number. Although Jo-Jo, as she is known, insisted that she did not cheat on her husband, reports claimed that Oupa Manyisa struggled through the entire episode as he was said to be stressed and drinking too much as his friends were mocking him.
There were doubts on whether the marriage would survive the cheating allegations as the footballer reportedly moved out of their home, leaving behind his wife and two kids. However, they patched their differences and gave the marriage another try.