Andre Marinus de Ruyter is a 55-year-old South African businessman and the former CEO of Eskom, born on March 20, 1968. His estimated net worth ranges between $5 million to $10 million.
de Ruyter became well-known after he was appointed as the CEO of Eskom, the country's state-owned electricity provider. Before then, he had positions at Nampak, a firm situated in Johannesburg that specializes in the creation and design of plastic packaging, as well as the integrated energy and chemical corporation Sasol Limited, which has its headquarters in Sandton.
Summary of André Marinus de Ruyter's Biography

Full name: André Marinus de Ruyter'
Gender: Male
Date of birth: March 20, 1968
André Marinus de Ruyter's Age: 55 years old
Nationality: South Africa
Zodiac Sign: Pisces
Sexual Orientation: Straight
Religion: Christianity
Marital Status: Married
André Marinus de Ruyter's Children: 3
Sibling: Jenna Rutyer
André Marinus de Ruyter's Net worth: Ranges between $5 million – $10 million
Famous for: Being Eskom's former CEO
Andre Marinus de Ruyter Was Born In Pretoria in 1968
Andre Marinus de Ruyter is 55 years old currently. He was born on March 20, 1968, in Pretoria, South Africa. There is no available information about his background, childhood, and parents. However, he has a sister called Jenna Ruyter.
It was said that while he was still the head of Eskom, he briefly transferred control of the organization to Jenna. Marinus didn't confirm or deny the widely circulated rumor. It's unclear if the two have any other siblings, and there is no public record of Jenna's personal or professional details.
He Studied in Places Such as Netherlands and Australia 
Andre Marinus de Ruyter attended the prestigious Die Hoërskool Menlopark, a public Afrikaans medium co-educational high school situated in the suburb of Menlo Park in Pretoria in the Gauteng province.
He earned his undergraduate degree from the University of Pretoria and later obtained his master's degree in business administration from the Universiteit Nyenrode Netherlands Business School.
He continued his education at the University of South Australia, where he earned his Master of Laws degree and, subsequently, his LLB in the same institution.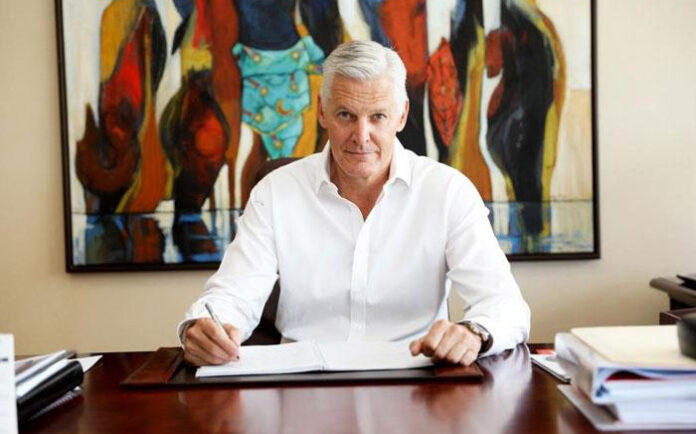 de Ruyter Has Headed Companies Such as Nampak Ltd 
The particular year Andre launched his business career is not known publicly. However, his over two decades of experience in the petrochemical industry has seen him occupy enviable positions in numerous companies both within and outside South Africa.
He has lent his expertise to Sasol Ltd, where he served for many years in various capacities, including as a senior executive before he was promoted to the company's General Manager.
Andre Marinus also served as the CEO Designate and the Executive Director of Nampak Ltd. He was later made the Chief Executive Officer of the company, which specializes in the production of metal, glass, paper, and plastics containers and packaging products for the beverages, food, lubricant, paint, and household markets.
In the course of his flourishing career, Andre Marinus de Ruyter worked in African countries such as Angola and Nigeria, as well as China and the USA.
He Was Appointed as The CEO of Eskom in December 2019
Marinus rose to prominence on a national and international level with his appointment as CEO of Eskom by President Cyril Ramaphosa.
During his tenure, he allegedly targeted "coal theft syndicates," and directed a switch to renewable energy.  He was, however, accused of neglecting maintenance. The worst electrical blackouts ever experienced in South Africa occurred during de Ruyter's leadership of the country's publicly owned electricity company.
On December 12, 2022, Andre Marinus de Ruyter submitted his letter of resignation as Eskom's CEO.
He allegedly drank a cup of coffee the next day at work that was laced with the dangerous cyanide chemical. However, after receiving medical attention, a case of attempted murder was subsequently initiated with the South African Police Service.
A Recap of The Top Positions Andre Marinus de Ruyter Resign has Occupied
The Chief Executive Officer of Nampak Ltd.
The Senior Executive at Sasol Ltd
General Manager of Sasol Ltd
The CEO Designate and the Executive Director of Nampak Ltd
Andre Marinus Resigned Resigned as CEO of Eskom in 2022
On December 12, 2022, three years after being appointed as CEO of Eskom, Andre submitted his letter of resignation. However, he stayed on until February 22, 2023, when he announced his resignation with immediate effect following an interview with eTV
He claimed during the interview that a senior ANC MP was involved in theft and corruption that was costing Eskom R1 billion per month. According to him, the authorities who were looking into his poisoning case "confused a dose of cyanide with a sinus complaint."
The Pretoria-born businessman also claimed in the interview that the Central Energy Fund had suggested switching coal facilities from coal to gas after the Russian Minister of Energy had visited and added that Russia was "very long on gas" at the same time.
In response, the Central Energy Fund called Andre out on his "recklessness" and said that the suggestion was made due to the "base load capacity challenge".
The ANC's Secretary General, Fikile Mbalula, also requested proof of the allegations and promised to "take action" while insisting that the ruling party was not corrupt.
Gwede Mantashe, the chairperson of the ruling African National Congress and minister of mineral resources and energy, also voiced criticism that triggered de Ruyter's resignation.
Gwede referred to him as a "policeman" and charged Eskom of "agitating for the overthrow of the state." This happened when power outages reached their worst-ever levels in December 2022.
He Released a Tell-All Book on his Eskom Reign in 2023
Calib Cassim, the chief financial officer of Eskom, was chosen as Andre's interim replacement after his resignation. The former Eskom CEO has since moved on, although nobody is certain of his actual whereabouts and where he is currently working.
He recently published a book titled Truth to Power, which describes his three years at Eskom and the extent of political influence, looting, and theft that led to the energy company's downfall.
From his book as well as the claims and counterclaims, it is obvious that Andre Marinus de Ruyter resigned from Eskom because of corruption, which was hindering the company from meeting its responsibility of providing power to the South African people.
The Former Eskom CEO's Net Worth Ranges between $5 million to $10 million
Assets belonging to Andre Marinus de Ruyter are worth between $5 million and $10 million, according to estimates. His work in the petroleum chemical business and other fields is where he principally accumulated his money. If he owns other enterprises, it's unclear.
He did not disclose his specific monthly pay while serving as CEO of Eskom, but it is believed to have been sufficient and appropriate. The general public is unaware of Marinus' activities and earnings since leaving office.