Faf de Klerk is a South African rugby star who plays professionally for the English Rugby Premiership club, Sale Sharks, and the South Africa rugby national team. He was part of the South African side that stunned the rugby world and won the Rugby World Cup in 2019, beating England in the final.
It is always easy to spot Faf de Klerk in the field whenever he plays, especially when he is on national team duty with the South African rugby team. This is particularly because of his trademark long blonde hair, but also, the energy he brings to the game when he is on the pitch is almost impossible not to notice him. His rugby career started early in his teenage years – when he was 16 – and blossomed into a successful career for which he is now famous in South Africa and even beyond.
His career that spans almost two decades has seen him playing for six clubs and the South African national team. Faf is so proud of the man he has become and always shares some of his special memories with fans on social media. His relationship life is also interesting and will be worth learning about. In fact, his life, career, and personal life are so interesting that we have captured all you should know about him.
Summary of Faf de Klerk's Biography 
Full name: Francois de Klerk
Nickname: Faf
Gender: Male
Date of birth: 19 October 1991
Place of Birth: Nelspruit, South Africa
Faf de Klerk's Age: 32 Years Old

Ethnicity: White
Nationality: South African
Zodiac Sign: Libra
Sexual Orientation: Straight
Marital Status: Married
Faf de Klerk's Wife: Miné van Niekerk (m. 2022)
Occupation: Rugby player
Faf de Klerk's Height in Inches: 5′ 7″
Faf de Klerk's Height in Centimetres: 170.18
Faf de Klerk's Weight:

176 lbs.

Famous for: His professional rugby career
Faf de Klerk's Instagram: fafster09
What Makes Faf de Klerk Notable As A South African Rugby Player
During the apartheid regime in South Africa, sports was one of the greatly affected, particularly rugby. At a time, the country had made a name as a rugby powerhouse with legendary players like Andre Joubert, Danie Gerber, and a host of others who are still regarded as South Africa's best rugby players of all time. However, the apartheid rule in the country forced the national rugby team – The Springboks – to almost go into extinction.
But, since the end of the apartheid, South Africa has begun to stir itself towards recovering the glory it once had, as her rugby team currently ranks as the best in the world for men's rugby, according to Wikipedia. And players like Faf de Klerk have been an integral part of the progress the team has made so far. With the speed at which his career is growing, he may also make it to the list of best South African rugby players of all time a few years from now.
Faf de Klerk is best known as a rugby player, and we can't tell if he has other business or career ventures because the major aspect of his life that he puts forward is his career as a rugby player.
10 Facts About Faf de Klerk's Personal Life And Career
Since not every aspect of FAF de Klerk's life is known to all, people, especially, his fans get inquisitive, trying to know everything that is yet to be known about the rugby star. We have summarized the life of Faf de Klerk – including salient details you didn't know about – in these 10 facts, which will help you know more about the South African rugby icon.
1. Faf de Klerk Was Born On The 19th Of October 1991
The talented South African rugby player was born on the 19th of October 1991. There is very little information regarding Faf's early life and childhood, but we know he had his primary and high school education in Pretoria.
Though there is very little information about who his parents are and what they did or do for a living, we can tell that Faf got his blonde hair and good looks from his mother, judging from a picture of himself and his mum that he uploaded on Instagram to wish her a happy mother's day.
2. He Has Had Passion For Rugby Since His High School Days
Faf de Klerk had his high school education at Hoërskool Waterkloof, where his passion and talent for playing the rugby sport was noticed by his teachers and coach, who helped him nurture it. During high school, he started playing the scrum-half position, which is the position he still plays to date.
In 2007, he started his youth career at the age of 16 playing for the South African rugby union team, Blue Bulls, for two years before moving to the Johannesburg-based professional rugby side, Golden Lions, in 2010, where he played for a year.
3. Faf de Klerk Started His Senior Rugby Career With Pumas
In 2012, Faf officially began his senior career after leaving Golden Lions in 2011 and joining Pumas in 2012. His rugby career stats while playing for Pumas saw him score 20 points for the team in three years. In 2014, while he was still with Pumas, he was listed among the Lions team for the 2014 Super Rugby season, and in his first game, his team won the match with 21–20 against the Cheetahs.
A week after the game, Faf and his teammate, Marnitz Boshoff, were named the 'Man of the Match.' Faf continued to play for the Lions till 2017. Throughout his time as a part of the Lions, he scored a total of 72 points. Faf joined the Golden Lions Currie Cup team for the 2016 season. He didn't score any point throughout the season, and in 2017, he was part of Golden Lions XV.
4. In 2017, Faf de Klerk Signed A Three-Year Contract Worth R21 Million With Sale Sharks
Having played in the South African rugby union for many years, Faf de Klerk caught the attention of international rugby scouts and was snapped up by the English Premiership team, Sale Sharks, in 2017. He currently plays for the Greater Manchester-based team after signing an R21 million contract with the club. As a result of his deal, he had to relocate from Johannesburg, South Africa, to Manchester, England, where the club is based. He plays as a scrum-half for the team and wears the number 9 on his jersey.
Joining Sale Sharks was a major breakthrough for his career as it took his fame in the Rugby industry from South Africa to other parts of the world and earned him international recognition. His contract with the Sale Sharks was supposed to have expired in 2018, but it was extended to 2023.
5. Towards the End Of His First Season In Sale Sharks, He Won Two Awards
Faf de Klerk seems to be enjoying himself in England as he is fast becoming an iconic figure in the Sale Sharks dressing room. From all indications, the scrum-half wants to remain with the team for the foreseeable future and is also putting in his best to ensure that he gives value to the club. He hit the ground running upon his arrival in Greater Manchester, and his outstanding performance was recognized.
In his first season, Faf earned two awards:
Player of the Year – 2017/2028
Fans Player of the Year – 2017/2018
Since then, he has continued to make a name for himself, and in his four years' stay, he has scored 218 points for Sale Sharks.
6. Faf de Klerk Was First Called Up to Join The National Rugby Team – Springboks – In 2018
In 2016, the Sale Sharks star was called up by Allister Coetzee – the then-new coach of the South African rugby team, nicknamed the Springboks – to be a part of the 31-man squad that made up South Africa's team for a three-test series against Ireland. In the first test series, Ireland defeated South Africa by 26−20 points, but the Springboks squad came out victorious against Ireland in the other two games with 32−26 in the second game in Johannesburg and 19 −13 in the last game to end the series that was played at Port Elizabeth.
On joining Sale Sharks in 2017, Faf did not meet the requirements to play for the Springboks as he had less than 30 caps. However, the elimination of the selection requirements in 2018 meant he was then eligible to play for the national team. He was invited by the Springboks squad coach Rassie Erasmus for a summer test series where South Africa played against England, and at the end of the 2018 season, he had a total of 21 caps.
7. He Was Part Of The South African Squad That Won The 2019 Rugby Championship and World Cup
In 2019, Faf de Klerk played a major role in the run that saw South Africa emerge victorious in the 2019 Rugby Championship that featured Argentina, Australia, New Zealand, and South Africa. All of these countries were part of the top 10 countries in terms of World Rugby rankings.
Following the country's success in the Rugby Championship that year and Faf's immense contribution, he was selected as a part of South Africa's squad for the 2019 Rugby World Cup in Japan. The team made it to the quarter-finals against the host country, and Faf once again played a crucial role as South Africa come out victorious by scoring a try against Japan. That earned him the 'Player of the Match' award.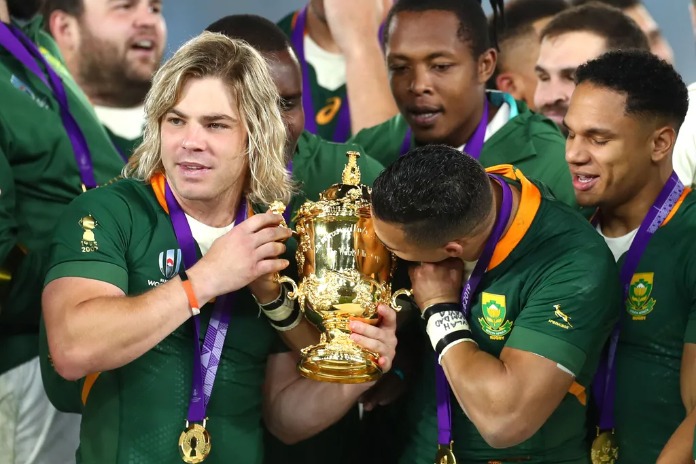 Finally, South Africa made it to the final and had England as their opponent. Faf played as the starting scrum-half in the match, and once again, he saw his team to victory with a 32−12 score margin against England, which was more than enough to hand South Africa the 2019 Rugby World Cup trophy.
8. Faf de Klerk Weighs 80kg
Rugby is a high-intensity and high contact sport, and as a result, the players are usually huge in terms of their size. This is to help them withstand the pull and push of other players during the game. Faf de Klerk, who weighs 80kg and is 5 feet 7 inches, is quite big enough for the job, but his body weight and height does not meet up with the 99.5kg average weight for Rugby players in New Zealand (one of the world's best Rugby countries)
But this does not affect his performance in the field, as he always understands the assignment and brings the best of himself every time he plays the game.
9. Faf Is In A Long Term Relationship With His Girlfriend – Mine Van Niekerk
For a man who has had a successful career, having a happy and successful relationship is just the perfect icing on the cake. A successful career and a happy relationship are, more often than not, a hard mix. However, this is exactly the kind of life Faf de Klerk enjoys.
Based on when he started flaunting his girlfriend on social media, he has been in a relationship with her since 2017, and before her, he has not been linked to any other lady.
Faf is the type of man who loves showing off his beautiful girlfriend, and his followers are so used to seeing the love birds together that they are now beginning to look very much alike, and those who observe this don't fail to express the way they feel in the comment section of his post.
10. Faf's Girlfriend Is Supportive Of His Career
Mine van Niekerk is a pharmacist – according to her bio on Instagram – and is very supportive of Faf's career. She is always there to celebrate with him during his big moments, and as demanding as his career is, Faf de Klerk also finds time to spend with his girlfriend.
Since the inception of their relationship (which is assumed to be in 2017), it was only in 2020, i.e., three years after, that both of them could spend Valentine's Day together, and they did it in the most romantic way possible. The rugby star, who is always excited to share pictures of his girlfriend, took to Instagram to let his followers in and what he was up to on the 14th of February 2020.
Although Faf is cool with sharing pictures of his girlfriend, Mine Van Niekerk, on the other hand, seems to be a private person, as she keeps her IG account private and only accepts selected followers.
Quick Summary Of Faf de Klerk's Achievements
2007 – 2009: Played for Blue Bulls
2010 – 2011: Played for Golden Lions
2012 – 2015: played for Pumas and scored 20 points
Named 'Backline Player of the Year' for the Pumas in 2015
2014 – 2017: Played for Lions and scored 72 points
Named 'Man of the Match' in a 2014 Super Rugby match between Lions and Cheetahs.
2016: – Played for Golden Lions
2017 to date: Plays for Sale Sharks, Manchester
2017/2018: Won Sale Sharks award for Player of the Year and Fans Player of the Year
Named 'Player of the Match' in the 2019 Rugby World Cup semifinals between South Africa and Japan.