Zwelinzima Vavi is a South African politician known as the former general secretary of the Congress of South African Trade Unions (COSATU) and vice-chairperson of the Millennium Labour Council. Following his suspension from COSATU, he joined the South African Federation of Trade Unions (SAFTU) and was made the secretary-general in 2017. Since then, he has been working in that capacity to date.
If you're familiar with even just a bit of South African politics, then you must be familiar with the name Zwelinzima Vavi. Vavi was a recurrent name in South African News headlines during his time as General Secretary of the Congress of South African Trade Unions (COSATU). He also served as the Vice-Chairperson of the Millennium Labor Council.
Despite his track record of serving in different capacities, it hasn't been a bird of roses for the South African politician. He has been mixed up in a few controversies, some of which contributed to his expulsion from COSATU in 2015. Since then, many have been itching to know his whereabouts and what he is up to at the moment. All that and more you'd find out as you go through the paragraphs below.
Summary of Zwelinzima Vavi's Biography
Full name: Zwelinzima Vavi
Gender: Male
Date of birth: 1962
Birthplace: Hanover, South Africa
Zwelinzima Vavi Age: 61 years old
Ethnicity: Black
Nationality: South African
Sexual Orientation: Straight
Marital Status: Married
Zwelinzima Vavi Wife:

Noluthando Norah Mathebe (m. 2007)

Famous for: His political career
Zwelinzima Vavi Instagram: zwelinzima
Twitter: @Zwelinzima1
ZWELINZIMA VAVI BIOGRAPHY
Zwelinzima Joseph Vavi was born on a farm in Hanover, Northern Cape on the 20th of December in 1962. Born to a mineworker father and his wife, Vavi grew up along with his four brothers and seven sisters. And while he was growing, he worked as a child laborer in neighboring farms within their community.
There is no much information with regards to his educational background. Vavi might have acquired quality education but the details of the institutions he attended are not public knowledge.
His career over the years serves as an example of just how far an individual can get with hard work and persistence. It was in 1987 that he began his career, working as a uranium plant clerk at Vaal Reef's South Mine. While doing that, Zwelinzima Vavi also served as a shop keeper for the company. However, in 1985, he joined the National Union of Mineworkers and was made Vaal Reefs South Mine's branch secretary; a position he held until 1987.
During this period Zwelinzima Vavi was also appointed as an Executive Committee Member for Congress of South African Trade Unions (Ministry of Government, Public Administration, and Defence) and he served from 1986 – 1987. Following the massive strike action which crippled the Chamber of Mines in 1987, Vavi lost his job at AngloGold. As a result, he joined COSATU as a volunteer.
His Career At COSATU
Vavi began his career with COSATU (Congress of South African Trade Unions) as a volunteer and while doing this, he joined the  Maritaaz Technical College where he obtained a secretarial qualification. He never had additional qualifications after that but he got himself more involved in Trade Union activities. After years of climbing the professional ladder with the South Africa Trade Unions, Vavi played a principal role in the four-month-long negotiation prior to the Jobs Summit of 1997.
He also worked on the International Labour Organisation's commission set up to handle issues relating to globalization, after which he took over the position as Secretary-General of the Congress of South African Trade Union from Mbhazima Shilowa (former Premier of Gauteng).
During the International AIDS Conference held in 2002, Vavi addressed the people, unveiling his plans for mass education and AIDS prevention campaigns.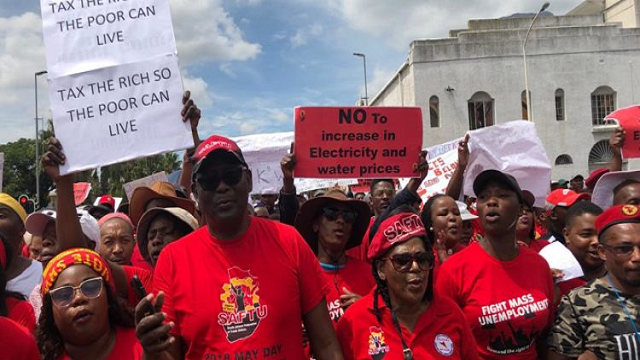 During his time in COSATU, Zwelinzima was also noted for most controversial issues, especially the ones that involved the African National Congress, a political party known by South Africans as the Liberation party. Vavi is known for being very vocal against the ANC and its leadership.
In one of his critic of the ANC, he referred to the then South African President, Jacob Zuma as the worst tragedy that has befallen the country. He said Zuma was not just a tyrant but also a fundamental error that needed to be corrected through mass mobilizations. He was also a vocal critic of the expulsion of the National Union Of Metalworkers of South Africa – NIMUSA from COSATU.
This vocal opposition was one of the reasons behind his expulsion from COSATU. COSATU's Central Executive Committee (CEC) held a meeting, where they voted to remove Vavi on the 30th of March 2015. The result came in 31-1 in favor of expelling Zwelinzima Vavi from COSATU.
 See Also: Archbishop Makgoba: 4 Reasons Why BLF Believes He's Serving Satan
What Happened to Zwelinzima Vavi and What's He Doing Lately?
While he was the Secretary-General of COSATU, Vavi had several issues with top government officials and was also accused of failing in his duties; all of which culminated in his suspension from COSATU. Some of his controversies are detailed below.
He once accused the former communications director-general Andile Ngcaba and the former head of the presidency Smuts Ngonyama for taking advantage of their positions in the government to gain access to important information.
However, in 2013, Vavi made headlines following a sexual assault allegation from a 26-year-old lady. According to media reports, the lady claimed that Vavi forced himself on her himself in a bid to offer her a job at the Trade Union without undergoing the due processes.
While Vavi admitted having a sexual relationship with the accuser in one of the COSATU offices, he denied that it was forceful. He also claimed that the accuser made the allegation in a bid to extort R2 million from him. As a result, he was suspended by the trade union afterward.
After his suspension, Vavi made his way to the South African Federation of Trade Unions (SAFTU), where he was made the secretary-general in 2017. Since then, he has been working in that capacity to date.