Xolani Khumalo is a South African TV Presenter, anti-crime activist, and philanthropist who is famous for hosting the anti-crime program, Sizokuthola on the Moja Love network. 
Xolani's work on Sizokuthola, which sees him raiding local businesses and homes of suspected drug dealers with cops, has led to him getting a lot of media attention and varying opinions from the public. While some people have praised him for his proactive stance against criminal activities and hard substances, others have expressed their disapproval of his actions and labeled them as being too extreme.
Summary of Xolani Khumalo's Biography

Full name: Xolani Khumalo
Gender: Male
Ethnicity: Black
Nationality: South African
Sexual Orientation: Straight
Marital Status: Single
Famous for: Being the host of the reality TV show Sizokuthola
xolani khumalo's Instagram: xolani0008
Xolani Khumalo Hails from Tembisa, Gauteng Province
South African TV presenter Xolani Khumalo was born and raised in a vibrant township called Tembisa in the Gauteng province of South Africa. His exact age is not known as he hasn't shared his birth details publicly.
He has also not opened up about the kind of family he was raised in, the identities of his parents and relatives, his upbringing, early life, and educational background.
Is Xolani Khumalo a Cop?
No. Xolani Khumalo is not a cop. Rumors about him being a cop started making the rounds due to his role in interrogating and busting drug peddlers in the country.
The TV presenter's decision to embark on anti-crime and drug operations was triggered by the negative effects of drugs in his hometown. Through his show, Sizokuthola, he has had several encounters with drug dealers, many of whom eventually turned a new leaf and became useful to their communities.
Who Is Xolani Khumalo's Wife?
Xolani Khumalo's marital status is not publicly known. There is no evidence to suggest that he is married or in a romantic relationship. Although he shared an image of a young boy and referred to him as "my son" in 2016, he has not confirmed whether or not he is a parent.
Since then, he hasn't shared any other family-related picture on his timeline except his personal pictures.
Are Xolani Maphanga and Xolani Khumalo Brothers?
It's unclear if Xolani Maphanga and Xolani Khumalo are blood brothers or related in any way. None of the two TV personalities have mentioned being related to each other, and there is no record anywhere to prove that they share the same blood.
However, the two share some things in common. First, they were born and raised in Tembisa, Gauteng province. Secondly, they are top-notch TV personalities who currently work as presenters on the South African digital satellite television general entertainment channel Moja Love.
Maphanga and Khumalo are both activists in their own rights. The former gained national recognition through his show X-Repo, which focuses on fighting for the rights of wronged sellers and consumers in the country. He is the oldest of 10 children and happily married with kids.
Maphanga has been able to put smiles on the faces of people who suffer intimidation at the hands of dishonest individuals through X-Repo, and there have been calls for the president to honor him with one of the National Orders.
Khumalo, on his own part, has been doing a great job of exposing drug lords in the country through his show, Sizokuthola. Both TV presenters are on a mission to make a difference in their own little ways.
Where Is Xolani Khumalo Now? Is He In Jail?
Xolani Khumalo is not in jail yet as he hasn't been convicted or sentenced to prison for allegedly playing a role in the death of an alleged drug lord called Robert 'Kicks' Varrie.
Varrie was a 49-year-old resident of Katlehong who died in July 2023 after he was allegedly interrogated by Khumalo and his crew while shooting their TV show, Sizokuthola. He was reportedly 'dumped' at Thelle Mogoerane Hospital in Vosloorus after the assault, where he was confirmed dead.
A case of murder was subsequently opened against Khumalo. In mid-September, following several calls for his arrest and an invitation by the South African Police Service, the TV presenter handed himself to the Katlehong North Police Station.
Press Release: SAPS has requested that Xolani Khumalo must hand himself over in connection with the incident led to a drug dealer dying.#HandsOffXolani #DrugFreeSouthAfrica pic.twitter.com/I4fgeqzWqo

— Xolani Khumalo Foundation (@xkfoundation) September 19, 2023
He appeared in the Palm Ridge Magistrate's Court shortly afterward and was charged with murder before being granted bail in the sum of R10 000. Further hearing on the case was postponed to the following month.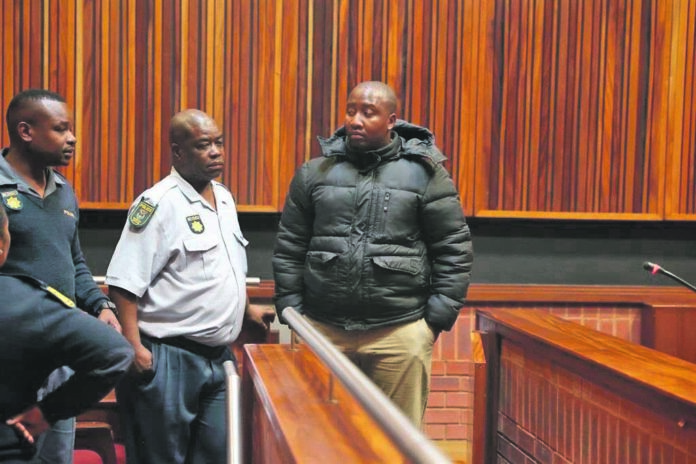 A conviction could see the activist serving an extensive prison term.