Sithelo Shozi's first baby daddy is Makhosini Maseko, aka Lord Phil, while the second one is Andile Mpisane. The South African DJ and fashion Influencer has given birth to three children – two girls and a boy. 
Shozi is well-known for her contentious romantic history with the guys she has dated. She is one South African celebrity who only dates wealthy men with six-figure bank accounts and deep pockets.
Sithelo Shozi's First Baby Daddy is Makhosini Maseko
South African businessman Makhosini Maseko is DJ Sithelo Shozi's first baby daddy. Maseko is popularly known as Lord Phil and is currently the chairman of Maphanga Holdings Pty Ltd.
He was born in Bethal township in Mpumalanga province. He attended Tsiki-Naledi Secondary School Mpumalanga and currently lives in Pretoria, South Africa.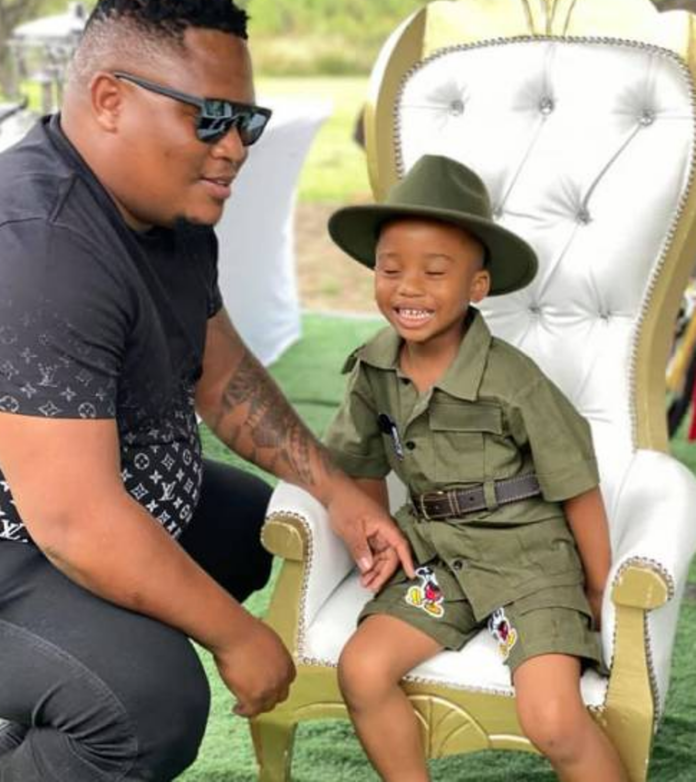 During the course of their relationship, detailed information regarding Makhosini and Sithelo's union was kept private. It's unclear exactly when they first met, how long they dated, or how things were between them when Shozi got pregnant.
It is known, nevertheless, that Lord Phil's wife, Thandeka Sibiya, divorced him after learning that he had gotten Sithelo pregnant. Makhosini Nhlelozikathixo Maseko, a boy, was eventually born to the DJ and his baby daddy in 2015.
Sithelo Shozi and Makhosini Maseko are not Married 
Despite having a child for the businessman, the two are currently not in a relationship. Maseko has not made Shozi his wife, and no one knows why they didn't end up as husband and wife.
The businessman, however, has been part of his son's life from the time he was born. He has shared several lovely pictures of himself and his son together. Though Makhosini is the spitting image of his mother, he inherited his father's fashion sense.
He is considered a fashion icon in the world of kid trendsetters in South Africa. Shozi's son also has massive followings on his social media accounts which are managed by his mother.
Sithelo Shozi had all her Kids with Two Men
Sithelo has two baby daddies. The first is Makhosini Maseko, with whom she had her oldest child, Makhosini Nhlelozikathixo Maseko. Her second baby daddy is Andile Mpisane, the chairman of the South African football club Royal AM.
Andile is the son of the wealthy South African businesswoman and reality TV star Shauwn Mkhize. The duo are jointly worth over R300 million.
Sithelo and Andile started dating when he was 17 years old while she was 24 years old. They welcomed their first child in 2020 and their second offspring the following year.
Mr. Mpisane dumped Shozi towards the end of 2021 for another woman named Tamia Louw Mpisane. He allegedly called it quits after doubting his second child's paternity with Sithelo.
When it was revealed that the DJ had been dumped by her second baby daddy, many people were curious. Sithelo received harsh criticism for dating Andile, who is 7 years her junior, for many years.
Again, they believed she deserved the pain because she was the one who, by becoming pregnant for Maseko, caused the businessman's divorce from his wife.
DJ Sithelo Shozi Has Given Birth to 3 Kids
South African beauty and fashion influencer Sithelo Shozi is a mother of three. Her intimate relationships with men produced a boy and two girls. Her son is her oldest child, and he was born around 2015.
Her two daughters came from her relationship with Andile Mpisane. Their first daughter, Flo Mpisane, was born on 2nd May 2020, while her younger sister Coco Mpisane was born on July 21, 2021.
Shozi currently lives in Durban with her three kids. The kids sometimes spend time with their fathers as well.
The DJ has since moved on with her life following her failed relationships. She is rumored to be in a romantic relationship with popular South African DJ, musician, and producer JazziQ.
The two have been hanging out together lately and are said to have even adopted a dog together.