Shauwn Mkhize (born 6th April) is a South African business tycoon, reality TV star, philanthropist, and ex-wife of Sbu Mpisane. She made her money building houses for the government and is famed for her business acumen in the competitive market. 
No list of successful South African women would be complete without Shauwn Mkhize. She is an accomplished business executive famed for her business acumen in the competitive market. Mkhize has come a long way in the commerce world, and her booming ventures are considered evidence of her great effort as an entrepreneur. She is a major talking point on and off the business community. Also, she is well-known across several social media platforms for her glamorous lifestyle and flourishing transaction with notable firms and personalities in the country.
Summary of Shauwn Mkhize's Biography
Full name: Shauwn Mkhize
Nickname: MaMkhize, Mam'Mkhize
Gender: Female
Date of birth: 6th April
Ethnicity: African
Nationality: South African
Sexual Orientation: Straight
Marital Status: Divorced
Shauwn Mkhize's Ex-Husband: Sbu Mpisane
Shauwn Mkhize's Children: 2
Shauwn Mkhize's Parents: Mrs. Dumazile Flora Mkhize (mother)
Education: Durban University of Technology
Occupation: Businesswoman
Other occupations: Philanthropist, TV personality
Shauwn Mkhize's Net worth: $20 million
Famous for:
Shauwn Mkhize's Instagram: kwa_mammkhize
Twitter: @shauwnmkhize
Shauwn Mkhize Is The Daughter Of A Well-Known Politician
Business mogul Shauwn Mkhize hails from KwaZulu-Natal, one of the biggest provinces in South Africa. She was born and raised in the region many years ago – her exact birth date, month, and year are yet to be publicized. Shauwn's was brought into the world by Mrs. Dumazile Flora Mkhize and her husband. There is no available information about Mr. Mkhize's life history, unlike Mrs. Flora who was a popular and respected politician in the country.
Mrs. Mkhize was a member of the African National Congress (ANC) party and an eThekwini councilor during her lifetime. She was among those who fought tirelessly against the apartheid regime in South Africa. Being a seasoned politician, she served on several committees in her region, including the economic development committee. The eThekwini Municipality's Florence Mkhize Building, situated in the Durban CBD, is named after her.
It is not known if the business mogul's parents gave birth to other children apart from her. Furthermore, information about Shauwn's family history, childhood, educational background, and early life is missing in the picture as well.
Summary of Shauwn Mkhize's Personal Life
The businesswoman hails from KwaZulu-Natal province.
Her mother was a well-known political figure in the country before her death.
It is not known if she has siblings or not as she has not talked about them.
The particular month and year she was born are still under the radar.
Information about her childhood, early life, and education are yet to be publicized.
Shauwn now bears her maiden name 'Mkhize' after her divorce.
Her Journey To Greatness Began At Her Mother's Company 
The fame and wealth Shauwn enjoys today stemmed from her years of investment in the Zikhulise Group umbrella corporation, one of South Africa's high-profile companies. The group, as documented on the Deeds registry, was founded by Shauwn's mother in the year 1997. The business mogul took the reins as the sole director of the company after her mother's death in 2008. It is said that she was registered as a shareholder of Zikhulise Group after she turned 22.
The company has come a long way in the business community ever since she started managing it. Through the company, Mkhize has rendered services to high-profile agencies and also worked with numerous notable establishments in the country.
Woke up like this. Never take breaks in life. @RoyalAM10 #Mamkhize pic.twitter.com/f9AuWJyVv6

— Shauwn.mkhize (@shawn49790552) January 20, 2020
Being a successful businesswoman, Mkhize commands a high level of respect among her contemporaries for her expertise and for turning the Zikhulise Group into a global powerhouse over the years. The establishment is famed for breaking boundaries both in South Africa and beyond its shores.
She Found Fame And Fortune In The 2000s
Shauwn Mkhize is one of the many entrepreneurs who has turned their business ventures into something more. She entered the world of entrepreneurship in the late 1990s and gained notoriety in the early 2000s through her company. Her family is said to have amassed millions of rand during the period through the construction of over 270 low-budget apartments in Lamontville, in the eThekwini Municipality area and around.
The multi-million rand worth contract was awarded to her company by the municipality and the provincial housing department. The black-owned company's core activities center on providing world-class construction services to clients and also uplift disadvantaged communities in the country.
The construction company of her Zikhulise Group renders services on project management, infrastructure development, cleaning, as well as renovation and repairs. Before hitting it big in the early 2000s, Shauwn and her family were no stranger to a glamorous lifestyle. They reportedly used to throw lavish parties for their friends in their Durban mansion.
Zikhulise Group Makes Up Only Part Of Her Business Ventures
Mkhize has other side hustles, which put a lot of money in her pocket daily. Apart from her construction company, she has a couple of other flourishing companies under her Zikhulise Group umbrella corporation. The Zikhulise Auto Restorers, a member of the South African Motor Body Repairers Association, is a 100% BEE registered firm with a vision of empowering and hiring historically disadvantaged individuals.
Inyanga Security Services is yet another subsidiary of the company. The professional security guard firm offers security services that include bodyguard services, labor disputes, commercial property protection, close body protection, as well as internal investigations and loss prevention.
She's Part Of The Soccer Fraternity In South Africa
The Durban tycoon used to co-manage the Royal Eagles Football club with her ex-husband. She was also the director of the club alongside her son. However, the duo stepped down from their positions in the club in 2019 following a family dispute. Shauwn and her family acquired the status of Sivutsa Stars in Mpumalanga in 2014 and renamed the club Royal Eagles after relocating it to KwaZulu-Natal.
Reports making the rounds have it that the businesswoman has shifted her interest from Real Kings football club, which is a major sponsor, to a Limpopo-based club called Tshakhuma Tsha Madzhivhandila. Although she has neither affirmed nor denied the rumor, it is said that she is making the move to join her buddy Mulaudzi at the club.
Kwa Mam'Mkhize Transformed Her Into A Reality TV Star
Shauwn Mkhize does not only have eyes for construction, but she also has an interest in the media world. The businesswoman's popularity has been on the rise since late 2019 when her debut television reality show, Kwa Mam'Mkhize, hit the screens in South African homes.
.@kwa_mammkhize Reality Show nominated for prestigious Hollywood award.

Shauwn Mkhize will be on the #AMReport405 at 08:15.

Don't miss it! @MichelleL_Craig @N_Ayanda @Benji_Sports
#MamMkhizeAndAndileHollyWood pic.twitter.com/9eLHion4qU

— SITHOLEEXPRESS (@SthembisoMedia) September 11, 2020
As expected, the Durban-based mogul is the primary driver of the reality television program, which covers the life of Shauwn, her children, and everything about their lavish lifestyle – from their mansion to their cars, countless shopping sprees, and travel adventures. According to the KZN businesswoman, she was inspired to start up the reality show by people's diverse perceptions about who she is.
Hence, the reason she wants to unmask herself and reclaim her identity through the show. Viewership on KwaMam'Mkhize has continued to grow in leap and bound ever since it debuted on Mzansi Magic on Dstv. Shauwn once shared on Instagram that her program set a fantastic new record of 1.7 million views both on reality shows, as well as dramas.
We gathered that she has started making plans for Kwa Mam'mkhize season 2, although it is not clear if they have started filming or not.
How The Businesswoman Rose To Stardom And Also Made Her Wealth
Shauwn's involvement in her mother's company paved way for her success.
She was already a shareholder in the company, Zikhulise Group, by the age of 22.
Through the company, she amassed so much wealth in the early 2000s from constructing houses in the eThekwini Municipality.
Her company's core activities are construction and mining, but Shauwn has since diversified her sources of income. She runs a football club with her son and also spearheads a reality television show that documents her life and that of her children.
Her flashy lifestyle, car collection, properties, and other valuable assets are a testament to her hard work.
Her net worth is estimated at R300 million.
Shauwn Mkhize's Glamorous Lifestyle Has Been A Subject Of Interest Lately
Before Kwa Mam'Mkhize, the Durban mogul was best known to people in the business world, but she instantly became the talk of the town following the display of her multimillion-dollar lifestyle on her reality show.
Tune into to how I live my life on @Mzansimagic #Mamkhize pic.twitter.com/60Sjuor3Zh

— Shauwn.mkhize (@shawn49790552) January 18, 2020
Shauwn is now being followed by thousands of people across social media platforms. Her fans' interest mostly lies in her everyday life and other aspects of her personal life.
Her Family's Private Car Collection Is Just Mind-Blowing
The Mpisanes has a showroom style garage at their Durban mansion that houses car brands like BMW, Lamborghini, Mercedes Benz, and Porsche. Their fast and fancy wheels include a Maserati GranTurismo, a Ferrari 612 Scagliett worth around R3 million, a Rolls-Royce Phantom, an Aston Martin, a Bentley, a Rolls-Royce Ghost worth R4.8 million, as well as a Porsche Cayenne Turbo.
The well-to-do family acquired these exotic fleet of cars from the huge earnings they made from their construction contracts and other endeavors.
Shauwn Mkhize's House Could Easily Pass For A Hotel Or Mall
The queen of bling's mansion is often compared to a 5-star hotel for obvious reasons, and we agree. The house is a sprawling three-storey situated in La Lucia, one of the most sought-after northern suburbs in Durban. The interior of the building, which reportedly cost her about a 15 million rand, is out of the ordinary likewise its exterior. It also houses security guards who are stationed around the property.
In 2014, it was reported that the businesswoman and her husband purchased a close-by apartment, razed it to the ground, and constructed a teenage pad for their son. Their palatial home also has a wing specially designed for their cars. As gathered, the family also owns a couple of magnificent properties in the country, including two units at Golden Beach in La Mercy, a flat in Sandringham Court in uMhlanga worth R1.1 million, one at Elysium on the South Coast, as well as a property at Zinkwazi Beach on the North Coast.
The Businesswoman Has Amassed Millions Of Rand From Her Multiple Channels Of Income
Shauwn Mkhize's wealth is linked to the multi-million rand tenders she secured in the early 2000s through her company. Even though she has branched out to other business ventures, the bulk of her money comes from her construction business. Regardless of her success and impressive growth as a businesswoman, she has been part of numerous controversies and legal battles that cost her a huge amount of money.
It is quite difficult to tell how Mkhize's net worth presently because it is still being calculated. If there is one thing we know about this business executive, it is the fact that she is someone with influential ideas about how to invest money and cash out big at the end of the day. Shauwn's assets are estimated to worth millions.
Shauwn Mkhize Was S'bu Mpisane's Wife for Over 15 Years Before Their Divorce
Mkhize is currently not in a marital relationship with any man. She was previously married to controversial businessman Sbu Mpisane, whom she reportedly met at a party. The moneyed couple is believed to have tied the knot in 2004, as the two celebrated their 7th anniversary in 2011.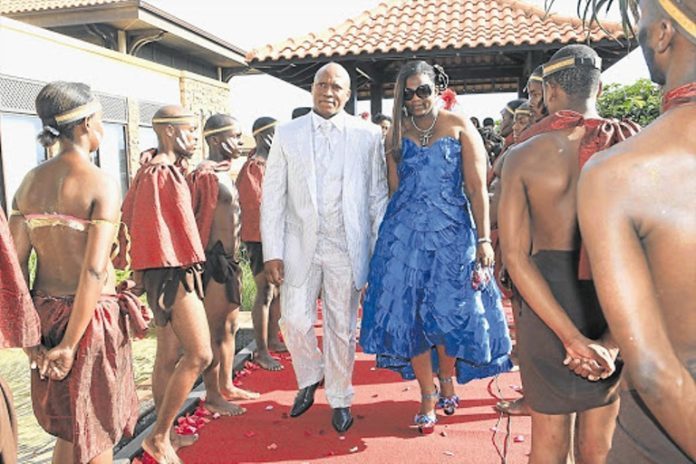 The couple divorced in 2019 after 15 years together due to Sbu's alleged infidelity. Shauwn and her ex-husband were known for their lavish lifestyle during their time together. They made headlines on so many occasions for either their lifestyle or business transactions in the country. They also worked together on many projects and were actively involved in the management of Zikhulise Group. Following their divorce, Sbu is said to be requesting a monthly maintenance fee of R200, 000 from his ex-wife.
Her Ex-Husband, Sbu Mpisane, Is A Former Cop
Shauwn Mkhize's ex-husband formerly worked as a metro police officer. He was known for his flashy lifestyle and connection with high-profile individuals in the country. He is mostly remembered in the force for riding a Lamborghini to work every day as a policeman, which left most people wondering how he was able to buy the flashy car with his R15,000-a-month salary.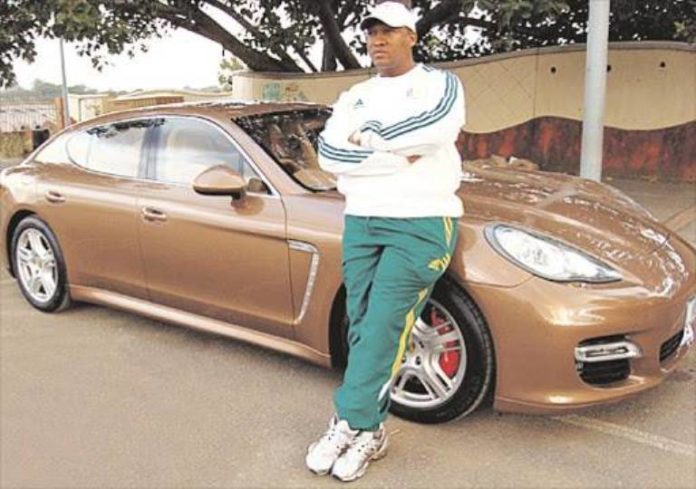 Sbu joined his wife in her construction company after he resigned from the police. He is now in charge of the Royal Eagles Football club after his wife lost the battle of ownership of the soccer team after their divorce. The couple fell out on matters about the club during their divorce process.
Their Union Produced A Son, Andile Mpisane

Surprised? Yes! Shauwn is the biological mother of Andile Mpisane and a stepmother to Sbahle. This revelation, which she has kept away from the public for many years, was revealed on her reality show. According to the businesswoman, Sbahle came into her life when she was only six or seven years old. It was from that period that she developed a deep likeness for her and adopted her as a daughter. She also shared that they share a strong bond, and Sbahle will continue to be part of her life.
Andile is a fast-rising musician and midfielder for the Real Kings football club. He has some songs on his resume and is said to be one of the directors of the Real King football club. The young man is known for his love for his mother. He often wears matching outfits with her and also showers praises on her in the public. However, the same cannot be said of his relationship with his father. Andile has severally called out his father for mismanaging business opportunities created by his mother for him. He also accused Sbu of fathering children outside his matrimonial home.
Mkhize's Marriage and Relationship History
Shauwn reportedly met Sbu at a party and later got married to him in 2004.
Their marriage was blessed with a son named Andile. He was raised alongside Sbu's daughter from a previous relationship, Sbahle Mpisane.
Mkhize and her husband ended their marital relationship 15 years after their lavish wedding.
The businesswoman has a strong bond with her children, but her son is closer to her than her ex-husband. Andile accused his father of infidelity and mismanaging his mother's wealth.
Shauwn Mkhize is said to be in a relationship with a South African football club chairman.
Shauwn Mkhize Is Reportedly Seeing Another Man
MaMkhize has been linked to a man following her divorce from her now ex-husband, Sbu Mpisane. Rumors making the rounds have it that the two started seeing each other after the businesswoman's divorce process was finalized. Although it's not clear how and where the couple met, many believe their paths crossed during one of their football meetings.
The Durban-based mogul and her alleged lover are yet to make their relationship public. Even though many people claim to have seen them after football matches in Mkhize's car, they've not been seen together at public events. Shauwn is yet to either affirm or shut down the rumor.