I met this Xhosa speaking dude at Bhisho, during a night out. We got talking, about the country, animals, and everything. And as it was same week Prince Harry was touring South Africa, something he said about poachers, made me say; "don't worry, Prince Harry is here, he'll save the rhinos". My new friend regarded me with curious eyes, and in Xhosa, blurted something that I can best interpret as – Who the hell is he? And why is everybody saying he's doing cool things here, what has the Prince done, is he going to be a President, what is his party?
I initially thought the booze has taken over my new friend, then I thought he was just pissed with the publicity and attention the Prince was getting, but it happened he didn't know who is, nor why there's so much fuss about him visiting South Africa. I knew it'd be stupid to simply tell him that the prince is the younger son of Charles, Prince of Wales, and Diana, Princess of Wales. That wouldn't in any way explain why there is so excessive display of anxious attention about the Prince touring the country.
So I decided to make this publication about the Prince's visit to the Xhosa friend, and anyone who doesn't understand why the nation is thrilled by the presence of the Prince. Probably, the deeds of the Prince in the country will tell better about the fuss made over him.
1. He Cried And Tried To Save The Rhinos And Elephants And To Do Away With Poaching
Like I said earlier, Prince Harry is here to save the rhinos with his influence, and people are enchanted by this effort. The Prince shared many pictures on Instagram where he related that "Seeing huge carcasses of rhinos and elephants scattered across Africa, with their horns and tusks missing is a pointless waste of beauty."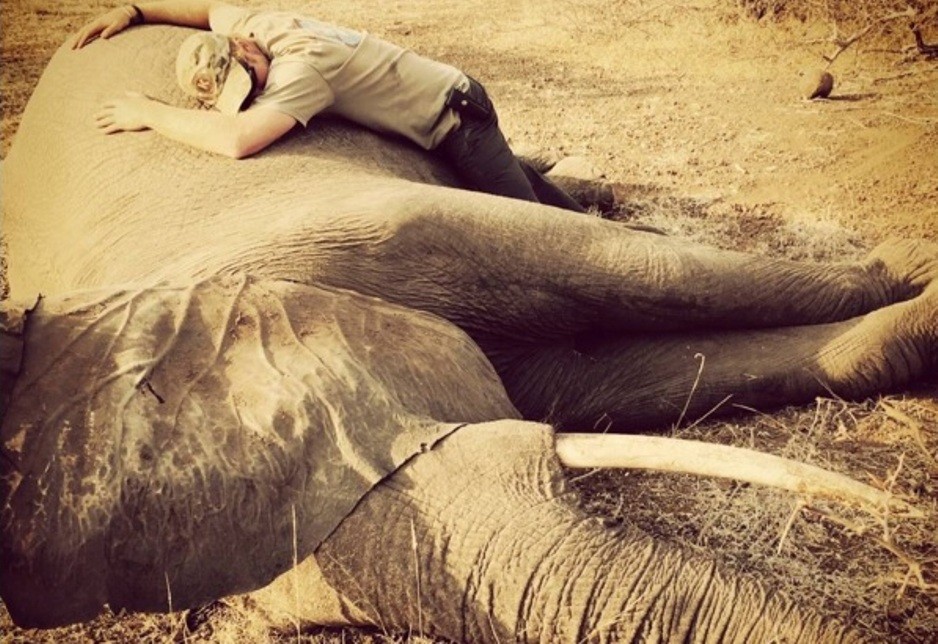 The Prince narrated that "After a very long day in Kruger National Park, with five rhinos sent to new homes and three elephants freed from their collars – like this sedated female – I decided to take a moment. I know how lucky I am to have these experiences, but hearing stories from people on the ground about how bad the situation really is, upset and frustrated me. How can it be that 30,000 elephants were slaughtered last year alone? None of them had names, so do we not care? And for what? Their tusks? Seeing huge carcasses of rhinos and elephants scattered across Africa, with their horns and tusks missing is a pointless waste of beauty."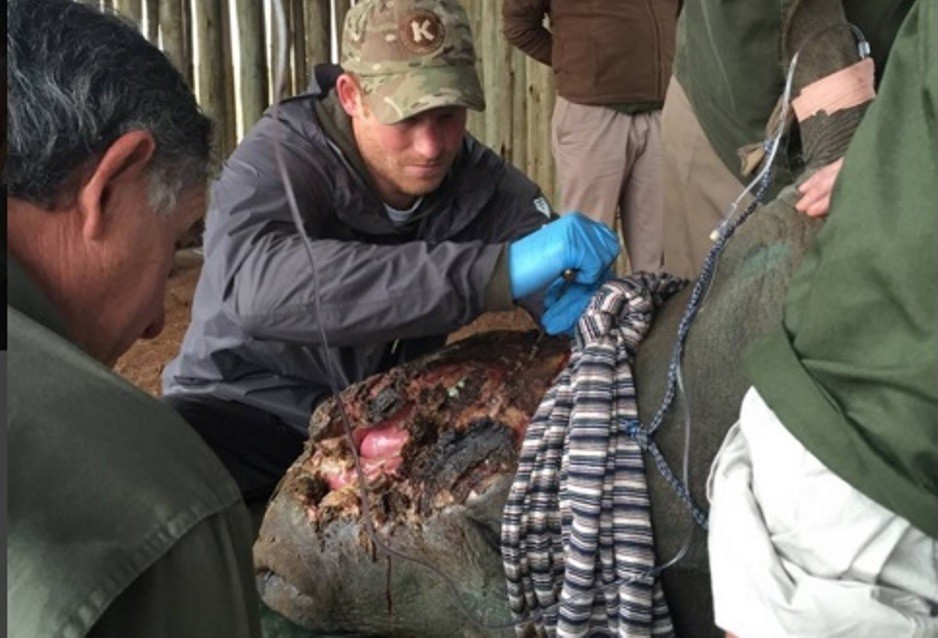 Harry even assisted in a surgery to save the life of a rhino that had its horn hacked off by poachers. The Prince shared that it was the second operation to try to save Hope's life. The "young female black rhino…was brutally wounded by poachers in the Eastern Cape of South Africa…I stared into her eyes while operating on her and thought at first that it would have been better and fairer to put her down rather than put her through the pain."
The Prince equally worked in Namibia to help rhinos de-horned in order to deter poachers from shooting them. He initially monitored the heart rate and oxygen levels and helped to stabilize those de-horned as quickly as possible. And later got involved with taking blood and tissue samples and helped in the actual de-horning.
2. He Visited "Surfers Not Street Children", And Was Photographed With A Dog To Indicate His Support Of What They're Doing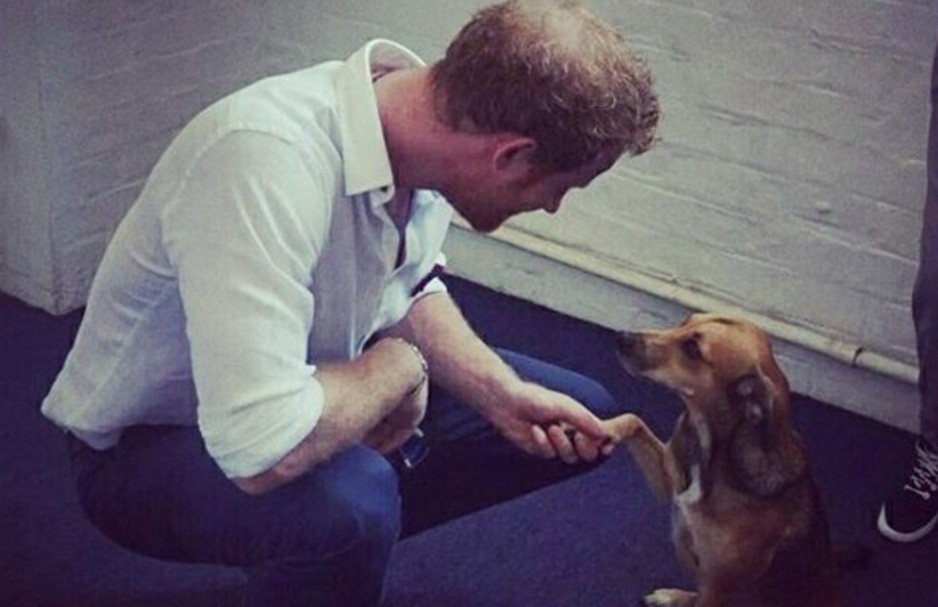 The "Surfers Not Street Children" is a project that aims at changing the way that society perceives and treats street children around the world. So, it was encouraging that the Prince visited them, and took a picture with Jasper – a dog – to showcase solidarity. 
And, if you're wondering if the Prince only took a snapshot of the dog, he didn't. He took some with some of the "Not Street Children" kids.
3. He Played Football And Rugby To Take Away HIV From The Country
Prince Harry got involved at the Football for Hope Center in the Khayelitsha Township, Cape Town. If you know the centre, you'll know that they try to use football to engage young South Africans on HIV/Aids awareness and other social issues.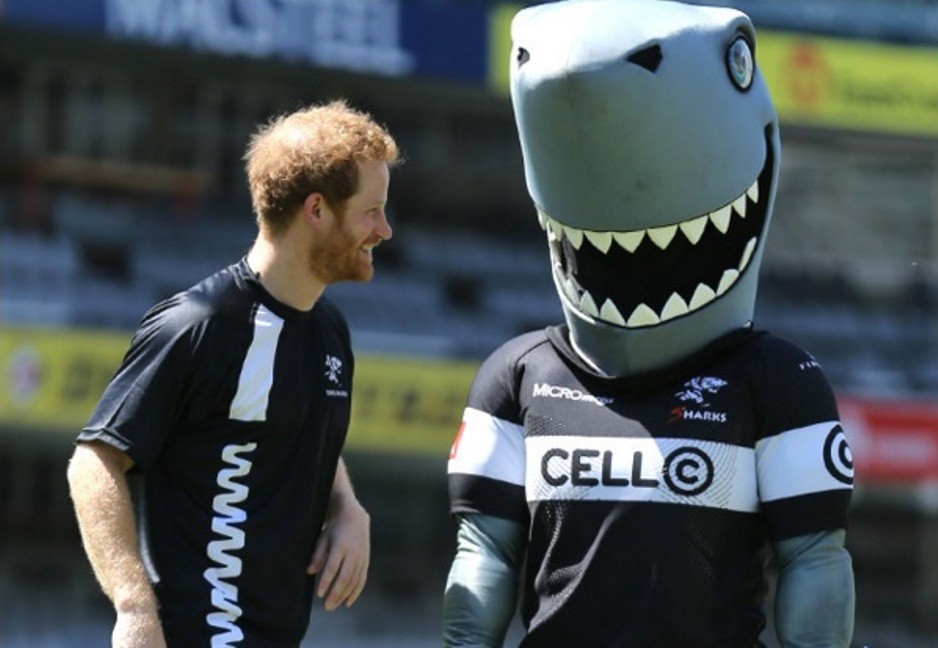 4. He Hugged This Black Boy To Support T

roubled Youths In Rehab
Many of our youths are from broken poor homes. As such, they're lured into gangs where they get involved with criminal offences. Some of these youth are being rehabilitated at the Ottery Youth Centre. So it's absolutely essential and necessary for the Prince to give some hugs that will speed up and make effective the rehabilitation process.
5. He Waved With Tutu, The Archbishop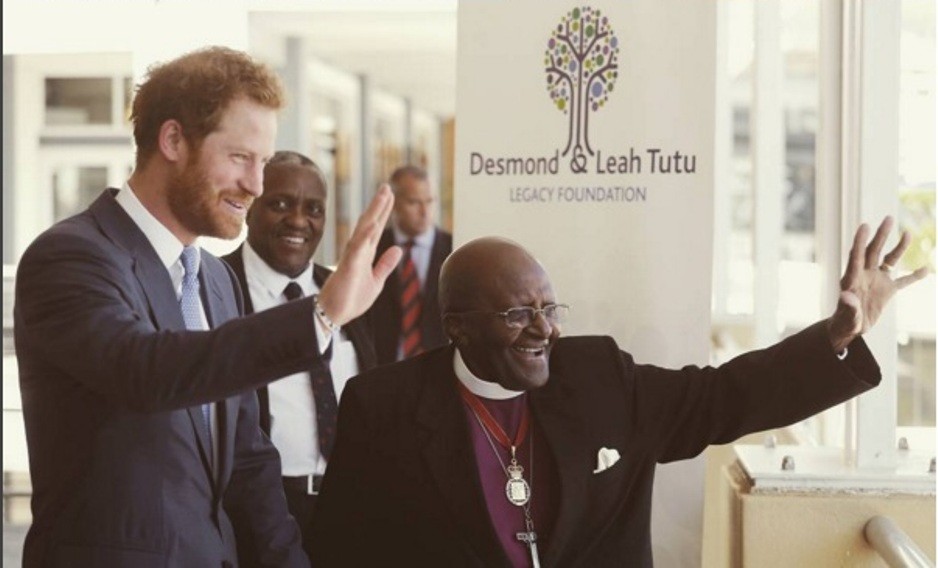 Well, Archbishop Tutu is a symbol of peace, hope, and survival in the country. So the Prince waving with him is probably a characterization of the Prince's message of hope, survival, and peace for South Africa.
See Also: Ugly Lesser Known Facts You Won't Believe About Nelson Mandela
6. Prince Harry Said Mandela Was Good
Prince Harry rounded up his trip with a visit to the Nelson Mandela Foundation Centre of Memory in Johannesburg. He reportedly gave Grace, Madiba's widow a photograph that shows him planting a South African flag in the South Pole to honor Mandela. Nelson Mandela is "one of those people you want to hug and never let go," the Prince explained.
That, my friend, is Prince Harry and those are his deeds in the country. Aside from acknowledging that he, a Prince, is "lucky" to visit South Africa, he tried to make the country better in his own way. That's probably the reason for the whole fuss about a Prince touring South Africa.