The South African city of Pretoria is one of the capital cities in the Mzansi nation. It is also home to the executive arm of the government and several foreign embassies and their respective ambassadors. With over 2 million people – made up of both white and black South Africans – the city is a great location for businesses to thrive and do very well. The fact that the executive arm of government and all international embassies find themselves in Pretoria gives the city an edge in building businesses and brands. Thus, the biggest malls in Pretoria are some of the best in the country.
One thing that Pretoria has in its number is shopping malls. The city is home to over 50 built-to-standard shopping malls, which houses several brands and encourage competition. While all of these shopping malls are noteworthy, 10 of them stand out in terms of size, the number of stores, and the quality of customer experience. We explore the basic things you should know about the 10 biggest shopping malls in Pretoria.
Biggest Shopping Malls In The South African City Of Pretoria
As mentioned before, there are over 50 standard shopping malls in Pretoria, so selecting 10 of the biggest would generally be a herculean task. However, looking at certain criteria such as sheer physical size, number of stores available in the mall, number of visitors that visit the mall, etc., we have been able to pick out our 10 biggest shopping malls in Pretoria.
Most of the shopping malls on our list welcome thousands of shoppers every month, which is why some of the most popular restaurants and fashion brands have branches in more than one of these malls.
1. Menlyn Park Shopping Centre
Location: Atterbury Rd & Lois Ave, Menlyn Park, Pretoria, 0063
Opened In: 1979
Size: 177,000m²
Number of Stores: 500+
Best For: Food, Clothes, Cinema
Opening Hours: Monday – Saturday: 9 am – 7 pm | Sunday & Public Holidays: 9 am to 6 pm
Menlyn Park Shopping Centre is not just the biggest mall in Pretoria in terms of physical size. It is also the biggest in South Africa, with a total floor space of 177,000m². Initially built in 1979, the mall has made a name as the biggest and most modern mall in South Africa with the regular redesign, modernization, and expansion projects. On weekends, the Menlyn Park, which has three shopping levels, is a regular destination for shoppers around Pretoria and is always crowded on weekends. Even if you don't intend to purchase anything, just taking a walk around the mall and window shopping is enough to make your day.
As of 1979, the mall was owned by Old Mutual Properties from London, England, but it is now owned by a shopping center investment firm managed by a public investment corporation called Pareto Limited. The Menlyn Park has also gone through some renovations and expansions since it was built. In 1988, nine years after its initial construction, Bild Architects expanded and transformed the mall.
Ten years later, in 1998, the building saw a redesign and another expansion. This time, the building was given a unique look, and the number of stores was expanded to 300, with 37 of them being restaurants. Nu Metro Cineplex, one of the most popular stores at the mall, and a rooftop Drive-In Theatre were also added. Two years later, the mall saw yet another expansion which took its total floor space to 118,253m².
The top-notch and modernized building you see today was completed in November 2016 and cost a whopping sum of R2.5 billion. The two-year refurbishment that saw the mall transformed into a regional shopping center in Tshwane was designed by BILD Architects and Terra Ether but constructed by Concor Construction. This refurbishment earned a 4-star Green Star Retail Design rating according to Green Building Council of South Africa (GBCSA) ratings.
2. Wonderpark Shopping Centre
Location: Cnr Brits Road & Heinrich Avenue, Karenpark, 0118
Opened In: 1985
Size: 90,413m²
Number of Stores: 180
Best For: Fashion, Restaurant
Opening Hours: Mondays – Fridays: 9 am to 7 pm | Saturdays: 9 am to 5 pm | Sundays: 9 am to 3 pm | Holidays: 9 am to 4 pm
Wonderpark Shopping Mall is one of the biggest malls in Pretoria, with over 180 stores. Despite having just one shopping level, the 90,413m² mall has seven different entrances to accommodate the massive inflow. There are also three different 400 parking bays to accommodate the vehicles of all shoppers for free.
The Wonderpark shopping mall also has free WiFi coverage. With this, shoppers can visit the social media accounts of the mall to know what is available in the different stores. The mall is actually owned by Emira Property Fund but managed by the Broll Property Group.
Wonderpark shopping mall has some of the best fashion stores to buy quality clothes like John Craig, Kurt Geiger, Legit, Truworths, and a host of others. You can also buy delicious meals and small chops from stores like King Pie, Burger King, and many others. The mall is also home to stores where you can buy jewelry, electronics, hair and beauty products, books, and stationaries, to mention a few. Banks like ABSA, Capitec and FNB also have branches in this mall.
3. Woodlands Boulevard
Location: Corner of Garsfontein road and De Villebois Mareuil drive, Pretorius Park, Pretoria East, 0081
Opened In: 2004
Size: 71,817m²
Number of Stores: ±150
Best For: Food, Clothing, Wellness products
Opening Hours: Monday – Saturday: 9 am – 6 pm | Sundays and Public Holidays: 9 am – 5 pm
When Woodlands Boulevard was launched in 2004, the mall had a total floor space of 42,000m². However, after an expansion and refurbishing project in 2010, the mall now has a let-able area of 71,817m² with over 150 stores that offer the best quality of food, jewelry, home decors, art, and fashion products. Since 2004, Woodland Boulevard has let over 90 million visitors through its doors as customers and visitors.
Woodland Boulevard lets 26 outlets to fashion stores like Truworths, Old Khaki, Cotton On, and others. These are some of the most famous fashion brands in the country and are a sure plug for quality outfits. For quality hair, beauty, and healthcare products, Woodland Boulevard is also one of the best shopping destinations, seeing that brands like MAC Cosmetics, Advanced Skin Technology, and Dermalogica have their stores there.
Some stores sell books, audio, eyewear, toys, electronics, sporting outfits, and equipment. You can also find brands that provide services like dressmaking and travel assistance. Banks like ABSA, Capitec, FNB, and Standard Bank also have outlets at Woodland Boulevard.
4. Atterbury Value Mart
Location: Atterbury Road 2001 Faerie Glen, 0043
Opened In: 2000
Size: A stretch of almost 1km
Number of Stores: 90
Best For: Clothing, food, groceries
Opening Hours: 9 am – 6 pm
Atterbury Value Mart is one of the biggest shopping malls in Pretoria, with over 90 stores where you can purchase products from international brands like Adidas, Nike, Puma, and the list goes on. With its total floor space stretching almost one kilometer, Atterbury Value Mart prides itself as one of the biggest value centers in Pretoria and South Africa as a whole.
From the structure of the entrance of the mall, you can easily tell that the building was not built in recent times, as it has a look that tells you the design is not so modern, but the mall was built with some of the best materials, and it's more than two decades old.
Different service providers and value chains occupy the 90 stores or shops housed by the Atterbury Value Mart. Restaurants, fashion stores, electronics hubs, stationeries, flowers, pet care products, groceries, hair, beauty and health products, optometrists, sports gears, toys, footwear, and the list could go on and on, are some of the things you can find/pick-up from the mart. The point is, there is something for any shopper who visits the mart. In fact, the Atterbury Value Mart is a one-stop destination for almost anything you want to buy.
5. Tshwane China Shopping Mall
Location: Zambezi Drive, Pretoria, 0182
Opened In: 2013
Size: 30,000m²
Number of Stores: ±80
Best For: Made in China products
Opening Hours: 9 am to 5 pm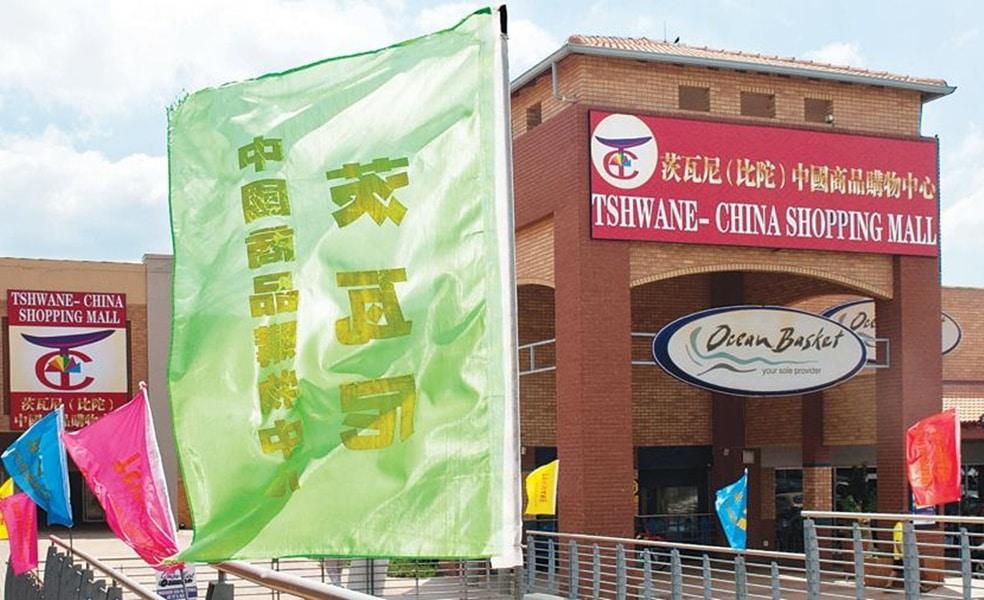 If your shopping desire is to buy made-in-China products, then the Tshwane China Shopping Mall is the right destination for you. The 80 stores in the precinct offer made-in-China household appliances, food, clothing, luggage, and toys.
This mall is like a glimpse of China in South Africa. From the entrance, you will already notice that almost everything written in English is translated into Mandarin, one of the recognized languages of the people of China. This is done even though most visitors to the mall are likely to be South Africans who may not understand Chinese.
6. Sunnypark Shopping Centre
Location: Sunnypark c/o Steve Biko & Robert Sobukwe Streets, Sunnyside, Pretoria
Opened In: 1974
Size: 27,659m²
Number of Stores: ±60
Best For: Food, Gym, Fashion
Opening Hours: Monday – Friday: 9 am – 6 pm | Saturday: 9 am – 5 pm | Sunday and Public Holidays: 9 am – 3 pm
With the fierce competition among malls in Pretoria, you can obviously tell that any mall can almost become unnoticed without some level of standard and quality maintenance. This is why most mall managers take it upon themselves to renovate the premises after some years and in order not to be left behind, Sunnypark Shopping Center, which was originally built in 1974, i.e., over four decades ago, has continued to undergo regular renovation and refurbishment to keep it up to date. This accounts for why it is still so beautiful and looks modern despite the length of time the mall has been in existence.
Some of the top-class and popular stores that you can find in this mall include Virgin Active gym, Truworths, Mr. Price, Checkers, Woolworths, Nandos Wimpy, and many more. Like other malls on this list, Sunnypark Shopping Center is a one-stop destination where you purchase virtually anything legally sold. This mall is also home to RH Hotel, located on the topmost floor of the mall and designed to give visitors the best view of the city while they lodge in luxurious rooms.
7. Brooklyn Mall
Location: Cnr Veale Street and, Fehrsen St, Nieuw Muckleneuk, Pretoria, South Africa
Opened In: 1989
Size: N/A
Number of Stores: ±220
Best For: Food, Jewelries, clothing
Opening Hours: Mondays – Fridays: 9am – 6pm | Saturdays and Public Holidays: 9am – 5pm | Sundays: 9am – 3pm
Brooklyn Mall receives an average of 800,000 visitors every month. This number covers the total amount of monthly visitors to the 220 different outlets leased to high-class and global brands to ensure that these visitors get the best experience. The mall is owned by Growthpoint Properties, an international company that owns 65 properties in Australia.
In a bid to meet up modern shopping trends and satisfy shoppers' shopping demands, the mall went through a one-year reconstruction process that began in August 2012 and was completed in September 2013. The reconstruction and refurbishment that cost R200 million included both the interior and exterior parts of the mall, and retailers who understood the need for the reconstruction also worked on their stores to give it the modern touch you see today.
Iguana Projects was the main contractor in charge of the project, and IBSM was in charge of the architectural work. 25,000m² of the total floor space was redeveloped, of which 6,000m² were gross let-able area. With this facelift, Brooklyn Mall now stands tall as one of the biggest malls in Pretoria.
Fashion lovers interested in getting some of the most fashionable outfits will get the best value for their money when shopping for items of clothing at the Brooklyn Mall as it has over 35 different fashion stores, which allows you to choose the brand you prefer. Some of the fashion stores you will find at Brooklyn Mall include Truworths, Pick 'N' Pay clothing, Timberland, among several others.
If you want to grab a cup of coffee, some fast food, or a proper meal, Brooklyn Mall is also a good place to go to as there are over 20 different stores that are food-focused and committed to giving your taste bud and stomach the best treat. They serve some of the most delicious local and international dishes – both for eating-in and taking out. Some of these restaurants you can find at the mall include Wimpy, Wood & Fire, and Phoenix Spur Steak Ranch.
You can shop for some of the best luxurious home decors and furniture at stores like Biggie Best, Casa Italia Interiors, and many more. You can also watch the latest movies at Cinema Nouveau and Ster Kinekor. In fact, there is something for any shopper at the Brooklyn Mall.
8. Irene Village Mall
Location: Cnr of Nellmapius Dr & Van Ryneveld Ave, Irene
Opened In: October 2007
Size: 44,000m²
Number of Stores: ±90
Best For: Food, Cinema, Fashion
Opening Hours: Mondays – Saturday; 9 am – 6 pm | Sundays and Public Holidays: 9 am – 5 pm
Irene Village Mall may not have gotten the 4-star Green Star Retail Design rating by the Green Building Council of South Africa (GBCSA). Still, the mall is beautified with a garden and over 100 trees, making the environment very healthy for the number of visitors it receives every day.
Fashion and restaurant brands occupy most of the stores in Irene village mall. Some of the restaurants you can find there include global brands such as Mc Donalds, KFC, Pick n Pay Liquor, etc. Truworths, EarthAddict, and Pick n Pay Clothing are some fashion stores that you can also find in this mall.
For trusted hair and beauty care products and services, you can also visit Irene Village Mall, as it is home to more than 10 different hair and beauty stores like Edgars Beauty and Spec Savers. There are also stores to buy jewelry, home decor, gifts, electronics, and stationery. Banks like ABSA also have ATM points in the mall for quick cash collection or other financial transactions visitors may want to carry out while at the Irene Village Mall. Entertainment is not left out, as Ster Kinekor cinema is also there to provide you the best experience as you watch the newly released local and international movies.
9. The Grove Mall
Location: Corner of Lynnwood and Simon Vermooten Roads, close to the N1 and N4 highways, opposite The Wilgers Hospital, Pretoria East region
Opened In: 2009
Size: N/A
Number of Stores: ±124
Best For: Entertainment, Food, Cinema
Opening Hours: Monday – Friday: 9 am – 7 pm | Sundays and Public Holidays: 9 am – 4 pm
The Grove Mall is an eco-friendly mall owned by Resilient Property Income Fund and managed by Broll Property Management. As the name implies, the mall is beautified by plants cultivated to form groves.
Of all the biggest malls in Pretoria, the Grove Mall has taken entertainment to another level entirely with cinema theatres which include the Cine Prestige and an IMAX theatre, 4D simulator, ten-pin bowling, toddler water play park, and an eco-friendly ice rink.
The Ice Rink at the Grove Mall has a gate fee of R75. There, you can also hire a skate for R35, and it's usually open in the daytime from 10 am to 5 pm and in the evening from 7:30 pm to 10:30 pm. However, fun and entertainment stores are not the only kind of stores you can find in this mall. There are also fashion stores like Cotton On, Woolworth, Pep, and many others. You can also grab a bite at McDonald's, King Pie, and Simply Asia, to mention just a few of the exotic restaurants you can find at the Grove Mall.
There are also stores where you can purchase electronics, books, home interior decors, gifts, beauty, health, and hair care products. If you have never shopped at the Grove Mall, you should consider it your next shopping destination as the environment is so beautiful and the pictures you take there would definitely turn out well.
10. Parkview Mall
Location: Corner of Garsfontein and Netcare street in East Pretoria, opposite Pretoria East Hospital and Woodhill Golfing Estate
Opened In: N/A
Size: N/A
Number of Stores: ±101
Best For: Fashion, Food, Cinemas
Opening Hours: Monday – Friday: 9 am to 7 pm | Saturdays: 9 am to 6 pm | Sundays; 9 am – 3 pm | Public Holidays (Monday-Thursdays and Sundays): 9 am – 3 pm | Public Holidays (Fridays and Saturdays): 9 am – 5 pm
Parkview Mall makes this list of the biggest shopping malls in Pretoria as it boasts 101 stores. These stores are currently occupied by major fashion, electronic, and consumables brands like Checkers, Nu Metro Cinemas, and Spec-Savers. Like most of the biggest malls in Pretoria on this list, the Parkview Mall is also home to brands that sell clothing, home decor, hair, health and beauty products, eyewear, footwear, banks, and even pet shops.
Designed by Boogertman & Partners Architects, the mall is well lit inside, and it's safe to be in it in the evening and not tell that it is dark outside. The nicely distributed lights serve as a means of beautifying the environment with enough space to give shoppers comfort.
The restaurants in Parkview sell really delicious meals at a very affordable cost. For less than R100, you can buy something to eat that will leave you wanting even more. The mall is also home to Virgin Active gym, an international health club located in over 5 countries, including the United Kingdom, where you can get good gym instructors and the best exercise equipment to help you stay fit.
Open Market Or Shopping Malls? Most People Prefer Shopping In Malls Despite The Cost
Among the average and lower class, shopping malls are usually seen as more expensive. The common belief is that aside from the price of the goods or service you are buying, you also have to pay for the beautiful shopping environment and the comfort you get, and the price for this is somehow added to the value of the product you buy. As a result, most people who may not be able to afford the cost of luxury will prefer to do most of their shopping in open markets.
While this is true in most cases, those who can afford to do their shopping in malls prefer it because of the comfort malls provide. Although most big open markets are also arranged in sections, depending on what you want to buy, after walking around the market to buy different things, you will be so worked up when you get home, but in malls, the narrative is different.
You can buy almost anything from one mall with so much ease, and with the shopping carts and assistance from staff in the mall, you don't have to worry about carrying everything you have purchased. As a result of the comfort that shopping in malls brings, most people are settling for it.