People's perception of having a child before marriage has changed in recent times. While most people follow the tradition of getting hitched before having a baby, others end up having a baby before securing a ring on their finger. Zenande Mfenyana, a fast-rising actress, has been trending lately after she joined the list of South African female celebrities who had a baby before marriage.
From speaking up about her condition to sharing every bit of her journey to motherhood to all the adorable moments she's been having with her little angel, Mfenyana has made many people believe that nothing brings so much joy as having a child of your own and watching them grow.
Zenande Mfenyana Confirmed Her Pregnancy With A Maternity Shoot After Many Months Of Pregnancy Rumor
When you are always in the public eye, it would difficult to run away from being noticed anywhere you go or whenever you do something in an open space. Zenande tried as much as possible to hide her pregnancy from the public, but it only lasted for a few months as she was forced to finally confirm her condition after many months of unabated pregnancy rumor.
The actress took to her Instagram page on May 10, 2020, and shared an adorable picture of her growing baby bump chilling under the water captioned: Happy Mother's Day. The announcement was met with joy and positive reactions, and she was immediately congratulated by her fans and colleagues, including Rami Chuene, Dineo Langa, and Makgotso M, who sent her lots of love in their congratulatory messages.
The screen diva later shared a 'behind the scene' video of her maternity shoot, which according to her, was made possible by her sisters. She also thanked them for helping her capture the lovely moment despite the rain.
BTS footage from the maternity shoot…raining and all my sisters helped make it work, thank you @AkheMfenyana @ElizabethMolapo @thabsie_sa ❤️❤️❤️
You're an amazing photographer @raurieswife 💐💛 pic.twitter.com/d2J8VK4VS1

— Zenande Mfenyana (@Zenande_Mcfen) May 10, 2020
Motherhood Has Been Quite Incredible And Overwhelming For Her
From the moment Zenande Mfenyana confirmed she was going to have a baby, she has never stopped thanking God for finding her worthy to be a mother. She has always been excited about motherhood, despite the challenges that come with it and the fact that she has her 'world' (her child) in her arms.
After the actress confirmed her pregnancy in May 2020, she left her fans wondering if she has put to birth as she was away from social media spaces for some time. She reappeared in September, looking all good and glowing. She revealed that being a mother was magical and that she couldn't believe that she could still function very well after having little sleep for several nights.
Though Zenande Mfenyana did not mention the exact month and date she had her baby, her post suggested that she put to birth before or sometime in September. Being a first-time mom can be overwhelming, and the actress is enjoying every bit of it. This new chapter of her life has brought her so much joy than she ever imagined.
I love being referred to as Mama ka…honestly there's no greater joy I've experienced than being my daughter's mother 😍❤️

— Zenande Mfenyana (@Zenande_Mcfen) December 30, 2020
Mfenyana's little daughter is so cute; she calls her Ballerina, and the bond that exists between them is so adorable.
Zenande Mfenyana Kept The Identity Of Her Baby Daddy Under Wraps For Many Months
Zanande may allow her career and glamorous life to take the center stage at any point in time but definitely not her love life and the men she has been with. Throughout the period her pregnancy made the rounds across social media and other platforms, the actress carefully kept the information about the man who made her a mother away from the public.
The actress did not only decline to reveal his identity but also avoided bringing up any topic that will result in him being unmasked. How the public eventually found out the real father of her child is still a mystery, but what matters most is that he has been named, and we can't tell how Mfenyana reacted to the revelation.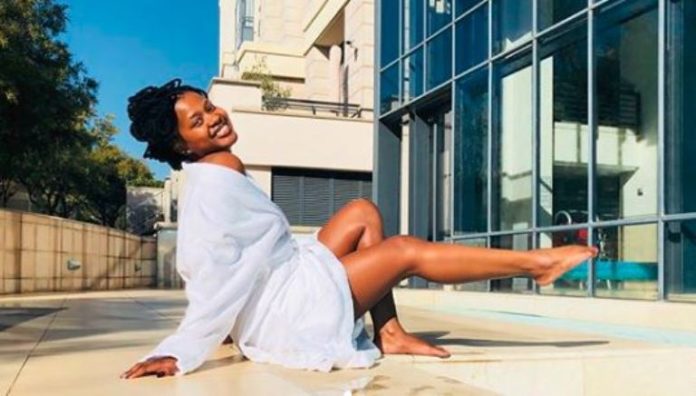 Till now, Zenande hasn't shared why she was reluctant to introduce the father of her child to the world, even after some people were linked as her child's possible fathers. While the public was wondering who her baby daddy could be, it was reported by an unverified website that Tino Chinyani was the biological father of Zenande's daughter. It could be that the report is untrue as Chinyani has neither confirmed nor refuted the allegation.
Who Is The Actress's Rumored Baby Daddy Tino Chinyani?
Chinyani is a well-known Zimbabwean model, actor, director, and voice-over artist. He was born on September 9, 1994, in Harare. He schooled at St. John's Preparatory School and St. John's college, both in Harare. Tino moved to South Africa to further his education at Monash University, where he studied Marketing & Management.
He was signed to the Cape Town-based modeling firm, Boss Models, in 2015. He has worked with top brands, including but not limited to Edgar's, Axe, Polo, Garnier, and McDonald's. The young star is also a regular face at Menshealth shows and the sun city royal escape and has promoted products by Rich Mnisi, Sheria Ngowi, Maxhosa, Tokyo James, and David Tlale.
Tino is currently a host on the Morning Show on ETV, a co-presenter on the Channel O top 5 drive, and has appeared on the MTV VJ search. As a young boy, Chinyani was active in sports like basketball and rugby. He represented u19 Zimbabwe rugby and was a basketball captain. In 2020, Tino and his baby mama Simphiwe Ngema welcomed a baby boy named Tinyani Kemorena Michael Chinyani on June 23.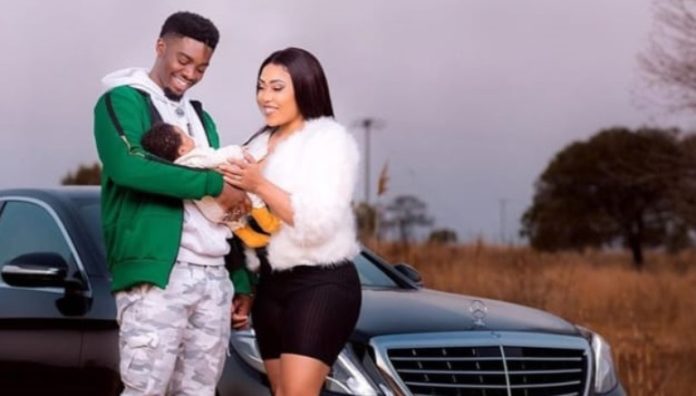 Although there's no denying the fact that Tino is the father of her child, the beautiful model hasn't given any insight into her relationship with him. More so, the names of the men she has been with in the past are yet to be publicized. Zenande Mfenyana hasn't really spoken much about this aspect of her love life. She only mentioned some time ago that she called off a previous relationship because the man didn't like her friends, the kind of job she does, and the clothes she wore.
Two Other South African Celebrities Were Initially Linked As Her Baby's Possible Fathers As Well
South African music star Dr. Goodwill Malinga and actor Warren Masemola were the two celebrities who were rumored to be the biological fathers of Mfenanya's daughter. Two events led the social media users into believing that the actress had dated both of them.
Recall that some time ago, Zenande shared on her page how the baby mama of her ex called her phone to warn her to stay away from her man. The actress said she found everything funny and laughed it off while the lady was talking on the phone.
Fast forward to early 2020 when Zenande shared a picture of two moons or bubbles shaded in two colors, which her fans interpreted to mean that she was going to have a set of twins. This was after she had confirmed her pregnancy.
Coincidentally, it happened that Dr. Malinga also announced that his wife would be giving birth to a set of twins at full term during the same period Mfenyana shared the pictures of the two moons. This led to social media users erroneously concluding that Dr. Malinga was responsible for the actress's pregnancy since the two would be having twins together.
Mfenyana quickly took to social media and debunked the rumor, adding that she is pregnant with only one child and not two as being speculated.
Actor Warren was subsequently dragged into Zenande's baby daddy drama after he mentioned that his wife was going to have a baby – this was the same period Mfenyana was also pregnant. Once more, due to the actress's revelation that she was accosted by her ex's baby mama, some people hurriedly started spreading rumors that the actor was the mysterious man the actress dated, and that he was the father of her child.
In the long run, their speculations turned out to be untrue. First, Warren never dated Zenande, and he is even happily married. Dr. Malinga, on the other hand, had no intimate business with Zenande; his wife was safely delivered of their twins during the Covid-19 period.
Zenande Mfenyana is Currently in a Relationship with a Mystery Man
The multi-talented Umlazi native is currently in a flourishing relationship with a mystery man. She recently shared that the man is very caring and wonderful but declined to mention his name or what he does. She also credited that her 'husband' as being the reason she is quickly getting back to shape after childbirth.
My hubs is so fit, he inspires me each morning to work harder at my fitness goals…I've got such a long way to go 😢 but at least I'm trying. I grew a human in me in 202🤰🏽, in 202🚶🏾‍♀️need to get back into shape

— Zenande Mfenyana (@Zenande_Mcfen) January 2, 2021
Interestingly, it is not known when she and the man tied the knot and if he is the real father of her baby or not, though Tino Chinyani has been named as her father. Zenande Mfenyana hasn't commented about the paternity of her child since she had her.