A great actor is one who can take any role and make it so real that people believe it to actually be his life. That is what makes Warren Masemola a great actor. Since his role in Ses' Top La in 2012, in which he played the role of a gay, Warren Masemola has been considered one, mostly because of how well the talented actor played the role.
However, contrary to the belief, he is straight and married to a woman, Kguagelo Masemola, since 2017. More than a couple of years since they walked down the aisle, the actor and his wife have continued to lead a very private life, so much that many fans don't even know he is married, while many others only have to keep guessing what is happening in their lives as a couple.
Quick Profile of Warren Masemola
Name: Warren Masemola
Date of birth: 18 May 1983
Career: Actor
Wife:

 

Kguagelo Masemola

Children: 1
Recognized role: Thokazani in Ses'Top La
Warren Masemola and Kguagelo Masemola Got Married in 2017 
In a chat with DJ Fresh on Metro FM when he co-hosted #FamousFreshFridays in 2017, the famous actor who has been very private about his love life, gave a hint about his girlfriend at the time. According to him, his girlfriend was funny and she taught him so much. More so, he said she made him laugh, smile, cry, and she was always there for him.
Having described her as a keeper during the chat, it was not surprising that the actor decided to keep her later in the same year when he got married to the same woman, Kguagelo Masemola, in an entirely private event. To date, the couple has not revealed anything about how they got to know each other or even their marriage. Nonetheless, they are still able to maintain a good and healthy relationship.
Before their marriage, many had thought that the actor was married to a beautiful South African actress, Jessica Nkosi. The speculation began after pictures of the two in a wedding gown and suit as though they were getting married went viral. It emerged that the pictures were taken from a music video the duo appeared in for AKA's single, "Caiphus Song."
His Wife Is Not A Celebrity
In case you are still wondering who Kguagelo Masemola might be, since most other celebrities happen to almost always get their better halves in the industry, she is not a celebrity and does not make a life in the entertainment industry. In fact, it is her marriage to the actor that has made her known in the entertainment community.
According to reports, Kgaugelo Masemola works as a business analyst and also a product manager. She is believed to be a graduate of the University of South Africa/Universiteit van Suid-Afrika and has worked with many organizations in the past. At the moment, she works with Hutech International Group.
Warren and his wife seem very much cut out for each other as they have a similar lifestyle and value their privacy more than anything else.
Warren Masemola and Kguagelo Welcomed Their First Child Three Years After Marriage 
He received what he described as his greatest miracle in 2020 when after three years of marriage, his marriage is blessed with a kid. In May, the notoriously private actor took to his social media to announce that he and his wife were expecting a baby, and then a couple of months later, they welcomed their bundle of joy when Kguagelo was delivered of a baby boy.
In the usual manner of the actor, Warren Masemola has kept all details about his little kid private, but in November 2020, he shared an amazing picture of himself and his wife on Instagram, where the couple showed Kguagelo's baby bump. For now, the two pictures are all he has revealed about his little kid, whose name is still not known to the public.
How Ses' Top La Gave Fans A Different Impression Of His Sexuality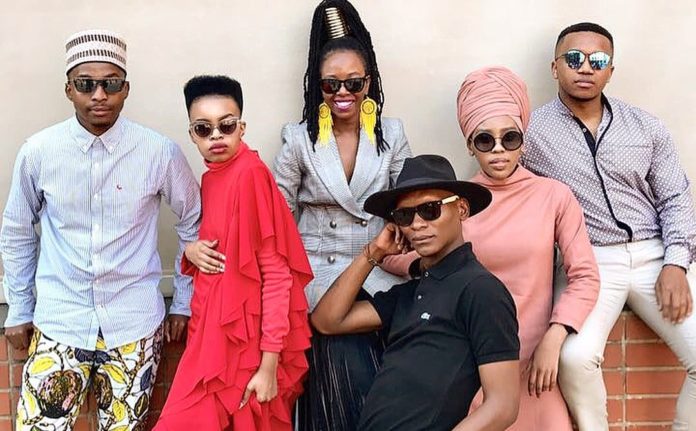 The great South African actor has learned to hold the interest of viewers and leave them with a great experience, winning them over no matter the role he takes; big or small. He has played a clam fellow, thug, gay, and much more in films, but what remains a talking point for many is his portrayal of Thokozani "Thoko" Chanel, a gay in Ses'Top La.
The role is by no means his most recognized, but it still ended up as a kill for him as he can get the job done most fascinatingly. The character Thokazani was said to be written with the actor in mind, and somehow, he did not disappoint. According to Mandla N, who is behind Black Brain Pictures, the company behind the show, he sent Warren to some places to learn about homosexuals and how they do things.
Warren's performance on Ses'Top La was not only good enough to make people think he is gay, but it also earned him a South African Film and Television Award (Safta) for Best Supporting Actor in a TV Comedy. The role is one of his most fascinating, but not his most challenging.
He Came Out To Deny The Speculations
"Being gay is not a Western invention. It is a human reality."#ThokoChanel #SesTopLa #Slayville pic.twitter.com/OeIbOdo0uf

— Warren Masemola (@warrenmasemola) April 10, 2017
Even though many have been speculating since the role that he might as well be gay in real life, Warren seemed rather busy earning more roles and enjoying more successes to comment on the matter at first. However, he later decided to lay the matter to rest when he came out on Anele Madoda's show to state that although people have always believed he was one, he wasn't.
Named alongside Cedric Fourie, Katlego Maboe, and Khaya Mthethwa by Iharare as some male celebs that have been suspected to be gay, Warren said when he was in high school, many were sure he was going to come out as gay before he matriculated. He said even after this, there were still many who made a bet on him that he was soon going to "expose his community" and come out of the closet.
Contrary to this, he claimed that he used to be homophobic when he was much younger and growing as an actor. At the time, he felt homosexuals were not supposed to share the same space as himself, and he did not hide his dislike for them. At some point, his lack of tolerance for them was said to have got him kicked out of school at Market Theatre Laboratory. He started dancing at the theatre after his sister introduced him there because they were so broke, but he soon lost his place because of his homophobic views.
Warren Masemola sat and looked inward and then he came to the realization that the only reason why he was homophobic was that he was not well informed. That was what reformed him. Even before he came out to deny the claims, there were some doubts already among doubters of his sexuality because not only has he been married to a woman for more than three years, he also has a child with her and the family is living together happily.