Nothing beats the feeling of being with someone who loves and cherishes you for who you are and what you represent. When Simphiwe Ngema thought she had lost it all after the death of her husband in 2017, Tino Chinyani showed up and brought laughter to her face again.
According to one of Ngema's posts on social media, Chinyani was the man who taught her how to 'love again' and also helped her to bounce back to her feet after many months of sadness and depression. The couple's love has continued to blossom ever since they got connected. Although they took the world by surprise, what exists between them appears to be stronger than what the world thinks or believes about them.
Tino Chinyani And Simphiwe Ngema Supposedly Connected On Social Media
The couple got connected on social media after they had previously attended a function together. Tino had to slide in Simphiwe's DM to express his feelings to the actress after the event. One thing led to another and the two eventually started seeing each other.
Details about how the two met were made public when model Chinyani shared four-frame screenshots of his chats with the actress while participating in the "How It Started Vs How It Is Going" challenge on social media. Although his post left many tongues wagging due to his approach, Tino was unfazed by the trolls, maintaining that all that matters to him was his "family being straight."
How it started. How it's going. 🥴🤣 pic.twitter.com/eg91nDI2FY

— Father_of_Nations (@Tino_Chinyani) October 10, 2020
Tino and Simz have remained inseparable since they found each other suitable for intimacy. They apparently have each other's back and have shown how much they love and cherish each other to the world on several occasions.
The TV Host Is A Father Of One
Popular Zimbabwean model and television presenter Tino Chinyani has a son named Tiyani Kemorena Michael Chinyani. The director cum voice artist became a dad on June 23, 2020, and it's been an awesome journey since then. While having a baby at a young age can be nerve-wracking for some people, Tino appears to be doing a good job in that direction. He's been a great support to his baby mama since their bundle of joy arrived.
He occasionally shares pictures of himself cuddling his little boy and making him feel special. The e.tv breakfast show host's parenting style has continued to earn him praises and admiration from the public. Whenever Tino is not busy with work, he spends quality time with his young family at home and sometimes takes them out for lovely adventures.
Who Is the Mother of Tino's Son?
She is none other than Simphiwe Ngema, South Africa's beloved actress. The couple had a low-profile relationship for a couple of months until August 2020 when they announced that they were expecting their first child together after posting a pregnancy photoshoot.
Tino's baby mama is popularly known by her stage name Simz Ngema. She is a native of Klipspruit, in Soweto, Gauteng. Her parents gave birth to her on August 29, 1989. Simz's father, Given Ngema, is a pastor in South Africa. He has two other daughters who were born before and after Simphiwe. She shares a strong bond with her older sister (Baxolile)'s daughter called Khumo.
According to the actress, Khumo was one of those who were instrumental in her journey to recovery from her husband's death. Simphiwe Ngema lost her husband (Dumi Masilela) in August 2017 after a failed kidnapping attempt. He died from complications of a gunshot wound at the crime scene.
In Addition To Acting, Simz Has Other Side Hustles
Tino's girlfriend is multi-talented; she does not only make a living by portraying characters on the TV, but she is also an amazing singer, photographer, presenter, choreographer, and MC. As an actress, she has done so well for herself, having starred in a handful of TV projects.
Ngema had her first role in 2016 in one of Duma Ndlovu's plays titled: The Game. She also featured in Vuzu's reality live show Preachers Kids after which she earned her big break with the SABC 2 show, Muvhango. She left the soapie after her role character was supposedly written off and joined the cast of the soap opera The Queen in 2018.
The Muvhango former star is a social media influencer. She has close to 2 million people who follow her page to know more about her personal life, career, and family.
Tiyani Kemorena Michael Chinyani Arrived In Mid-2020
Simphiwe Ngema and Tino Chinyani's adorable son was born on June 23, 2020, but her parents waited till September to share the news of his birth with their fans on social media. The announcement came one month after they had shared Simz pregnancy photoshoot.
According to the celebrity couple, they decided to announce the birth of their newborn baby some months later because they wanted to unveil a project they were working on at the same time. The project was later unveiled to be their son's clothing brand called Tiyani Afrika, which was launched as his legacy.
Tiyani is all shades of cuteness. He is mostly seen with his parents, who hardly keep their hands and eyes off him.
Is Tino Chinyani Married to Simphiwe Ngema?
No. Although neither of the two has publicly spoken about their plans as regards marriage, it appears, however, that the lovebirds are not in a hurry to officially become husband and wife. At the moment, they are living their best lives together, enjoying the glitz and glamor that come with the celebrity lifestyle.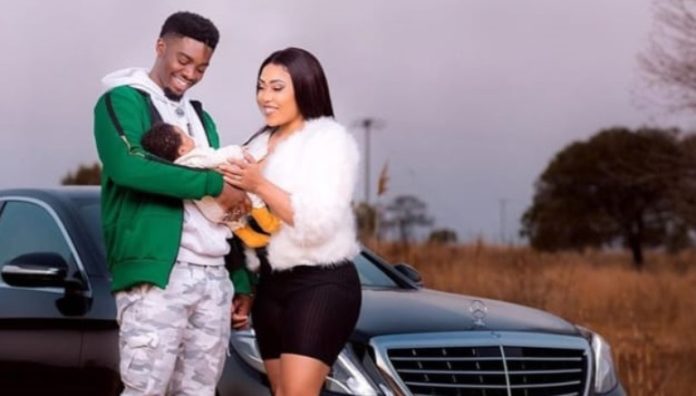 For the records, there are no known reasons why Tino and Simz have not been legally joined together as husband and wife. It seems they are taking their time to know each other the more or it could be that they really want to surprise their fans just like they did when it came to the limelight that they've been in a relationship for months.
Tino Chinyani And His Baby Mama Have Had Loads Of Memorable Moments 
Although Tino and his girlfriend keep information about their personal and family lives within bounds, we could tell that they share lots of memorable times behind the camera. The model cum TV host always finds time to spoil his sweetheart and show her how much she means to him.
Recently, the two went on a vacation in "paradise" for the Harare-born videographer's birthday. Tino surprised Simphiwe with the trip and later posted snaps of their getaway on his Instagram page. Though the e.tv breakfast show host didn't reveal the exact location of their vacation, he was spotted getting cozy with his woman in a jacuzzi.
Why Did Tino Keep His Relationship with Simz a Secret?
Tino Chinyani is one man who hardly pays attention to frivolities and things that don't add value to his career and life. On several occasions, he has emphasized how often he detests haters and their negative vibes. He also believes that fame has a way of straining relationships, especially among those who are well-known in the industry. Even though fame is overwhelming, Tino admits it is one of the biggest temptations he's ever known.
It is for these reasons and more (which many believe are personal) that the successful Zimbabwean star decided to keep his affair with Duma's widow under the wraps until the right time. As expected, Tino's announcement of the arrival of his newborn baby with Simphiwe was met with mixed feelings, with most people criticizing him for having an affair with Simz barely three years after her husband's death.
An unfazed Chinyani, in response, stated that both his woman and their son are his blessings sent from heaven and that no one can stop him from enjoying God's blessings.