Dineo Moeketsi (born 20 July 1989) is a South African actress and media personality best known for taking over from Nonhle Thema as host of the Channel O music magazine show O-Access, hosting it from 2011-2012.
South African actress Dineo Moeketsi and her husband, Solo Langa, are among the South African celebrity couples easy to love. They have spent many years together as a couple before they finally walked down the aisle. The duo has continued their separate careers while supporting each other and while also building their spiritual lives as a couple.
They have let fans into a lot about their lives, as well as their journey into becoming traditional healers, Sangoma through their YouTube channel. Dineo Moeketsi and her husband do not only attract the attention of fans and followers for their careers, but also for their love story, and everything else that has an air of being interesting around them.
Summary of Dineo Moeketsi's Biography
Full name: Dineo Moeketsi Langa
Gender: Female
Date of birth: 20 July 1989
Place of Birth: South Africa
Dineo Moeketsi's Age: 34 Years Old
Ethnicity: African
Nationality: South Africa
Zodiac Sign: Cancer
Sexual Orientation: Straight
Marital Status: Married
Dineo Moeketsi's Husband: Solo Langa
Profession: Actress, Media personality
Famous for: Taking over from Nonhle Thema as host of the Channel O music magazine show O-Access, hosting it from 2011-2012
Dineo Moeketsi's Instagram: dineomoeketsi
Twitter: @therealdineo
The Fairy Tale Love Story Of Dineo Moeketsi And Solo Began With A Blind Date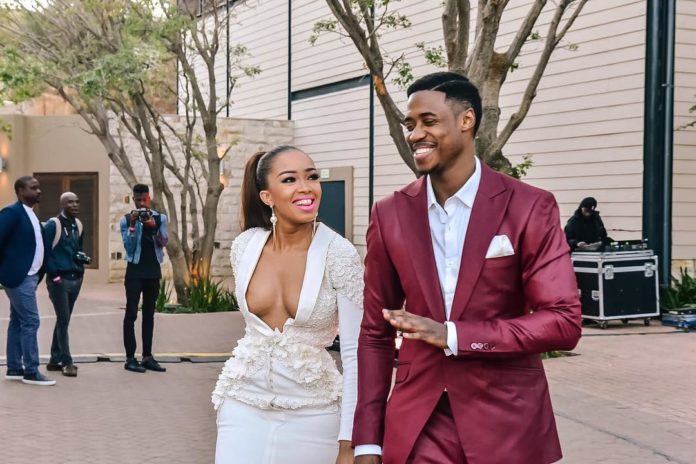 The love story of the beautiful couple stretches back to 2011 when they first met. At the time, the two were single and Dineo was not ready for any relationship. She seemed more focused on building her career, enjoying the moments of being single.
She got an invitation from a mutual friend who also invited Solo Langa to what the friend claimed to be a lunch. What the two didn't know was that rather than a lunch to which they thought they were invited to, they were, in fact, set on a blind date. That was how the paths of the two crossed for the first time, and they fell in love.
Dineo Moeketsi was already in the entertainment industry at the time, and she did not have any biases towards dating anyone in the industry. Solo, on the other hand, was more of an accountant then, although he still had something in the industry. It was later that Dineo found out that her man was a rapper.
Solo Couldn't Sleep for Days Leading To Their Proposal
Moeketsi and her lover had been together for up to seven years when he decided it was time to make her his wife. That did not stop him from feeling nervous for days leading to the proposal. He revealed that he was so nervous that he found it very hard to get a good night's sleep, as he would wake up with stomach upset around 4 or 5 am.
The rapper stated that he thought after all the years they had spent together he thought he would be calm when the time came, but he was wrong. Despite what he felt, he still acted cool as though everything heading to their anniversary and proposal was normal. He would later reveal that it all made sense to him looking back, as their relationship was too much of a serious business, just as the proposal so it only made sense the way he felt.
The couple had made it a priority to celebrate each of their anniversaries. For their seventh year together, they traveled to Mozambique. It was there that he proposed to his wife after he sneaked the engagement ring through the airport security.
They Tied The Knot In 2019
On 11 May 2019, they made things permanent by walking down the aisle. The lovely couple tied the knot in Cape Town. The "it couple" disappointed many who would have loved to attend the union by having a private ceremony. However, they still let the public in on what happened at the Embassy Hill in Constantia Valley through videos that they later shared.
Needless to say, Dineo was ravishing as usual, in a white wedding gown throughout the event, while Langa was in a black suit that had white patterns and a black trouser that also had a white design running down. They had their traditional ceremony before the white wedding.
The couple celebrated its first wedding anniversary on 11 May 2020 with a release of a video on their YouTube Channel, The Langas. They spoke about their experiences as a married couple for a year. Nothing changed for Dineo Moeketsi, but for Solo Langa, he experienced a little change in mentality, knowing that there is now more responsibility to their vows compared to when they were simply dating. There is still yet to be any news of pregnancy or kids between them.
Dineo Moeketsi Langa and Solo Are Now Trained Sangoma
The lives of Dineo and her husband have stretched past their relationship and their career. They are now very much rooted in spirituality after they have been trained as traditional healers known as sangomas. When they first met, they were both living in the dark about their gifts of spirituality. Gradually, it came to manifest in their lives as they continued dating.
The first time that Solo had any inclination of the gift, he was a little kid. He revealed that his family had a consult, and then it was revealed that he was the one with the gift. It meant nothing to him because he was still a child. But many years later, it all came back to him. Initially, it was very challenging for him to accept who he was.
Dineo Moeketsi, on her part, had never had any idea that she was also spiritually gifted. When she met her man, she knew he was deeply spiritual, which became one of the things that made her fall for him. She wanted a man that was layered and grounded, which was exactly what her man was. The truth about her spirituality came to her when she went to see a Sangoma for a different reason.
That was when it was revealed to her that she was also gifted. It took her a while to accept that she was a spiritual person. It was tough for her to embark on the journey, but she was grateful she had her man by her side. If not for that, she claimed she would have gone crazy along the way. The lovely couple has now been initiated, and they are both happy with the process.
According to them, they do not see it as something to be ashamed of as they are proud of it. For now, they still carry on with their professional lives as entertainers, although they still practice their spiritual roles as sangomas.
A Look Into Their Successful Careers As Entertainers
Dineo and her husband have separately carved their individual spaces in the entertainment arenas, with each famous in his own area. She is well versed as an actress and TV/radio presenter, among other things. The former The Queen's actress has been in the scene for a very long time and has appeared in some popular works, including the first season of Scandal!, the second season of My Perfect Family, and the third season of ScreenTime with Nicky Greenwall.
Although her talent is what has brought her thus far, it cannot be denied that her mother has also played a role in her rise. Dineo's mother is the famous and iconic KG Moeketsi, who has risen to be one of the most important faces in broadcasting for decades.
On his part, Solo Langa has also achieved so much for himself as a rapper. He has gained fame in the country with The BETR Gang. He has been in the industry for many years and got recognition with his first EP, No Shades of Grey, in 2010. Since then, the award-winning rapper has continued to rise in his career.
The power couple is now even bigger together than as individuals. They have started a clothing line, tapping from their great sense of fashion and style. The most stylish SA couple of 2017, according to the SA Style Awards, started the Port Of LNG brand in 2020. They have continued to model the brand, showcasing beautiful designs for both men and women.