DJ Fresh has a total of four children. He had his first child, a daughter, through a previous relationship, and the rest (two sons and a daughter) with his wife Thabiso Sikwane. Sadly the entertainer has not revealed the names of his children to the public. 
Thato Sikwane better known as DJ fresh or Big Dawg has been in the entertainment industry for almost three decades now and has remained one of the best DJs in Africa among the likes of DJ Black Coffee. The Botswana-born DJ has lived and built his career in South Africa. A notable fact about him is how well he manages his roles as a husband, father, and artist.
Just as he has been able to keep his professional life on track, his personal life and family life have also been well checked. DJ Fresh has been married to Thabiso Sikwane, a radio personality, for nearly 18 years and the lovely union has been blessed with children.
The couple has attended events together but has continued to keep their personal life private and rarely talk about their relationship. Even as everything seems to be going great for the couple, they have not completely escaped some controversies on their journey as a couple.
DJ Fresh Met His Wife While Working for YFM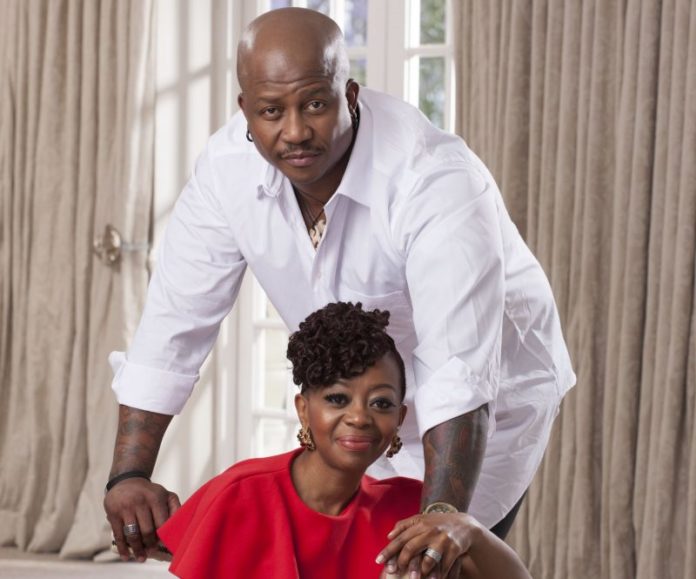 DJ Fresh and his wife may now have a special marriage, but there was nothing special in the way they met as it was while they were both working at YFM in 1996 that saw each other and Thabiso was a newsreader at that time.
Just like DJ Fresh, Thabiso has a successful radio career, she has worked for a number of South African radio stations including Power FM and Kaya FM. She is also a trained swimming instructor and at a time owned her own swimming school. She currently hosts a talk show on Kaya FM.
Beyond Being The DJ's Wife, Thabiso Sikwane Is a Seasoned Broadcaster and Talk-show Host
A seasoned broadcaster and host, Thabiso's name will also always ring bells as the wife of Thato, but there are many other things about her. The wife of the international club DJ is a seasoned talk-show specialist but she is best known for her Kaya FM show. She focuses on seminars in Gauteng as well as online after she left Kaya FM for some time. She is also an ambassador for the Nelson Mandela Children's Hospital.
In 2008, Sikwane participated in one of the most challenging marathons in South Africa, The Comrades, for which she trained for a few months. This makes her be regarded as a sports enthusiast and also a lover of the outdoors. She is also interested in sports like tennis and boxing. She was an English and sociology student at Wits University before she ventured into radio shows.
Sikwane has a lot of women who support her as she strives to achieve her dreams. Her zeal and dedication in her career, personal life, and other business portray her as a strong woman who is always hungry for adventure.
The Secret of Their Marriage Which Has Survived Almost 2 Decades
Despite the challenges celebrities face in their marriages, fans have wondered how the couple has managed to stay together for this long. When asked, DJ Fresh said he believes it has to do with working together in other to add value to each other's lives.
Also, there was a time Dj Fresh mentioned in an interview that good and constant sex with one's partner and open communication are the basics for a successful marriage.
His wife, on the other, said they both knew from the beginning that marriage is hard work that demands respect, communication, and keeping things fun and exciting.
She added that being in the spotlight as a celebrity has made her conscious of the responsibility she has to her family which entails representing her family well to avoid hurting or embarrassing them. So keeping their married life very private has made everything simple and quite easy for the couple. They share photos of each other and their family on social media from time to time, but they keep a lot of things away from the public space including their children.
Dj Fresh and Thabiso Sikwane Are Very Protective of Their Kids
After DJ fresh was fired from the SABC due to his usage of offensive language on air, his wife stood by him and ensured that their children did not accidentally hear or see it on social media till they were ready to tell them.
The couple's first child together is a teenage son. Their daughter is 8 while the youngest son is four years old. His first daughter from a previous relationship is 25 years old and has two grandchildren for DJ Fresh. They have not revealed the names of their children.
The South African DJ and his wife rarely share pictures and information concerning their children not until recently when he shared a picture of his first daughter's graduation on Twitter. He has not shared any detail about his first daughter's mother though.
Fact Check: Did The DJ Cheat on His Wife With Tsholo Mosaka?
In 2015, the media reported that DJ Fresh was having an affair with his longtime manager, Tsholo Mosaka. What was more was that while the DJ was expecting a third child with his wife at the time, he had already fathered a son of 4-years old (born in 2011) with Mosaka at the time the news was going around. It was claimed that the two first met in the 2000s when Tsholo was still a student.
According to various reports, even when he dated TV presenter Penny Lebyane, he was still with Mosaka who later became his PA and then manager. When she allegedly got pregnant for him, it was claimed the DJ did not bother hiding it as it became an open secret among people close to him as well as his wife. While the report claimed he did not hide the fact that he is the father of his manager's son, it is not known if he paid lobola and damages.
Two weeks after the report was made, the DJ refuted the accusations and filed a complaint with the press council against Sunday Sun which was the publication that first broke the news. He insisted the claim was untrue and unsubstantiated and he was not first contacted before it was published. He also added that the article caused so much harm to his personality's rights, privacy, dignity, and also reputation.
In a complaint to the Press Council, Tsholo Mosaka also claimed that the report was false as she did not have any son with the DJ or anyone else; she had two daughters but did not state anything about their father(s).
He later requested a full-front page apology from the newspaper and asked that they remove the article from the daily sun website as well as other publications. Close to five years later, the publication still stands on the website.
More so, there is not much information about Mtosaka at the moment as not only do we not know what she is up to but hardly is there a mention of where she might be.