Sonya Nicole Hamlin (born 1974) is an American property lawyer who is best known for being the second and secret wife of Idris Elba. The most interesting thing about their relationship is that Sonya Nicole Hamlin and Idris Elba met, dated, got married, and divorced in 2006.
Prior to their meeting and marriage, Sonya was already a successful property lawyer. However, her marriage to Idris launched her into the limelight. Here is all you need to know about her.
Summary of Sonya Nicole Hamlin's Biography
Full name: Sonya Nicole Hamlin
Gender: Female
Date of birth: 1974
Nationality: American
Sexual Orientation: Straight
Marital Status: Divorced
Sonya Nicole Hamlin's Ex-husband: Idris Elba
Famous for: Being Idris Elba's second wife
Sonya Nicole Hamlin is an American Citizen
Sonya Nicole Hamlin was born in 1974 in Maryland, USA. Aside from this, there is no other detail about her background. The beautiful property lawyer was not in the limelight for so long and she did not grant interviews that much.
As a result, we cannot say for sure whether she has siblings or not. However, what we know is that she is a black American and holds American nationality.
She Attended College In London
Sonya Nicole Hamlin completed her high school education in the United States of America. However, the name of the school(s) she attended is not available to the public. After completing high school in the United States, she moved to London where she got accepted into a university to study Law. During her stay in London, she lived in Notting Hill.
After completing her law program in London, she moved back to the United States to continue her education. She got accepted into a school in Washington where she continued her law academic pursuits. As a law student, Sonya majored in Property Law, and today she is a successful property lawyer.
Sonya and Idris Elba Met In 2006
In an interview with Daily Mail in 2016, Sonya revealed things that transpired between herself and Idris Elba. In 2006, both Sonya and Idris got invited to the same public function. During the course of the event, the two got introduced to each other through a mutual friend.
As they started talking, the chemistry between them was just too obvious to each of them. It was as though they had known each other for so long despite the fact that they were strangers. For Sonya, it was what seemed like love at first sight. Sonya didn't fall for Idris the first day she met him because he was a star. On the contrary, she didn't even know that he was a celebrity.
But the twist here is that Idris was already famous at that time. As of 2006, Idris Elba had already hit the spotlight with his role in the 2002 HBO series, The Wire. So, it may be quite surprising that Sonya didn't know he was a celebrity, especially because she admits that she had seen The Wire before meeting Idris, but didn't recall the face.
Well, Idris Elba was not the only one who was having a successful career when they met, Sonya was also a successful practicing property lawyer.
They Had A Whirlwind Romance
Things between Sonya Nicole Hamlin and Idris Elba happened so fast. After their first meeting, they kept communicating with each other, and not long after that, they started dating.
Their relationship was like that of soulmates. They were so in love and everyone around them knew this. The love birds couldn't bear being apart from each other so they decided to move into the same house in Maryland.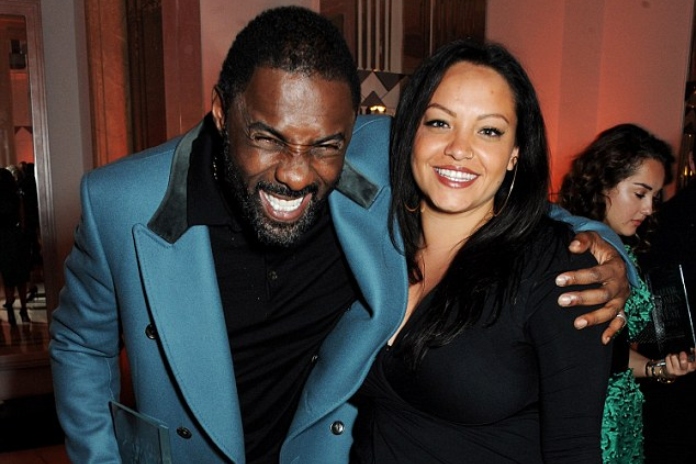 Despite being one of Hollywood's hotties, Idris always spent his nights with her. The demanding nature of his work also did not stop him from showing her his culinary skills.  She enjoyed the meals he made as well.
Aside from spending so much time alone at home with each other, they also created time for both casual and fancy dates. They seemed like an inseparable pair and were always found together. They were so into each other that they would even plan to wear matching outfits for events.
Sonya Nicole And Idris Elba Planned Their Wedding In One Night
Idris Elba and Sonya Nicole Hamlin never got tired of spending time with each other. Since Sonya was an avid lover of boxing, the two made plans to travel to Las Vegas Nevada to watch a boxing match between Floyd Mayweather Jr and Zav Judah.
While in Vegas, aside from watching the match, they also spent some time together doing other stuff like swimming. Before this time, they had talked about marriage but had no plans of getting married. Their relationship was only a few months old.
Well, Idris Elba was carried away by the comfort he felt in Sonya's company and he felt he wanted to keep her forever. So, when they went swimming and were relaxing by the poolside, he asked her to marry him secretly and he wanted the marriage to be the next day.
She was surprised but she was so in love that she did not overthink his request as she agreed to marry him outrightly.
They Got Married Without Informing Any Friends or Family
The following day after Idris Elba proposed to Sonya Nicole Hamlin, he got her an expensive diamond ring. That same day, they went to a courthouse and got a marriage license. As though the activities for the day were not enough, that same day, after completing what they had to do at the courthouse they drove to a little white wedding chapel to have their church wedding.
Sonya did not need an expensive wedding nor did Idris need a new tuxedo because they were happy with having each other. When they got to the white wedding chapel, they had to beg a stranger called Daniel Krastev to be their witness. After much persuasion, Daniel agreed to sign as their witness and they got married.
While running around to ensure they got married that day, they did not inform any of their friends and family. Their wedding was a secret. However, it did not stay a secret for so long and its publicity became the beginning of its downfall. But before things began to fall apart, they first had a swell honeymoon in Jamaica.
Sonya Nicole Hamlin and Idris Elba Got Divorced After Six Weeks Of Marriage
After their memorable vacation in Las Vegas, Nevada, and their honeymoon in Jamaica, they came back to Maryland, US. The demands of Idris' career required that he lived in Los Angeles and this was difficult for them because Sonya Nicole Hamlin was a practicing lawyer in Maryland.
To add to the pressure distance was putting on their marriage, Sonya revealed that Idris' friends began to tell him that the marriage was a bad idea. According to her, the reason why his friends and colleagues felt being married was a bad idea was because he was a hottie and a sex symbol in Hollywood.
Some people even told him that what he needed was a hot lady, not a lawyer. For them, Sonya wasn't sexy enough for him. Also, they felt being married could ruin his career. According to Sonya, as he continued to let all those voices get into his head, their relationship continued to sour. After six weeks of being married, they met in Maryland and decided to annul their marriage.
Sonya Had To Claim She Was Drunk When She Got Married For Their Wedding To Be Annulled
The popular saying 'Fools rush in where Angels fear to tread' may be the right words for describing what happened between Sonya Nicole Hamlin and Idris Elba. The same way they rushed into the marriage was the same they rushed out.
After their decision to get divorced, Sonya filed for a divorce in Maryland, but the law of the state required that they have to be married for up to a year before they can be divorced from each other. Being a lawyer, Sonya decided to look for other ways to make the divorce as fast as it can be.
They decided to go to Nevada where they got married to annul the marriage. For the annulment in Nevada to be possible, she had to claim that she was drunk on the wedding day and was not fully conscious of what she was doing – which she did. According to Sonya, while they were getting divorced, they felt sad, but they both knew it was a necessary step to take.
Idris Elba's Ex-wife's Business Faced A Down Time Because Of The Divorce
2006 was a very memorable year for Sonya Nicole Hamlin. She met someone who she felt was a soulmate and experienced love at its peak and sadness at its peak too. To add to the pain she was felt from the separation process, her career also experienced a downtime. It was as though everything was crashing for her at the same time.
Notwithstanding, she has long overcome the career downtime and her career is doing well again. Also, both Sonya and Idris have found love again. According to Sonya, she is still friends with Idris.