Lorraine Gary is a 86-year-old retired American actress best known for her scintillating portrayal of the character Ellen Brody in the Jaws film series.
Gray, who was born on August 16, 1937, had a career that spanned 20 years, during which time she starred in over 30 films and series that fetched enormous recognition. She was married to entertainment industry executive Sidney Sheinberg and is now the mother of two children.
Summary of Lorraine Gary's Biography
Full name: Lorraine Gottfried
Gender: Female
Date of birth: August 16, 1937
Lorraine Gary's Age: 86 years old
Ethnicity: Caucasian
Nationality: American
Zodiac Sign: Leo
Sexual Orientation: Straight
Religion: Christianity
Marital Status: Widowed
Lorraine Gary's Late Husband: Sidney Sheinberg
Lorraine Gary's Children: Bill Sheinberg and Jonathan Sheinberg,
Lorraine Gary's Parents: Belle Gottfried and George Gottfried
Lorraine Gary's Height in Inches: 5 feet 8 inches
Lorraine Gary's Height in Centimetres: 173 cm
Lorraine Gary's Net worth: $10 million
Famous for: Being an actress
How Old is Lorraine Gary?
Lorraine Gary is 86 years old; she was born on August 16, 1937, with the real name Lorraine Gottfried. The retired actress was born in Forest Hills, Queens, USA. However, she did not grow up in Forest Hills because shortly after her birth, her family decided to make a significant move, relocating to the bustling city of Los Angeles, California.
This move would prove to be a pivotal point in Lorraine's life, as it was in the heart of Hollywood that she spent her formative years. The vibrant city and its thriving entertainment scene further fueled her desire to pursue a career in acting, paving the way for the talented actress she would later become.
Our findings show that her family played a significant role in shaping her future. Lorraine was born to a mother called Belle Gottfried and a father called George Gottfried. Notably, her father, George, worked as an entertainment business manager. Growing up in the dynamic environment of the entertainment industry, she was exposed to the glitz and glamour of Hollywood from a young age, which might have also influenced her passion for acting and performing.
While there are records about who her parents are, not much is known about whether or not she has any siblings with whom she grew up in Los Angeles.
She Bagged a Degree in Political Science From Columbia University
Based on our research, it has been confirmed that Lorraine Gary's educational journey began in Los Angeles, where she attended both elementary and high school. However, the specific names of these institutions have not been disclosed in available records.
Following her successful completion of high school, Lorraine's educational aspirations led her to the esteemed halls of Columbia University, a renowned private Ivy League research university situated in the bustling metropolis of New York City.
During her time at Columbia, Lorraine Gary's academic interests led her to choose political science as her major. She later graduated with a degree in political science, although the exact date of her graduation is not very clear.
Lorraine Gary Took Interest in Acting From a Young Age
Lorraine Gary's passion for acting blossomed from a young age. Even during her high school days, she took part in stage plays and exuded a natural talent on stage, leaving a lasting impression on both her peers and teachers. She was considered to be one of the standout actresses of her school.
At the tender age of 16, Lorraine's incredible acting abilities were recognized when she won the prestigious title of "Best Actress" in a highly competitive competition held at the acclaimed Pasadena Playhouse. This accolade served as a testament to her exceptional skills, even at a young age, and marked the beginning of a promising journey in the realm of acting.
The Pasadena Playhouse, impressed by her remarkable performance, extended a generous scholarship offer, hoping to nurture and groom her talent further within their renowned theater institution. However, Lorraine declined the offer and instead decided to pursue higher education at Columbia University.
But, despite declining the scholarship, Lorraine's commitment to her craft remained unwavering because, during her time at Columbia University, she actively participated in various acting opportunities and continued honing her skills on stage and in the performing arts.
She Made Her Hollywood Debut In 1967
Lorraine Gary's illustrious Hollywood career took flight in 1967 when she made her debut as a TV actress after she was cast to play the role of Mrs. Frank in the TV series Dragnet 1967. This marked the beginning of her journey in the entertainment industry. In the subsequent years, Lorraine continued to make her presence felt in the world of television. In 1969, she secured two TV roles: she played Carla Frazier in the series The Name of the Game and portrayed Margaret Sheehan in The Bold Ones: The Protectors.
Her versatility as an actress was beginning to shine through at this time. The year 1970 was a particularly eventful year for Lorraine Gary, as she made appearances in no less than five productions. She played Dr. Marion Lester in The Bold Ones: The New Doctors portrayed Joan Stanford in McCloud, starred as Janie in San Francisco International Airport, and played Mrs. Nelson in The Virginian. Lorraine started getting some praise as each portrayal demonstrated her ability to breathe life into diverse characters.
In 1971, Lorraine Gary landed her very first TV movie role as Victoria Ulysses in The City, further expanding her repertoire and displaying her range as an actress. The same year, she continued her small-screen success landing the role of Mrs. Madrid in the series O'Hara, U.S. Treasury. By this time, her remarkable performances and growing reputation in the industry were catching the attention of directors and producers.
The year 1972 brought more exciting projects for Lorraine Gary. She portrayed Monica Fontaine in the series McMillan & Wife and then played Bella Grant in Hec Ramsey in the same year. Additionally, she made a notable appearance in the series, The F.B.I., as Angela Norton. Lorraine's versatility continued to shine in 1974 with various performances; she played Ruth Gardner in Kojak, Lila Summerfield in Pray for the Wildcats, and Jean Wainwright in Marcus Welby, M.D. With each project, her star power grew.
Her Big Break Came In 1975 With Her Role in Jaws
In 1975, Lorraine Gary experienced a career-defining moment that would forever cement her legacy in cinematic history. The opportunity of a lifetime came knocking when she was cast to play the role of Ellen Brody, the devoted wife of Police Chief Martin Brody, in the iconic thriller Jaws. Directed by the visionary Steven Spielberg, the film would go on to become a landmark in the world of cinema, redefining the concept of a summer blockbuster and leaving an indelible mark on audiences worldwide.
Jaws was an unprecedented success, and it was not just another film; it became a cultural phenomenon. With its thrilling storyline, innovative filmmaking techniques, and an unforgettable score by John Williams, the movie captured the imagination of moviegoers and critics alike. The film's phenomenal success at the box office resulted in numerous accolades and awards, with particular recognition for its outstanding musical composition and skillful editing. Furthermore, Jaws was the highest-grossing film of all time until the release of Star Wars two years later.
The success of Jaws catapulted Lorraine Gary into immense popularity. For the record, her portrayal of Ellen Brody in Jaws was nothing short of exceptional. Her ability to convey a range of emotions, from fear and vulnerability to strength and determination, resonated with audiences and earned her widespread praise. Following the monumental success of Jaws, Lorraine Gary became forever associated with the film and its subsequent sequels. In 1978, she reprised her role as Ellen Brody in Jaws 2, continuing to showcase her talent and dedication to the character.
Later on, she returned once again to reprise her role in Jaws: The Revenge in 1987. Her unforgettable performance in the Jaws series elevated Lorraine Gary to a new level of stardom, making her a household name.
How Old was Lorraine Gary in the Jaw Movie?
Having been born in 1937, Lorraine Gary was about 38 years old when she played the role of Ellen Brody in Jaws in 1975. When she reprised her role in the second Jaws installment three years later, in 1978, she was 41 years old. Despite the passage of time, Lorraine's dedication and passion for her character remained unwavering.
By the time she reprised her role several years later for the third time in the Jaws series in 1987, she was about 50 years old. A much older person at this time, Lorraine brought a mature and seasoned presence to Ellen Brody.
Lorraine's Career After Jaws
Following her breakout role in the 1975 blockbuster Jaws, Lorraine Gary's star continued to shine as she went on, gracing various other productions with her talent and charisma. In 1976, Lorraine took on the role of Myra Galen in the series Lanigan's Rabbi. The following year in 1977, she delivered a memorable performance as Ester Blake in the film I Never Promised You a Rose Garden, leaving a lasting impact on audiences with her emotive portrayal.
In 1978, Lorraine's remarkable acting prowess was on full display in two different films. In Zero to Sixty, she brought to life the character of Billy-Jon with her magnetic onscreen presence. She also portrayed Emily Mulwray in the captivating film Crash. Continuing her streak of captivating performances, Lorraine appeared in the 1979 film Just You and Me, Kid, where she took on the role of Shirl. That same year, she added to her diverse portfolio by portraying Joan Douglas in the film 1941, further solidifying her reputation as a versatile and talented actress.
Throughout her Hollywood journey, Lorraine Gary consistently proved her ability to breathe life into a wide array of characters, earning admiration from fans and colleagues alike.
Is Lorraine Gary Retired from Acting?
Yes! Lorraine Gary is currently retired. As a matter of fact, our findings show that she actually retire twice. Her first retirement came after her appearance in the film 1941 in 1979, marking what seemed like the end of an era for her on-screen performances. However, fate had other plans in store.
In a surprise twist, Lorraine returned to Hollywood in 1987 to reprise the beloved character of Ellen Brody in Jaws: The Revenge and to connect one final time to the role that had made her a household name. This unexpected comeback thrilled fans and provided a fitting conclusion to the Jaws series, allowing Lorraine to bid a final farewell to a character she had imbued with depth and emotion.
After playing the role in Jaws: The Revenge, Lorraine Gary made the heartfelt decision to retire for good, gracefully exiting the stage of Hollywood in 1987. At the time of her retirement, she was 50 years old.
Lorraine was Married to Sidney Sheinberg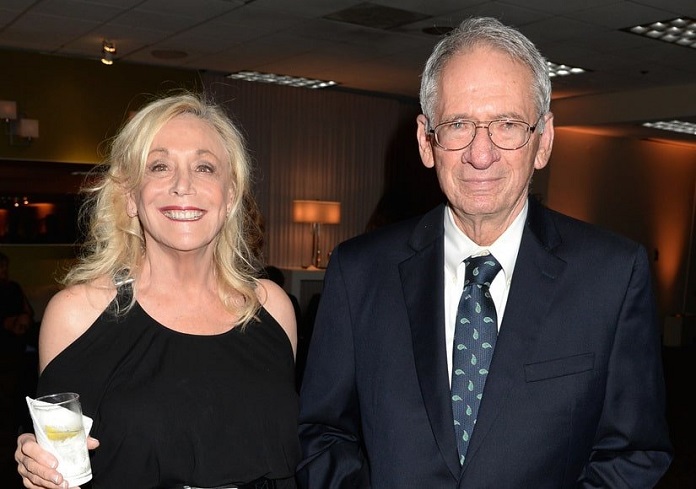 Lorraine Gary was married to an American businessman, lawyer, and entertainment executive called Sidney Sheinberg. Lorraine's love story with her husband began during their time at Columbia University. Fate brought them together as they found themselves in the same class, and their connection blossomed into a beautiful romance during their teenage years.
Their love grew strong over the years, cementing a bond that would last a lifetime. Eventually, on the memorable date of August 19, 1956, Sidney Sheinberg and Lorraine Gary exchanged vows. It is not very clear where the wedding was held, but it is believed they got married in Los Angeles. After their wedding, the couple decided to settle in Southern California.
It was in this vibrant entertainment hub that Sidney Sheinberg made a name for himself as a lawyer and, later on, as a remarkably successful entertainment executive. Sidney's career eventually soared, and he went on to become the president of Universal Television in 1971, making groundbreaking decisions and shaping the landscape of the entertainment industry.
As for Lorraine Gary, her own talents were also on full display in Hollywood at this point. So, their mutual success in the entertainment world was a testament to their individual talents and shared passion for the industry. Lorraine and her husband were known to have solidly supported each other's endeavors during their marriage.
Sadly, on March 7, 2019, Lorraine Gary faced the heartbreaking loss of her beloved husband, Sidney Sheinberg. They were married for 62 long years before death did them part.
Lorraine Gary's Children are Two
Shortly after their marriage, Lorraine Gary and her husband, Sidney Sheinberg, embraced the joy of parenthood. They welcomed two sons into their lives during their marriage. Their sons are called Bill Sheinberg and Jonathan Sheinberg. Not much is known about how Bill Sheinberg and Jonathan Sheinberg were raised.
However, both of them have since followed in their parent's footsteps, inheriting a passion for the captivating world of cinema. Our findings show that they developed a fascination with the film industry as they grew older, and today, as adults, they have chosen to pursue careers as film producers.
Both Bill Sheinberg and Jonathan Sheinberg are now doing well for themselves as film producers, apparently making their mother very proud.
Where is Lorraine Gary Now?
Lorraine Gary is now enjoying retirement in the bustling city of Los Angeles, California. However, although she stepped away from the glitz and glamour of Hollywood several years ago, her passion for making a positive impact on the world remains steadfast. Our research reveals that she has actively engaged in various philanthropic endeavors, becoming an esteemed member of the Human Rights Watch Women's Rights Advisory Committee.
Not content with just being a member, Lorraine's commitment to empowering women and advocating for their rights led her to take on an even more hands-on role. She demonstrated her passion for education and social change by producing and directing a remarkable series of fourteen educational videotapes for the Human Rights Watch Women's Rights Advisory Committee.
Lorraine Gary's dedication to fostering progress extended beyond her involvement with Human Rights Watch. She has also played a crucial role as an Advisory Board Member of Ms. Magazine, a pioneering feminist publication known for championing women's voices and advancing gender equality. Her involvement with Girls Learn International, an organization focused on promoting girls' education and empowerment, further exemplifies her deep commitment to making a difference in the lives of young women around the world.
In recognition of her tireless efforts to uplift humanity, Lorraine, together with her husband Gary, received the prestigious Simon Wiesenthal Center's Humanitarian Award in 1995. This esteemed recognition celebrated their impactful contributions and compassionate spirit, reinforcing their legacy as advocates for justice and social change.