Kendu Isaacs (born August 14, 1968) is an American celebrity talent manager and producer best known as the former spouse of Mary J. Blige, the Queen of Hip-Hop Soul. Kendu Isaacs and Mary J. Blige were married for 13 years, having separated in 2016 before they finalized their divorce in 2018. However, he has remained single since his divorce from the singer.
While his ex-wife, Mary J. Blige, is a legendary American R&B singer, composer, and actress, Kendu Isaacs, as a producer, has produced a handful of TV shows and movies like Betty and Coretta and is worth almost $5 million.
Kendu Isaacs Is Mary J. Blige's Ex-husband
Kendu Isaacs used to be married to the American actress and singer touted as the Queen of Hip-Hop Soul, Mary J. Blige. They were married for 13 years in a union that lasted from December 2003 to July 2016.
Although there is not much detail of their relationship while they were dating, we know that the 55-year-old producer dated the Be Without You singer for about three years before they decided to take it up a notch and get married. They would go on to tie the nuptial knot on December 7, 2003, in an intimate ceremony held at Mary J. Blige's mansion.
After being together for over a decade, Mary J. Blige filed for a divorce when she accused Kendu Issacs of infidelity. It was reported that the producer had cheated on his then-wife with a singer named Starshell, who was signed under her label, Matriarch Entertainment. On the other hand, Kendu also questioned her sexual preference while accusing her of infidelity.
In July 2016, the pair went their separate ways; however, their divorce was not finalized until two years later, in July 2018, even though the former couple had no child together. It was reported that the process dragged on so long because the pair could not settle on an amount for spousal support. In the end, Kendu Isaacs was awarded $30K per month as temporary spousal support.
Starshell Is Allegedly Kendu Isaacs' One-Time Girlfriend
After the divorce process, Kendu allegedly started dating Starshell, the woman he cheated on his ex-wife with. Starshell is an American actress, singer, and entrepreneur. But apart from these, Starshell used to work as Kendu's assistant. During the divorce proceedings, Mary J. Blige had accused her husband of spending their money on his aide.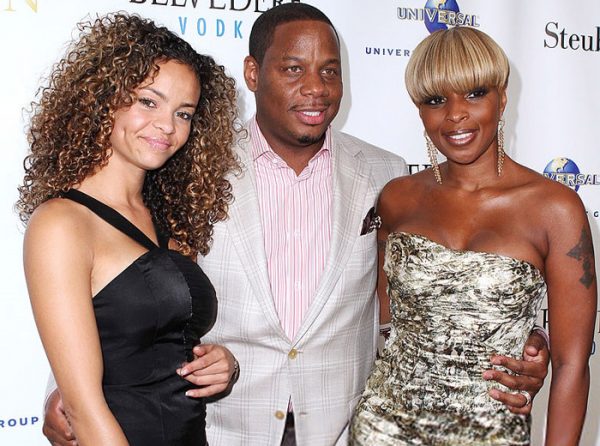 According to her, Kendu Isaacs spent over $420,000 on his side chic. However, their relationship has since ended, and it is unknown how long they were together. It is also interesting to know that contrary to published reports, Starshell denied having any romantic relationship with Kendu Isaacs.
Concerning his current relationship status, Mary J. Blige's ex-husband seems single. He has not remarried since his divorce from Mary J. Blige, and besides his alleged relationship with Starshell, he hasn't revealed anyone as his partner either.
Mary J. Blige Is Not The Only Woman Kendu Isaacs Has Been Married To
The celebrity producer Kendu Isaacs has remained unmarried since his marriage to Mary J. Blige ended, but that has not been his only marriage. Records indicate that before Issacs took the Queen of Hip-Hop Soul to the altar, he had been previously married. And while his marriage with Blige never produced any offspring, Kendu Issacs had a daughter in his teen years and two other kids from his first marriage.
Kendu Isaacs was previously married to a woman known as Maurine. They were said to have married in the early 90s, but they got divorced in 1999. Their marriage lasted for eight years (which means they were married in 1991) and produced a son and a daughter named Nas Isaacs and Jordan Issacs. His first daughter, Briana Latrise Kamara, became famous after she appeared on the show Growing up Hip Hop.
Brianna Latrise Kamara Is Kendu Isaacs' Oldest Child
Kendu Isaacs is a father of three children, Brianna Latrise, Nas, and Jordan Isaacs. Nas and Jordan share the same mother, Maurine, while his eldest daughter, Brianna, is from another woman.
Brianna Latrise Isaacs was born in New York City on August 3, 1986, but her mother is unknown. It is said that Kendu Isaacs had her as a teenager, so the 37-year-old grew up with her dad and stepmom, Mary J. Blige; however, her relationship with her dad hasn't been rosy.
On the other hand, she had a great relationship with her stepmom but claimed to have been maltreated by Maurine, her first stepmother. Thus, the divorce between her dad and Mary J affected her.
Miss Isaacs is a screenwriter, reality TV show cast, and entrepreneur. She is known as the brain behind Tuesdays At Heart. Moreso, she is the screenwriter of the TV series, The People in the Back. As an actress, she starred in a reality TV show, Growing Up Hip Hop.
Brianna runs a business in Los Angeles, California, selling incense sticks and smudge bundles. She is also a professional photographer and blogger with over $5 million net worth.
Concerning her marital status, it is unclear if Brianna Latrise Kamara is still single because of her last name. She once dated a DJ and producer, Iman Omari, and their 3-year-old relationship ended in 2016 because her boyfriend was domestically abusive.
Afterwards, she became romantically involved with Ed Williams but discovered he was married with a kid. Their union ended in November 2019. Miss Isaacs is allegedly dating Pep's nephew, Chris, but there is no information if they are still together.
She is a mother of one, a son named Mercury Turner, who she had in 2013. Though she has not revealed her baby's daddy, fans speculate that Iman Omari is her son's father.
Meet Kendu Isaacs' Only Son, Nas Isaacs
The American talent manager, Kendu Isaacs, has only one son, Nas Isaacs. Nas was born to Kendu and his first wife, Maurine, but his birthday is unknown. Additionally, Nas has kept his life away from the prying eyes of the media. Apart from being the son of a celebrity manager, nothing is known about his career; thus, his net worth is top secret.
Similarly, Isaacs' son's relationship is not public information. His sexual orientation is also best known to him and whomever he reveals it to. Also, the public does not know if he has any children.
Jordan Isaacs Is Kendu Isaacs' Younger Daughter
Jordan Isaacs is an American youngster that was born in 2002. She was born and raised in Alpharetta, alongside her siblings, by their stepmom, Mary J. Blige. Although her birthdate is unknown, Jordan Isaacs is estimated to be about 22 years old this year.
Kendu Isaacs Is A Talent Manager
Mary J. Blige's ex-husband works as a professional manager. He has been the manager of K. I. Productions Artist Management Company since January 2001. Additionally, he served as the director of his ex-wife's record label – Matriarch Entertainment. He also worked as Mary J's assistant and manager between 2008 and 2016.
Aside from being a talent manager, Kendu Isaacs is also a movie producer. In 2013, he produced the movie Betty and Coretta, featuring his ex-wife, Mary J Blige. He has also appeared in a couple of talk shows and as a guest in the comedy talk show Ellen: The Ellen DeGeneres.
Kendu Isaacs's net worth is estimated to be about $5 million. He made his wealth from being a record producer. However, Mary J's ex-spouse claims to be currently unemployed.
Quick Facts
Q: Who is Kendu Isaacs? Kendu Isaacs is the former spouse of Mary J. Blige, the Queen of Hip-Hop Soul. Kendu Isaacs and Mary J. Blige were married for 13 years, having separated in 2016 before they finalized their divorce in 2018.
Q: When and where was Kendu Isaacs born? Kendu Isaacs was born on 14th August 1968 in Manhattan, New York, United States.
Q: What is Kendu Isaacs' professional background? Kendu Isaacs has worked in several prominent roles in the entertainment industry. He served as the president of Matriarch Entertainment and was a manager at the Berlin-based K.I. Productions. He was also the executive producer of the 2013 drama film "Betty and Coretta".
Q: What is Kendu Isaacs' current occupation? As of now, Kendu Isaacs is the manager of K.I. Productions Artist Management Company.
Q: What is Kendu Isaacs' net worth? Kendu Isaacs has an estimated net worth of $5 million, primarily earned from his production career.
Q: What was the nature of Kendu Isaacs' relationship with Mary J. Blige? Kendu Isaacs was married to Mary J. Blige, and also served as her manager. The couple began dating in 2000, got married in 2003, and got divorced in 2016.
Q: Why did Mary J. Blige and Kendu Isaacs divorce? Mary J. Blige filed for divorce from Kendu Isaacs in 2016, alleging that Kendu was having an affair with another woman. Kendu was ordered by the court to receive $30,000 per month from Blige as temporary spousal support.
Q: Is Kendu Isaacs currently in a relationship? As of the latest update, Kendu Isaacs is single and has not revealed any information about a new relationship.
Q: Does Kendu Isaacs have any children? Yes, Kendu Isaacs has three children from previous relationships – two sons, Jordan and Nas, and a daughter, Briana Latrise, who is a recognized actress.
Q: How tall is Kendu Isaacs and how much does he weigh? Kendu Isaacs is 5 feet 8 inches (173 centimeters) tall and weighs approximately 165 pounds (75 kilograms).