Joseph Sikora is currently married to Tania Ribalow, a makeup artist best known for her contributions to movies such as The Irishman (2019), Joker (2019), and The Greatest Showman (2017). Her marriage to Sikora, one of the main attractions who plays the role of Tommy Eagan in the blockbuster series, Power, has been a relatively big secret.
Sikora is one of many Hollywood stars who prefer to keep their private and personal affairs away from the gaze and possible intrusion from the media and public. He did such an excellent job of it that not even his most ardent and loyal fans knew he was married until he deemed it fit to reveal that very important aspect of his life.
Joseph Sikora's Wife Is A Talented Make-Up Artist
As previously stated, Joseph Sikora is currently married to Tania Ribalow. We've also established that she is an accomplished makeup artist, and unfortunately, that's the much we can tell about Joseph Sikora's wife at the moment. Not much is known about her early life and educational qualifications, as she hasn't yet disclosed those aspects of her life.
Her career as a makeup artist has essentially been one that has existed behind the scenes. Nevertheless, her talents and contributions to the American movie industry have been significant. Tania Ribalow's IMDb page reveals that she has worked in the make-up department in several movies and TV series, which currently number over 45.
Her first official contribution came as a hair and makeup assistant in the 1999 movie Trick. Two more assignments followed before the end of 1999. Her impressive career has progressed steadily since the early 2000s with significant inputs in movies and TV series such as Hamlet (2000), Super Troopers (2001), Roger Dodger (2001), and Camp (2003).
Others are Jersey Guy (2003), Dedication (2007), Get Smart (2008), Feed The Beast (2016), Vinyl (2016), The Greatest Showman (2017), The Irishman (2019), and Joker (2019) to name just a few. To further buttress how important her work has been so far, Tania Ribalow has twice received a Primetime Emmy Awards nomination for Outstanding Makeup for a single camera.
Her first nomination arrived in 2014 for her work on Knick (2014), and the second one came in 2016 for her contributions to the TV series titled Vinyl (2016). Finally, her stellar artistry on Joker (2019) allowed Ribalow the unique privilege of picking up her first and currently only award for being the best makeup artist and hairstylist. The award was given to her at the Hollywood Guild Awards ceremony in 2019.
Joseph Sikora And His Wife Met On The Set Of A Project They Were Both Working On
Joseph Sikora's first meeting with his wife reads like a fairy tale, similar to many others in the American movie business. The celebrity couple met while working together on the set of Boardwalk Empire. According to Joseph Sikora, he and Ribalow had gone about their responsibilities in total oblivion of each other. That indifference was done away with the moment they locked eyes, and it was love at first sight for Sikora.
It wasn't all smooth sailing for Joseph to capture the attention of the woman he was head over heels for. First of all, there was the strict rule at Tania's agency that prohibited fraternization with actors/actresses to circumvent and add to that, he also had to deal with Tania's obvious dislike of actors who she believed were ego-driven and self-absorbed.
Joseph Sikora Has Been Married To Tania Ribalow For Almost A Decade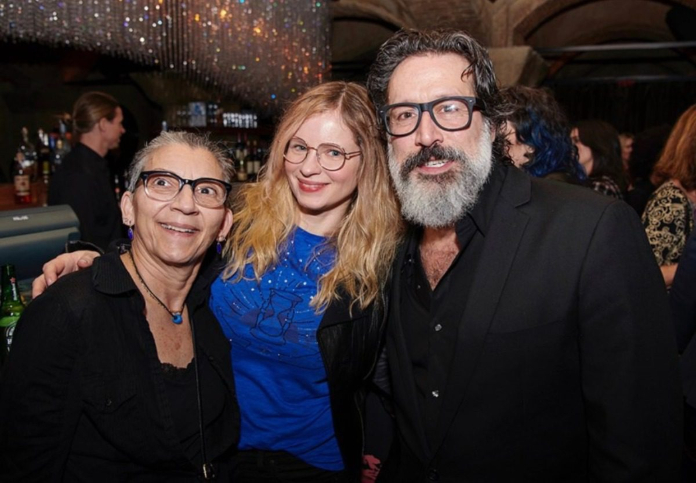 Sikora instinctively knew that he had his work cut out for him if he was ever going to convince the future, Mrs. Sikora, that he was worth the trouble. His first move was to find out who her closest friends and associates were. When he had successfully gained information about their identities, he implemented the next phase of his plan, which was to convince them that not all actors were egotistical or self-obsessed as Tania had originally believed.
After convincingly winning over her friends, it was they who set out to help Sikora accomplish his goal. They started by speaking favorably about him to Tania and urging her to give him a call. The talented makeup artist was on the verge of giving in but was still reluctant to give the actor a call. The final push over the edge of falling for Sikora arrived in the form of Tania's boss Nicki Lederman setting up a date for the then would-be couple.
The date was Joseph Sikora's opportunity to forever alter the perception of Tania Ribalow about him. He didn't have to work too hard to achieve that goal as most of the work had already been done for him by Tania's friends and boss. Suffice to say that the date was the beginning of a relationship that culminated in a wedding that reportedly happened in 2014.
Tania Ribalow Is Instrumental to Her Husband's Professional Growth
Details of their wedding ceremony remain a relative mystery to fans of the actor and his wife. As a matter of fact, fans of the actor only found out he was married following a tweet about a bus trip from Florence to Fiesole with 'the wife.'
So, me and the wife took the 7 bus from Florence to Fiesole, just outside the city to the church of San Francesco and this nice fella, @imoles hook me up with some nice grappa and where to go in Firenze(Florence). Thanks man. pic.twitter.com/7ObXGZX8CK

— Joseph Sikora (@JosephSikora4) August 23, 2018
In addition, it has been revealed that the wedding festivities preparations coincided with the date of Joseph Sikora's audition for his most iconic role of Tommy Eagan in the Power series. Fortunately, he was able to nail the auditions and landed the role.
Joseph Sikora has credited his wife with having a vital role to play in his growth as a person, both in his personal and professional life. The actor revealed that Tania's presence in his life opened career doors of opportunity for him, and he has since gone from strength to strength.
He, however, pointed out that he leaves behind everything that has to do with the infamous Tommy Eagan character whenever he is off the set because his wife doesn't like the character.
Joseph Sikora And His Wife Don't Have Any Children Yet
When one considers the fact that the Sikoras have been married for close to 10 years now, it would not seem inconceivable to expect that there are already little Josephs and little Tanias running about. However, it would interest the public and fans to know that despite the relative length of the marriage, the couple is yet to be blessed with children.
The reason for that could be anything from a decision to wait to infertility issues. There is no way to verify the aforementioned speculations at the moment.
Joseph Sikora's Wife, Tania Ribalow, Helped Him Deal With His Anger Problems
As mentioned previously, Joseph revealed that his wife aided in his professional and personal development. One of the areas where she did a fantastic job of that was in helping the actor take care of his anger management disorder.
Sikora stated in an interview that in 2012, during the early years of his relationship with his wife, Tania, she categorically told him that she would not stay with someone who had anger issues. She then presented him with a request to get professional help, or the relationship would be over and done with.
He acquiesced to her demands and checked himself into therapy, and the by-product of that decision has been noticeably remarkable, and the actor has his wife to thank for that. Joseph Sikora and his wife, Tania Ribalow, appear to have the perfect marriage.
Now that it has become public knowledge, fans and the general public will expect to get more updates about the actor who has managed to secure his spin-off series as the main character in Power Book IV: Force. Whether the fans and the general public get their wish remains completely down to the actor and his talented wife.