Arab Andy is an IRL streamer who became famous on YouTube and Twitch. His contents are taken from his real-life activities and are quite controversial, constantly attracting the attention of the authorities for violating policies on different platforms by streaming disturbing content.
Back in 2018 in Seattle, "Arab Andy" was arrested after walking into a University of Washington classroom and playing a text-to-speech bomb threat.
How Old Is Arab Andy?
There is no information regarding Arab Andy's birth details and family background in the public arena. Consequently, his date of birth, age, and family details are unknown. The lack of info on his background has led fans to make inferences from the YouTuber's physical appearance, which according to them, suggests that he is between his late 20s to early 30s.
His given name has been revealed as Jammal Hassan Harraz and going by his looks, the YouTuber is of Asian ethnicity.
What is He Known For?
A YouTube content creator, Arab Andy, gained popularity as a professional Twitch streamer. He started as a big fan of Ice Poseidon – one of the most popular streamers on the internet space. Andy later worked with Poseidon's stream as a stream sniper.
Now he is a known YouTube and Twitch IRL streamer; what the content creator streams are majorly his real-life activities. As he gained prominence in the internet space, he became known with the moniker Arab Andy. With time, Andy became a controversial figure, and in the long run, he fell into deep trouble with the authorities because of his activities on a live stream.
What Did Arab Andy do?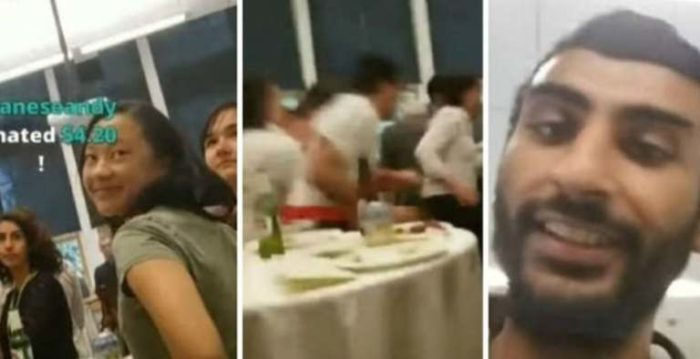 Arab Andy walked into a classroom at the University of Washington, Seatle Campus, playing a text-to-speech bomb threat. The live stream, which violated YouTube's terms of service, has long been taken down. However, people who wish to watch can still access mirror uploads on the platform.
The video shows Arab Andy playing the audio/sound of a text-to-speech donation via a viewer as he strolled into the UW classroom. Text-to-speech donation is a type of arrangement that allows viewers on the platform to donate a stipulated amount of money to have their pre-recorded audio or messages play on stream.
According to the UWPD, Arab Andy, on entering Savery Hall at 5 p.m., asked for the attention of everybody. Then, they started hearing a pre-recorded message from a speaker attached to his jacket, pronouncing something that suggests 'The C4 is successfully activated' – a bomb detonation countdown began immediately afterward. This led people to scamper from the room and, on their way out, activate the fire alarm system.
Even after the entire Seattle campus of UW was evacuated, Arab Andy's stream continued and was loudly boasting that he had created a highlight reel that will be counted among his biggest lifestreams. His subsequent arrest did not even halt the streaming, which continued, and the situation was heavily mocked by text-to-speech comments.
Following this, a message was issued by the police department at the University of Washington through their website. It was later revealed that Arab Andy is not new to using text-to-speech technology to cause public disturbances while lifestreaming.
Arab Andy's Prison Sentence Attached to his Offense
According to the state of Washington, fake bomb threats are considered to be class B felonies. This means that the streamer can face serious charges, which may attract a ten-year sentence or a fine of $20,000.
Is Arab Andy Still In Jail?
After facing charges for committing a class B felony, Arab Andy got a jail sentence. However, he was able to meet a bail of $75,000 that was set for his release, and the condition for setting him free was that he would never make another content in his life as he was considered a threat to the safety of the public. Since he is no longer making live streams, it is difficult to guess what the former YouTuber is currently up to.
Judge sets bail at $75,000 for suspect arrested for UW bomb threat. Judge says Jammal Harraz could be a threat to public safety. Bail $75,000. @KIRO7Seattle pic.twitter.com/xw7QLK7rTp

— Alison Grande (@AlisonLGrande) June 1, 2018