Raymond and Sandra Griner are American media personalities famous as the parents of Brittney Griner, the basketball star. Brittney's father, Raymond Griner, is a retired sheriff, while her mother, Sandra, is a homemaker.
Brittney Griner's parents spotted her athletic talent when she was pretty young and supported her until she became one of the most prominent female basketball stars in the United States. Though they had strained relations because of her sexuality, they patched up things and are her biggest cheerleaders to date. They have also been at the forefront of the campaign to have her released from Russian detention in 2022.
Brittney Griner's Father, Raymond Griner, is a Retired Deputy Sheriff
Brittney Griner's father is Raymond Griner. He has American nationality and African-American ethnicity. There is a paucity of information about Raymond Griner's family background, educational history, and early life. Still, it is safe to assume that he had a regular childhood and obtained a reasonable level of education.
Raymond Griner enlisted in the U.S. air force sometime in the 60s and was eventually sent to fight for the United States in Vietnam. He spent two years there (1968 and 1969) before returning home. Upon returning home, he settled down in the Houston area and used his military experience to land work in the sheriff's office in Harris County. He spent about three decades in service and retired as a deputy sheriff.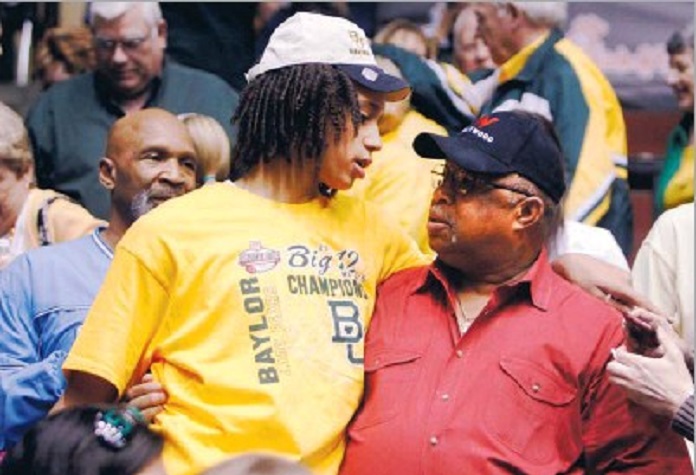 Brittney Griner's Mother, Sandra Griner, is a Homemaker
Brittney Griner's mom is Sandra Griner. Sandra Griner is of American nationality and mixed ethnic heritage. Information about her family background, early life, and educational background are hard to come by. Her occupation is also unknown, but going by her famous daughter's accounts, she was primarily a homemaker.
Brittney Griner has previously recounted that her mom had a penchant for crocheting and making blankets for her children. Sandra also loves watching Food Network shows and is quite good at whipping up unique dishes for the family.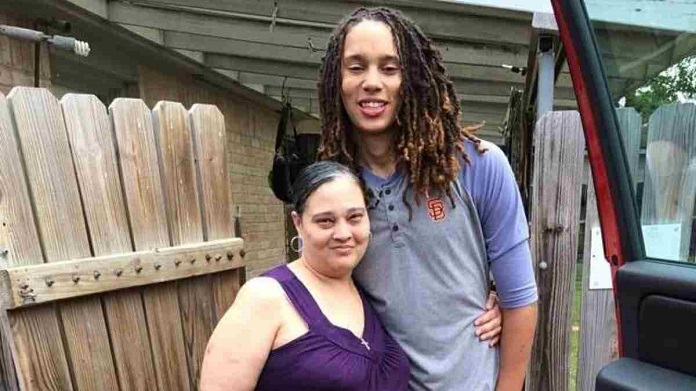 Brittney Griner's Parents Supported Her Basketball Career from the Get-Go
Brittney Griner's parents are from the Houston area and met and married sometime in the 80s. They welcomed three children, namely a son, Decarlo, and two daughters named Pier and Shkera. Their youngest, Brittney Griner. was born in 1990. Brittney Griner's parents made a home for her and their other kids in various parts of Texas, including Dayton, Humble, and Harris. The couple wasn't wealthy by any means, but they provided an enviable home life.
Brittney often got to hunt squirrels or ride go-carts on their property. Her dad also taught her the basic rudiments of auto mechanics, and she got quite good at it. Brittney Griner's parents also supported her in various sporting activities, including volleyball and soccer. When she also chose basketball in her freshman of high school, they also encouraged her.
Her father gladly schlepped her to practice games. He also funded her trips to other parts of the country. Raymond Griner also defended his daughter passionately when her interests were threatened. For instance, in 2009, local bureaucracy prevented Brittney Griner from participating in the prestigious McDonald All-American Game that she had been selected for. Her father was none too happy with this and blamed local school district authorities for ruining the moment for his daughter.
The Relationship Between the Basketball Star and her Dad later Soured as a Result of her Sexuality, but They Later Made Up
Brittney Griner's parents did their best for their children, but they nevertheless encountered some issues. For instance, Brittney was often bullied for her physical appearance in school, and some of her peers ridiculed her masculine appearance. This issue was further complicated by her sexuality. This double burden caused her a lot of trauma, and she contemplated suicide.
She, however, did not carry this through and later sought help from the. Brittney Griner came out to her mom as gay in her freshman year of college, and her mom accepted her wholeheartedly. This helped to ease the emotional burden on her. She, however, delayed coming out to her dad until he finally confronted her about it.
In her final year of high school, she admitted that she was gay. Her father was livid and asked her to leave his house. Brittney Griner spent about six weeks living with an assistant coach before her dad relented and asked her to return home. Their relationship did not thaw immediately but improved over time.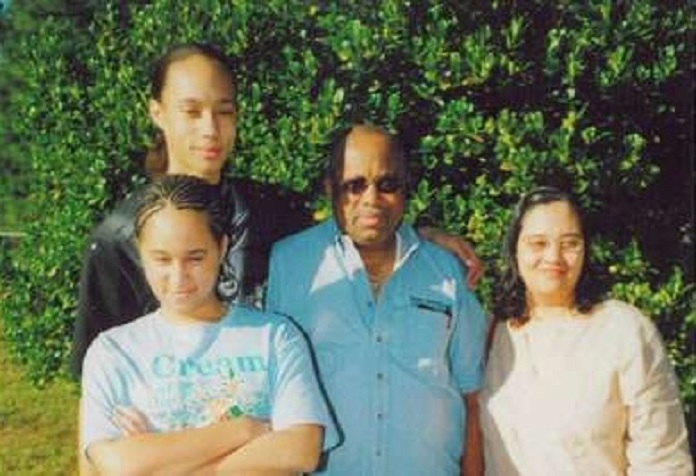 Brittney Griner's Parents Remain her Biggest Cheerleaders
Brittany Griner's parents still reside in Harris County, Texas. They have supported their daughter's illustrious career throughout the years as she has conquered the WNBA. They have also supported her as she has gone on to win multiple gold medals at the Summer Olympics.
Though the couple maintains a low profile, there is no doubting their pride in their daughter's success in her illustrious career. Their daughter also appreciates them as well. Brittney Griner has shared pictures of her parents on social media. She has also showered praises on them. For instance, in June 2014, Brittney Griner shared a photo of her and her mom.
She described her mom as her rock, doctor, nurse, best friend, heart, etc. She also described her as the number one woman in her life. Brittney Griner also pointed out that even though her mother may not look physically strong, she was nevertheless the strongest person she knew. The basketball star also described her mother as having the biggest heart in the world and declared that she loved her.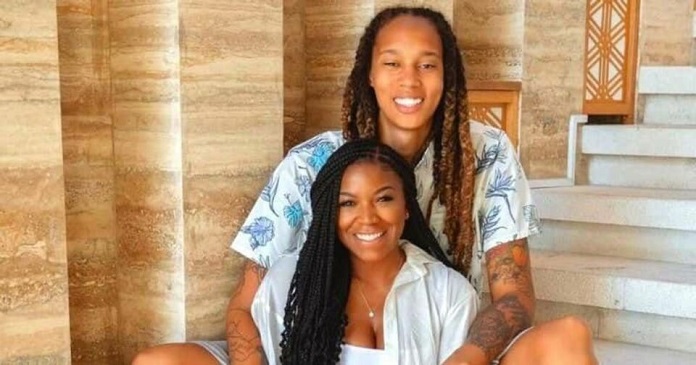 Brittney Griner's Parents are Supporting Calls for Her Release
Brittney Griner's parents don't need to work anymore, given their daughter's status, and are retirees. They are living their best life. They also continue to support their daughter. For instance, in February 2022, Brittney was detained by Russian customs on the allegations that she had an illegal substance on her in the form of cannabis oil.
The detention lasted for several months and was a tough ordeal for Brittney Griner's parents. They, however, maintained a low profile and worked on arranging legal representation for their daughter. They also joined hands with Brittney Griner's wife, Cherelle Griner, to demand that the United States authorities do more to bring their loved one home.
Key Facts About Brittney Griner's Parents
Who are Brittney Griner's parents? Brittney Griner's parents are Raymond and Sandra Griner.
How old is Brittney Griner? Brittney Griner was born on October 18, 1990, and is currently 33 years old.
What is Raymond Griner's professional background? Raymond Griner is a military man who spent two years in the Vietnam war and later worked as a deputy sheriff in Harris County, Texas for 30 years before retiring.
What is known about Sandra Griner's professional background? Little is known about Sandra Griner's professional background, but during Brittney's formative years, she was reportedly a housewife.
What is SheKera Griner's relationship to Brittney Griner? SheKera Griner is Brittney Griner's eldest sister, and in June 2022, she said that her family was devastated by Brittney's prison stay, which was "totally gut-wrenching" for her, her parents, and her other siblings. She pleaded for President Biden and Vice President Kamala Harris to bring justice to Brittney's case.
Did Brittney Griner's parents make any public statement about her Russian penal colony arrest? Brittney Griner's parents did not make any public statement about her Russian penal colony arrest.
Where did Brittney Griner serve her sentence? Brittney Griner served part of her 9-year sentence in a Russian penal colony in Mordovia, 210 miles east of Moscow where she was imprisoned for four months in 2022.
How was Brittney Griner Released? Brittney Griner was released in a prisoner swap that involved Russian arms dealer Viktor Bout. The exchange took place in Abu Dhabi on April 21, 2022, between the United States and Russia, with the Gulf countries playing a role in mediating the exchange. The US government has been negotiating for her release since her arrest in Russia in February of 2021. The negotiations were described by President Biden as "painstaking and intense," and the exchange occurred as a part of diplomatic efforts to secure the release of both Griner and Paul Whelan, another American citizen who was detained in Russia for alleged espionage. However, the exchange did not include Paul Whelan, who the US government has declared as wrongfully detained.