Veibae (born 10th December 1996; Age: 26 years old) is a popular Twitch streamer and YouTuber. She uses a digitally-generated avatar to hide her real-life appearance and is regarded as a virtual streamer or vtuber.
This has not affected her growth but has contributed to her success as she has been able to amass hundreds of thousands of followers on YouTube and Twitch. Veibae presently has nearly a million followers on Twitch and over half a million on YouTube. She is still primarily a Vtuber. She has, however, revealed her face on a few occasions to the delight of her fans.
Summary of Veibae's Biography
Full name: Veibae
Nickname: Veibae
Gender: Female
Date of birth: 10th December 1996
Veibae's Age:26 years old
Ethnicity: Caucasian
Nationality: American
Zodiac Sign: Capricorn
Sexual Orientation: straight
Marital Status: single
Siblings: one brother
Veibae's Height in Inches: 5 feet 6 inches
Veibae's Height in Centimetres: 172
Veibae's Weight: 54 kg
Body measurements in inches: 32-24-35
Body measurements in centimeters: 81-61-89
Veibae's Net worth: $400k
Famous for: virtual reality Twitch streamer and YouTuber
Twitter: @veibae
YouTube: @veibae
Tik Tok: @veibae
Twitch: @veibae
Veibae is Half English and Half Polish
On Twitch and YouTube, Veibae is a supernatural dragon deity with long white hair, hidden ears, a blue & white serpent tail, curved horns of various sizes on the head, and light brownish goldish eyes. However, in real life, Veibae is female and is a young girl who resides in the United Kingdom.
Her real name is not known, but it is known that she was born on 10th December 1996. Veibae is half Polish and half English and hails from a close-knit family of four. Her father has English heritage, while her mother is Polish. She also has a brother who has fetched her a beer during one of her streams.
Veibae Started her Twitch Channel in 2015 but Only Became Famous after Switching to Virtual Streaming in 2020
Veibae first created her Twitch account on 25th July 2015. She subsequently streamed herself playing games such as PUBG, Black Desert Online, League of Legends, and Overwatch without any cameras showing her face. Many of Veibae's early streams initially garnered just about 20 to 100 viewers over the next five years. She, however, struck gold after she transitioned to virtual reality streaming in 2020.
Veibae was inspired to become a virtual streamer after encountering another virtual streamer named Zentreya. Veibae found Zentreya's anime character cool and the technology behind it mind-blowing. She also remembered that many people often told her (Veibae) that she sounded like anime. She, therefore, decided to give it a try. Veibae got to work designing her anime character.
She also acquired the necessary technology for bringing the anime character to life and eventually launched her avatar during a Twitch stream in April 2020. It was a big hit with fans, and she became even more popular following a shout-out from popular Japanese Twitch streamer Shinji. Her viewership numbers grew, and by August 2020, her streams attracted 100k views.

Did Veibae do a Face Reveal?
Veibae has never officially done a face reveal, i.e., unveiling her true face to her viewers, but fans believe that they know what she looks like as a result of an image that she shared on her Twitter account in October 2019. The image was that of a woman and accompanied a post promoting Veibae's merchandise. Many therefore believe that she was the one in the picture.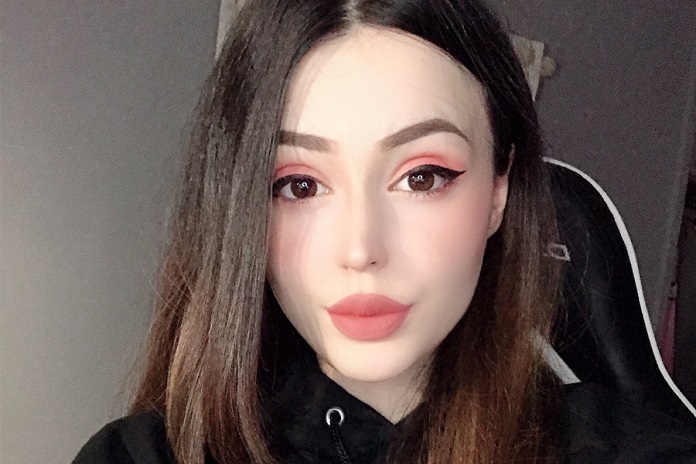 Whether this is true or not, the revelation has not had a negative impact on Veibae's career as a virtual streamer, as she still maintains the mystery necessary to sustain her anime character. She also still has the opportunity to do an official face reveal one day in the future, and you can trust that when that happens, it will reverberate on Twitch and YouTube, as Veibae is quite popular on these platforms.
She Now Has Nearly a Million Subscribers on Twitch and is a Member of the Vshojo Talent Agency
Veibae has amassed 953k followers on Twitch, while her streams average tens of thousands of views. Her sassy personality and penchant for discussing lewd and inappropriate topics endeared her to many fans. It has also brought her many opportunities.
For instance, in April 2021, she was unveiled as the latest member of VShojo, a Vtuber talent agency that provides resources for its members. Other members of VShojo are Apricot (Froot), Silvervale, Amemiya Nazuna, Nyatasha Nyanners, and Hime Hajime. Veibae is now one of the world's most popular virtual streamers but has endured her fair share of controversies.
Fans have tagged her voice as fake. She has, however, explained that it is down to the fact that she has polish origins, lives in the U.K., and mostly converses with Americans online. Veibae also had her channel temporarily banned in April 2022 after inadvertently showing explicit content during a stream for a few seconds.
— VTubers Out Of Context (@ENVTubersOOC) August 8, 2022
Veibae is also Popular on YouTube, Where She Has More Than Half a Million Followers
Veibae is also quite popular on YouTube. She joined the video-sharing platform in May 2020 and initially used it for random videos. She later started posting highlights of her Twitch streams, and this increased her followership.
Veibae now has 681k subscribers on her YouTube channel, while her videos have been viewed a combined 27million times. Some of her video titles are routine, while others are NSFW in nature.
She is also Active on Twitter and TikTok
Veibae is also active on Twitter and Tik Tok. Her Twitter account has 514.4K followers, while her Tik Tok account has 229.3K followers and 1.3 million likes. Veibae uses her Twitter account to promote her streaming activities, while her Tik Tok account features videos of her anime avatar doing random stuff such as dancing.
One social media platform Veibae has refused to join is Instagram, although several fake accounts are in her name. She has, however, restated on several occasions that she has no Instagram account. The reason for this may not be unconnected to the fact that she does not use her real identity to stream but relies on an anime character.
It wouldn't be interesting to post photos of her anime character on Instagram when fans want to see glossy pictures of her real face on the platform.
veibae #veibae pic.twitter.com/2s63Rq6uAt

— nino 🌸 二乃チュー (@2nochuu) August 17, 2022
Veibae Social Meida Stats 
Twitch: 953k followers
YouTube: 681k followers
Twitter: 514.4k followers
Tik Tok: 229.3k followers