Tristan Tate's height is 6 feet 3 inches, which translates to 1.9 meters. This puts him slightly taller than his older brother Andrew Tate whose height is 6 feet 1 inch or 1.85 meters. The Tate brothers are not only tall, but they have a good athletic build.
With the advantage that his height and general body build have given to him, Tate was a kickboxer for a while and he competed in the light heavyweight division together with his older brother. He was also briefly involved in MMA but has since transitioned with Andrew into becoming a social media personality.
Tristan Tate's Bio
AGE: 35 years old
BIRTHDAY: 15 July 1988
BIRTHPLACE: Luton, United Kingdom
BIRTH SIGN: Cancer
ETHNICITY: Mixed
FATHER: Emory Tate
MOTHER: Eileen Tate
SIBLINGS:  Janine Tate (sister)
HEIGHT IN INCHES: 6 feet 3 inches
HEIGHT IN METERS: 1.92 m.
WEIGHT IN POUNDS: 230 lbs
WEIGHT IN KG: 104 kg
BODY MEASUREMENTS: Chest – 36 inches, Waist – 34 inches, Biceps – 14 inches.
What Is Tristan Tate's Height Today?
Tristan Tate's height is 6 feet 3 inches which in meters, is 1.92, and in centimeters, it measures 192 cm. With his height, the American British internet personality stands taller than the average American male which is 5 feet 9 inches, and taller than the British male, which is 5 feet 10 inches.
Born on July 15, 1988, Tristan is now 35 years old, which means he has already reached the climax of his height since the male gender stopped growing tall between the ages of 18 and the early 20s.
Tristan got his amazing height from his father, the legendary American chess player, Emory Tate. The International Chess Master and Air Force Sergeant had a height of 6 feet 2 Inches. This means that although Tristan got his height from his father, he is slightly taller by 2 inches. His mother, on her part, has a height of less than 5 feet 8 inches.
Tristan's height means he is the tallest member of his family, with both his father and older brother some inches below him, while his mom Eileen Tate, and his younger sister, Janine Tate, stand even lower in ranks.
He Also Has a General Good Boy Build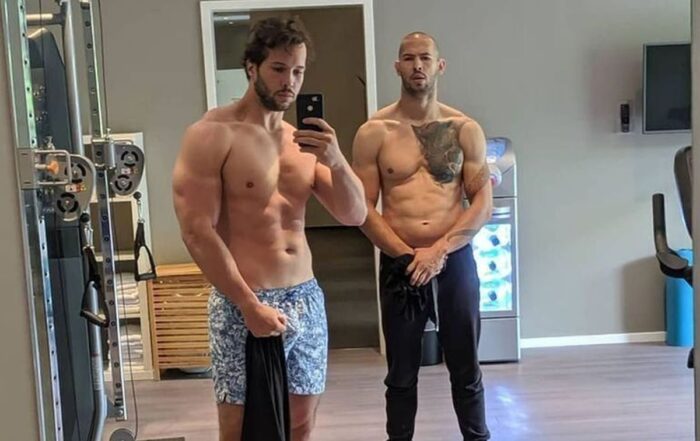 Height is not the only thing that the controversial internet personality has. He also has a good and athletic boy build. His body weight is put at 235 lbs or 106.5 kg. With this, his body weight is slightly higher than that of his older brother whose weight is 230 lbs or 104 kg.
Tristan has always been a tall kid together with his brother while growing up, but their bodies were not well structured until later in life. In fact, they were described as very lanky even into their teenage years, but they have taken it upon themselves to work into having six-packed architectured bodies.
The other body measurements of Tristan have not been made known officially, although there are some sources that suggest he may have a chest of 36 inches, a waist of 34 inches, and biceps of 14 inches.
He Was a Good Kickboxer
Considering Tristan Tate's height, he would have been a success in most physical sports if he had chosen any, but he decided to become a kickboxer. While his career therein cannot be described as the best, he was a good kickboxer.
Tristan was raised in a very difficult condition without his father very much in his life. As a young man, he began training under Coach Amir Subasi at Strom Gym in Luton.  His career started in 2011 and lasted until 2020 when he called it quits. In these years, Tristan competed in the light heavyweight division and he was said to have been involved in 52 fights.
Tristan Tate's record as a kickboxer was impressive as he recorded 43 wins and 9 losses. Andrew Tate's record as a kickboxer was more impressive when compared to that of Tristan and his career was more elaborate. Andrew recorded a total of 76 wins and 9 losses.
The 43-9 professional record of Tristan made it possible for him to hold several titles including two world championships in Europe. He was also a 2-time ISKA British Champion. The former European kickboxing champion bowed out at his prime as a result of injuries he suffered.
The two brothers also had a brief career as MMA fighters but again, Andrew sustained longer and had three fights to his name while Tristan called it quits after just a fight. During his time as an MMA fighter, Tristan lost his only MMA fight in 2016 in a bought against Romanian former fighter, Adrian Preda. For his part, Andrew won two of his MMA fights and lost one.
Tristan Tate's Height puts Him Slightly Taller Than Andrew Tate
As stated, Tristan is slightly has a slight edge ahead of Andrew Tate in the department of height. This is even though Andrew is now years old, making him two years older than Tristan. While Tristan Tate's height is listed officially as 6 inches three inches, Andrew Tate is slightly shorter at 6 feet 1 inch.
Because the height difference between the brothers is very little one has to observe carefully before one can notice the two inches gain of Tristan over his older brother.
It is important to point out that even though he has a slight height advantage over Andrew, the latter is the better in their careers as kickboxers and MMA fighters before they transitioned to becoming internet personalities and entrepreneurs.
Tristan Tate Has Hectic Workout and Fitness Routines
While many may prefer to dwell on the controversies bordering almost all aspects of his life, Tristan has been described as a highly motivated and hardworking individual. He once made a tweet advising young men who do not know what to do with their lives to start working out each day and get in shape and then work on their finances.
On his part, Tristan has a comprehensive workout plan to help him maintain a great fitness level. Also referred to as Talisman Tate reveals that his routine each morning is to perform anything from 500 to 1,000 push-ups. This is so that he can build and maintain his upper body.
He doesn't go to the gym as much as he used to, but that has not limited his activities as he also does bench presses in at least 3 sets of 6 to 8 reps, pull-ups in at least 3 sets of 6 to 8 reps, as well as V-bar dips in at least 3 sets of 6 to 8 reps.
Tristan has not revealed his workout routine while he was behind bars with his brother in Romania on charges bordering on human trafficking, rape, and organized crime. However, Andrew made it known that he made it a duty to stay active by having 500 press-ups each day and also 500 squats. He does at least 10 km walk around his cell also.
The diet routine of Tristan has not been made known, but he ensures to burn more than he eats. The only thing that Andrew Tate revealed about the two brothers' diet is that they eat a lot of meat which gives them a greater part of their calories. They also have less sugary food and fewer fries and take as much water as possible. Tristan said people must stop eating fast food every day.