When a 15-year-old Rosalie Jean Willis married Charles Manson in 1956, she probably had dreams of them going on to have kids and living happily ever after. That dream would manifest partially but the most incredible later happened as Manson, already a petty criminal – went on to metamorphose into one of the most notorious cult leaders in American history. He masterminded a spray of violent murders that shook Hollywood in the late 1960s.
Manson was later apprehended and sentenced to life imprisonment after a dramatic trial. As you can imagine, this level of infamy brought unpleasant consequences for anybody remotely related to him, including Willis who was by then long divorced from him. She was however able to distance herself from the whole mess and go on to live a normal life as she had initially planned.
Profile Summary of Rosalie Jean Willis 
Full name: Rosalie Jean Willis Handley
Date of birth: 28th of January 1937
Died: 21st of August 2009 (70 years at the time of death)
Father: Clarence Willis
Mother: N/A
Siblings: four including sister MaryAnn Willis
Spouse: Charles Manson (1955 – 1958), Jack White (1958 – 1965), Warren Handley (1984 – 1998)
Children: Charles Manson Jr. (1956 – 1993), Jessie White (1958-1986), and Jeb White (1959 – 1971)
Rosalie Jean Willis Was a Hospital Waitress Before Her Relationship with Charles Manson
While Charles Manson was born on the 12th of November 1934 in the town of Cincinnati, Ohio, his ex-wife, Rosalie Jean Willis, was born on the 28th of January 1937 in Marshall County, West Virginia. She hailed from a family of six comprising of her, one brother, two sisters, and her mom named Virginia M. Thompson. There was also her dad, a coal miner named Clarence Basil Willis. Willis' parents divorced when she was quite young and she and her siblings largely grew up in the town of Brentford, West Virginia. She completed her basic education there and found work as a waitress in a hospital. She was living out her regular life when she ran into Ohio native, Charles Manson.
Although originally from Ohio, Charles Manson had spent time in juvenile homes in places such as Washington D.C., Indiana, and Nebraska as a result of a life of crime. From setting his school on fire when he was just about nine years old, the young Manson would go on to embark on multiple incidents of theft, truancy, and armed robbery in his teenage years. He got sentenced to several reform schools but refused to change his ways. He was further hardened by the physical and sexual abuse he suffered in some of these institutions and continued his reprehensible life of crime.
By 1952, an 18-year-old Charles Manson was apprehended for raping a boy at knifepoint. He was detained in a prison in Virginia where he went on to commit further serious disciplinary acts. He was thus sentenced to a maximum-security prison in Ohio. Manson spent about two years there and got out on good behavior in May 1954. He then moved to West Virginia to live with some relatives of his.
Rosalie Jean Willis and Charlie Manson Commenced Their Romance in 1955 and Wed That Same Year
In West Virginia, Charles Manson picked up work at a racetrack, feeding horses and sweeping stalls. It was in the course of doing this that he met Rosalie Jean Willis' father. Clarence happened to be one of the frequent betters at the racetrack and through him, Manson got to meet Willis. They dated for some time and then got married at the Nazarene Church in McMechen, West Virginia, on the 13th of January 1955. The ceremony was a simple affair and Manson's grandma reportedly threw a reception for the young couple in her home. Some sources have it that Charles Manson only wed Rosalie Jean Willis because he wanted to sleep with her which is quite possible, given that premarital sex was frowned upon back in the day.
Others however counter this and maintain that Rosalie was the only woman Manson ever loved, as well as the only person he really cared about. Whichever was true, the couple wed and settled down to marital life in McMechen. They lived happily for a few short months. Manson maintained his racetrack work and picked up other odd jobs to sustain his family. Rosalie, on her own part, also clerked at a grocery store. The couple maintained a simple existence in their little house until Rosalie got pregnant. This was a happy development but it also resulted in an increase in their expenses and Manson decided to go back to crime. He slipped back into Ohio to steal cars and wound up taking it across state lines.
This constituted a serious federal offense but he failed to understand the implication of this until he stole another car and used it to relocate the family to L.A. in October 1955. He and Rosalie spent a few weeks living with his mom, Kathleen before a cop discovered the stolen car. He was charged and after psychiatric evaluation, handed a five-year probationary sentence.
Their Marriage Lasted Less Than Two Years and They Officially Divorced in 1958
Charles Manson largely complied with the terms of his probation for some time but he and Willis later went off to Indianapolis for a while. During this jaunt in Indianapolis, he was required to appear in court in Los Angeles for a charge related to stealing cars and taking them across state lines in Florida. He failed to show up and this resulted in his probation being revoked. He was consequently arrested in March 1956 and returned to Los Angeles where he was immediately slapped with a three-year prison term at Terminal Island in Los Angeles. Some sources have it that Manson accused Willis of being the person that encouraged him to steal the car with which they traveled to California. Others however say that this wasn't so as she knew of his criminal past and believed that she could change him.
Whichever the truth is, Charles Manson landed a three-year jail term in March 1956 while his wife had to forge on. The pregnant Rosalie Willis relied on her mother-in-law's generous support and also did her best to contribute her own quota. She visited her incarcerated husband in prison regularly and after she gave birth to their son, Charles Manson Jr, in mid-1956, she also took him along with her. Rosalie Jean Willis continued visiting her husband regularly during his jail term until she made the acquaintance of a fellow named Jack White in early 1957. She took a shine to him and they grew closer over time. Her love for Manson waned and she stopped visiting him. She later filed for divorce and it was finalized in September 1958.
Rosalie Jean Willis' Second Marriage Was to Jack White From 1958 to 1965
Following her divorce from Charles Manson, Rosalie Jean Willis seriously pursued her romance with Jack White. White originally hailed from Texas and was about 10 years older than her. He was also a divorcee but she did not allow these facts to deter her. She dated him for some time and they got married in 1958. The marriage lasted for seven years during which the couple welcomed two children named Jesse J. White (born in 1958) and Jed born in 1959. Willis' son from her first marriage, Charles Manson Jr., also lived with them.
Willis and White worked hard to train their kids and continued in that manner even after divorce. Willis worked in several places and her colleagues later described her as an extremely personable human, being a person with a tremendous sense of humor. Even though some people treated her badly after Manson committed his heinous crimes in 1969 and her connection to him was unearthed, she did not allow this to dampen her spirit but forged on with her life.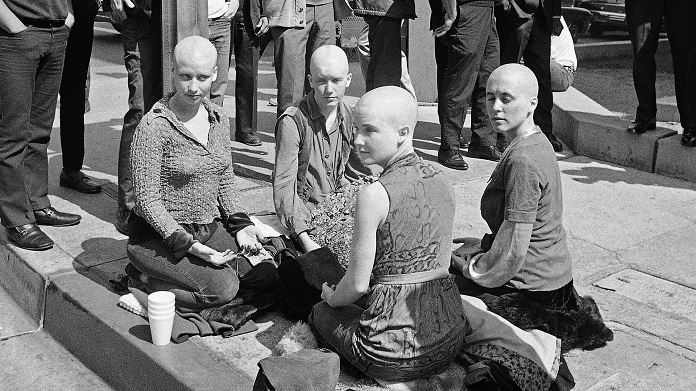 She and WWII Veteran, Warren Handley, Were Married From 1984 Until His Death in 1998
After her divorce from Jack White, Rosalie Jean Willis reportedly got married for the third time in 1971. That marriage equally ended in divorce before she now embarked on her 4th marriage in 1984. This time around, she wed an army veteran named Warren Howard Handley. Handley was born in 1926 and hailed from Indiana. He served in World War II as a seaman. Willis and Handley began their relationship in the 80s and wed in 1984 in Las Vegas. The couple lived in Sin City throughout their marriage which lasted up until Warren's death in 1998.
Following her husband's death, Rosalie Jean Willis relocated to Arizona where she spent the remaining years of her life. She lived out of the spotlight and avoided anything that would rope her in with her notorious ex-husband. There were no interviews or tell-all books emanating from her. Rosalie Willis died of natural causes on the 21st of August 2009 in Arizona. She was aged 70 at the time. Her remains are interred beside her last husband, Warren Handley, at the Southern Nevada Veterans Memorial Cemetery.
Rosalie Jean Willis Outlived All Three of Her Sons
Rosalie Willis had only one child with Charles Manson, a son named Charles Manson Jr. She thereafter had two more sons with her second husband, Jack White. Unfortunately, she not only outlived all her sons but they all died in tragic circumstances. Jed White was killed by an accidental gunshot while playing with a friend on the 3rd of January 1971. He was a mere 11 years old at the time. His older brother, Jessie, later died from a drug overdose on the 23rd of August 1986. He was about 28 years old at the time and his death devastated his mother just like that of Jed's. More heartbreak will come for Rosalie Willis in 1993 when her oldest son, Charles Manson Jr., shot himself dead in Burlington, Colorado.
Though his exact motive has not been confirmed, speculations have it that Manson Jr's suicide had something to do with his notorious parentage. By the time he was in his 20s, his father had masterminded the string of crimes that made him a notorious cult figure and murderer in the U.S. Many people quickly figured out that they were related and life became unbearable for him. Manson Jr. tried to escape his reality by changing his name to Jay White, that is his stepfather, but none of that worked. He eventually retreated deeper and deeper into his shell until he succumbed to his demons.
Her Grandson, Jason Freeman is Trying to Destigmatize the Family Name
One of Rosalie Jean Willis' remaining known survivors is her grandson, Jason Freeman. Jason is the product of a relationship that the late Charles Manson Jr. had with a lady, Ms. Freeman, in Ohio back in the day. Jason was born in 1970 and has variously worked as a cowboy, as well as on oil rigs. He is also said to be a professional boxer and MMA fighter and won a championship title in 2009.
Other people in the Manson household may have been ashamed of being associated with the name but Jason Freeman is courageously determined to destigmatize the name. He won his championship title fighting under the name Charles Manson III. He thereafter made serious efforts to contact his infamous grandfather who was serving a life sentence in California.
Jason wrote to his grandfather on several occasions but the cult leader initially did not respond. He eventually came around and started replying to his letters. They also started exchanging I love you's. The two remained in constant communication until Charles Manson died of heart failure on the 19th of November in 2017. Jason applied for his late grandfather's body to be released to him but others also claimed it, including Manson's friend, Ben Gurecki, and a pen pal of his named Michael Channel. At the end of the day, the authorities ruled in Jason's favor and he was able to cremate the ashes.
Jason Freeman is now battling to be appointed the permanent administrator of his grandfather's estate against the likes of Michael Channel. The battle remains an ongoing one but in April 2021, he scored a minor legal victory when the courts held that he was not required to take a DNA test to prove his relationship with Manson. The final decision is yet to be made but Jason is feeling optimistic about his chances. He has also gone ahead to reveal that he strongly believes that his notorious grandfather will be in heaven. According to him, there is no sin that God cannot forgive and the late Charles Manson was right with God at the time he passed away in 2017.