Liz Cambage's parents are Julia Cambage (mother) and a Nigerian man whose name has remained hidden from the public domain. Julia has been with Liz since she was a little child following her separation from Liz's father, who has remained absent from her life. 
Born on 18 August 1991 and now 32 years old, Elizabeth Folake Cambage rose to fame as a professional basketball player who plies her trade for the Australian national team and for the Maccabi Bnot Ashdod of the Israeli Female Basketball Premier League. While her mother has come to the limelight, thanks to her, her father still remains unknown even though she still associates with his country.
Inside Liz Cambage's Family
Liz was born into a very small family made up of herself and her parents, Julia Cambage and her Nigerian father. Of British and Australian nationalities, the 32-year-old basketball star is of African ethnic extraction and Yoruba precisely, from her father's side, while she is White Australian on her mother's side.
Her parents began their family in London as immigrants, but things did not work out between them. Because of this, they parted ways and Julia moved back to Australia with her daughter where she continued raising her. Apart from her mom and dad, there is hardly any more information about other members of her family.
Who Are Liz Cambage's Parents?
As indicated, the identity of Liz's father is not known, while her mother is Julia Cambage. Liz's parents met in the late 1980s in London where they both went to for reasons not stated.
The circumstances under which they met and began dating have not been made known. It is not clear if they actually got married, but what is clear is that they had their daughter, Liz, on 18 August 1991 in London, United Kingdom. Things took a bad turn almost immediately after the birth of Liz and her parents went their separate ways. 
Afterward, her mom took her back to Australia where they settled in Coffs Harbour, Melbourne.
Liz Cambage's Mother is Australian
Although Julia Cambage, whose date of birth and age have not been revealed, met the man who later became her daughter's father in London, she is originally from Australia. It was there that she was born, raised, and educated at Queenscliff High School.
From there, she went to Deakin University where she got a degree in Education, and then to Western Sydney University. A well-read individual, she also attended Swinburne University of Technology and Harvard Business School.
Career-wise, Julia Cambage has held many positions in the past. She served as the CEO of Procurement Australia for 9 years before joining Try Australia as CEO for 6 years. Her next office was as the CEO of the Australian Institute of Architects, and then the Group CEO of Vinnies Victoria. Her latest position is as the CEO of Procurement with Purpose.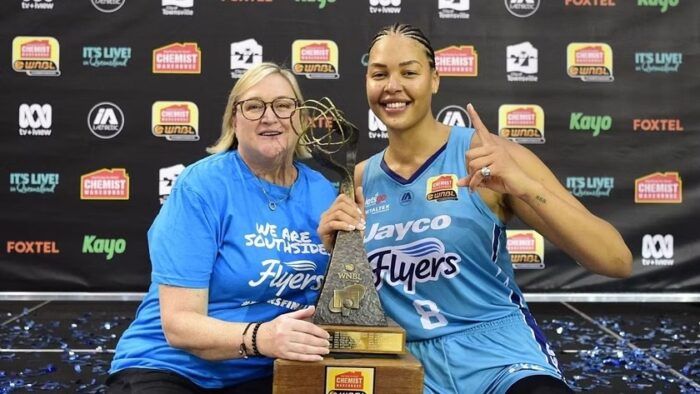 Even though she has had a very busy career life, Julia has helped her daughter when she was a child being bullied because of her height and through her success in her basketball. With the support of her mother, Liz started her career with Dandenong Rangers in 2007, and in the years that followed, the 6 feet 8 inches basketballer played in different leagues around the world, including WNBL, WNBA, and the Chinese League.
Liz Cambage's Father Is A Nigerian
The father of the Australian basketball player is originally from Nigeria. While his identity remains hidden, just as his date of birth and age, it is clear from his daughter's middle name, Folake, that he is from the Southern part of Nigeria and from the Yoruba ethnic group.
Liz's father has not been very much involved in her life and upbringing and the two do not seem to have any strong relationship. Nonetheless, she considered switching allegiance from Australia to Nigeria after she was controversially removed from the Australian team ahead of the 2020 Tokyo Olympics.
Prior to that, there were allegations that she used racial slurs against the Nigerian women's basketball team ahead of the 2021 Tokyo Olympics where she was accused of calling them monkeys and telling them to go back to their country. She denied the allegations, but players from both teams insisted that she actually used the racial slurs.