Lenon and Leo Hijazi are the twin sons of Jaime Pressly, an American actress and model. They are both 6 years old as of 2023. Lenon and his twin brother, Leo, were both born of their mother, Jaime Pressly's relationship with her long-term partner, Hamzi Hijazi.
More than a few pieces of information are available on the twins' mother who is a celebrated American model and actress best known for her contributions as an actress to Hollywood in movies and TV series such as Not Another Teen Movie (2001), My Name Is Earl (2005 – 2009), and Mom (2014 – 2021) among others. This article, however, focuses on the lives of the twin sons she had in 2017 with her partner Hamzi. Meet Lenon and Leo Hijazi.
Jaime Pressly's Twin Children Are 6 Years Old
Jaime Pressly's twin sons, Lenon and Leo Hijazi, are both 6 years old as of 2023 and were born on October 16, 2017, in Los Angeles, California, United States.
Their birth sign is Libra, and they have a mixed ethnicity owing primarily to the fact that their mother is caucasian and their dad is of Middle Eastern descent. Given that they were born in the United States, however, their status as American citizens remains undisputed.
Lenon and Leo Hijazi are Celebrity Kids
As has been made painstakingly clear through this article, Lenon and Leo Hijazi are in the spotlight because of their illustrious mother, Jaime Pressly. Born Jaime Elizabeth Pressly on July 30, 1977, in Kinston, North Carolina,  Lenon and Leo Hijazi's mother is an American actress and model known for her role as Joy Turner on the NBC sitcom My Name Is Earl. 
She started her career as a model and gained recognition at a young age, appearing on the cover of Teen Magazine at the age of 14. She dropped out of school at 15 and became legally emancipated from her parents to pursue a modeling career in Japan. Eventually, she transitioned into acting and landed roles in films and television shows.
As an actress, Pressly has had a successful career. She is best known for her role as Joy Turner in the TV series My Name is Earl. In addition to her role on the sitcom, she has appeared in films such as Not Another Teen Movie and Joe Dirt. Pressly has received nominations and awards for her acting, including an Emmy for her role in My Name Is Earl. She has appeared in over 60 productions and has gained recognition for her talent.
Lenon and Leo Hijazi's Father is an American Businessman
The father of Jaime Pressly's twin sons is none other than Hamzi Hijazi, an American businessman of Middle Eastern descent. Hamzi was born in the California town of Downey in 1973. It means that as of 2023, he is 51 years old.
He practices the Muslim religion, and although he prefers to stay away from media and public scrutiny, he has done quite well for himself in business. He owns the shoe store Lorin, which is located in downtown Santa Monica. Several sources have indicated that this is where he met the mother of his twin sons.
The finer details of their meeting, including the year, have yet to be revealed to the public. However, we have it on good authority that the couple has been together for more than half a decade, given that they are still together, and have children who are both over six years old.
Lenon and Leo Hijazi's Birth was Announced By Their Mother On The Day of Their Birth
Jaime Pressly first announced the birth of her twin sons, Leo and Lenon, on October 16th through her social media accounts. She shared the news with her fans and followers, posting an adorable photo of her newborn sons dressed in matching onesies.
The actress expressed her joy and excitement about becoming a mother to twin boys, stating that she felt incredibly lucky and blessed. Pressly has been quite open about her journey to motherhood, discussing her unexpected pregnancy and the challenges she faced along the way.
She revealed that twins don't run in either her or Hijazi's families, so it was a surprise when she found out she was expecting two babies. Despite the initial shock, Pressly has embraced motherhood with grace and has been actively sharing glimpses of her sons' lives with her fans, allowing them to be a part of her joyous journey.
Her openness about her experiences has garnered praise and support from her followers, who appreciate her honesty and authenticity. As a celebrity, Pressly understands the importance of maintaining a balance between privacy and sharing special moments with her fans, and she has managed to do so effectively.
Overall, Jaime Pressly's announcement of the birth of her twin sons and her openness about their lives have allowed her fans and followers to celebrate with her and share in her happiness.
The Twins Have A Maternal Older Half-Brother Named Dezi James
Given the pump and circumstances that followed the birth of Lenon and his twin brother Leo, people sometimes forget the fact that the twins have a maternal older half-brother.
His name is Dezi James Calvo, and he was reportedly born on May 11, 2007. As of 2023, Dezi is 16 years old, and it is also important to specify the fact that Dezi is a product of one of the actress' previous relationships.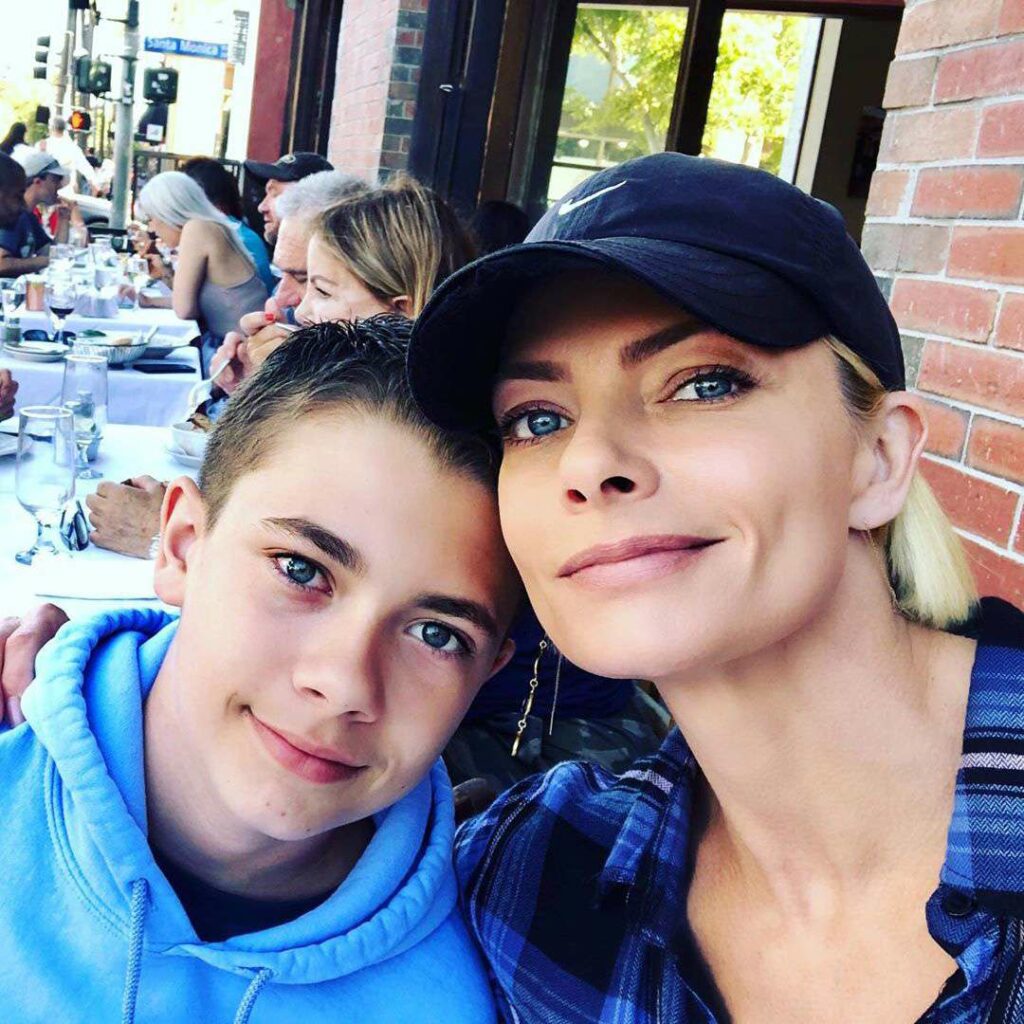 Jaime Pressly had Dezi with her former partner, Eric Calvo, whom she dated from May 2005 until they separated in November 2008, just over a year after the birth of their son.
Dezi James has a unique dynamic with his twin half-brothers, Lenon and Leo Hijazi. While Dezi is the son of Jaime Pressly and Eric Calvo, Lenon and Leo are the children of Jaime Pressly and her longtime boyfriend, Hamzi Hijazi. The brothers share a bond as siblings, with their mother Jaime as the connecting link for them.
There is no specific information about the closeness between Dezi, Lenon, and Leo Hijazi. However, as they are siblings, it is reasonable to assume that they have a familial bond. The extent of their closeness and the nature of their relationship at present is primarily known to the family themselves and has not been made available to the media and the general public.